CrystalView DVI Plus
Fiber Extender - Dual-link DVI/USB 2.0
Extends DVI video keyboard/mouse up to 1,300' (400m) over multi-mode cable
Uncompressed single-link DVI to 1920 x 1200 and dual-link DVI to 2560 x 2048
Supports USB keyboard/mouse
Optional USB 2.0, serial, stereo speakers, and microphone
Typical Application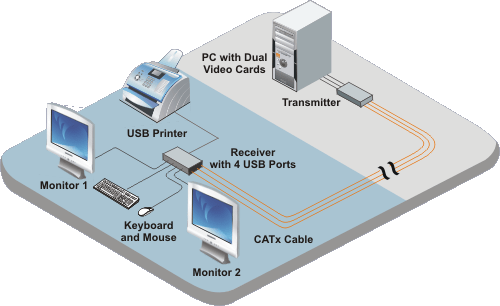 Overview
CrystalView DVI Plus provides extension of the highest quality video available on the market. The uncompressed video format avoids possible video corruption and frame drops normally associated with compressed video, providing smooth high definition video up to 1,300 feet over 50/125µ multi-mode fiber cabling.
CrystalView DVI Plus extender is produced in two models:
The single-link DVI model supports resolutions of up to 1920 x 1200 @ 60Hz
The dual-link DVI model works on two video cards in a CPU and supports resolutions of up to 2560 x 2048 @ 60Hz
Both models support only multi-mode fiber cables. USB 2.0 transparent is optional and supports any kind of USB peripheral, including scanners, printers, etc. CrystalView DVI Plus allows the connection of two monitors with one KVM station. Stereo audio is also optionally available.
Dimensions (W x D x H)
5.2" x 7.1" x 1.7" (133 x 180 x 43 mm)
Weight
2.6 lbs (1.2 kgs)
Power
90-240 VAC 50-60Hz
External adapter, +5V DC, 2A
5W
Distance
1920 x 1200 (single link): 1000' (300m)
2560 x 2048 (dual-link): 1000' (300m)
Connectors

Transmitter:


DVI video: DVI female
USB keyboard/mouse: USB Type B
PS/2 keyboard/mouse: Two PS/2 mini-din6F
Audio: Two 3.5mm stereo jacks
Serial: DB9F
Link: RJ45 jack, one per video port


Receiver:


DVI video: DVI female
USB keyboard/mouse: Two USB type A jack
PS/2 keyboard/mouse: Two PS/2 mini-din6F
Audio: Two 3.5mm stereo jacks
Serial: DB9M
Link: RJ45 jack, one per video port
Power: Barrel jack
Controls
Unit power: Red LED
Video status: Green LED per port
Environment
Operating temperature: 41°F–113°F (5°C–45°C)
Storage temperature: -13°F–140°F (-25°C–60°C)
Relative humidity: 0%–80%, non-condensing
Kits (transmitter, receiver, and power supply)
CRK-1DFMT1SL
Single Link, Digital Fiber KVM Extender, Single-head Video, DVI, USB 2.0
CRK-1DFMT2SL
Single Link, Digital Fiber KVM Extender, Dual-head Video, DVI, USB 2.0
CRK-1DFMT1DL
Dual-link, Digital Fiber KVM Extender, Single-head Video, DVI, USB 2.0
CRK-1DFMH1SL
Single Link, Digital Fiber KVM Extender, Single-head Video, DVI, HID
CRK-1DFMH2SL
Single Link, Digital Fiber KVM Extender, Dual-head Video, DVI, HID
CRK-1DFMH1DL
Dual-link, Digital Fiber KVM Extender, Single-head Video, DVI, HID
/AUD
Audio option for kit