CrystalView EX5 Quad
Multi-head CATx Extender - DVI/USB 2.0/Audio - 330'
Extends up to four DVI video signals and USB 2.0 up to 330' (100m)
Uncompressed video resolution up to 1920 x 1200
Three remote high speed USB 2.0 device ports supplying 500ma power
USB 2.0 throughput of up to 30 Mbps
Supports audio via USB or optional dedicated channel
Use USB keyboards, mice, printers, scanners, flash drives, audio devices, touch screens, web cams, game controllers, and others
Typical Application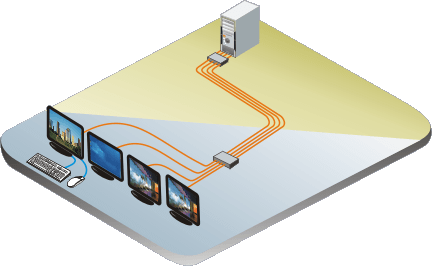 Overview
CrystalView EX5 Quad extender supports DVI graphic interfaces in an uncompressed video format with a resolution up to 1920 x 1200. This full speed uncompressed video data transfer format prevents picture corruption and frame drops. The extender will maintain a smooth and clear picture even when displaying video in the highest resolution up to a distance of 330 feet over a CATx cable.
It also extends USB keyboard and mouse signals. Using enhanced USB emulation, a wide range of USB HID and USB 2.0 devices are supported. 3 USB ports are available on the receiver unit, with the capacity to expand the number of ports to 13 by using USB hubs. Each USB port has 500 ma of power for USB devices requiring higher power to operate.
CrystalView EX5 Quad is available in dual, triple, or quad-head models. Each video output requires a separate CATx cable. Additionally, each of these models can be mounted in a chassis and are a standard 19" 1U size.
Dimensions
(W x D x H)
Mini Chassis: 9" x 5.7" x 1.73" (228 x 144 x 44 mm) (1U)
B Chassis: 16.7" x 4.85" x 1.75" (424 x 123 x 44.5 mm) (1U)
Weight
Mini Chassis: 4.4 lbs (2 kgs)
B Chassis: 6 lbs (2.7 kgs)
Power
100-240 VAC 50-60Hz
External adapter, +5V, 3A-9A
Dual: 15W
Triple: 30W
Quad, 45W
Distance
DVI 1920x1200: 330' (100m)
Connectors

Transmitter:


DVI video: DVI female, one per port
USB host: USB Type B
Link: RJ45 jack, one per port
Power: Barrel jack


Receiver:


DVI video: DVI female, one per port
USB device: Three USB Type A, 500ma each
Link: RJ45 jack
Power: Barrel jack
Controls
Unit power: Green LED per port
Link active: Green LED per port
Video active: Green LED per port
USB status: Green LED per port
Environment
Operating temperature: 32°F–104°F (0°C–40°C)
Storage temperature: -4°F–158°F (-20°C–70°C)
Relative humidity: 20%–80%, non-condensing
Kits (transmitter, receiver, and power supply)
CRK-1DTXT2DM-EX5
Dual DVID, USB, Mini Chassis
CRK-1DTXT2D-EX5
Dual DVID, USB, "B" Chassis
CRK-1DTXT3D-EX5
Triple DVID, USB, "B" Chassis
CRK-1DTXT4D-EX5
Quad DVID, USB, "B" Chassis
/AU
Optional Audio only
/AUD
Optional Audio + Serial
RM-UM19
Rackmount KIT for Mini Chassis
RM-UB19
Rackmount KIT for "B" Chassis
RM-UD-1U
Under-desk rackmount for "M" Chassis