Orion
8-16 User kvm Switch - DVI - CATx or Fiber
Non-blocking kvm matrix switch: 8-16 users to
8-32 computers
Extend computers and kvm stations over CATx or fiber cable
Compressed video resolution up to 1920 x 1200
Video can be configured to form dual-head or
quad-head switching groups
Access via on-screen display, serial, web-based GUI, or hotkey commands
Optional USB 2.0, serial, and audio (speakers and microphone)
Typical Application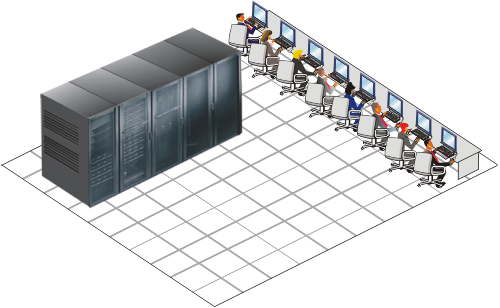 Overview
Orion is a flexible system consisting of three-components: transmitters at the video or computer source, a central switch, and receivers at the user station. The switch is available in several different models with CATx, fiber, or mixed interfaces and varying input and output port counts: 8x8, 8x16, 8x24, 8x32, 16x8, 16x16, 16x24, or 16x32. Its crosspoint configuration mode allows connection of any input to one or more outputs. Its kvm configuration mode allows the same, plus you can configure it for dual-head or quad-head operation. The kvm mode offers some other features such as partner or follow mode.
In kvm mode, you can switch:
16 user stations to 32 computers (single-head)
8 user stations to 16 computers (dual-head)
4 user stations to 8 computers (quad-head)
The transmitter and receiver extenders offer single, dual, or quad-head video, local access, serial/audio, and USB 2.0 options. Each video source connects to a transmitter and each video display connects to a receiver. Choose the specific transmitter and receiver model depending on the features that you desire. The extenders are capable of transmitting a video resolution of up to 1920 x 1200 at the following distances:
Up to 33,000 feet (10Km) using single-mode fiber cable
Up to 1,300 feet (400m) using multi-mode fiber cable
Up to 460 feet (140m) using CATx cable
Orion units may be daisy chained as well, allowing the connection of other Orion units to the main unit to provide access to up to 1024 computers from the user stations. Configuration of these user stations and CPUs is made simple with the inclusion of an intuitive OSD which can be accessed from any USB connected kvm station.
Dimensions (W x D x H)
19" x 17.7" x 3.35" (483 x 450 x 85 mm) (2U)
Weight
12.9 lbs (6 kgs)
Power
90-240VAC 47-63Hz
450W
Resolution
DVI single-link: 1920 x 1200
Distance
CATx: 460' (140m)
Multi-mode fiber (62.5µ): 650' (200m)
Multi-mode fiber (50µ): 1,300' (400m)
Multi-mode fiber: (50µ): OM3: 3,300' (1Km)
Single-mode fiber (9µ): 33,000' ( 10Km)
Connectors
Transmitters/receivers: Dual LC fiber or CATx
Ethernet control port: RJ45 jack
RS232 control port: DB9 female
Power IEC:320
Controls
On-screen display (at each KVM station)
Web, FTP, Telnet
Environment
Operating temperature: 41°F–113°F (5°C–45°C)
Storage temperature: -13°F–140°F (-25°C–60°C)
Relative humidity: 0%–80%, non-condensing
CATx - 8 Users
ORS-TP08x08
Orion 8x8 Chassis, 8 Users, 8 CPU, kvm Switch, CATx
ORS-TP08x16
Orion 8x16 Chassis, 8 Users, 16 CPU, kvm Switch, CATx
ORS-TP08x24
Orion 8x24 Chassis, 8 Users, 24 CPU, kvm Switch, CATx
ORS-TP08x32
Orion 8x32 Chassis, 8 Users, 32 CPU, kvm Switch, CATx
CATx - 16 Users
ORS-TP16x08
Orion 16x8 Chassis, 16 Users, 8 CPU, kvm Switch, CATx
ORS-TP16x16
Orion 16x16 Chassis, 16 Users, 16 CPU, kvm Switch, CATx
ORS-TP16x24
Orion 16x24 Chassis, 16 Users, 24 CPU, kvm Switch, CATx
ORS-TP16x32
Orion 16x32 Chassis, 16 Users, 32 CPU, kvm Switch, CATx
Multi-mode Fiber - 8 Users
ORS-FM08x08
Orion 8x8 Chassis, 8 Users, 8 CPU, kvm Switch, Multi-mode Fiber
ORS-FM08x16
Orion 8x16 Chassis, 8 Users, 16 CPU, kvm Switch, Multi-mode Fiber
ORS-FM08x24
Orion 8x24 Chassis, 8 Users, 24 CPU, kvm Switch, Multi-mode Fiber
ORS-FM08x32
Orion 8x32 Chassis 8 Users, 32 CPU, kvm Switch, Multi-mode Fiber
Multi-mode Fiber - 16 Users
ORS-FM16x08
Orion 16x8 Chassis, 16 Users, 8 CPU, kvm Switch, Multi-mode Fiber
ORS-FM16x16
Orion 16x16 Chassis, 16 Users, 16 CPU, kvm Switch, Multi-mode Fiber
ORS-FM16x24
Orion 16x24 Chassis, 16 Users, 24 CPU, kvm Switch, Multi-mode Fiber
ORS-FM16x32
Orion 16x32 Chassis, 16 Users, 32 CPU, kvm Switch, Multi-mode Fiber
Single-mode Fiber - 8 Users
ORS-FS08x08
Orion 8x8 Chassis, 8 Users, 8 CPU, kvm Switch, Single-mode Fiber
ORS-FS08x16
Orion 8x16 Chassis, 8 Users, 16 CPU, kvm Switch, Single-mode Fiber
ORS-FS08x24
Orion 8x24 Chassis, 8 Users, 24 CPU, kvm Switch, Single-mode Fiber
ORS-FS08x32
Orion 8x32 Chassis, 8 Users, 32 CPU, kvm Switch, Single-mode Fiber
Single-mode Fiber - 16 Users
ORS-FS16x08
Orion 16x8 Chassis, 16 Users, 8 CPU, kvm Switch, Single-mode Fiber
ORS-FS16x16
Orion 16x16 Chassis, 16 Users, 16 CPU, kvm Switch, Single-mode Fiber
ORS-FS16x24
Orion 16x24 Chassis, 16 Users, 24 CPU, kvm Switch, Single-mode Fiber
ORS-FS16x32
Orion 16x32 Chassis, 16 Users, 32 CPU, kvm Switch, Single-mode Fiber
Orion Transmitters - Video Only
ORT-DLDTX0D1D
Orion Transmitter, DVI Video only, CATx
ORT-DLDFM0D1D
Orion Transmitter, DVI Video only, Fiber Multi-mode
ORT-DLDFS0D1D
Orion Transmitter, DVI Video only, Fiber Single-mode
/AUD
Audio / Serial Option
Orion Transmitters - Single-head
ORT-DLDTXUD1D
Orion Transmitter, kvm, DVI, USB, Single-Head, CATx
ORT-DLDFMUD1D
Orion Transmitter, kvm, DVI, USB, Single-head, Fiber Multi-mode
ORT-DLDFSUD1D
Orion Transmitter, kvm, DVI, USB, Single-head, Fiber Single-mode
/AUD
Audio / Serial Option
Orion Transmitters - Dual-head
ORT-DLDTXUD2D
Orion Transmitter, kvm, DVI, USB 2.0 HID, Dual-head, CATx
ORT-DLDFMUD2D
Orion Transmitter, kvm, DVI, USB, Dual-head, Fiber Multi-mode
ORT-DLDFSUD2D
Orion Transmitter, kvm, DVI, USB, Dual-head, Fiber Single-mode
/AUD
Audio / Serial Option
Orion Transmitters - USB 2.0 / Single-head
ORT-DLDTXTD1D
Orion Transmitter, kvm, DVI, USB 2.0, Single-Head, CATx
ORT-DLDFMTD1D
Orion Transmitter, kvm, DVI, USB 2.0, Single-head, Fiber Multi-mode
ORT-DLDFSTD1D
Orion Transmitter, kvm, DVI, USB 2.0, Single-head, Fiber Single-mode
/AUD
Audio / Serial Option
Orion Transmitters - 4 x HID / Single-head
ORT-DLDTXH41D
Orion Transmitter, kvm, DVI, 4xHID, Single-Head, CATx
ORT-DLDFMH41D
Orion Transmitter, kvm, DVI, 4xHID, Single-head, Fiber Multi-mode
ORT-DLDFSH41D
Orion Transmitter, kvm, DVI, 4xHID, Single-head, Fiber Single-mode
Orion Transmitters - 4 x HID / Dual-head
ORT-DLDTXH42D
Orion Transmitter, kvm, DVI, 4xHID, Dual-Head, CATx
ORT-DLDFMH42D
Orion Transmitter, kvm, DVI, 4xHID, Dual-head, Fiber Multi-mode
ORT-DLDFSH42D
Orion Transmitter, kvm, DVI, 4xHID, Dual-head, Fiber Single-mode
Orion Receivers - Video Only
ORR-SRDTX0D1D
Orion Receiver, Video only, CATx
ORR-SRDFM0D1D
Orion Receiver, Video only, Fiber Multi-mode
ORR-SRDFS0D1D
Orion Receiver, Video only, Fiber Single-mode
/AUD
Audio / Serial Option
Orion Receivers - Single-head
ORR-SRDTXUD1D
Orion Receiver, kvm, DVI, USB, Single-head, CATx
ORR-SRDFMUD1D
Orion Receiver, kvm, DVI, USB, Single-head, Fiber Multi-mode
ORR-SRDFSUD1D
Orion Receiver, kvm, DVI, USB, Single-head, Fiber Single-mode
/AUD
Audio / Serial Option
Orion Receivers - Dual-head
ORR-SRDTXUD2D
Orion Receiver, kvm, DVI, USB, Dual-head, CATx
ORR-SRDFMUD2D
Orion Receiver, kvm, DVI, USB, Dual-head, Fiber Multi-mode
ORR-SRDFSUD2D
Orion Receiver, kvm, DVI, USB, Dual-head, Fiber Single-mode
/AUD
Audio / Serial Option
Orion Receivers - USB 2.0 / Single-head
ORR-SRDTXTD1D
Orion Receiver, kvm, DVI, USB 2.0, Single-head, CATx
ORR-SRDFMTD1D
Orion Receiver, kvm, DVI, USB 2.0, Single-head, Fiber Multi-mode
ORR-SRDFSTD1D
Orion Receiver, kvm, DVI, USB 2.0, Single-head, Fiber Single-mode
/AUD
Audio / Serial Option
Orion Receivers - 4 x HID / Single-head
ORR-SRDTXH41D
Orion Receiver, kvm, DVI, 4xHID, Single-head, CATx
ORR-SRDFMH41D
Orion Receiver, kvm, DVI, 4xHID, Single-head, Fiber Multi-mode
ORR-SRDFSH41D
Orion Receiver, kvm, DVI, 4xHID, Single-head, Fiber Single-mode
Orion Receivers - 4 x HID / Dual-head
ORR-SRDTXH42D
Orion Receiver, kvm, DVI, 4xHID, Dual-head, CATx
ORR-SRDFMH42D
Orion Receiver, kvm, DVI, 4xHID, Dual-head, Fiber Multi-mode
ORR-SRDFSH42D
Orion Receiver, kvm, DVI, 4xHID, Dual-head, Fiber Single-mode