RackView Widescreen 19"
KVM Rack Drawer - 19" Widescreen LCD
Widescreen 19" LCD
Resolution up to 1440 x 900 - VGA or DVI
Samsung industrial quality LCD panel
LED backlight saves power
Closing drawer puts LCD in standby
USB keyboard/touchpad interface
On-screen menu
Optional KVM switch, audio, trackball
Typical Application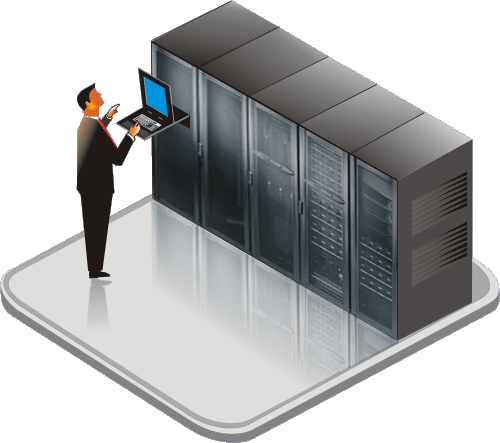 Overview
RackView Widescreen 19" is a rack mountable KVM station fitted in a 1U compact pullout drawer. This sliding KVM station contains a high quality widescreen LCD monitor capable of resolutions up to 1440 x 900, a tactile keyboard, and a touchpad or trackball mouse. The widescreen LCD is suited to displaying video and many applications such as spreadsheets where you can see more columns.
The RackView Widescreen 19" features a Samsung LCD panel known for its high quality and reliability. Its LED backlighting technology and shutdown on close features help to conserve energy and reduce heating in your power-hungry data center.
Installing RackView Widescreen 19" is a breeze. Just screw the provided adjustable mounting rails to your standard 19" rack. Slide the unit into the mounted brackets and secure it. One person can easily install the RackView Widescreen 19" in a rack.
The product comes standard with a DVI-USB signal cable and a power cord. This model does not offer a PS/2 interface. Additional options include KVM switches, SDI video, HDMI, audio, and DC power. Get organized and get a RackView Widescreen 19" for your enterprise.
Dimensions
19": 17.4" x 18.1" x 1.73" (442 x 460 x 44 mm)
Weight
19": 25.3 lbs (11.5 kg)
Resolution
1440 x 900
Diagonal size
19"
Viewing Area
19": 16.06" x 10.04" (408 x 255 mm)
Dot pitch
19": 0.2835 mm
Colors
16.7M
Contrast ratio
1000:1
Brightness
250 cd/m²
Backlight
LED
MTBF
19": 30,000 hours
Response time
19": 5 ms
Power
Auto-sensing 100 to 240VAC, 50-60Hz
Watts
Max. 34 Watt, Standby 4 Watt
Controls
6 backlit buttons for OSD control
1 on/off power button
Pip function
Connectors
DVI female: DVI video
HD15 female: VGA video, PS/2 and USB keyboard and mouse
Environment
Operating temperature: 32°F–122°F (0°C–50°C)
Storage temperature: 23°F–140°F (-5°C–60°C)
Relative humidity: 20%–90%, non-condensing
KVM Rack Drawer
RV1-CAKVT19/DWS
19" Widescreen LCD, 1440x900
Cables
CAB-CMBVM66C005
Combo(HD15) to VGA+PS2
CAB-CMBVMUAC005
Combo(HD15) to VGA+USB
CAB-CMBDVUAC005
Combo(HD15)+DVI-D to DVI-I+USB
/K1
HD15 -HD15 + (1) USB-A
/K2
HD15 to HD15 + (2) PS2
/K3
DVI-D +VGA-M to DVI-I + USB-A
Options
/DCnn
12/24/48 DC power option