ServeView Pro
Single-user kvm Switch
Analog video resolution up to 1920 x 1200
User can connect up to 256 computers
Optional audio and touch screen support
Units can be linked together to form multi-head video and for expansion
Switching can be done from front panel, serial port, or hot-key
No OSD present, optimal for expanding computers to unit with OSD
Typical Application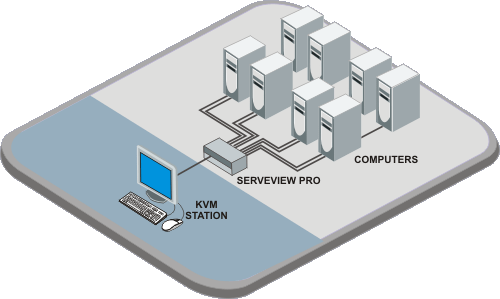 Overview
ServeView Pro is an easy to use and highly functional solution to connect multiple computers to one keyboard, monitor, and mouse. Because it has no on-screen menu, the ServeView Pro is the perfect solution for those system applications in which the utmost simplicity is desired. It supports a video resolution of up to 1920 x 1200. It is available in a multi-platform model which converts PC, UNIX, Sun, or Apple keyboard and mouse data to any other platform with additional support for serial, audio, and touchscreen.
It is also the perfect companion to UltraView Pro when chaining units for expansion. ServeView Pro is a compatible and inexpensive substitute for UltraView Pro units which saves money because the expansion units do not need the on-screen menu function.
UltraView Pro has 3 chassis sizes:
2 or 4 port M Chassis
4 or 8 port B Chassis
4, 8, 12, or 16 port C Chassis
All models have the capacity to be chained to expand the number of ports.
Dimensions
(W x D x H)
M Chassis: 8.8" x 4.85" x 1.75" (223 x 123 x 44.5 mm) (1U)
B chassis: 16.7" x 4.85" x 1.75" (424 x 123 x 44.5 mm) (1U)
C chassis: 16.7" x 4.85" x 3.5" (424 x 123 x 89 mm) (2U)
Weight
M Chassis: 4 lbs (1.8 kgs)
B chassis: 6 lbs (2.7 kgs)
C chassis: 8 lbs (3.6 kgs)
Power
90-240 VAC 50-60Hz
M chassis: External adapter, +5V, 2A
B/C-chassis: Internal
M Chassis: 15W
B chassis: 25W
C chassis: 30W
Resolution
VGA: 1920 x 1200
Distance
CPU/KVM: 25 feet (7.6m)
Connectors
Power: 8-16 port: IEC320, 4-port: DIN5
CPU/KVM: DB25F
RS232: RJ 6-conductor
Controls
Computer selection: Front panel, hot-key, serial port
Unit Power: Green LED
CPU power: Green LED per port
CPU select: Red LED per port
Prev computer: Push-button -
Next computer: Push-button +
Environment
Operating temperature: 32°F–113°F (0°C–45°C)
Storage temperature: -13°F–140°F (-25°C–60°C)
Relative humidity: 5%–80%, non-condensing
| Product Part Number | Description |
| --- | --- |
| SPM-2UB | ServeView Pro, 1x2 kvm Switch, PC-UNIX, M Chassis 1U |
| SPM-4UB | ServeView Pro, 1x4 kvm Switch, PC-UNIX, M Chassis 1U |
| SPB-4UB | ServeView Pro, 1x4 kvm Switch, PC-UNIX, B Chassis 1U |
| SPB-8UB | ServeView Pro, 1x8 kvm Switch, PC-UNIX, B Chassis 1U |
| SPC-16UB | ServeView Pro, 1x16 kvm Switch, PC-UNIX, C Chassis 2U |
| SEM-2UB | ServeView Pro, 1x2 kvm Switch, Multi-Platform, M Chassis 1U |
| SEM-4UB | ServeView Pro, 1x4 kvm Switch, Multi-Platform, M Chassis 1U |
| SEB-4UB | ServeView Pro, 1x4 kvm Switch, Multi-Platform, B Chassis 1U |
| SEB-8UB | ServeView Pro, 1x8 kvm Switch, Multi-Platform, B Chassis 1U |
| SEC-16UB | ServeView Pro, 1x16 kvm Switch, Multi-Platform, C Chassis 2U |
| /OV suffix | On-screen display option |
| RM-UMxx | Rack Mount kit, 1U, M Chassis (xx = 19", 23", or 24") |
| RM-UBxx | Rack Mount kit, 1U, B Chassis (xx = 19", 23", or 24") |
| RM-UCxx | Rack mount kit, 2U, C Chassis (xx = 19", 23", or 24") |
| Cable Part Number | Description |
| CAB-ZX0606Cnnn | UltraCable, PC to Switch, DB25M to VGA-PS/2 Keyboard + Mouse |
| CAB-ZX0606CAnnn | UltraCable, PC to Switch, DB25M to VGA-PS/2 Keyboard + Mouse-Stereo Audio |
| CAB-CX0606Cnnn | UltraCable Hi-Res, PC to Switch, DB25M to VGA-PS/2 Keyboard + Mouse |
| CAB-CX0606CAnnn | UltraCable Hi-Res, PC to Switch, DB25M to VGA-PS/2 Keyboard + Mouse-Stereo Audio |
| CAB-C1V060609Cnnn/S3 | Hi-Res, PC to Switch, DB25M to VGA-PS/2 Keyboard + Mouse-Serial Touch Screen |
| CAB-CY0509Cnnn | UltraCable Hi-Res, PC to Switch, DB25M to VGA-AT Keyboard + Serial Mouse |
| CAB-CXV0800Cnnn | UltraCable Hi-Res, Sun to Switch, DB25M to VGA-Sun Keyboard + Mouse |