UltraVista LC II
Video Wall Controller - DVI/HDMI - 2 x 2 or 3 x 3
Display and enlarge different video sources across any combination of output screens
Available models: 2 x 2 DVI, 2 x 2 HDMI, and 3 x 3 DVI
Video resolution up to 1920 x 1200
Accepts HDTV and digital signals
Can be expanded to make a 4x4 or 9x9 video array
Typical Application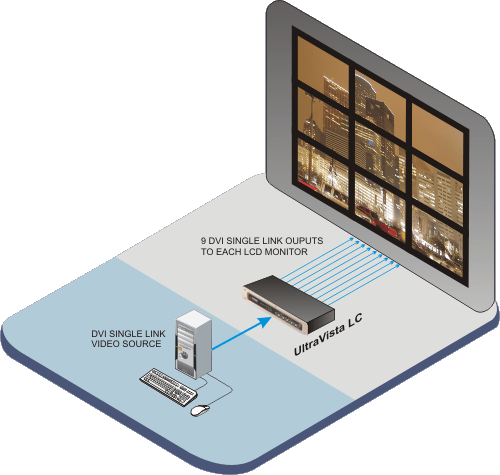 Overview
UltraVista LC is a video wall controller that provides an inexpensive means to build or add on to a high quality video wall. UltraVista LC connects directly to a computer with a single DVI cable with a single-link DVI or HDMI input, and instantly displays the video source on a large video wall. Video can be displayed at high resolutions of up to 1920 x 1200. It will automatically detect the correct settings for the video, eliminating extra setup and the need for adjustments. The video source is split evenly over the display array with no image scaling. A remote control or the connected computer is used to control the unit.
UltraVista LC can be automatically configured for three different output modes, including video wall mode, clone mode, and replication mode. These modes are automatically configured based on the input resolution from the video source. In video wall mode, the image is accurately split over the display array. In clone mode, the same image is displayed on all monitors. In the replication mode, the same image is shown on each row of monitors.
UltraVista LC is available in 3 models:
2x2 - 1 DVI input / 4 single-link DVI outputs
2x4 – 1 HDMI input / 4 single-link HDMI outputs
3x3 - 1 DVI input / 9 single-link DVI outputs
UltraVista LC can be expanded to make a 4x4 or 9x9 video array.
Dimensions
(W x D x H)
2x2: 9.1" x 7.1" x 1.85" (230 x 180 x 47 mm)
3X3: 11.6" x 7.5" x 2.6" (295 x 191 x 65 mm)
Weight
2x2: 3 lbs (1.4 kgs)
3X3: 5 lbs (2.3 kgs)
Power
90-264 VAC 47-63Hz
External adapter, +12 DC, 3.3A
2x2: 20W
3X3: 35W
Resolution
DVI: 1920 x 1200
Distance
Video: 25 feet (7.6m)
Connectors
Video in: DVI
Video out: Four DVI(2x2), Nine DVI(3x3)
Power: Barrel jack
Config: RS232 DB9
Controls
Unit power: Green LED
Input valid: Green LED
Output: Green LED per port
Config: 6 button keypad for OSD control
Remote: Infrared input
Environment
Operating temperature: 32°F–104°F (0°C–40°C)
Storage temperature: -13°F–140°F (-25°C–60°C)
Relative humidity: 5%–80%, non-condensing
| Product Part Number | Description |
| --- | --- |
| VWL-B122FD | Controller, 1 x DVI-D input, 4 x DVI-D output, 2x2 display |
| VWL-B122FH | Controller, 1 x HDMI input, 4 x HDMI output, 2x2 display |
| VWL-B133FD | Controller, 1 x DVI-D input, 9 x DVI-D output, 3x3 display |