UltraVista SX
Video Wall Controller - 2 x 2
Single-link DVI input video resolution up to 1920 x 1200
Output monitors can be DVI or VGA
EDID learning mode simplifies installation
Front panel LCD simplifies setup and operation
Compatible with all DVI video sources
Plug and play features ensure smooth installation and operation
Typical Application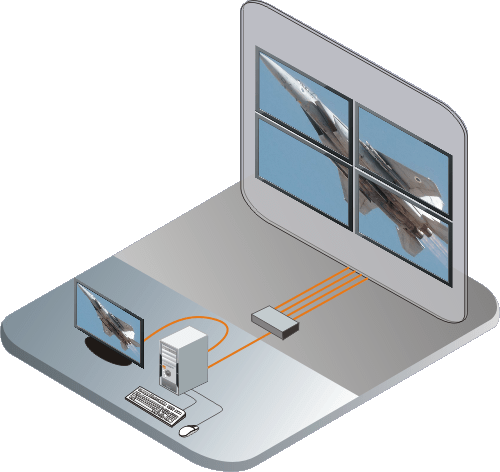 Overview
UltraVista SX combines simplicity with utility, making it an ideal product for displaying high definition images and video over a 2x2 video wall. The display is shown in real time with the image spread evenly over each of the four VGA or DVI screens at resolutions of up to 1920 x 1200. For VGA analog monitor connections, a DVI to VGA adapter must be used.
UltraVista SX has a simple plug-and-play installation.
Just connect a single-link DVI-D high-resolution video source to the DVI input connector and connect four DVI or VGA monitors to the DVI-I output connectors. Then download the DDC information using the front panel buttons and display from a PC, Apple, or from the display screen, and installation is complete. There is no software to load, no hardware to add, and no video cards to configure. UltraVista SX maintains the original resolution quality of the input image on all monitors, producing a crisp, clear image.
Dimensions (W x D x H)
17" x 7" x 1.75" (431 x 177 x 44.5 mm)
Weight
8.8 lbs (4.0 kgs)
Power
100-240 VAC 50-60Hz
External adapter, +5V DC, 3A
15W
Resolution
DVI: 1920 x 1200
Distance
Video: 25 feet (7.6m)
Connectors
Video in: DVI
Video out: 4 DVI
Power: Barrel jack
Config: RS232 DB9
Controls
Select and configuration: 2 push-buttons and 2x20 LCD
Environment
Operating temperature: 32°F–96°F (0°C–35°C)
Storage temperature: -13°F–140°F (-25°C–60°C)
Relative humidity: 5%–85%, non-condensing
| Product Part Number | Description |
| --- | --- |
| VWL-S122DV | Video Wall unit, 2x2 display |