CrystalView DVI Mini
CATx Extender - DVI/USB - 130'
Uncompressed DVI video at 1920 x 1200 up to 130' (40m)
USB keyboard and mouse
Small footprint
Optional USB 2.0 extension
Optional serial, stereo speakers, and microphone
Optional dual-head video
Typical Application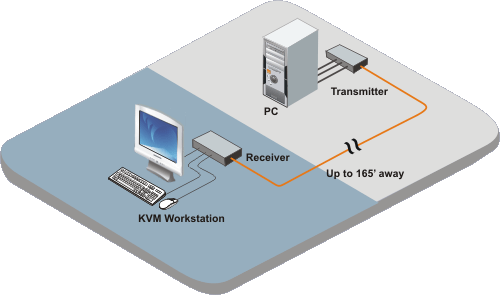 Overview
CrystalView Mini DVI is an ideal product for extending a keyboard, mouse, and DVI monitor for short distances while saving both space and money. It is a low cost solution that is small in size but produces excellent quality DVI-D video with no degradation at all resolutions. All models can extend the distance to the remote monitor up to 165 feet.
The resolution varies in 4 increments:
1920 x 1200 @ 130 feet (40 meters)
1920 x 1080 @ 130 feet (40 meters)
1600 x 1200 @ 130 feet (40 meters)
1280 x 1024 @ 165 feet (50 meters)
Models are available for single-head and dual-head video. Simple adjustments can be made using the dip switches located on the transmitter and receiver. The dip switches on the receiver can be set to specify the monitor resolution and CATx cable length used between the transmitter and receiver. These settings should only be modified if the CATx cable length is very short or the image quality unsatisfactory. The default setting is for cable lengths greater than approximately 100 feet (30 meters). In most cases, the cable length and monitor resolution default settings are suitable for all conditions and no adjustments are needed.
CrystalView Mini DVI Extender supports a wide range of USB HID devices, including all standard mice and keyboards. Other HID devices such as touch-screens, graphic tablets, barcode readers, or similar HID devices may function properly but are not guaranteed. Only 2 USB HID devices may be connected at any one time.
Dimensions
(W x D x H)
Single: 3.15" x 4.3" x 1.14" (80 x 110 x 29 mm)
Dual transmitter: 3.15" x 4.3" x 1.65" (80 x 110 x 42 mm)
Dual receiver: 6.3" x 4.3" x 1.14" (161 x 110 x 29 mm)
Weight
Single: 0.9 lbs (0.4 kgs)
Dual transmitter: 2.0 lbs (0.9 kgs)
Dual receiver: 2.0 lbs (0.9 kgs)
Power
90-240 VAC 50-60Hz
External adapter, +5V DC, 2A at each end
Single: 8W
Dual transmitter: 10W
Dual receiver: 10W
Distance
1920 x 1200: 130 feet (40 m)
1280 x 1024: 165 feet (50 m)
Connectors

Transmitter:


DVI Video: DVI female
Keyboard/mouse: USB Type B
Link: RJ45 jack


Receiver:


DVI Video: DVI female
Keyboard/mouse: Two USB Type A
Programming: Mini USB Type B
Controls
Unit power: Green LED
USB status: Green LED
Video status: Green LED
Configuration: Four dip-switches
Environment
Operating temperature: 32°F–113°F (0°C–45°C)
Storage temperature: -13°F–140°F (-25°C–60°C)
Relative humidity: 0%–80%, non-condensing
Kits (transmitter, receiver, and power supply)
CRK-M1DTXUD1D
Single-link, Single-Head DVI Video and USB-HID. 1 Remote user with DVI/USB interface.
CRK-M1DTXUD2D
Single-link, Dual-Head DVI Video and USB-HID. 1 Remote user with DVI/USB interface.
CRK-M1DTXTD1D
Single-link, Single-Head DVI-D Video and USB 2.0, CATx
CRK-M1DTXTD2D
Single-link, Dual-Head DVI-D Video and USB 2.0, CATx