CrystalView DVI Quad
Multi-head CATx/Fiber Extender - DVI + options
Compressed DVI video at 1920 x 1200 over CATX or fiber
Up to 460' (140m) over CATx, 3280' (1km) over OM3 multi-mode fiber, and 33,000' (10km) over single-mode fiber
Local ports for remote or local access
Available with USB or PS/2 keyboard and mouse or as video only
Optional serial and audio (stereo speakers and microphone)
Optional transparent USB 2.0
Typical Application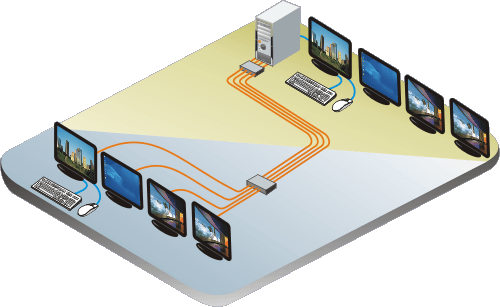 Overview
CrystalView DVI Quad is a compact extender that enables the remote location of a multi-monitor user station. The interconnect CATx or fiber cables can be deployed as point-to-point or through a patch panel. The CrystalView DVI Quad is available in standard PS/2 and USB models or video-only. Other options are serial, audio, and USB 2.0. The DVI video ports can be ordered as single, dual, triple, or quad video.
The system consists of two units: a transmitter and a receiver. The transmitter connects to your computer's keyboard, mouse, one or more DVI video, and optional USB 2.0, serial, and audio ports. The receiver connects to a keyboard, mouse, DVI video monitors, and optional USB 2.0, serial, and audio devices. Each DVI video port and the optional USB 2.0 port require a dedicated interconnect (CATx or Fiber) cable. The unit has both transmitter (local) and receiver (remote) KVM access. The transmitter's KVM access allows an additional KVM monitor for each video channel to be connected for local viewing, next to the host PC or video source.
CrystalView DVI Quad is ideal for indoor applications, computer room, service desk, or control room environment. The CrystalView DVI Quad fiber units are often used for outdoor applications, building-to-building, and heavy industrial or electrical environments.
Dimensions
(W x D x H)
Mini Chassis: 9" x 5.7" x 1.73" (228 x 144 x 44 mm) (1U)
Wide chassis (4DVI+USB 2.0): 17" x 5.6" x 1.75" (432 x 142 x 44.5 mm) (1U)
Weight
Mini Chassis: 4.4 lbs (2 kgs)
Wide chassis (4DVI+USB 2.0): 6.6 lbs (3 kgs)
Power
90-240 VAC 50-60Hz
External adapter, +5V, 4A
Mini Chassis: 15W
Wide chassis (4DVI+USB 2.0): 20W
Resolution
DVI video: 1920 x 1200
Distance
CATx: 460' (140m)
Multi-mode fiber: (62.5µ): 650' (200m)
Multi-mode fiber: (50µ): 1,300' (400m)
Multi-mode fiber: (50µ) OM3: 3,300' (1km)
Single-mode fiber: (9µ): 33,000' (10km)
Connectors
Transmitter:
DVI video + PS/2 keyboard/mouse: DVI female
Includes cable, DVI male to DVI male + two mini-din6 male
DVI local and multi-head video: DVI female
USB keyboard/mouse: USB Type B
PS/2 keyboard/mouse: Two PS/2 mini-din6F
Dual access PS/2 keyboard/mouse: Mini-din6F
Includes cable, mini-din6M to two mini-din6F
USB 2.0 host: USB Type B
CATx link: RJ45 jack, one per video port + one for USB 2.0
Fiber link: Duplex LC, one per video port + one for USB 2.0
Audio: Two 3.5mm stereo jacks or mini-din8F
Serial: DB9F or mini-din8F
Some multi-head units use mini-din8 and include cable, mini-din8M to two 3.5mm audio plugs + DB9F
Power: Barrel jack
Receiver:
DVI video: DVI female, one per port
USB keyboard/mouse: Two USB type A jack
PS/2 keyboard/mouse: Two PS/2 mini-din6F
USB 2.0 device: Four USB Type A
CATx link: RJ45 jack, one per video port + one for USB 2.0
Fiber link: Duplex LC, one per video port + one for USB 2.0
Audio: Two 3.5mm stereo jacks
Serial: DB9M
Power: Barrel jack
Controls
Unit power: Red LED per port
Data error: Green LED per port
Link status: Green LED per port
Video OK: Green LED per port
Environment
Operating temperature: 41°F–113°F (5°C–45°C)
Storage temperature: -13°F–140°F (-25°C–60°C)
Relative humidity: 0%–80%, non-condensing
Kits (transmitter, receiver, and power supply)
1 channel video - CATx
CRK-2DTX0D1D/R
1x DVI Only
CRK-2DTXUD1D/R
1x DVI + USB-HID
CRK-2DTXTD1D/R
1x DVI + USB-HID + USB2
CRK-2DTXTD1DP/R
1x DVI + USB-HID + PS2 + USB2
CRK-2DTXPD1D/R
1x DVI + PS2
CRK-2DTX0D1D/AUD/R
1x DVI + Audio + Serial
CRK-2DTXUD1D/AUD/R
1x DVI + USB-HID + Audio + Serial
CRK-2DTXTD1D/AUD/R
1x DVI + USB-HID + USB2 + Audio + Serial
CRK-2DTXTD1DP/AUD/R
1x DVI + USB-HID + PS2 + USB2 + Audio + Serial
CRK-2DTXPD1D/AUD/R
1x DVI + PS2 + Audio + Serial
1 channel video - multi-mode fiber
CRK-2DFM0D1D/R
1x DVI Only
CRK-2DFMUD1D/R
1x DVI + USB-HID
CRK-2DFMTD1D/R
1x DVI + USB-HID + USB2
CRK-2DFMTD1DP/R
1x DVI + USB-HID + PS2 + USB2
CRK-2DFMPD1D/R
1x DVI + PS2
CRK-2DFM0D1D/AUD/R
1x DVI + Audio + Serial
CRK-2DFMUD1D/AUD/R
1x DVI + USB-HID + Audio + Serial
CRK-2DFMTD1D/AUD/R
1x DVI + USB-HID + USB2 + Audio + Serial
CRK-2DFMTD1DP/AUD/R
1x DVI + USB-HID + PS2 + USB2 + Audio + Serial
CRK-2DFMPD1D/AUD/R
1x DVI + PS2 + Audio + Serial
1 channel video - single-mode fiber
CRK-2DFS0D1D/R
1x DVI Only
CRK-2DFSUD1D/R
1x DVI + USB-HID
CRK-2DFSTD1D/R
1x DVI + USB-HID + USB2
CRK-2DFSTD1DP/R
1x DVI + USB-HID + PS2 + USB2
CRK-2DFSPD1D/R
1x DVI + PS2
CRK-2DFS0D1D/AUD/R
1x DVI + Audio + Serial
CRK-2DFSUD1D/AUD/R
1x DVI + USB-HID + Audio + Serial
CRK-2DFSTD1D/AUD/R
1x DVI + USB-HID + USB2 + Audio + Serial
CRK-2DFSTD1DP/AUD/R
1x DVI + USB-HID + PS2 + USB2 + Audio + Serial
CRK-2DFSPD1D/AUD/R
1x DVI + PS2 + Audio + Serial
2 channel video - CATx
CRK-2DTX0D2D/R
2x DVI Only
CRK-2DTXUD2D/R
2x DVI + USB-HID
CRK-2DTXTD2D/R
2x DVI + USB-HID + USB2
CRK-2DTXTD2DP/R
2x DVI + USB-HID + PS2 + USB2
CRK-2DTXPD2D/R
2x DVI + PS2
CRK-2DTX0D2D/AUD/R
2x DVI + Audio + Serial
CRK-2DTXUD2D/AUD/R
2x DVI + USB-HID + Audio + Serial
CRK-2DTXTD2D/AUD/R
2x DVI + USB-HID + USB2 + Audio + Serial
CRK-2DTXTD2DP/AUD/R
2x DVI + USB-HID + PS2 + USB2 + Audio + Serial
CRK-2DTXPD2D/AUD/R
2x DVI + PS2 + Audio + Serial
2 channel video - multi-mode fiber
CRK-2DFM0D2D/R
2x DVI Only
CRK-2DFMUD2D/R
2x DVI + USB-HID
CRK-2DFMTD2D/R
2x DVI + USB-HID + USB2
CRK-2DFMTD2DP/R
2x DVI + USB-HID + PS2 + USB2
CRK-2DFMPD2D/R
2x DVI + PS2
CRK-2DFM0D2D/AUD/R
2x DVI + Audio + Serial
CRK-2DFMUD2D/AUD/R
2x DVI + USB-HID + Audio + Serial
CRK-2DFMTD2D/AUD/R
2x DVI + USB-HID + USB2 + Audio + Serial
CRK-2DFMTD2DP/AUD/R
2x DVI + USB-HID + PS2 + USB2 + Audio + Serial
CRK-2DFMPD2D/AUD/R
2x DVI + PS2 + Audio + Serial
2 channel video - single-mode fiber
CRK-2DFS0D2D/R
2x DVI Only
CRK-2DFSUD2D/R
2x DVI + USB-HID
CRK-2DFSTD2D/R
2x DVI + USB-HID + USB2
CRK-2DFSTD2DP/R
2x DVI + USB-HID + PS2 + USB2
CRK-2DFSPD2D/R
2x DVI + PS2
CRK-2DFS0D2D/AUD/R
2x DVI + Audio + Serial
CRK-2DFSUD2D/AUD/R
2x DVI + USB-HID + Audio + Serial
CRK-2DFSTD2D/AUD/R
2x DVI + USB-HID + USB2 + Audio + Serial
CRK-2DFSTD2DP/AUD/R
2x DVI + USB-HID + PS2 + USB2 + Audio + Serial
CRK-2DFSPD2D/AUD/R
2x DVI + PS2 + Audio + Serial
3 channel video - CATx
CRK-2DTX0D3D/R
3x DVI Only
CRK-2DTXUD3D/R
3x DVI + USB-HID
CRK-2DTXTD3D/R
3x DVI + USB-HID + USB2
CRK-2DTXTD3DP/R
3x DVI + USB-HID + PS2 + USB2
CRK-2DTXPD3D/R
3x DVI + PS2
CRK-2DTX0D3D/AUD/R
3x DVI + Audio + Serial
CRK-2DTXUD3D/AUD/R
3x DVI + USB-HID + Audio + Serial
CRK-2DTXTD3D/AUD/R
3x DVI + USB-HID + USB2 + Audio + Serial
CRK-2DTXTD3DP/AUD/R
3x DVI + USB-HID + PS2 + USB2 + Audio + Serial
CRK-2DTXPD3D/AUD//R
3x DVI + PS2 + Audio + Serial
3 channel video - multi-mode fiber
CRK-2DFM0D3D/R
3x DVI Only
CRK-2DFMUD3D/R
3x DVI + USB-HID
CRK-2DFMTD3D/R
3x DVI + USB-HID + USB2
CRK-2DFMTD3DP/R
3x DVI + USB-HID + PS2 + USB2
CRK-2DFMPD3D/R
3x DVI + PS2
CRK-2DFM0D3D/AUD/R
3x DVI + Audio + Serial
CRK-2DFMUD3D/AUD/R
3x DVI + USB-HID + Audio + Serial
CRK-2DFMTD3D/AUD/R
3x DVI + USB-HID + USB2 + Audio + Serial
CRK-2DFMTD3DP/AUD/R
3x DVI + USB-HID + PS2 + USB2 + Audio + Serial
CRK-2DFMPD3D/AUD/R
3x DVI + PS2 + Audio + Serial
3 channel video - single-mode fiber
CRK-2DFS0D3D/R
3x DVI Only
CRK-2DFSUD3D/R
3x DVI + USB-HID
CRK-2DFSTD3D/R
3x DVI + USB-HID + USB2
CRK-2DFSTD3DP/R
3x DVI + USB-HID + PS2 + USB2
CRK-2DFSPD3D/R
3x DVI + PS2
CRK-2DFS0D3D/AUD/R
3x DVI + Audio + Serial
CRK-2DFSUD3D/AUD/R
3x DVI + USB-HID + Audio + Serial
CRK-2DFSTD3D/AUD/R
3x DVI + USB-HID + USB2 + Audio + Serial
CRK-2DFSTD3DP/AUD/R
3x DVI + USB-HID + PS2 + USB2 + Audio + Serial
CRK-2DFSPD3D/AUD/R
3x DVI + PS2 + Audio + Serial
4 channel video - CATx
CRK-2DTX0D4D/R
4x DVI Only
CRK-2DTXUD4D/R
4x DVI + USB-HID
CRK-2DTXTD4D/R
4x DVI + USB-HID + USB2
CRK-2DTXTD4DP/R
4x DVI + USB-HID + PS2 + USB2
CRK-2DTXPD4D/R
4x DVI + PS2
CRK-2DTX0D4D/AUD/R
4x DVI + Audio + Serial
CRK-2DTXUD4D/AUD/R
4x DVI + USB-HID + Audio + Serial
CRK-2DTXTD4D/AUD/R
4x DVI + USB-HID + USB2 + Audio + Serial
CRK-2DTXTD4DP/AUD/R
4x DVI + USB-HID + PS2 + USB2 + Audio + Serial
CRK-2DTXPD4D/AUD/R
4x DVI + PS2 + Audio + Serial
4 channel video - multi-mode fiber
CRK-2DFM0D4D/R
4x DVI Only
CRK-2DFMUD4D/R
4x DVI + USB-HID
CRK-2DFMTD4D/R
4x DVI + USB-HID + USB2
CRK-2DFMTD4DP/R
4x DVI + USB-HID + PS2 + USB2
CRK-2DFMPD4D/R
4x DVI + PS2
CRK-2DFM0D4D/AUD/R
4x DVI + Audio + Serial
CRK-2DFMUD4D/AUD/R
4x DVI + USB-HID + Audio + Serial
CRK-2DFMTD4D/AUD/R
4x DVI + USB-HID + USB2 + Audio + Serial
CRK-2DFMTD4DP/AUD/R
4x DVI + USB-HID + PS2 + USB2 + Audio + Serial
CRK-2DFMPD4D/AUD/R
4x DVI + PS2 + Audio + Serial
4 channel video - single-mode fiber
CRK-2DFS0D4D/R
4x DVI Only
CRK-2DFSUD4D/R
4x DVI + USB-HID
CRK-2DFSTD4D/R
4x DVI + USB-HID + USB2
CRK-2DFSTD4DP/R
4x DVI + USB-HID + PS2 + USB2
CRK-2DFSPD4D/R
4x DVI + PS2
CRK-2DFS0D4D/AUD/R
4x DVI + Audio + Serial
CRK-2DFSUD4D/AUD/R
4x DVI + USB-HID + Audio + Serial
CRK-2DFSTD4D/AUD/R
4x DVI + USB-HID + USB2 + Audio + Serial
CRK-2DFSTD4DP/AUD/R
4x DVI + USB-HID + PS2 + USB2 + Audio + Serial
CRK-2DFSPD4D/AUD/R
4x DVI + PS2 + Audio + Serial
Cables
CAB-DDPMDD66M006
DVI-D w/PS2 to DVI-D & 2 MD6M, 6'
CAB-MD8D9A006
CPU Audio and Serial to mini-dn8, 6'
CAB-MD6M2MD6F
Keyboard/Mouse PS/2 "Y" cable
CAB-DVIDMMnnn
DVI-D mm cable
CAB-USBABnnn
USB type A/B cable
CAB-SPMMnnn
Audio 3.5mm cable
CAB-D9MFnnn
RS232 DB9MF serial cable
nnn=length in feet
Rackmount brackets
RM-UM19
19 inch Rackmount Bracket for "Mini" chassis units
RM-UB19
19 inch Rackmount Bracket for "B" chassis units
RM-UD-1U
Under desk Rackmount plate for "Mini" chassis units