UltraConsole Remote 2
Single-user kvm-IP Switch with Serial
Connects up to 1000 computers with local port for dual access
VGA Video resolution up to 1600 x 1200
Browser-based or VNC program to remotely access computers over IP
Responsive, real-time mouse control
Secure encrypted operation
Typical Application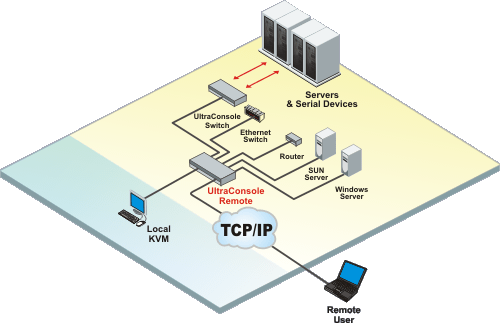 Overview
UltraConsole Remote 2 represents the latest in remote kvm access over IP technology. UltraConsole Remote 2 allows a user station to connect to four, eight, or sixteen computers or serial devices per chassis, expandable to as many as 1,000 computers or serial devices. The user station can access UltraConsole Remote 2 locally, over the local network, or over IP from anywhere in the world using any supported web browser.
UltraConsole Remote 2 series comes in 1 x 4, 1 x 8, and 1 x 16 models. Units easily connect to expansion units to make a seamless and scalable remote management solution.
The advanced design of the UltraConsole Remote 2 uses networking communication technology to reduce cost, eliminate single points of failure, and increase reliability. The on-screen menus make configuring, installation, and monitoring easy with on-screen instructions and help. Use the on-screen menus to name computers, select computers, view connections, set-up users, configure system security, and other features.
UltraConsole Remote 2 provides serial support to access computers, routers, Ethernet hubs, UNIX devices and more. It can perform as a VT100/VT220 terminal emulator with an eight-page scroll buffer. Security, flash memory, system status, and many other features ensure that the UltraConsole Remote 2 will streamline your data center or server room and provide access to your system from any location locally or around the world.
Dimensions
(W x D x H)
4-port: 16.7" x 15.2" x 1.75" (424 x 386 x 44.5 mm) (1U)
8-port: 16.7" x 15.2" x 1.75" (424 x 386 x 44.5 mm) (1U)
16-port: 16.7" x 15.2" x 3.5" (424 x 386 x 89 mm) (2U)
Weight
4-port: 6.9 lbs (3.1 kgs)
8-port: 9.3 lbs (4.2 kgs)
16-port: 14 lbs (6.4 kgs)
Power
90-240 VAC 50-60Hz
4-port: 15W
8-port: 25W
16-port: 50W
Resolution
VGA: 1600 x 1200
Distance
CPU/KVM: 25 feet (7.6m)
Connectors
Power: IEC 320
CPU/KVM: DB25F
Expansion: DB15M/F
RS232: RJ 6-conductor
Network: RJ45
Controls
Computer selection: OSD, hot-key, serial port
Unit Power: Green LED
Environment
Operating temperature: 32°F–113°F (0°C–45°C)
Storage temperature: -13°F–140°F (-25°C–60°C)
Relative humidity: 5%–80%, non-condensing
| Product Part Number | Description |
| --- | --- |
| UCR-1R1X04U/2 | UltraConsole Remote 2, One-User kvm Switch, Multi-platform, 1-remote / 1-local users, 4-CPUs |
| UCR-1R1X08U/2 | UltraConsole Remote 2, One-User kvm Switch, Multi-platform, 1-remote / 1-local users, 8-CPUs |
| UCR-1R1X16U/2 | UltraConsole Remote 2, One-User kvm Switch, Multi-platform, 1-remote / 1-local users, 16-CPUs |
| RM-UBxx | Rack mount kit for 1U B-Chassis (xx = 19", 23", or 24") |
| RM-UCxx | Rack mount kit for 2U C-Chassis (xx = 19", 23", or 24") |
| Cable Part Number | Description |
| CAB-ZX0606Cnnn | UltraCable, PC to Switch, DB25M to VGA-PS/2 Keyboard + Mouse |
| CAB-CX0606Cnnn | UltraCable Hi-Res, PC to Switch, DB25M to VGA-PS/2 Keyboard + Mouse |
| CAB-C1Y0509Cnnn | UltraCable Hi-Res, PC to Switch, DB25M to VGA-AT Keyboard + Serial Mouse |
| CAB-SCX0800Cnnn | UltraCable Hi-Res, Sun to Switch, DB25M to 13W3-Sun Keyboard + Mouse |
| CAB-CXUSBCnnn | UltraCable Hi-Res, USB to Switch, DB25M to VGA-USB Keyboard + Mouse |
| CAB-RGBHV0606Cnnn | UltraCable Hi-Res, PC to Switch, DB25M to RGBHV-PS/2 Keyboard + Mouse |
| CAB-ZX0606Mnnn | UltraCable, Switch to kvm, DB25M to VGA-PS/2 Keyboard + Mouse |
| CAB-CX0606Mnnn | UltraCable Hi-Res, Switch to kvm, DB25M to VGA-PS/2 Keyboard + Mouse |
| CAB-RGBHV0606Mnnn | UltraCable Hi-Res, Switch to RGB kvm, DB25M to RGBHV-PS/2 Keyboard + Mouse |
| CAB-USDTD9FCnnn | Cable, Serial DTE Equipment to Switch, DB25M to DB9F |
| CAB-USDCD9MCnnn | Cable, Serial DCE Equipment to Switch, DB25M to DB9M |
| CAB-USDTD25FCnnn | Cable, Serial DTE equipment to Switch, DB25M to DB25F |
| CAB-USDCD25MCnnn | Cable, Serial DCE equipment to Switch, DB25M to DB25M |
| CAB-USSNMD8MCnnn | Cable, Serial Sun to Switch, DB25M to MD8M |
| CAB-USSNMD8MCnnn | Cable, Serial Sun to Switch, DB25M to MD8M |
| CAB-CXUMXnnn | Cable, Bus Expansion Cable (Molded version) |
| CAB-CXUMHnnn | Cable, Bus Expansion Cable |
| CAB-08UTPnnn | Cable, Switch to Network, RJ45 to RJ45 |