CrystalView HDMI Active Optical Cable
Fiber video extender cable • HDMI 2.0 • 100m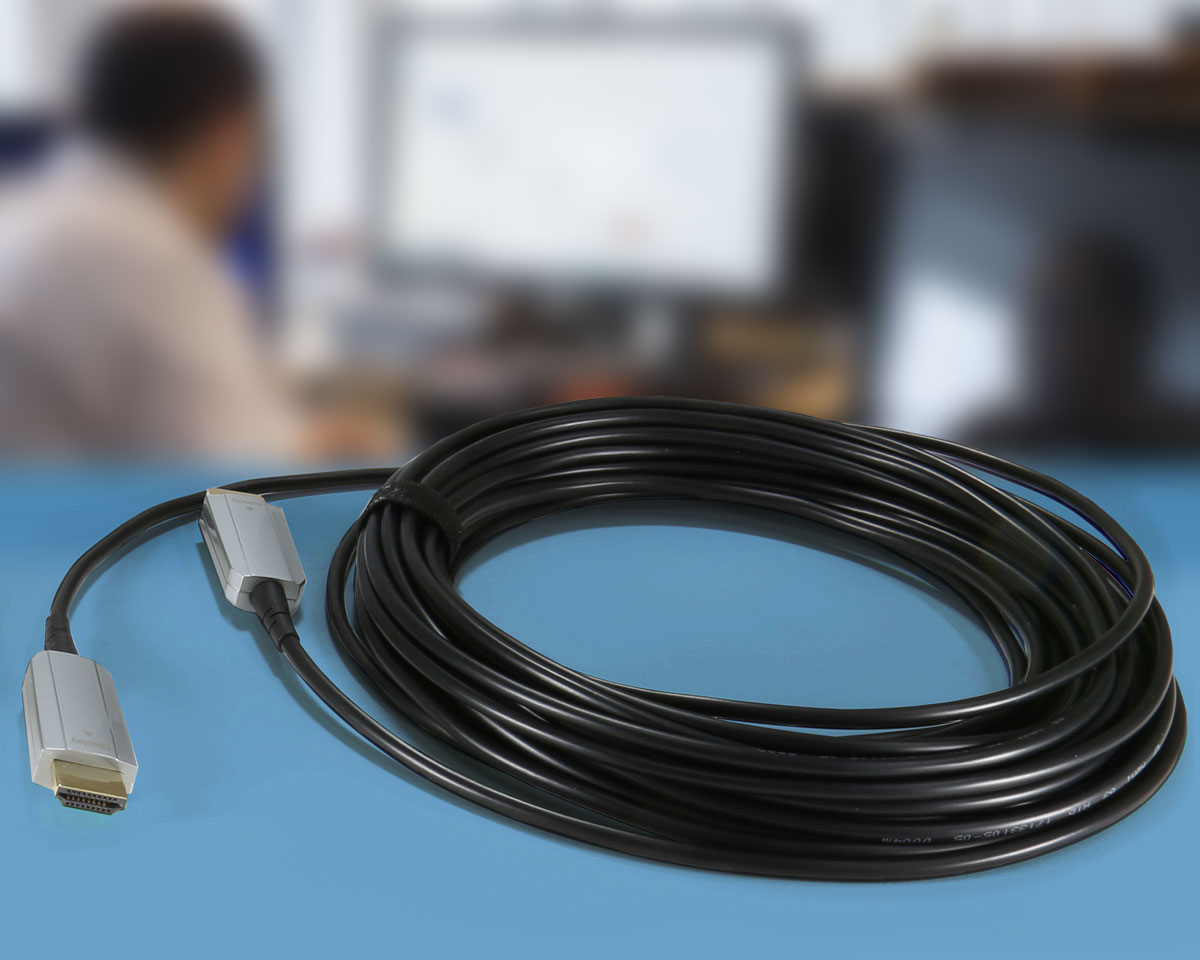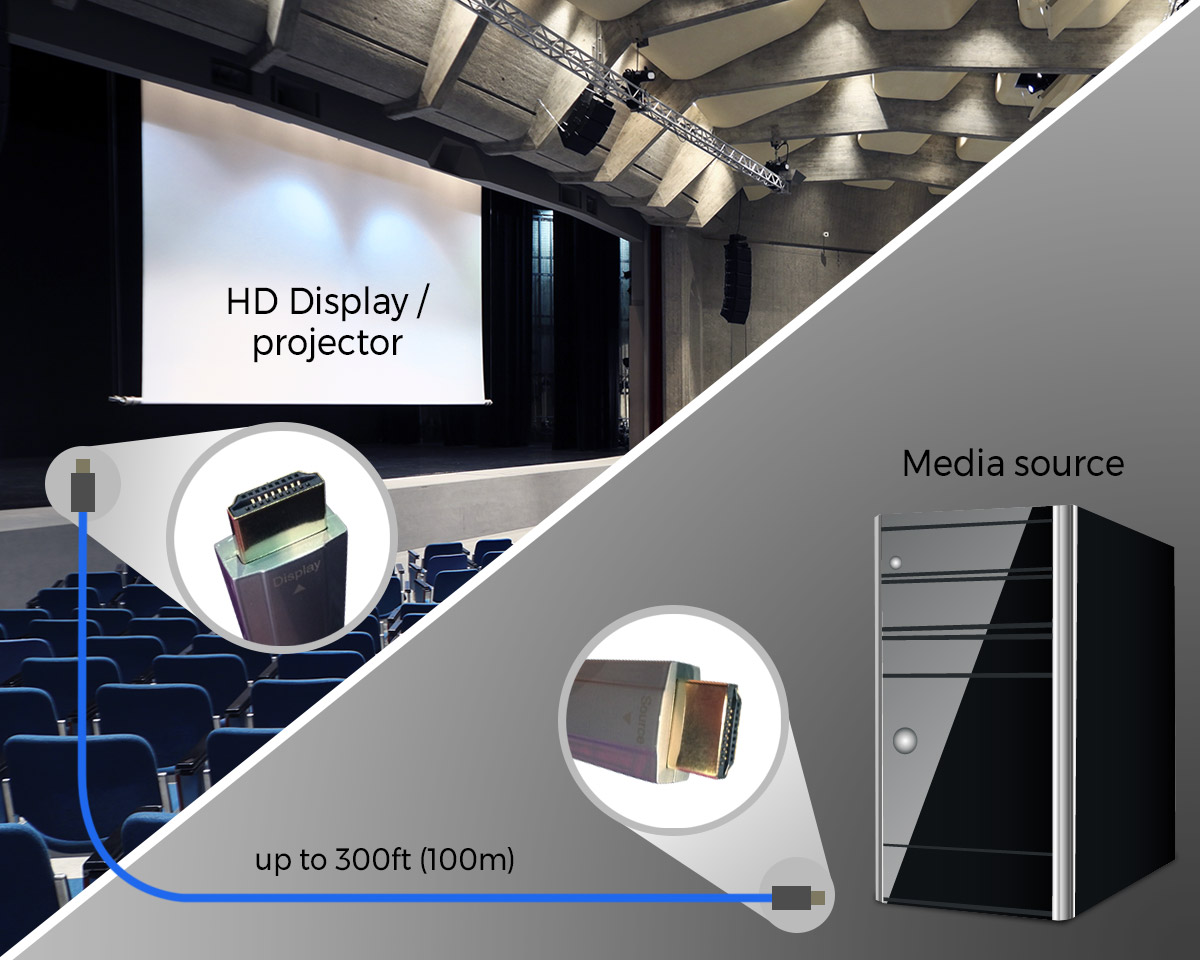 Cable with integrated optics to extend HDMI 2.0 up to 300 feet (100m)
Direct point-to-point active optical cable plugs directly into your equipment
Available in lengths of 32.8', 65.6', 98.4', 164.0', 229.6', and 328.0' (10m, 20m, 30m, 50m, 70m, and 100m)
Supports resolution of 3840x2160 @60Hz
Supports 10 bit HDR at 4K60 4:2:2
Bandwidth of 18 Gbps
Plug-and-play no configuration required, plugs in just like a copper cable
Draws its power from the HDMI interface, no external power needed
Low smoke zero halogen jacket can be run through plenum or floor-to-floor
Optimum transmission uses glass fiber for high speed signals(video) and copper for low speed signals (CEC, DDC, HPD)
Passes HDMI DDC signals and CEC signal transparently
Supports HDCP rev 1.4 and 2.2
Extremely low EMI or RFI radiation
Very low bend radius of less than an inch (20mm)
OVERVIEW
The CrystalView HDMI Active Optical Cable extends your HDMI 2.0 video display at 4K60 with 10-bit HDR up to 330 feet (100 m) away from your computer. The cable embeds all of the optics and electronics into the metal cable head to provide a sleek and streamlined installation. No external power supply is needed because all of the power is supplied by the HDMI interface. The cable is available in fixed lengths of:
32.8' (10m)
65.6' (20m)
98.4' (30m)
164.0' (50m)
229.6' (70m)
328.0' (100m)
There are so many places where this cable can be used such as in digital signage, presentation venues, hotel and restaurant, medical facilities, retail locations, industrial settings, military sites, and many other environments.
It has a low smoke zero-halogen jacket which permits it to be used in plenums, walls, and ceilings. Running in conduit is not required. It is installed and connects just like a copper cable, except it must be installed in the correct direction. It's 4mm jacket size is small and has a low bend radius of less than an inch (20mm). It is rugged with a crush resistance of 400N short term and 200N long term.
The cable is a hybrid style with both glass fiber and copper. The high speed video signals with embedded audio are transmitted in fiber. All audio formats are supported including up to 32 audio streams at 1536Khz sampling rate. The CEC, DDC, and hot-plug detect signals are passed through untouched in copper and therefore no setup or any special requirements are needed. The cable is HDCP compliant to all versions. There is no support for ARC or Ethernet in this cable.
For maximum benefit, pair it with Rose USB 3.1 optical extender cables to make a complete high-speed KVM extension.
SPECIFICATIONS
Dimensions

Jacket diameter: .16" (4.0mm)

Cable head W x D x H

17mm x 41mm x 7mm + connector

Net weight

10m 240g

20m 420g

30m 600g

50m 960g

70m 1320g

100m 1860g

Power

Bus powered from host device

250mW @ 5V

Resolution

Up to 3840x2160 @ 60Hz (HDMI 2.0b)

Bandwidth

18.0 Gbps

HDR

Any format per HDMI 2.0b spec

Audio

Any format per HDMI 2.0b spec

Jacket material

LSZH (low smoke zero halogen)

Tensile strength

Long term 100N

Short term 200N

Crush resistance

Long term 200N

Short term 400N

Bend radius

Dynamic 20mm

Static 10mm

Cable conductors

4 glass fibers

7 copper conductors

Distance

32.8' (10m)

65.6' (20m)

98.4' (30m)

164.0 '(50m)

229.6' (70m)

328.0' (100m)

Connectors

HDMI type A male (source)

HDMI type A male (display)

Environment

Operating temperature: 32°F–122°F (0°C–50°C)

Storage temperature: -4°F–122°F (-20°C–50°C)

Relative humidity: 15%–85%, non-condensing
PART NUMBERS
Product Part Number
Description
CLK-AHCH20-AMAMxxx
CrystalView optical cable, HDMI 2.0 Extender, HDMI type A male to HDMI type A male connectors
xxx length in meters: 010=10m, 020=20m, 030=30m, 050=50m, 070=70m, 100=100m