CrystalView HDMI 4K60
HDMI 2.0 HDBase-T Extender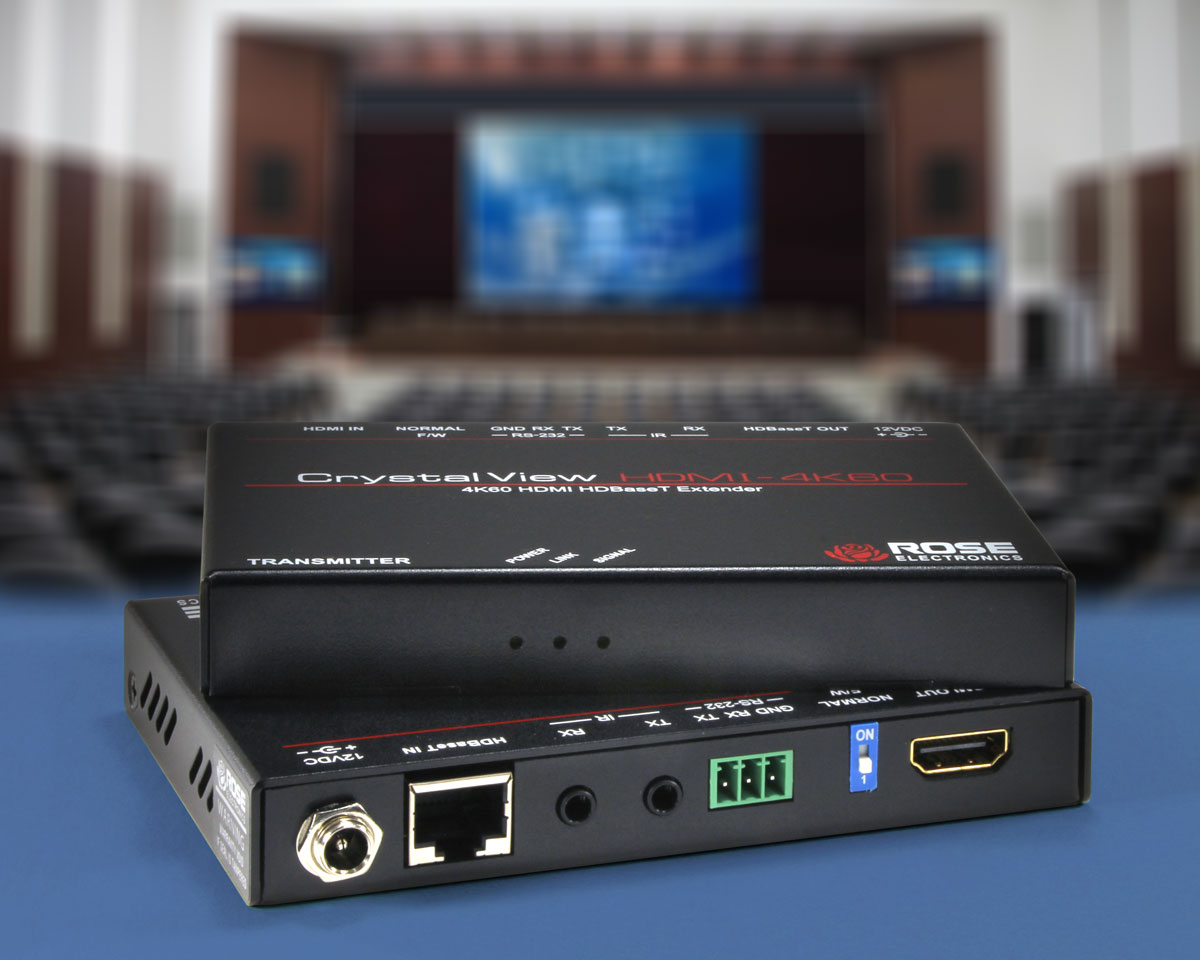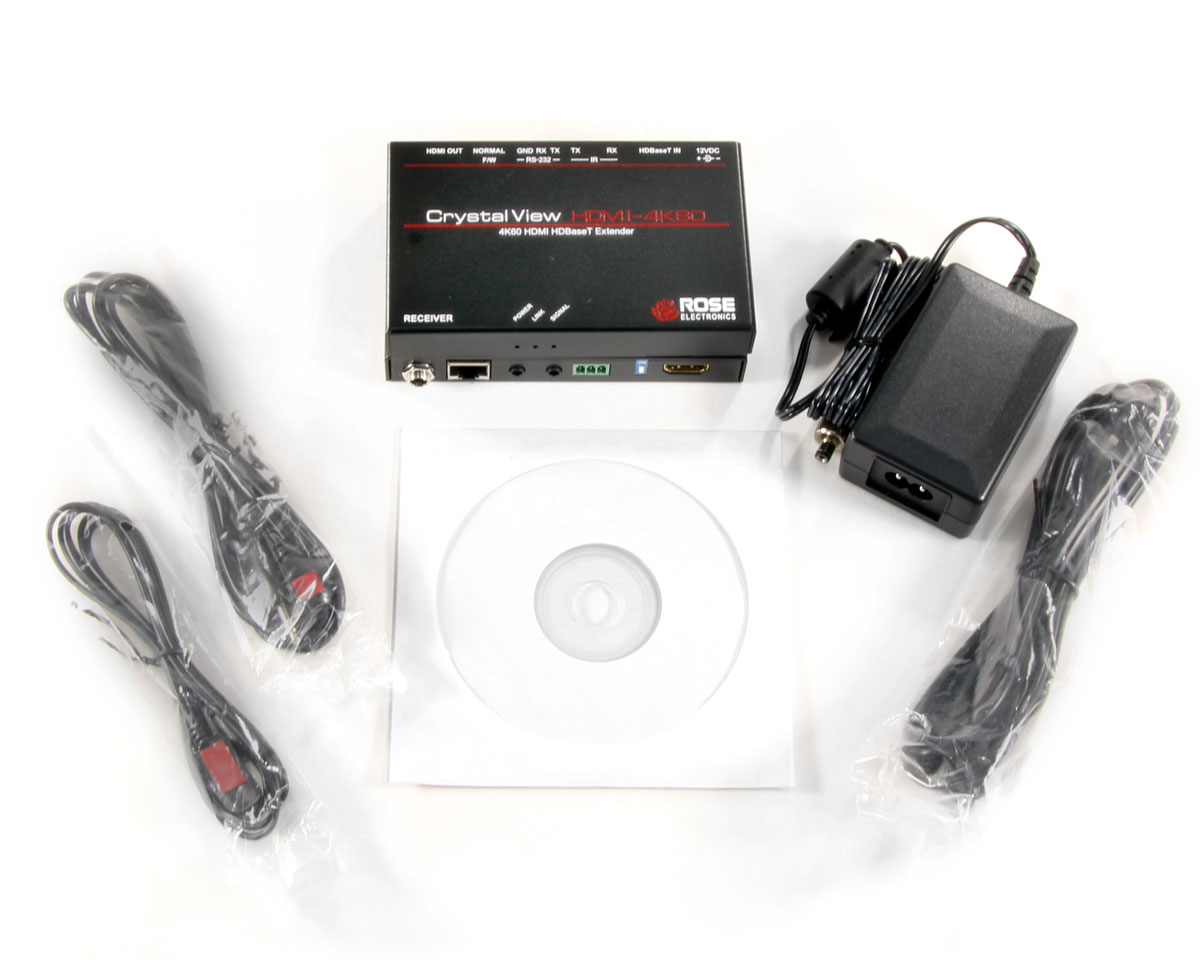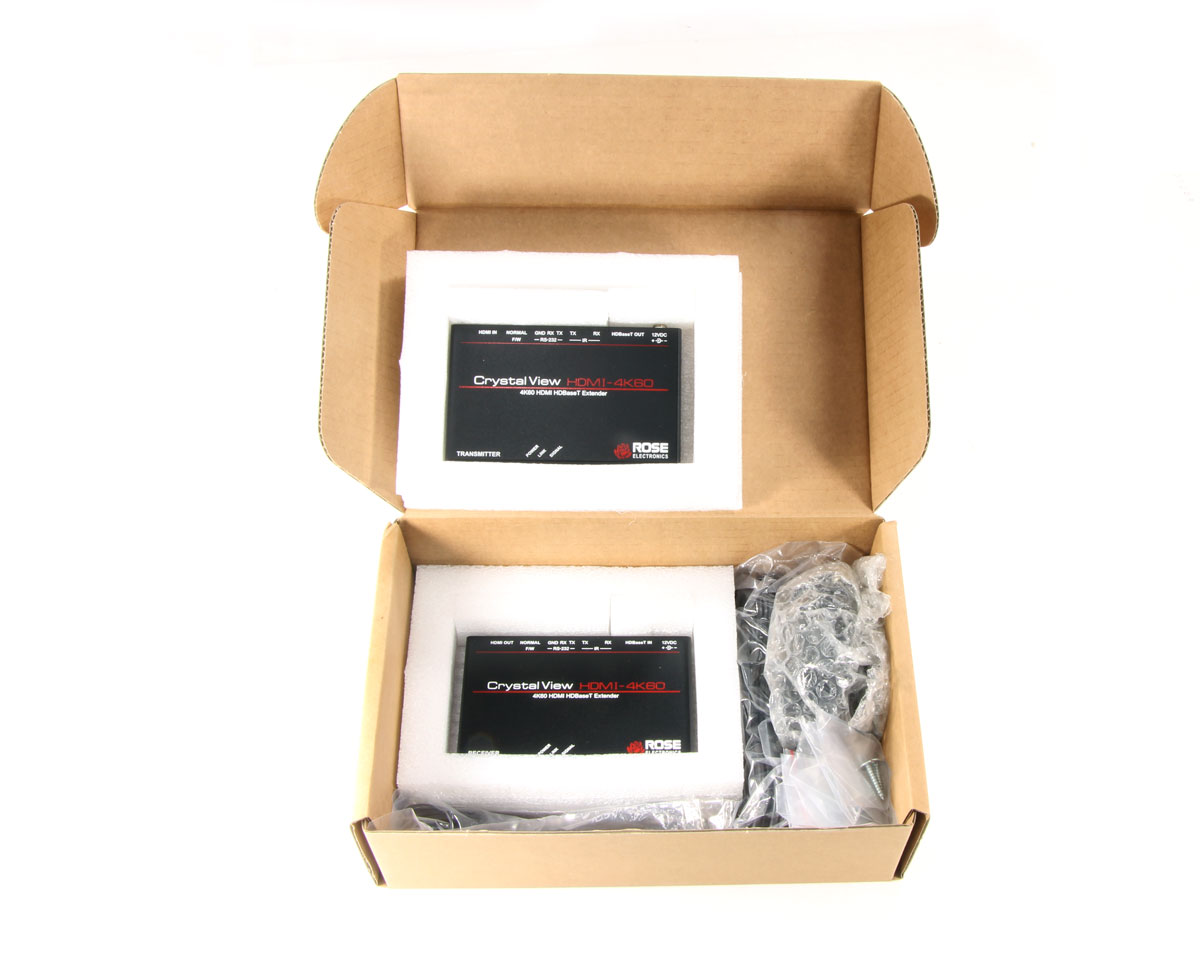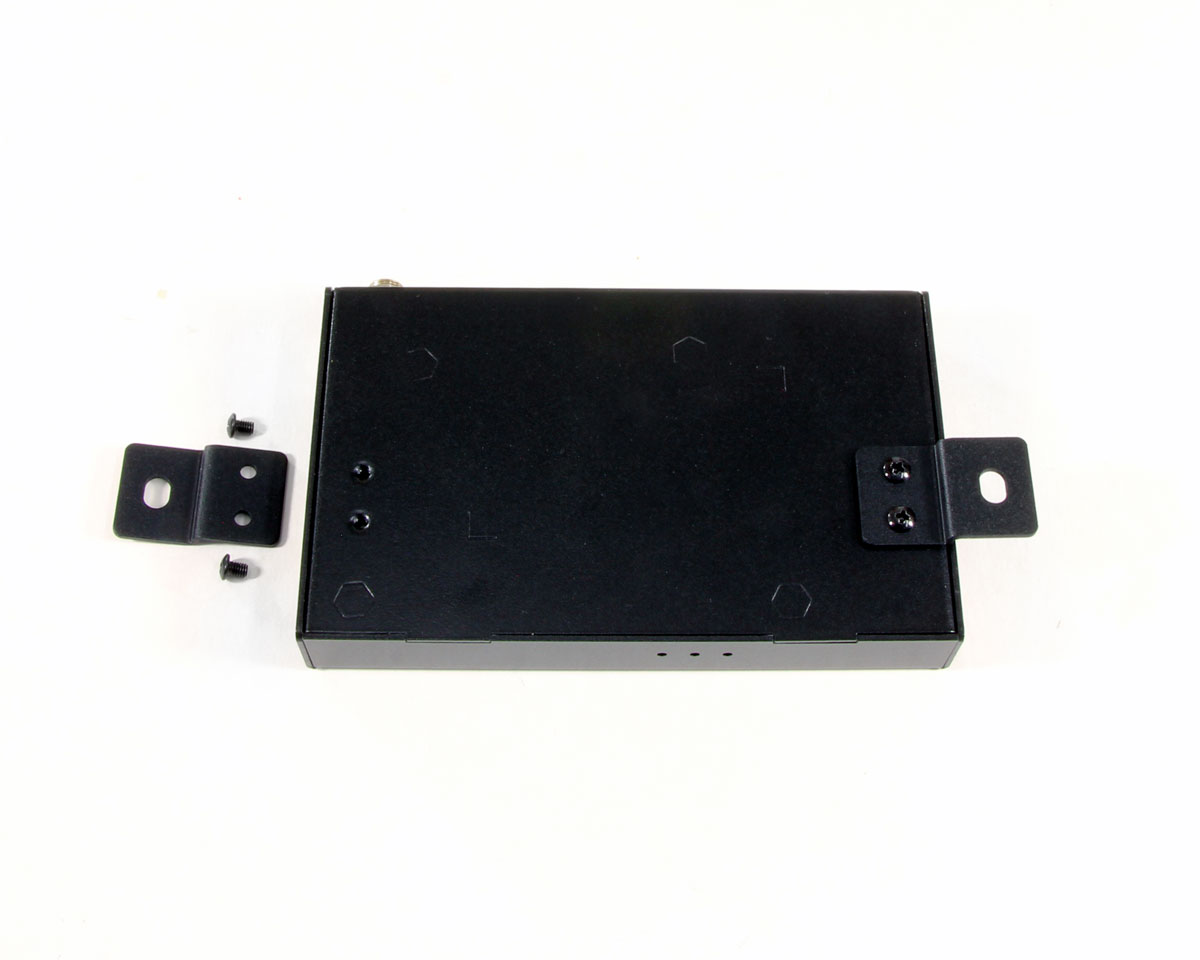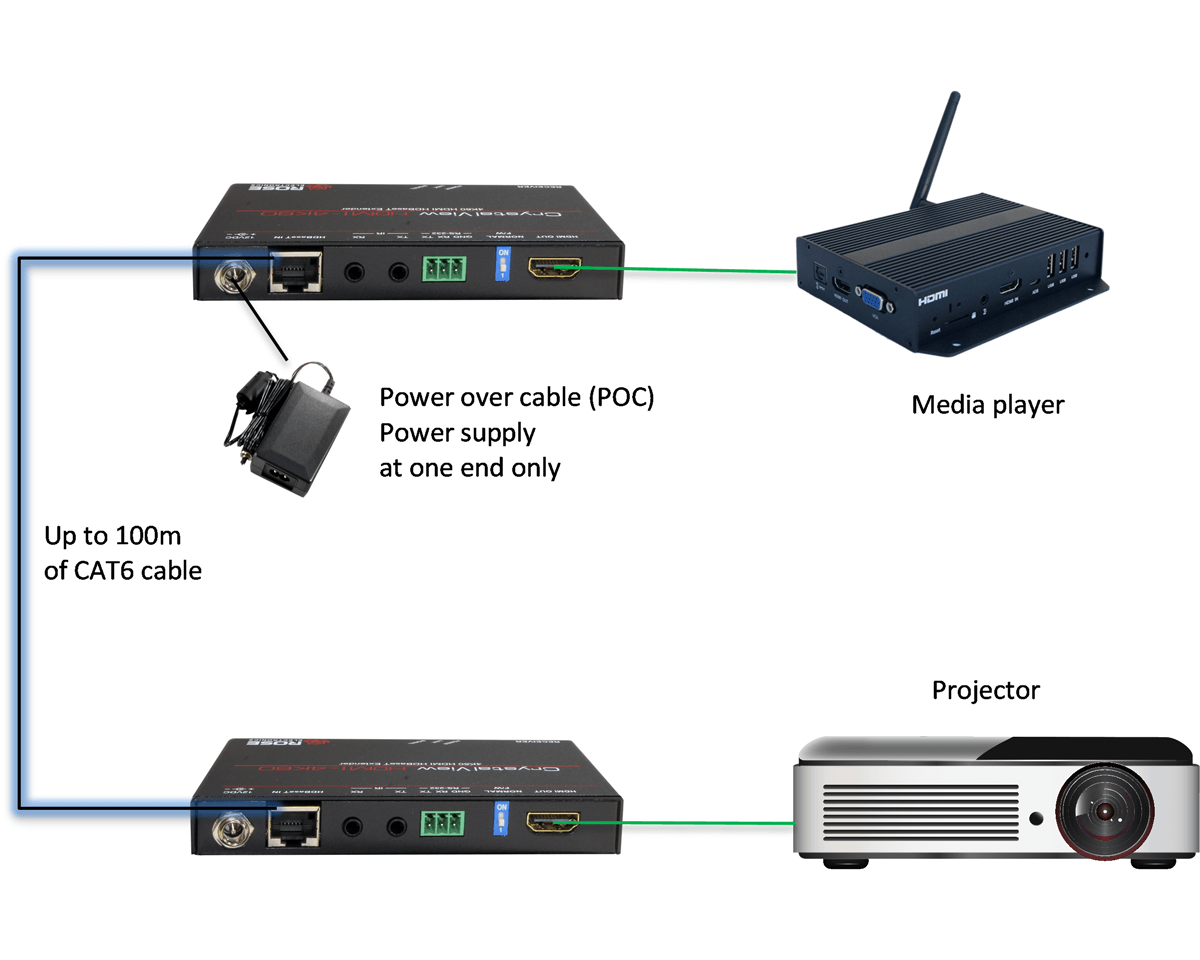 HDMI 2.0a compliant with HDCP 2.2
Supports 4K2K@60Hz (4:4:4, 8 bits) and HDR-4K2K@60Hz (4:2:0, 10 bits)
Extends and HDMI signal up to 330ft (100 meters) at Full HD 1080p, 48-bit and up to 265ft (80 meters) at HDR-4K2K@60Hz
Supports Power-over-Cable (PoC) so that both the TX and RX units are powered from a single source.
Supports full-duplex serial RS-232 control up to 115,200bps through a terminal block connector
Supports full frequency, bi-directional IR signaling and IR pass-through from 20KHz to 60KHz
Supports uncompressed HDMI 7.1ch digital audio, DTS-HD Master Audio and Dolby TrueHD high-bit rate audio
Video latency less than 20ms
HDMI-CEC support
DIP switch for firmware updates
Wall or desk mounting design for quick and easy installation
Packaged with IR transmitter, IR, receiver, and one power supply
OVERVIEW
Extend full HDMI-HD video over a single CATx cable, including 4K2K at 265ft (80 meters) and 1080p@60Hz at up to 330ft (100 meters), together with high-definition uncompressed 7.1ch audio, DTS-HD Master Audio™ and Dolby TrueHD™.
The extender features a built-in, bidirectional infrared (IR) signal, enabling remote control of devices at the source or destination end of the connection. For example, normal operation would allow control of the source Blu-ray or HD-TV player from the remote TV location.
For added versatility, both the transmitter and receiver units can be powered from the same power supply using Power-over-Cable (PoC), which is ideal for installations where power sources may be limited. Additionally, the extender is capable of transmitting RS-232 serial control signals up to 115,200bps over the same CATx cable, enabling the remote connection of any serial device that would normally be direct connected to the host device.
In summary, the extender can transmit HDMI, IR and RS-232 signals over a single CATx cable. The maximum cable distance is recommended as 330ft (100 meters) for the lower video resolutions.
LED indicators show the Power, Signal and HDBase-T Link status at each end
SPECIFICATIONS
Dimensions (W x D x H)

4.7" x 2.9" x 0.8" (120 x 74 x 20 mm)

Weight

0.4 lb (0.12 kg)

Power

100-240V, 50/60Hz

External adapter, 12V/2AA

PoC from TX or RX end using 12V PSU

10W

Resolution

4K2K@60Hz (4:2:0, 10 bits), 384MHz

4K2K @60Hz (4:4:4, 8 bits), 594MHz

1080p@60Hz to 330ft (100m)

All 3D video formats, x.v. color

Distance

330' (100m)

Connectors

Transmitter:

1 x HDMI (In)

1 x 3.5mm, IR-TX

1 x 3.5mm, IR-RX

1 x RJ45, 8P8C (Out)

1 x RS-232 (In/Out)

Receiver:

1 x HDMI (Out)

1 x 3.5mm, IR-TX

1 x 3.5mm, IR-RX

1 x RJ45 8P8C (In)

1 x RS-232 (In/Out)

Controls

Power, Link and Signal on front panel

Environment

Operating temperature: 32°F–104°F (0°C–40°C)

Storage temperature: -4°F–140°F (-20°C–60°C)

Relative humidity: 20%–90%, non-condensing
PART NUMBERS
| | |
| --- | --- |
| CRK-1DTX0H1-ASR/P | CrystalView HDMI 4K60 Extender |
| CRV-DLDTX0H1-ASR/P | CrystalView HDMI 4K60 Extender (Transmitter unit) |
| CRV-SRDTX0H1-ASR/P | CrystalView HDMI 4K60 Extender (Receiver unit) |
| CAB-HDMIMM006 | HDMI Extension cable M/M, 6ft, 2.0m |
| CAB-HDMIMM010 | HDMI Extension cable M/M, 10ft, 3.0m |
| ACC-DVIFHDMIM | HDMI(M) to DVID(F) adapter cable |