CrystalView Plus USB
CATx Extender • VGA • USB • Audio • Serial+Skew • 1000'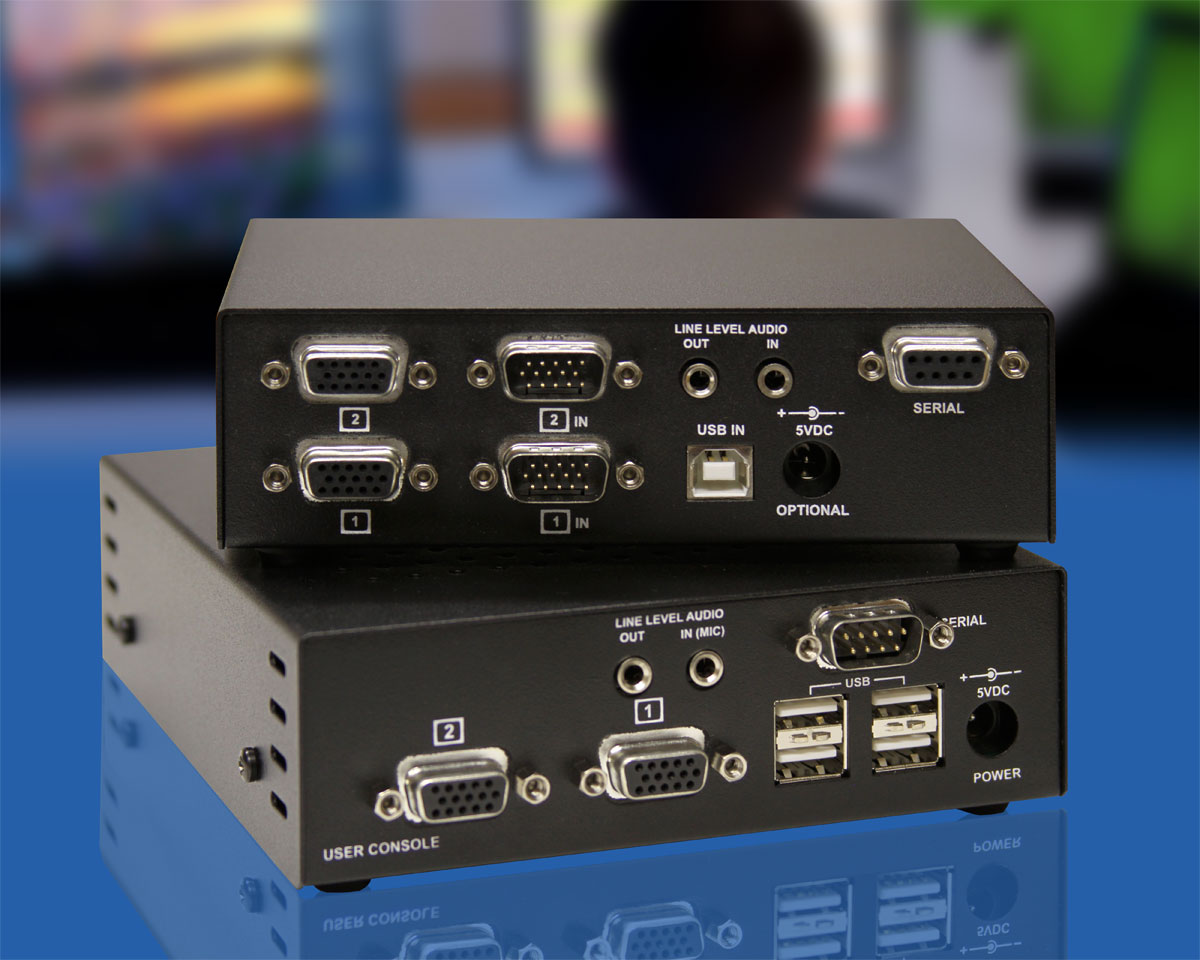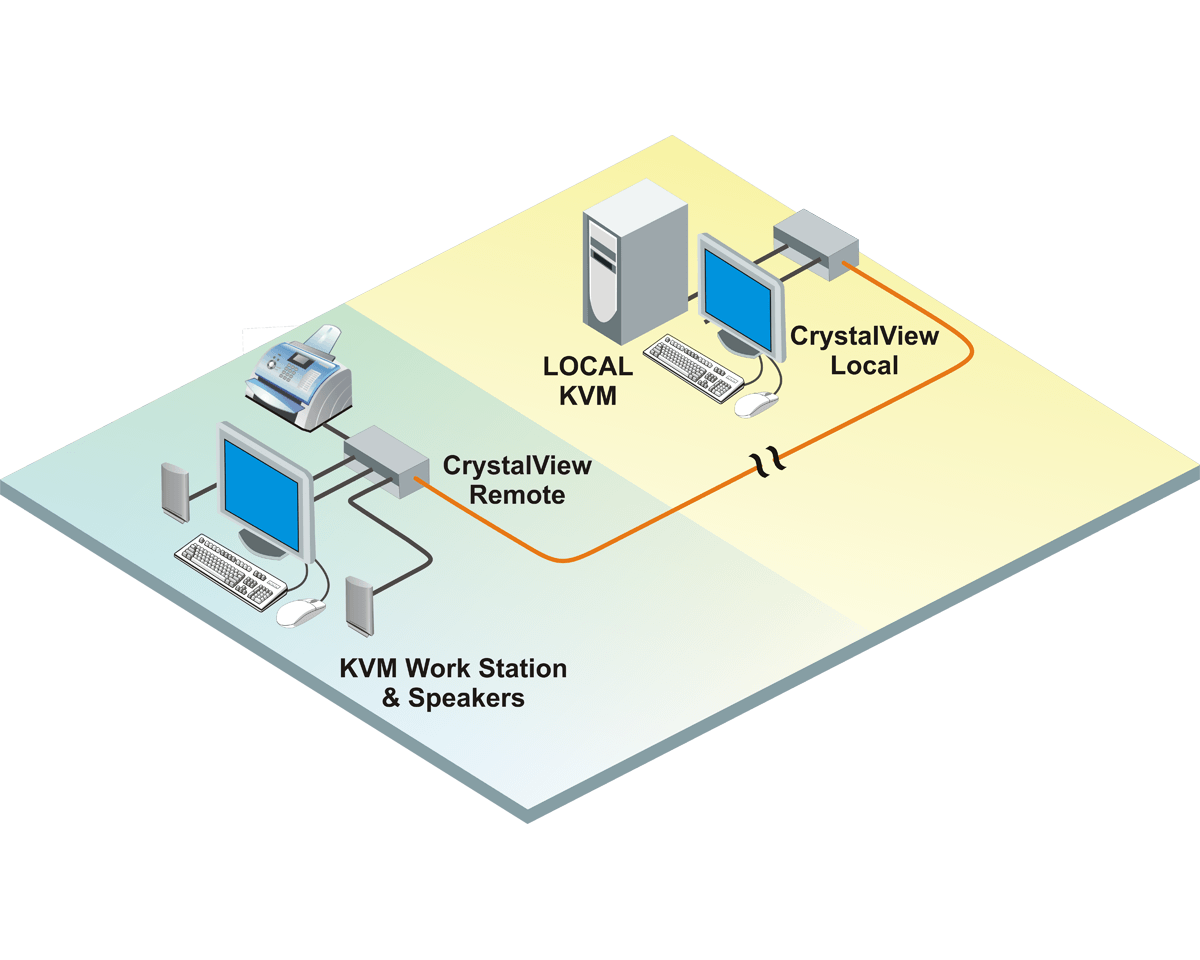 Video resolution up to 1600 x 1200 at 650' (200m), 1280 x 1024 at 1,000' (300m)
Video adjustments of equalization and skew are done via keyboard commands
Supports USB 1.1 peripherals and has integrated 4-port USB hub
Optional stereo speakers, microphone, serial extension
Optional dual-head video feature
OVERVIEW
CrystalView Plus USB KVM extenders enables you to position KVM stations up to 1,000 feet away from computers over CATx cabling.
In order to simplify control over video, CrystalView Plus USB has eliminated adjustment knobs and jumper switch settings. Integrated controls that adjust for skew, low and high frequency equalization, and RGB delay for each channel are easily adjusted using keyboard commands compatible with almost any operating system.
Channel settings (single or dual) can be adjusted individually or universally, allowing for a high degree of flexibility and quality.
The stereo audio option produces low-noise and high quality sound. Speakers, headphones, and a powered or un-powered microphone can be connected to the remote unit, making it suitable for a wide range of business applications. The bi-directional serial option allows you to connect a touchscreen, digital tablet, serial printer or other supported serial device to the remote location. No set-up is needed; just connect the serial device to the serial port and it is ready to use.
SPECIFICATIONS
Dimensions
(W x D x H)

CRV-DLU1: 4.9" x 4.4" x 1.2" (124 x 113 x 30 mm)

CRV-DLU1/AUD, CRV-DLU2V: 4.9" x 4.4" x 1.7" (124 x 113 x 44 mm)

CRV-DLU2V/AUD: 5.7" x 4.4" x 1.7" (145 x 113 x 44 mm)

CRV-RU1V, CRV-RU2V: 5.7" x 5.9" x 1.2" (144 x 151 x 30 mm)

CRV-RU1V/AUD, CRV-RU2V/AUD: 5.7" x 5.9" x 1.7" (144 x 151 x 44 mm)

Weight

CRV-DLU1: 1.5 lb (0.7 kg)

CRV-DLU1/AUD, CRV-DLU2V: 2.0 lb (0.9 kg)

CRV-DLU2V/AUD: 2.4 lb (1.1 kg)

CRV-RU1V, CRV-RU2V: 2.6 lb (1.2 kg)

CRV-RU1V/AUD, CRV-RU2V/AUD: 2.6 lb (1.2 kg)

Power

Transmitter: Powered by computer USB

Receiver 100-240 VAC 50-60Hz, External adapter, +5V DC, 4A

CRV-DLU1: 10W

CRV-DLU1/AUD, CRV-DLU2V: 10W

CRV-DLU2V/AUD: 10W

CRV-RU1V, CRV-RU2V: 10W

CRV-RU1V/AUD, CRV-RU2V/AUD: 10W

Distance

VGA 1600 x 1200: 650' (200m)

VGA 1280 x 1024: 1,000' (300m)

Connectors

Transmitter:

VGA video: HD15M

Other VGA video: HD15F

Keyboard/mouse: USB Type B

Dual access keyboard/mouse: 2 USB type A

Link: RJ45 jack, one per video port

Audio: Two 3.5mm stereo jacks

Serial: DB9F

Receiver:

VGA video: HD15F

Other VGA video: HD15F

USB HID: Four USB Type A

Link: RJ45 jack, one per video port

Audio: Two 3.5mm stereo jacks

Serial: DB9M

Power: Barrel jack

Controls

Skew: Keyboard command 2.8 ns/step

Link active:Green LED in RJ45 link

Data active:Yellow LED in RJ45 link

Environment

Operating temperature: 32°F–104°F (0°C–40°C)

Storage temperature: -13°F–140°F (-25°C–60°C)

Relative humidity: 5%–90%, non-condensing
PART NUMBERS
Kits (transmitter, receiver, and power supply)
CRK-2U1V
CrystalView Plus, USB KVM Extender Kit, Skew Compensation, Single-head Video, Dual Access
CRK-2U2V
CrystalView Plus, USB KVM Extender Kit, Skew Compensation, Dual-head Video, Dual Access
CRV-DLU2V
CrystalView Plus, USB KVM Transmitter, Skew Compensation, Dual-head Video, Dual Access
CRV-RU2V
CrystalView Plus, USB KVM Receiver, Skew Compensation, Dual-head Video, Dual Access
CRV-DLU1V
CrystalView Plus, USB KVM Transmitter, Skew Compensation, Single-head Video, Dual Access
CRV-RU1V
CrystalView Plus, USB KVM Receiver, Skew Compensation, Single-head Video, Dual Access
/AUD
With audio and serial
Cables
CAB-CXVMMnnn
UltraCable Hi-Res, PC to Switch, VGA to VGA
CAB-D9MFnnn
Cable, Serial, DB9M to DB9F
CAB-SPMMnnn
Cable, Stereo Audio, Mini-Phone M-M (3.5mm)
CAB-08UTPnnn
Cable, UTP CAT5, RJ45MM