CrystalView USB2
Multi-head CATx Extender • VGA • Audio • USB 2.0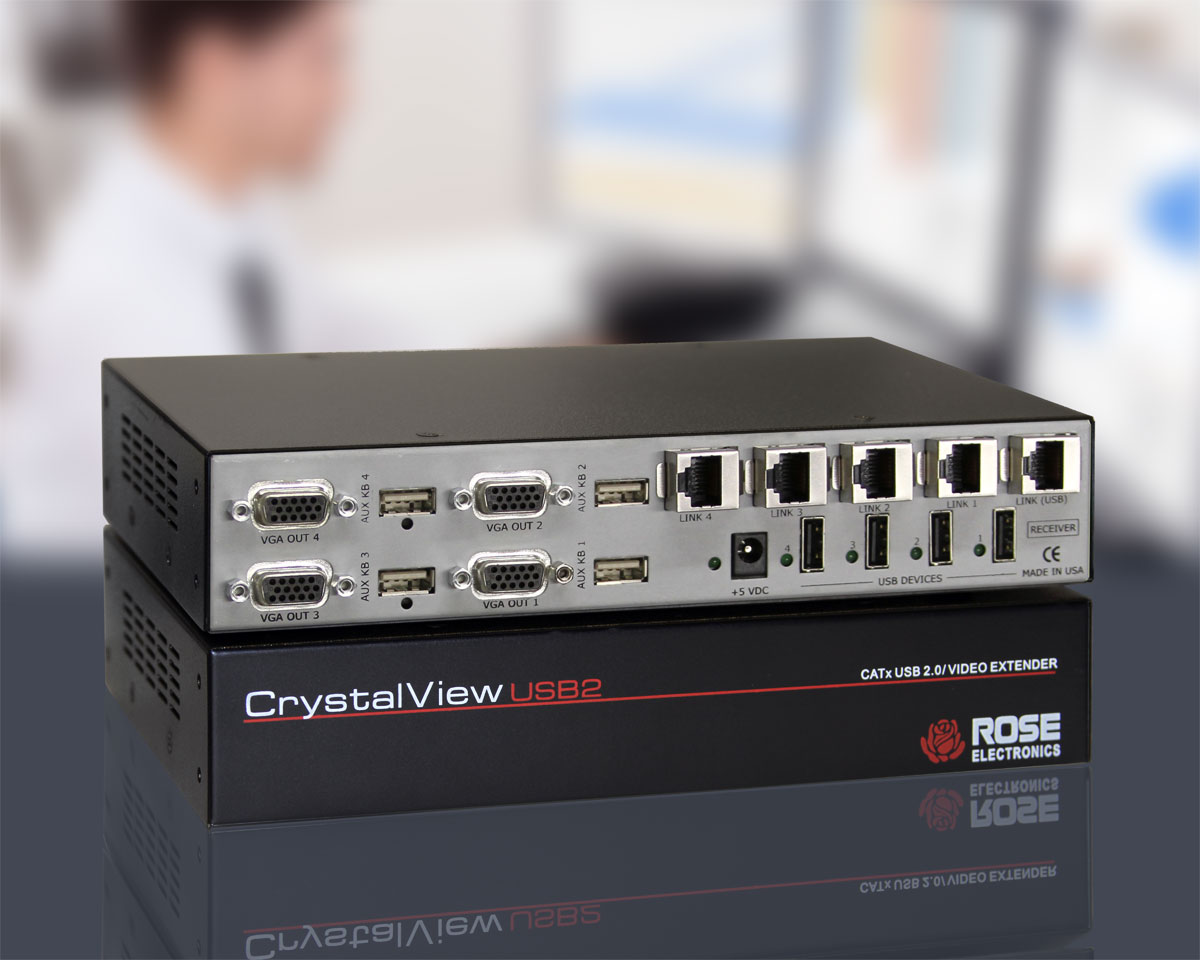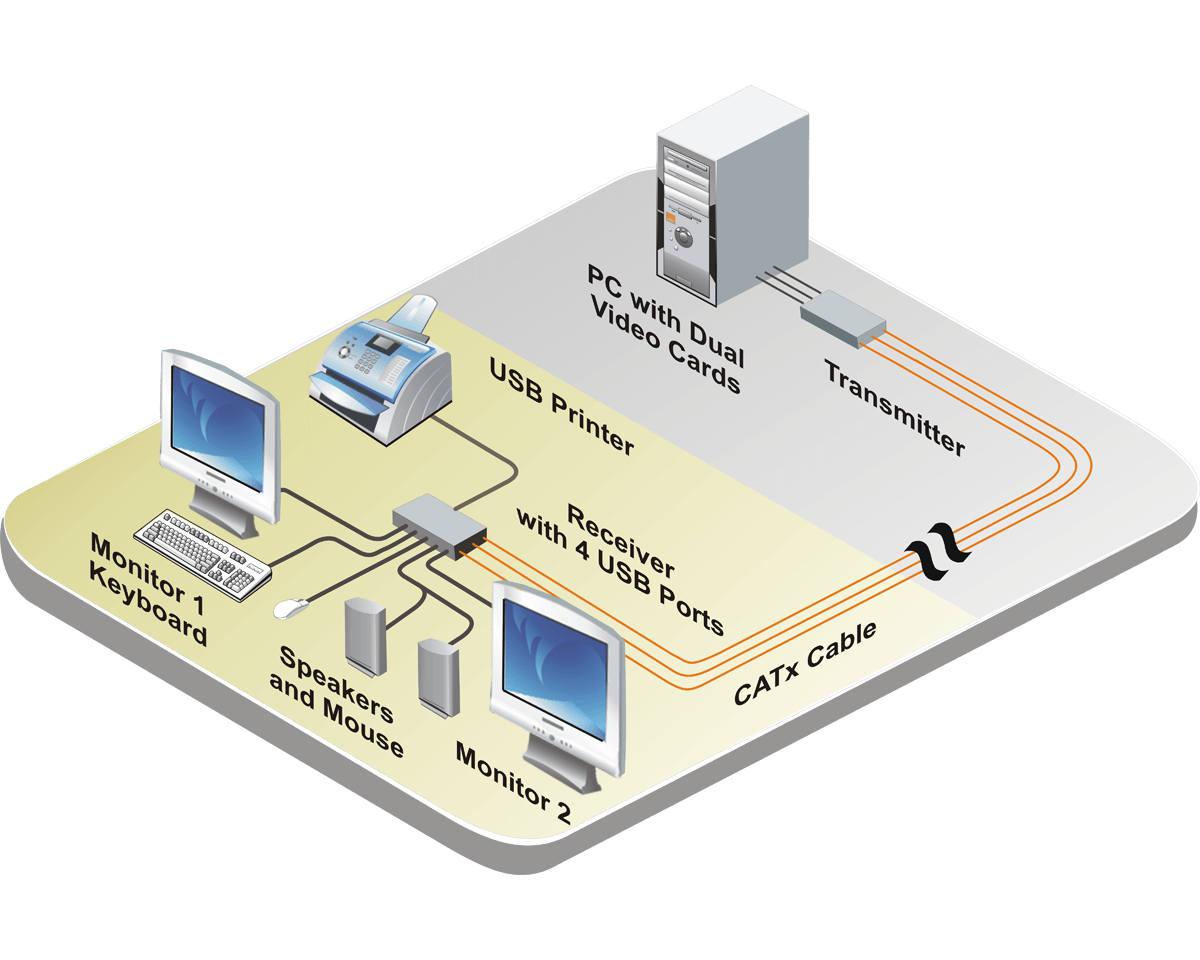 Multi-head VGA, USB, keyboard/mouse, and USB 2.0
Resolution up to 1920 x 1200 at a maximum 330' (100m)
Automatic equalization provides clear video over any type of CATx cable
Optional automated video skew adjustments adjusts for cable skew properties
Keyboard and mouse emulation assures smooth operation
Available in single, dual, or quad models
OVERVIEW
CrystalView USB2 audio & video extender is an optimal product for extending single, dual, or quad video and USB devices up to 330 feet from a computer. You can view single, dual, or quad video at resolutions of up to 1920 x 1200, listen to audio, and fully operate and control your USB devices using standard CATx cable.
CrystalView USB2 is designed to be compatible with USB devices requiring large amounts of power, and supports remote access for most USB peripheral devices at both the high speeds of USB 2.0 and the regular rates of USB 1. Both the single and dual video models have high quality audio connections available to accompany video.
Using the latest extender technology, CrystalView USB2 automatically corrects the video compensation and gain based on the cable length. The optional auto skew model adjusts the RGB video components without any required outside input to provide a crystal clear display regardless of cable type, patch panels, or cable routing. Great for presentations and remote workstations, video monitor(s) coupled with audio can be placed in remote control areas, classrooms, conference areas, video studios, and more. Using either a USB or PS2 keyboard (part number selectable), the user can also fine-tune each video channel using keyboard hot-key commands.
The 150ft (50m) model supports USB2.0 (EHCI) and has the uni-directional audio option.
The 330ft (100m) model supports USB1.1 (OHCI/UHCI) as well as USB2.0 (EHCI), and has uni and bi-directional audio options.
SPECIFICATIONS
Dimensions (W x D x H)

9" x 5.7" x 1.73" (228 x 144 x 44 mm) (1U)

Weight

3.3 lb (1.5 kg)

Power

100-240 VAC 50-60Hz

External adapter, +5V DC, 5A at each end

Single video: 5W

Dual video: 10W

Quad video: 20W

Distance

VGA 1920 x 1200 : 150' (50m)

VGA 1920 x 1200 : 330' (100m)

USB Host Support:

150ft (50m) : EHCI (USB2.0)

330ft (100m) : OHCI/UHCI (USB1.1), EHCI (USB2.0)

Connectors

Transmitter:

VGA video: HD15M

Keyboard/mouse/HID: USB Type B

Audio: 3.5mm stereo jack

Power: Barrel jack

Receiver:

VGA video: HD15F

USB devices: Four USB Type A

Audio: 3.5mm stereo jack

Power: Barrel jack

VGA video adjust: Four USB type A

Controls

Unit power: Green LED

Receiver device active: Green LED (four)

Video adjustment: Automatic, override with keyboard commands

Environment

Operating temperature: 41°F–113°F (5°C–45°C)

Storage temperature: -13°F–140°F (-25°C–60°C)

Relative humidity: 5%–90%, non-condensing
PART NUMBERS
Kits (transmitter, receiver, and power supply)
CRK-1Vn4U2TP-150
Single VGA / USB 2.0 with AUX/KB
CRK-2Vn4U2TP-150
Dual VGA / USB 2.0 with AUX/KB
CRK-4Vn4U2TP-150
Quad VGA / USB 2.0 with AUX/KB
CRK-1Vn4U2TP-100M
Single VGA / USB 2.0 with AUX/KB
CRK-2Vn4U2TP-100M
Dual VGA / USB 2.0 with AUX/KB
CRK-4Vn4U2TP-100M
Quad VGA / USB 2.0 with AUX/KB
Options
"n" substitute using (H = USB-HID, P = PS2 KB port)
/W
Automatic Skew Adjustment
/A1
Uni-directional audio (per kit). Uni-directional model
/A2
Bi-directional audio (per kit) Uni and bi-directional models