MultiVideo DVI
1×2, 1×4 Multi-head KVM Switch • DL DVI-I • USB2.0 • Audio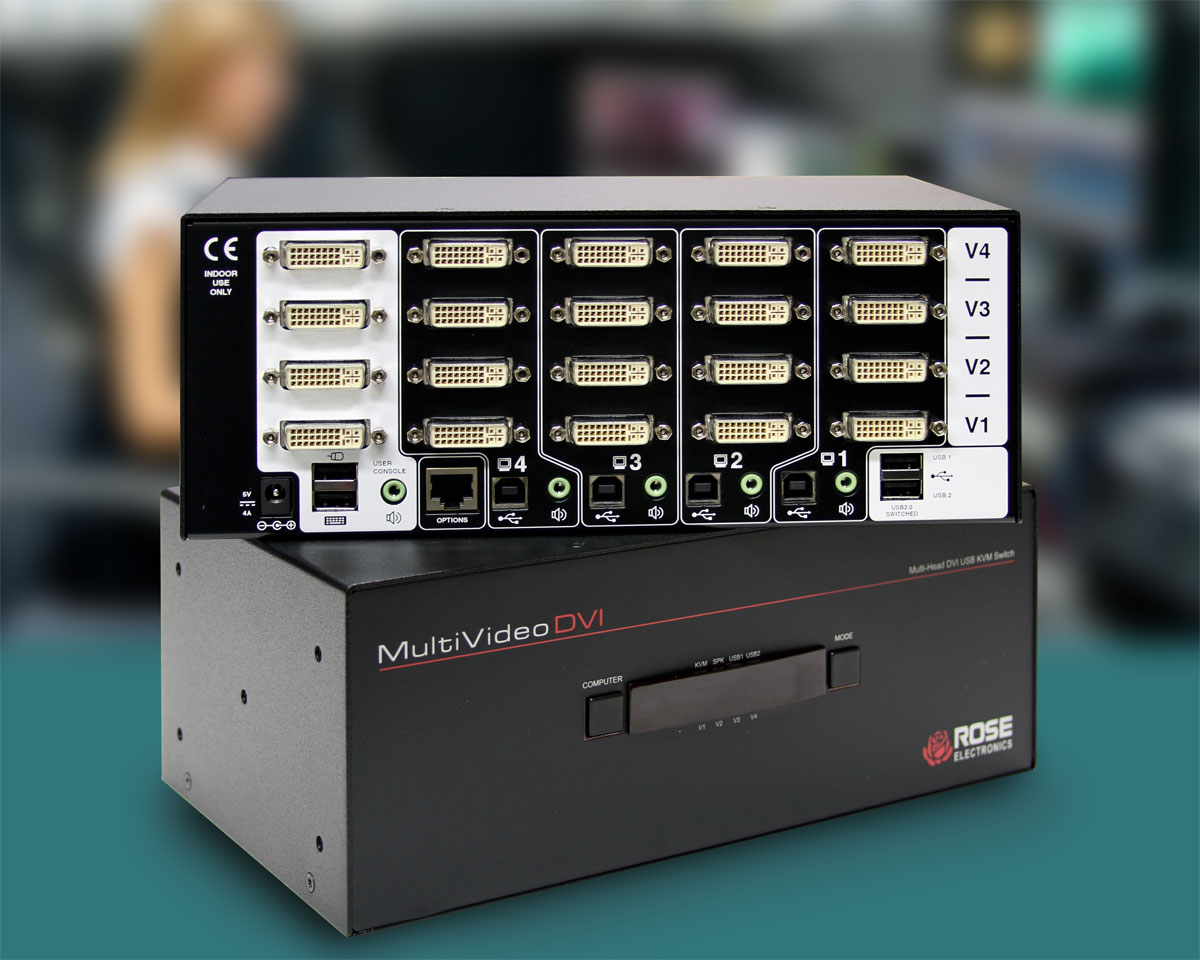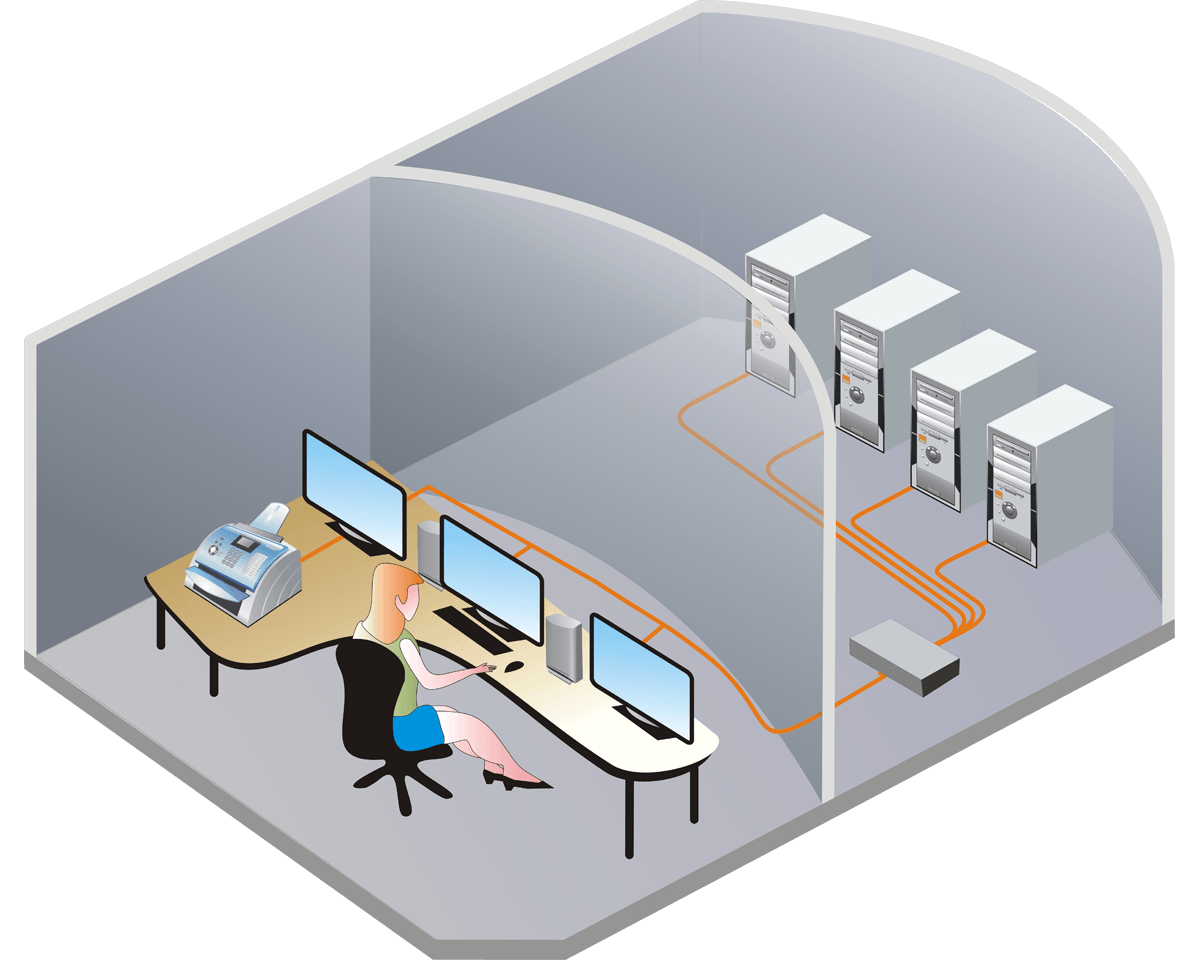 Available models: 1×4 dual head, 1×4 tri-head, 1×4 quad-head
Switches both dual-link DVI and analog VGA
Digital video up to 2560×1600@60Hz, higher resolutions at lower frame rates
DVI bandwidth 330 Mpixels/sec
Analog video up to 2048×1536@60Hz
Select a computer using the front panel switches, hotkeys, or mouse buttons
Multi-platform support for PC's, Apple, and Linux
USB keyboard and mouse emulation
EDID emulation
Transparent USB 2-port hub for connecting shared USB devices at 480Mb/sec
Independent or joint switching of PCs, USB hub, and speakers
Front panel indicator shows the currently active channel, peripheral switching status, keyboard and mouse activity, OSD status, upgrade mode, and power
OVERVIEW
MultiVideo DVI switch is ideal for switching dual, tri, and quad-head computer digital or analog video sources simultaneously to up to 4 remote monitors and 1 keyboard and mouse. Crystal clear video at resolutions up to 2560 x 1600 make this unit a perfect addition to any video environment.
Switching and selection are made easy using the front panel display, hotkey sequences, or serial switching commands on a remote computer via a serial cable. MultiVideo DVI can be connected to an additional identical unit and synchronized to switch video from multiple computers. For example, when a switching command is sent to the master unit, the same switching command is sent to the secondary unit. Therefore, both units are switched to the same CPU port and display the same video on all connected monitors. The KVM, USB peripherals, and audio can all be switched in conjunction to a selected CPU port, or can be switched independently to separate ports.
MultiVideo DVI is produced in 3 models:
1x4 Dual-link Dual DVI-I Video
1x4 Dual-link Tri DVI-I Video
1x4 Dual-link Quad DVI-I Video
All MultiVideo DVI models support USB 2.0 keyboards, mice, and peripherals, and include an option for audio.
SPECIFICATIONS
Dimensions (W x D x H)

10.24" x 5.9" x 3.94" (260 x 150 x 100 mm)

Weight

5 lb (2.3 kg)

Power

100-240 VAC 50-60Hz

External adapter: +5 VDC 4A

10-20W

Resolution

Single-link DVI: 1920 x 1200

Dual link DVI: 2560 x 1600

Distance

25 feet (7.6m)

Connectors

Video: DVI female

Keyboard: USB Type A

Mouse: USB Type A

Audio: 3.5mm Female audio jack

USB 2.0 device: Two USB Type A

USB 2.0 host: USB Type B

Power: Barrel jack

Controls

Computer/Mode: Front panel push buttons

Selected computer: LED digit

Selected KVM: Red LED per port

Selected speaker: Red LED per port

Selected USB1: Red LED per port

Selected USB2: Red LED per port

Environment

Operating temperature: 32°F–104°F (0°C–40°C)

Storage temperature: 23°F–140°F (-25°C–60°C)

Relative humidity: 5%–90%, non-condensing
PART NUMBERS
| Product Part Number | Description |
| --- | --- |
| MDM-4T2DDL-A1 | 1X4 KVM Switch, DVI-I, Dual-link, Dual-Video, USB 2.0 |
| MDM-4T3DDL-A1 | 1X4 KVM Switch, DVI-I, Dual-link, Tri-Video, USB 2.0 |
| MDM-4T4DDL-A1 | 1X4 KVM Switch, DVI-I, Dual-link, Quad-Video, USB 2.0 |