Multivideo HDMI
1×4 Multi-head KVM Switch • HDMI • USB2.0 • Audio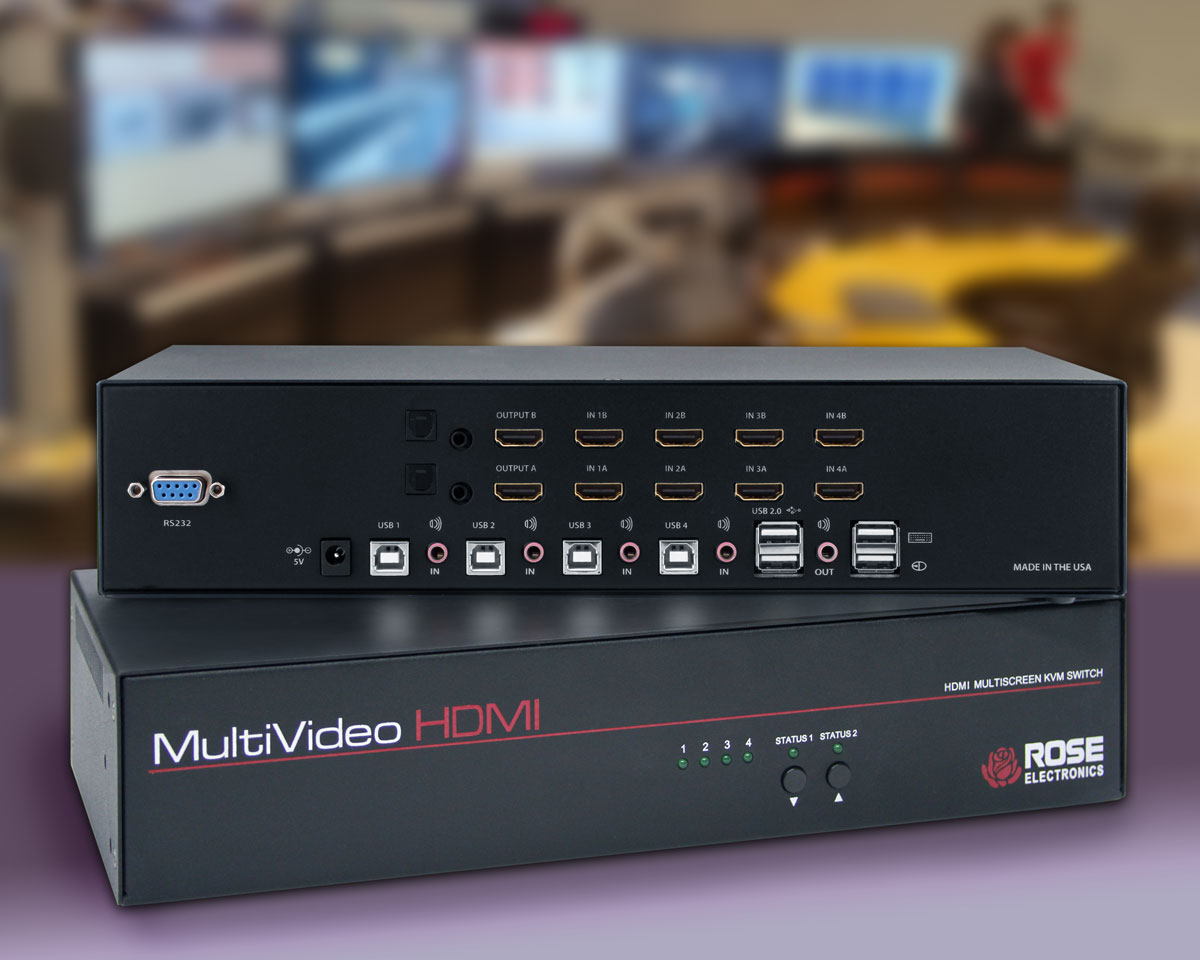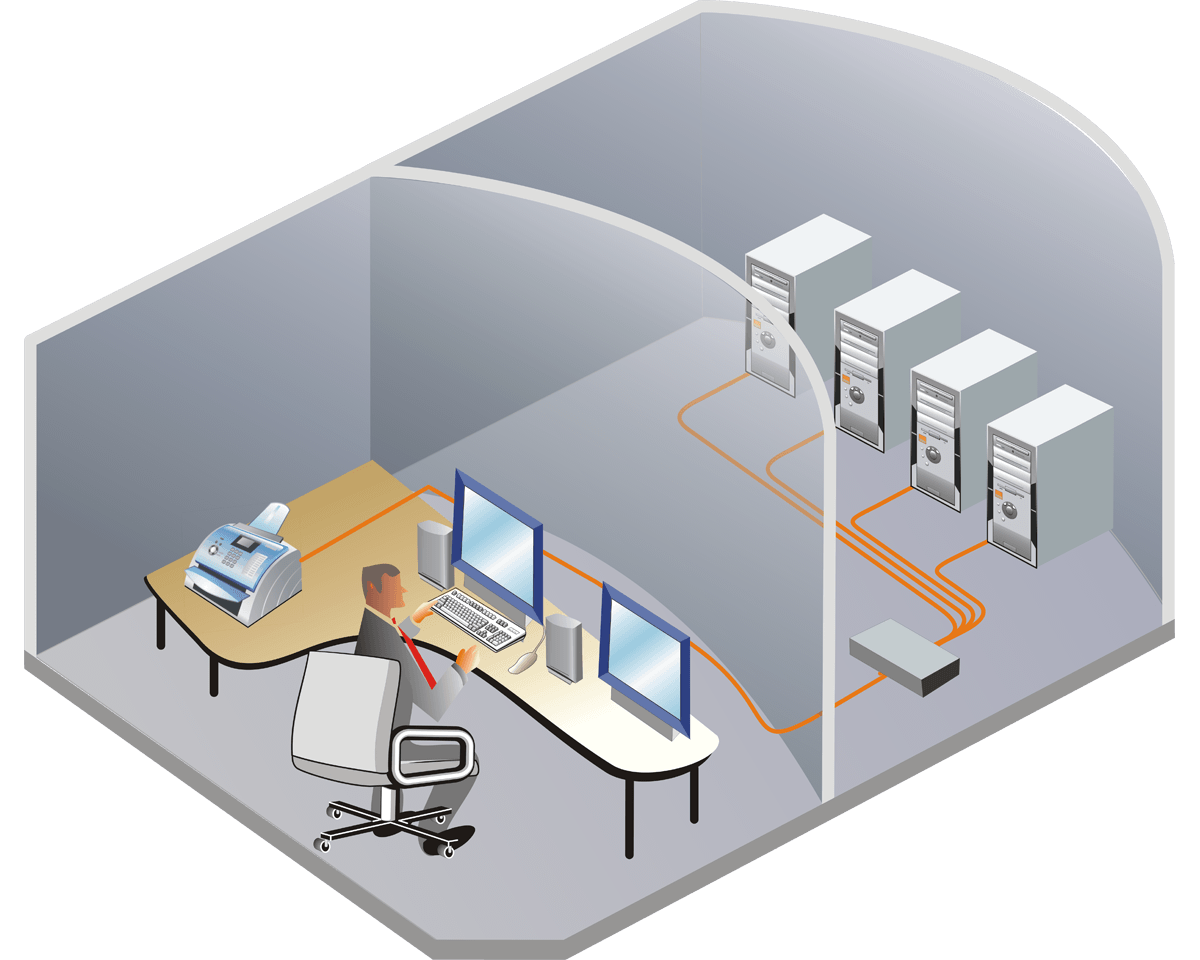 Quad-head or dual-head video input
Resolutions up to 3840×2160 @ 30 Hz
HDMI 1.4a compliant
Full USB keyboard and mouse emulation to all computers provides switching without interruption
Independent switching of KVM, peripheral USB devices, and audio
Unit can be controlled using front panel push buttons, keyboard hot key commands, or RS-232 commands from an external controller
Front panel LEDs indicate the active computer connection
Can be used with any major operating system: Windows, Linux, MAC OS
EDID pass-through enables smooth and efficient switching
Mounts in a standard 19 inch rack
OVERVIEW
The MultiVideo HDMI switch is ideal for switching dual and quad-head computer digital video sources simultaneously to up to 4 remote monitors and 1 keyboard and mouse. Crystal clear video at resolutions up to 3840 x 2160 @30Hz make this unit a perfect addition to any video environment.
Switching and selection are made easy using the front panel display, hotkey sequences, or serial switching commands on a remote computer via a serial cable. The KVM, USB peripherals, and audio can all be switched in conjunction to a selected CPU port, or can be switched independently to separate ports.
MultiVideo HDMI is available in 2 models:
1x4 Dual-Head
1x4 Quad-Head
All MultiVideo HDMI models support USB 1.1/2.0 keyboards, mice, and peripherals, and include stereo audio (speaker) support.
SPECIFICATIONS
Dimensions
(W x D x H)

Dual-Head: 12.8" x 6" x 3" (325 x 152 x 76 mm)

Quad-Head: 12.8" x 6" x 4.5" (325 x 152 x 114 mm)

Weight

Dual-Head: 4.4 lb (2 kg)

Quad-Head: 5.7 lb (2.6 kg)

Power

100-240VAC, 50-60Hz

External Adapter 5V/4A

Dual-Head: 15W

Quad-Head: 20W

Resolution

3840 x 2160 @30Hz

Distance

65ft (20m) each side

Connectors

DisplayPort Video: DisplayPort In/Out

HDMI Video: DisplayPort In/HDMI Out

Keyboard: USB Type A

Mouse: USB Type A

USB2.0 device: 2 x Type A

USB Host: USB Type B

Audio: 3.5mm stereo speaker audio jack

Serial: DB9F RS-232

Power: 5VDC barrel jack

Controls

Front Panel Push Button (2)

Select LED (4)

Status LED (2)

Keyboard hotkey

Serial port control

Environment

Operating temperature: 23°F–95°F (-5°C–35°C)

Storage temperature: -4°F–185°F (-20°C–85°C)

Relative humidity: 5%–95%, non-condensing
PART NUMBERS
| Product Part Number | Description |
| --- | --- |
| MDM-4T2HD-A1 | 1X4 KVM Switch, DP, Dual-Video, USB 2.0, Audio |
| MDM-4T4HD-A1 | 1X4 KVM Switch, DP, Quad-Video, USB 2.0, Audio |
| Cable Part Number | Description |
| CAB-HDMIMM006 | HDMI male-male cable (6ft (2.0m) |
| CAB-HDMIMM010 | HDMI male-male cable (10t (3.0m) |
| CAB-USBAB006 | USB-AB 6ft (2.0m) USB Cable |
| CAB-USBAB010 | USB-AB 10ft (3.0m) USB Cable |
| CAB-SPMM006 | Audio with 3.5mm, 6ft (2.0m) |
| CAB-SPMM010 | Audio with 3.5mm, 10ft (3.0m) |