QuadraVista HDMI
Multiviewer • 1920×1200 • USB • Audio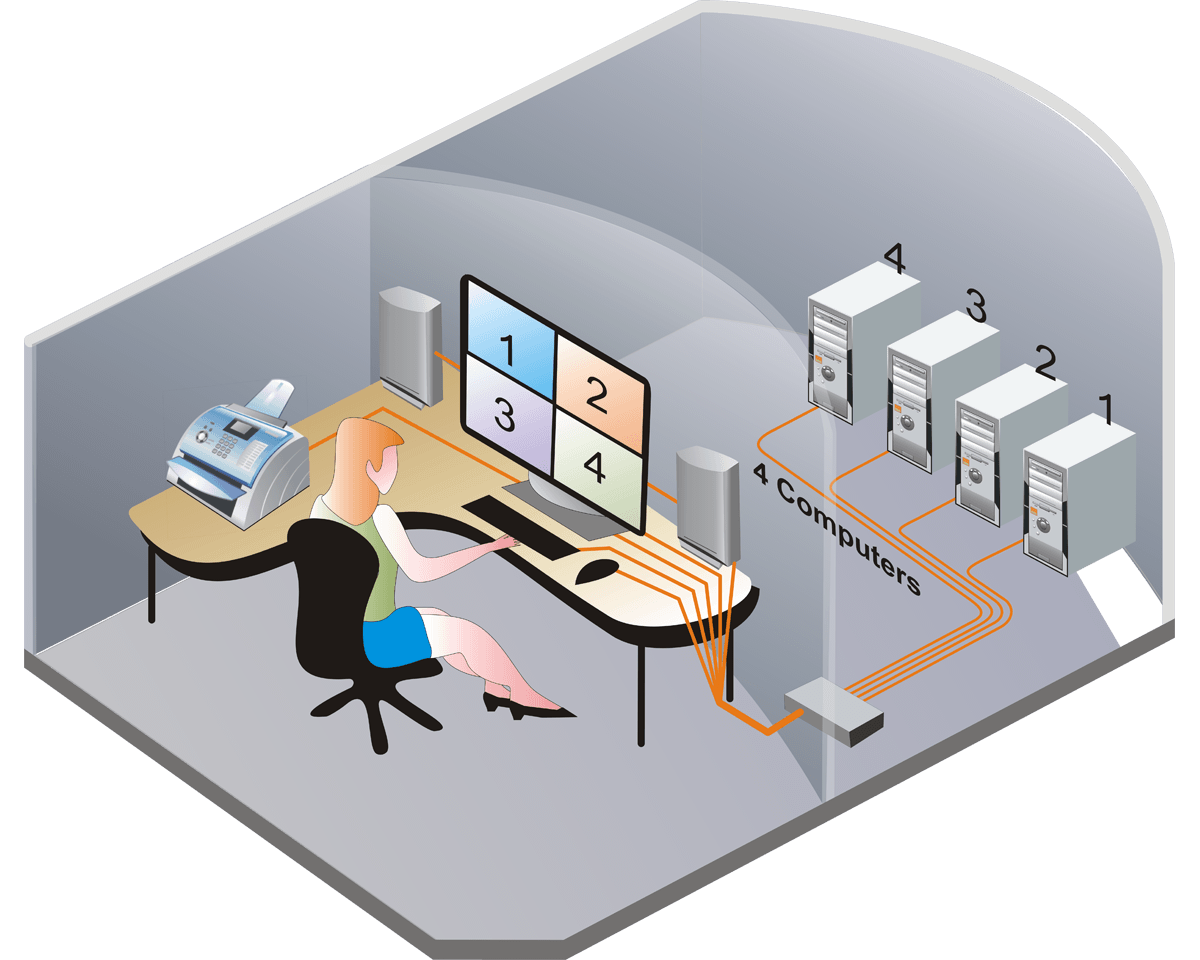 HDMI / DVI support (DVI via DVI to HDMI adapter)
Supports resolutions up to:

1920 x 1200 @ 50/60 Hz or
1600 x 1200 @ 75 Hz

Auto detection of input video signal and output monitor resolutions
Control up to four HDMI sources on a single display
Adjustable quad video windows or full screen display
Touch screen support
Picture-in-Picture support
Four analog audio inputs / 2 built in speakers
Local headphone and microphone jacks
Customizable display with 3D borders, labels, volume bar, background picture and more.
Full keyboard and mouse control of the HDMI source computers
Supports USB and PS/2 based computers
USB hub support for connecting USB printers, cameras, flash drives, graphic tablets and other USB compatible devices
Intuitive keyboard controls to:

Toggle a window on or off
Increase of decrease audio volume
Toggle full screen mode on or off
Switch audio source
Access and control the connected computers from a laptop with software provided

Two operating modes, Host and Remote, are available
OVERVIEW
QuadraVista HDMI is a flexible and powerful multiviewer product with the capability to control and monitor up to four HDMI video sources on a single display. It can be accessed locally, by sending ASCII commands using HyperTerminal, or from a third party controller for control over IP.
QuadraVista HDMI provides simultaneous support for HDMI and DVI video with high quality resolutions up to 1920 x 1200. Features of QuadraVista HDMI include automatic sensing of the input signal, picture-in-picture, video loss detection, and automatic output monitor resolution detection, making it one of the most sophisticated multiviewers on the market. Each of the four individual displays is highly customizable, and can be resized, repositioned, swapped, or locked to the present window layout.
Supplementing the HD video and digital audio, the unit comes with four embedded stereo audio inputs and support for USB peripherals such as printers, cameras, and tertiary storage devices.
SPECIFICATIONS
Dimensions (W x D x H)

6.9" x 10.3" x 1.75" (174 x 260 x 44.5 mm)

Weight

2.8 lb (1.3 kg)

Power

100-240 VAC 50-60Hz

External adapter, +12V DC, 5A

60W

Resolution

HDMI: 1920 x 1200

Distance

CPU/KVM: 25 feet (7.6m)

Connectors

Computer ports:

HDMI video in: Four HDMI Type A

USB/PS2/audio in: Four HD15 female

Console port:

HDMI video out: HDMI Type A

Keyboard: USB Type A

Mouse: USB Type A

USB 2.0 devices: Two USB type A

Microphone: 3.5mm jack

Headphone: 3.5mm jack

Other:

Network: RJ45

USB control: USB type B

Power: Locking barrel jack

Dip switch: Firmware update and reset to default

Controls

Power: Green LED

Remote status: Green/Yellow LED - Local/Remote

Computer status: Per port Green/Yellow LED - Active/ Standby

Environment

Operating temperature: 32°F–104°F (0°C–40°C)

Storage temperature: -13°F–140°F (-25°C–60°C)

Relative humidity: 5%–80%, non-condensing
PART NUMBERS
| Product Part Number | Description |
| --- | --- |
| QV-4KVMHDMI | QuadraVista, Quad Video KVM Switch, 1 KVM to 4 CPUs |