QuadraVista HDMI 4K60
Multiviewer • 4K60 • Front panel presets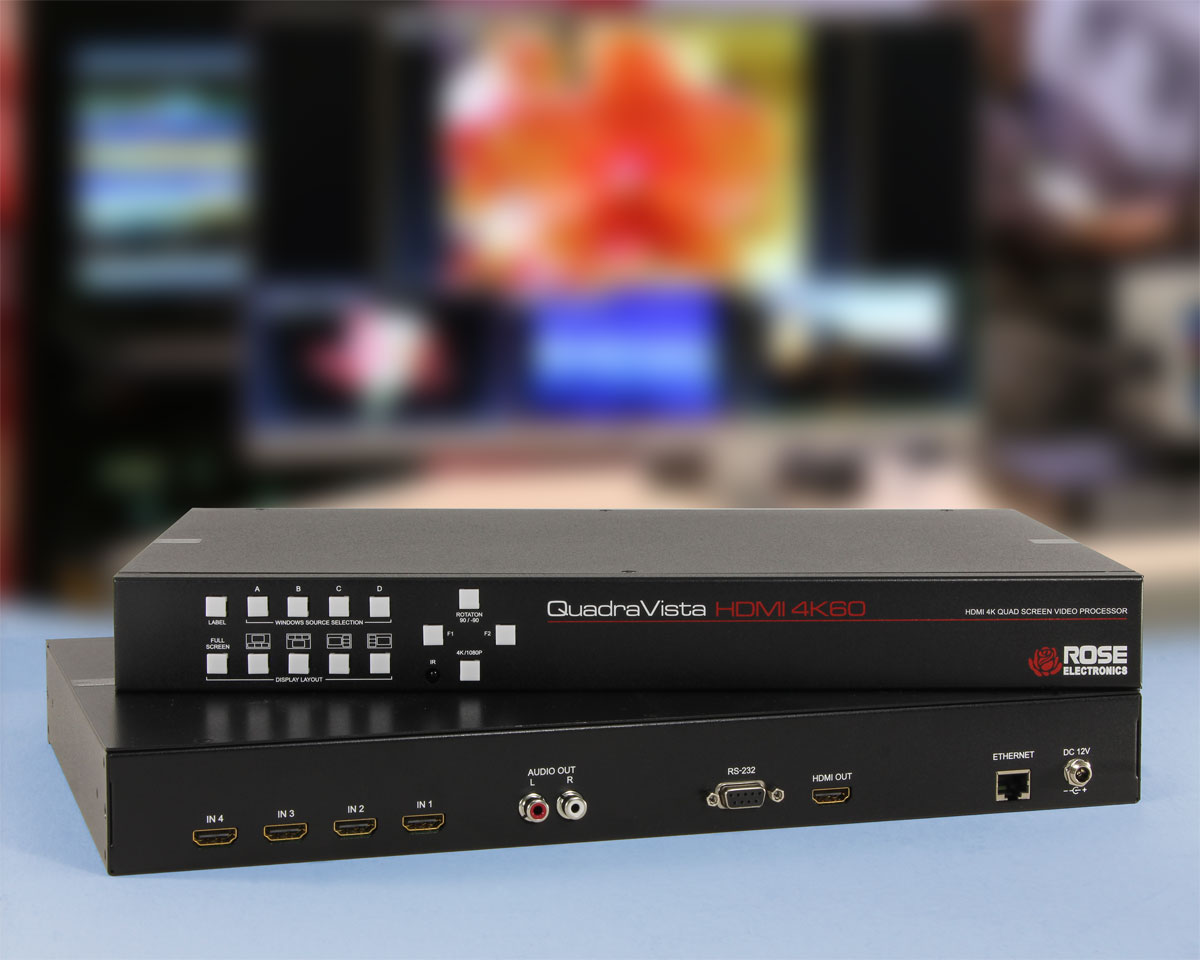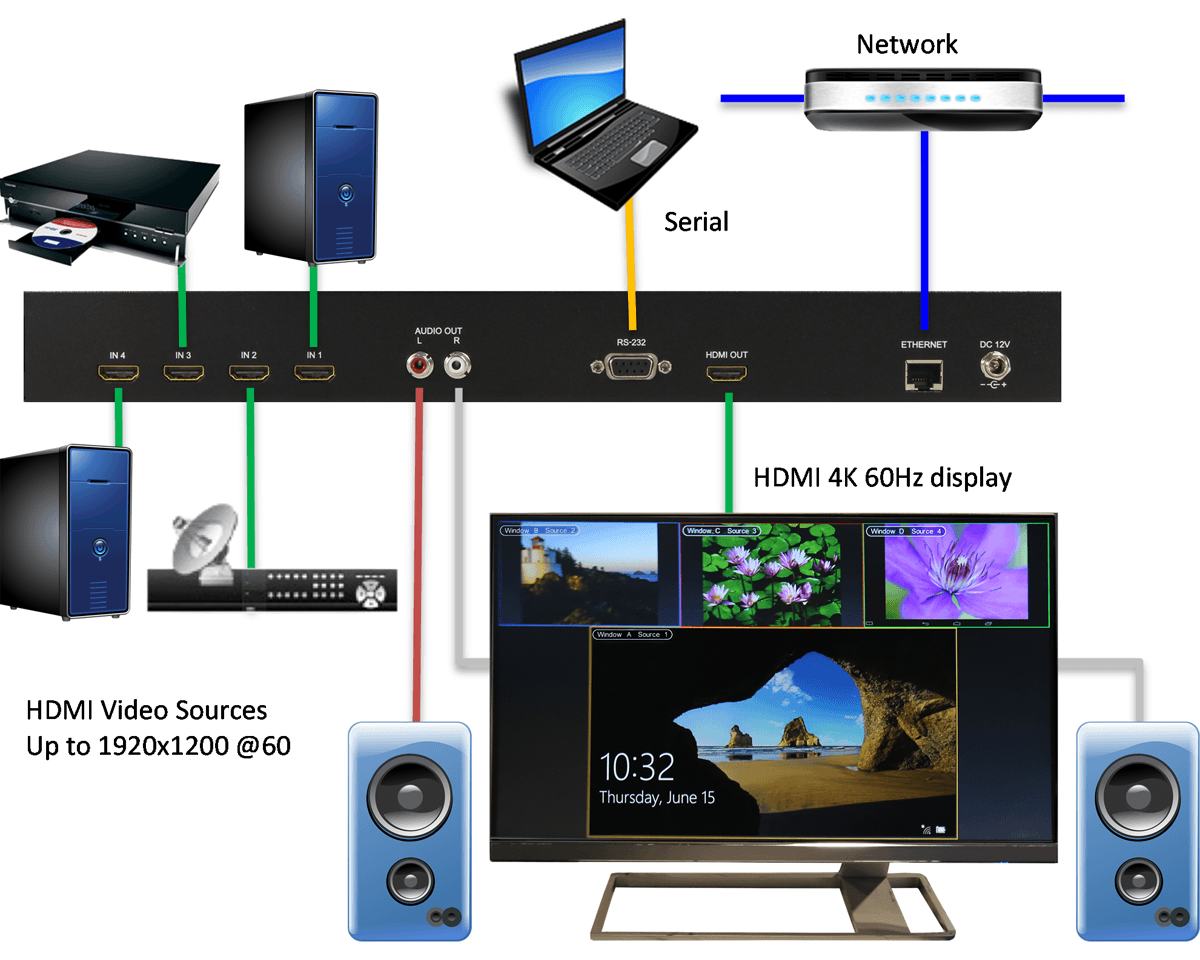 Displays up to four HDMI video sources on a single monitor
Input resolutions from 640×480@60Hz to 1920×1200@60Hz
Supports HDMI 2.0 output resolution up to 4K2K@60Hz (4:4:4 8 bits)
Window size and position are software adjustable
HDCP 1.4 compliant
Analog stereo audio output
Output display parameters such as layout, resolution, titles, and borders are software controllable
Up to eight different layouts can be saved
Resize, position, zoom, pan, and blend output video
Configure output through RS-232 or Ethernet
28 key IR remote control
Rotation of input image by +90º or -90º
Supports pixel by pixel mapping in a 2 x 2 configuration
Automatically upscale 1920×1080@60Hz output resolution to 4K2K
Two EDID selections, and custom EDID can be loaded from file
Firmware updates via configuration software
Software management package included with the product
OVERVIEW
The QuadraVista HDMI-4K60 is a multifunction Digital Video Switch and Video Controller that can process a mix of digital video inputs for display in single or quad-screen format, on an Ultra High Definition video display monitor.
This allows for the perfect display of real time video and animated displays, simulation graphics and highly detailed CAD design.
Featuring a 4K2K60 4:4:4 output resolution, the video output can be displayed as a single video source output on a full-screen, or as a mixed quad video display from four video sources displayed in quad-screen mode. In quad screen mode, the 4 quadrants can be of equal size, or else resized, scaled and repositioned anywhere on the screen.
Multiple video input modes up to 1920*1200/60Hz are supported, including 1280x1024/60Hz, 1440x900/60Hz, 1680x1050/60Hz and 1920x1080/60Hz.
SPECIFICATIONS
Dimensions (W x D x H)

15.3" x 8.8" x 1.6" (3(0 x 224 x 42 mm) 1U

Weight

5.2 lb (2.4 kg)

Power

100-240 VAC 50-60Hz

External adapter, +12V DC, 5A

9W

Resolution

HDMI Input: 1920 x 1200/60Hz

HDMI Output: Up to 4K2K@60Hz (4:4:4. 8 bits)

Distance

CPU/Switch: 10 feet (3m)

Connectors

Computer ports:

4 x HDMI video in: HDMI Type A

Console port:

1 x HDMI video out: HDMI Type A

Stereo Audio: 3.5mm jack (L/R)

Other:

Network: RJ45 Ethernet

Serial RS232 (D9F)

Power: 12V,5A

Controls

via included software

Environment

Operating temperature: 32°F–104°F (0°C–40°C)

Storage temperature: -4°F–140°F (-20°C–60°C)

Relative humidity: 20%–90%, non-condensing
PART NUMBERS
| Product Part Number | Description |
| --- | --- |
| QV-4x1HM-4K60 | QuadraVista, Quad 4K60 Video Switch, 1 KVM to 4 CPUs |
DOCUMENTS
DOCUMENT
LINK
Datasheet • QuadraVista HDMI 4K60
PDF