Remote Control Keypads
Versatile KVM Switch Control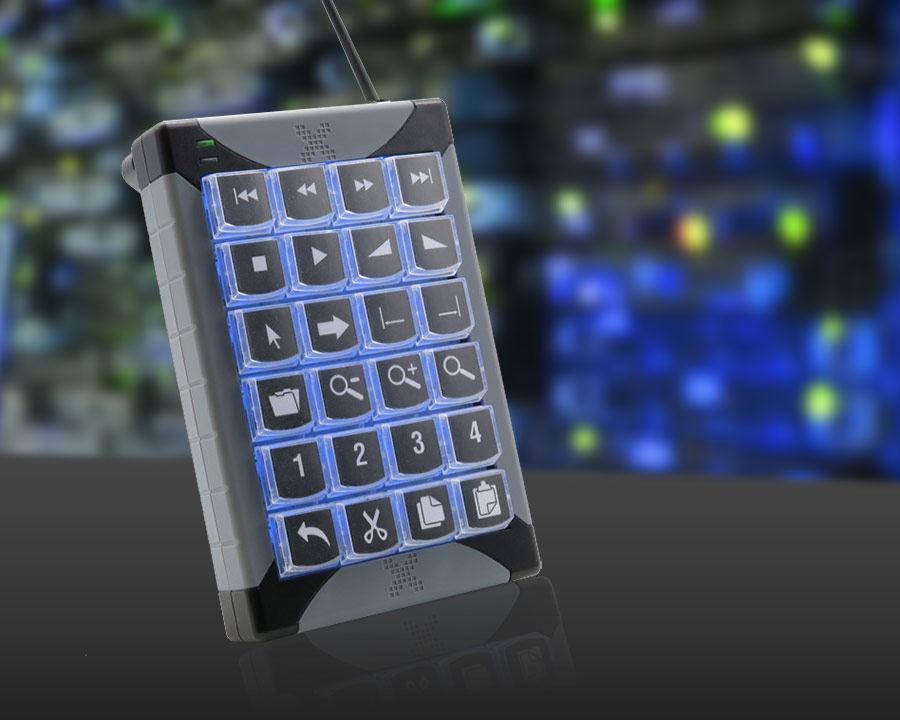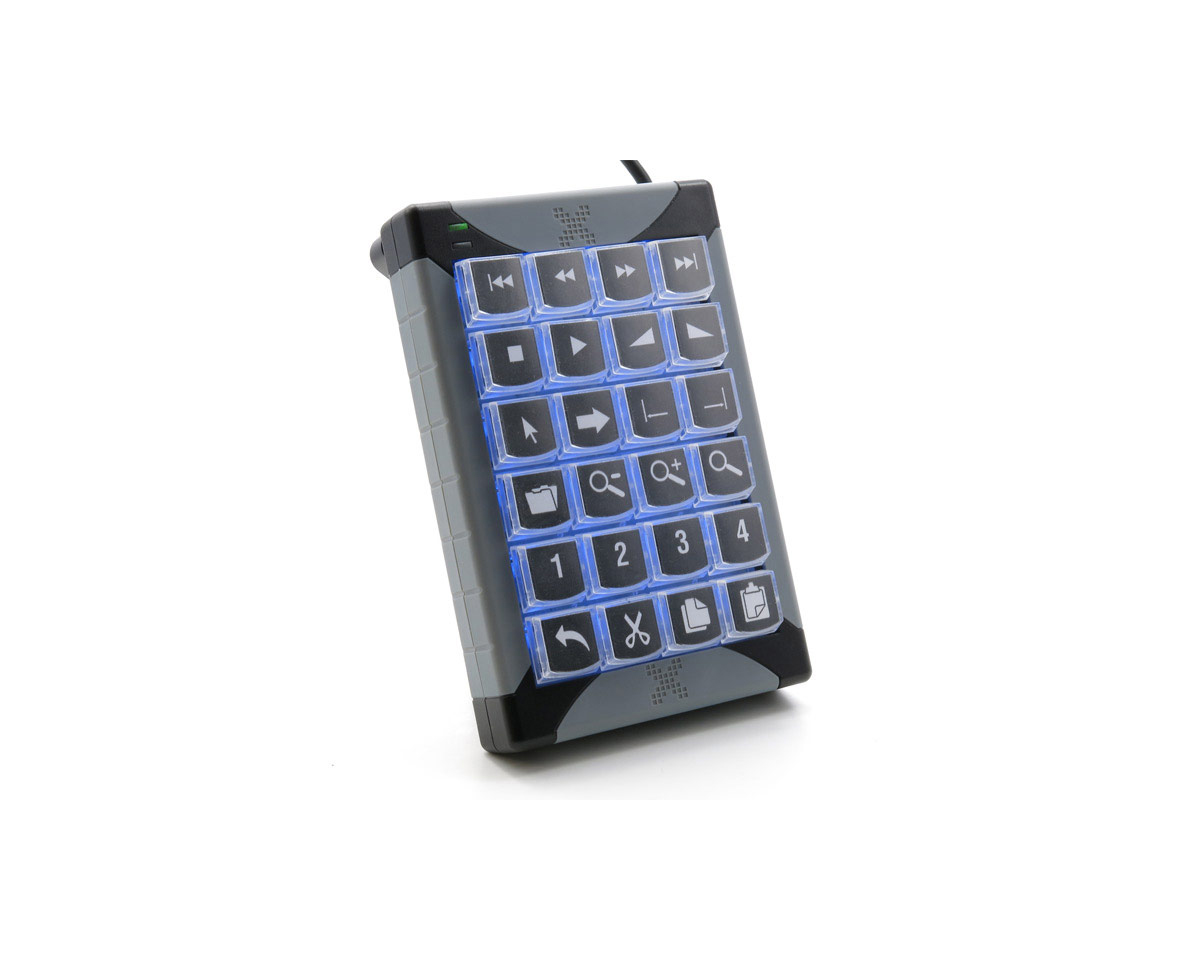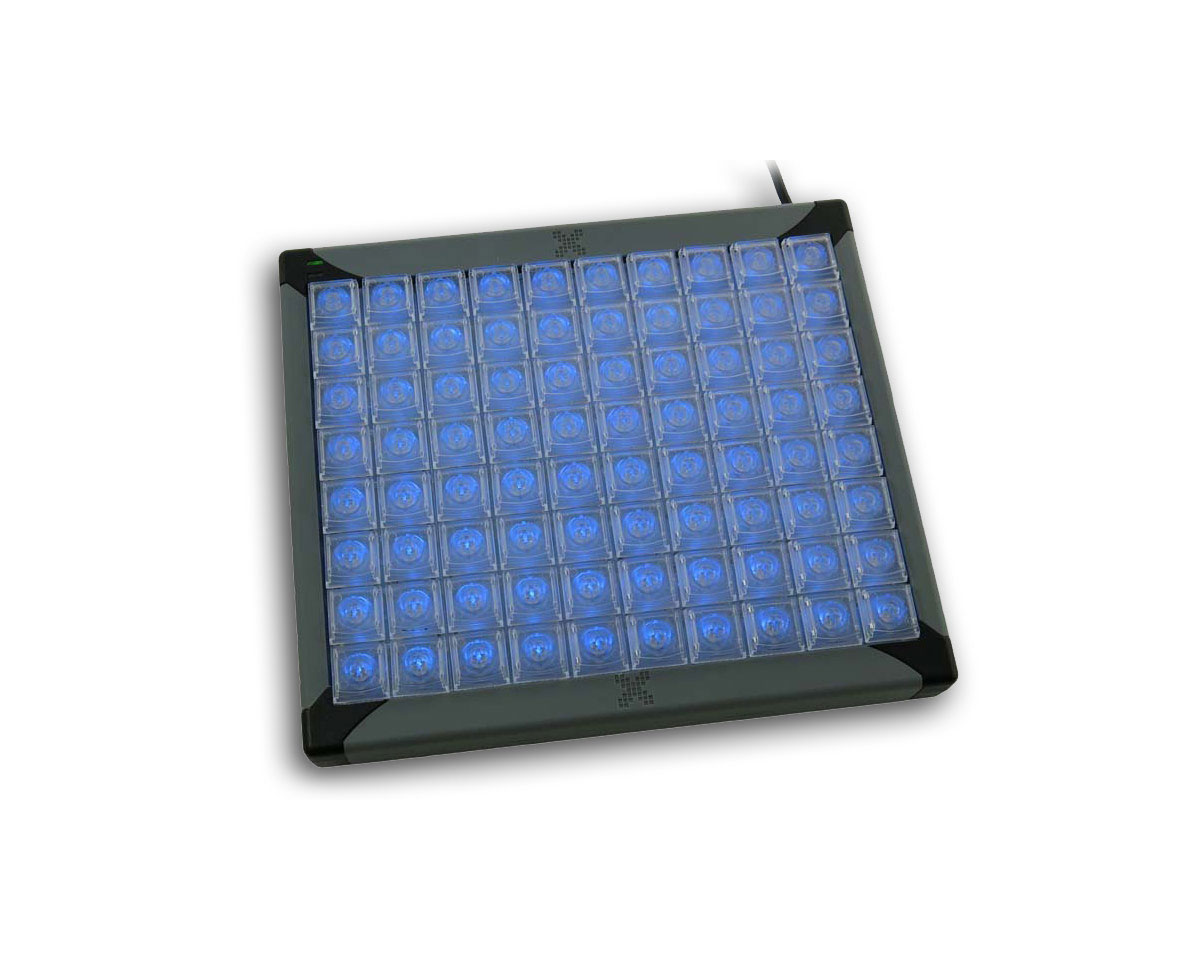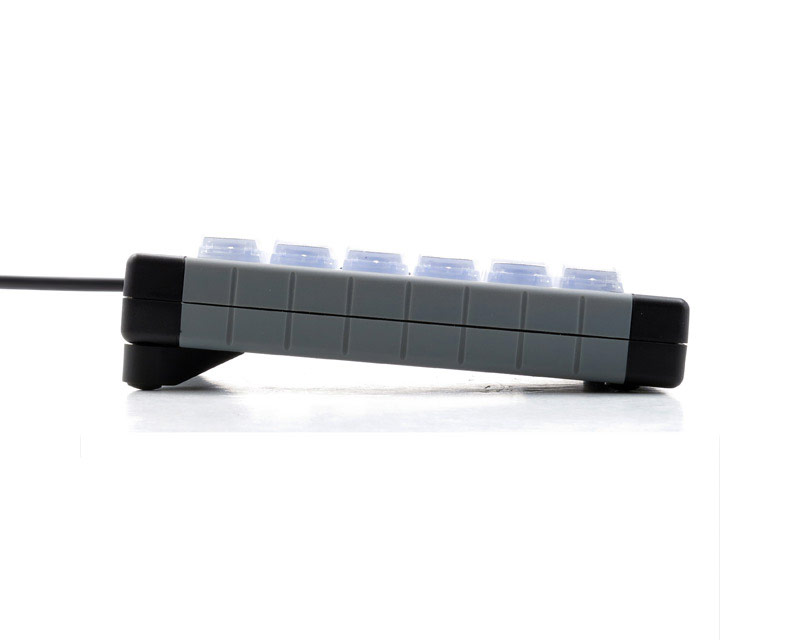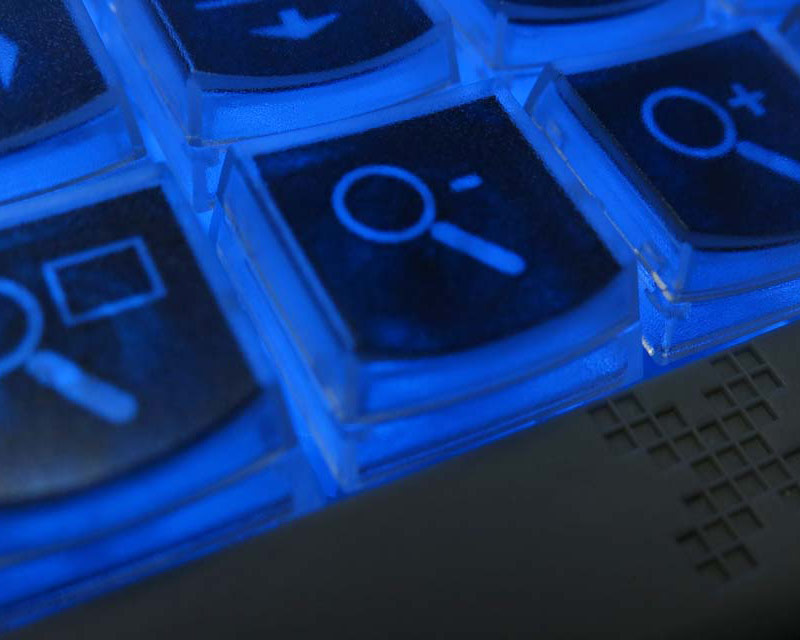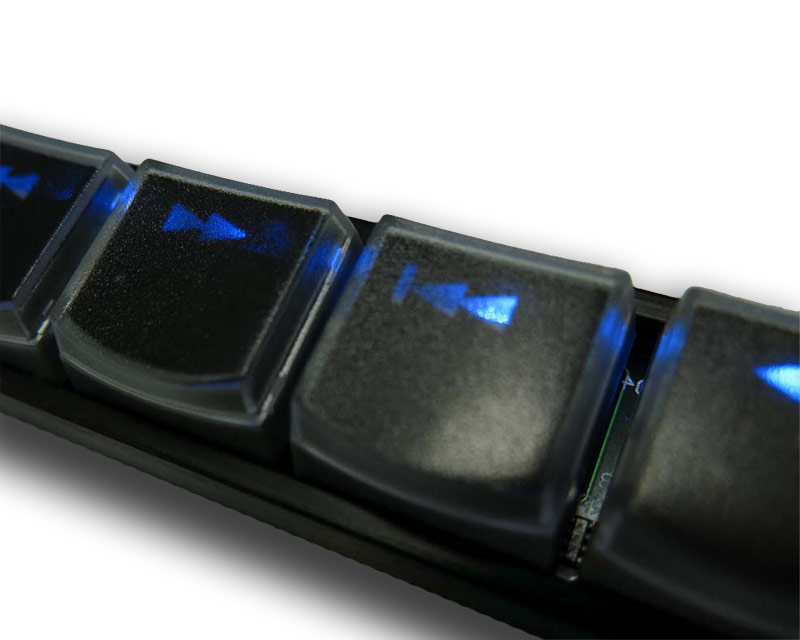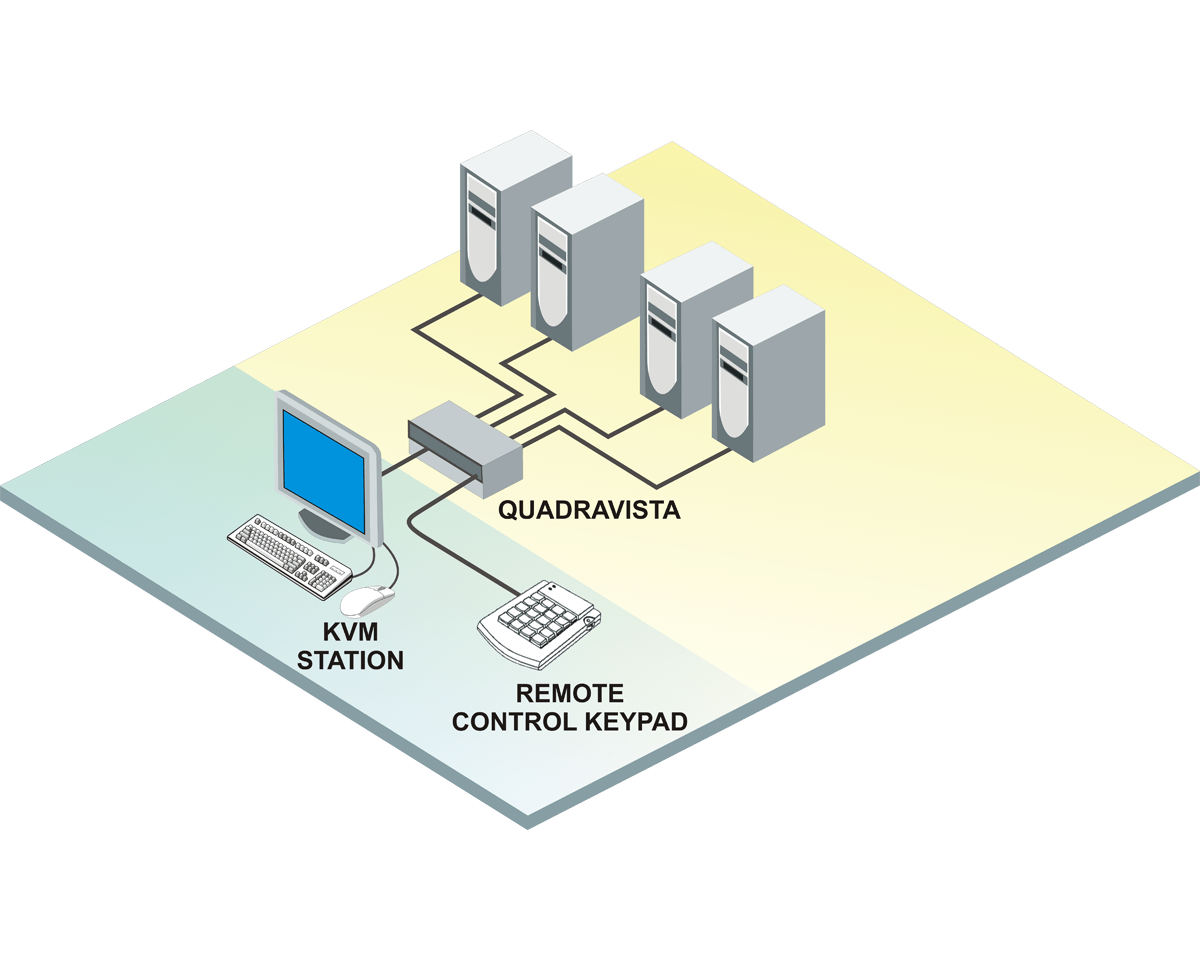 80-Key Keypad: 8x10 key array
24-Key Keypad: 4x6 key array
4, 8, or 16 button single row keysticks
Provides a grid of user-programmable keys
Functions as a customized control panel for various platforms (Windows, Linux or MAC based computers)
Software for Windows (MacroWorks) and MAC (ControllerMate) included
Direct USB interface connection to host PC
Emulates keyboard, mouse, media commands, and game controls. Designed for KVM environments
Individual key backlighting (blue and red)
Clear removable key-caps allow for custom key configuration and labeling
Suitable for handheld, desktop or mounted use
The 24 and 80-key keypads include angled feet for portrait or landscape orientation
The keystick package includes sticky pads for tabletop or rack cabinet mounting
The 16-port Keystick also has an optional 19" rackmount bracket kit
OVERVIEW
The Remote Control Keypad and Keystick products are versatile PC controllers for use in environments where a traditional keyboard is not suitable, or where "one-touch" control is more desirable than multi-key keyboard functions. The Keypad and Keystick packages include user-programming software. Replacement keys, legend sheets and software development kits are available upon request.
With the 24 and 80-key keypads, double-keys can be used to replace 2 single keys, either in horizontal or vertical position. Key blockers are used to delineate groups of keys by function in a customized control panel. Key caps can be easily removed and replaced when changing the legend or key name. Addressable backlighting under each key makes the keys easily identifiable in low-light environments such as control rooms, studios and editing rooms.
When connected to the user port of a KVM Switch, the Keypad and Keystick products can provide accurate one-button reprogrammable switching commands, rather than complex keyboard hotkey commands.
Use the programmable Remote Control Keypads and Keysticks to provide an extra dimension of control to trigger macros and shortcuts, to select tools, switch computers and open files or directories.
SPECIFICATIONS
Dimensions
(W x D x H)

24-Key Keypad: 5.8" x 3.8" x 0.94" (147 x 97 x 24 mm)

80-Key Keypad: 8.25" x 7.25" x 0.94" (210 x 184 x 24 mm)

4-Key Keystick: 0.9" x 0.65" x 5.35" (23 x 17 x 136 mm)

8-Key Keystick: 0.9" x 0.65" x 8.2" (23 x 17 x 208 mm)

16-Key Keystick: 0.9" x 0.65" x 14.3" (23 x 17 x 361 mm)

Weight

24-Key Keypad: 0.6 lb (0.285 kg)

80-Key Keypad: 1.625 lb (0.736 kg)

4-Key Keystick: 0.2 lb (0.085 kg)

8-Key Keystick: 0.25 lb (0.115 kg)

16-Key Keystick: 0.45 lb (0.2 kg)

Power

Powered by USB1.1 interface

24-Key Keypad: 1W

80-Key Keypad: 1W

4-Key Keystick: 1W

8-Key Keystick: 1W

16-Key Keystick: 1W

Distance

USB: 4.6 feet (1.4m)

Connectors

USB: USB Type A

Controls

Keypad: 4x6 key array

Keypad: 8x10 key array

Keypad backlit keys: blue and red

Keystick: 1x4 key array

Keystick: 1x8 key array

Keystick: 1x16 key array

Keystick backlit keys: blue

Windows: Macroworks 3.1

MAC: ControllerMate

Environment

Operating temperature: -4°F–140°F (-20°C–60°C)

Storage temperature: °F–°F (°C–°C)

Relative humidity: %–%, non-condensing
PART NUMBERS
| Product Part Number | Description |
| --- | --- |
| RCK-KP4x6-U-KM | USB 24 keys, 4x6 format |
| RCK-KP8x10-U-KM | USB 80 keys, 8x10 format |
| RCK-KS1x4-U-KM | USB 4-key keystick |
| RCK-KS1x8-U-KM | USB 8-key keystick |
| RCK-KS1x16-U-KM | USB 16-key keystick |