UltraConsole
1×4, 1×8, 1×16 KVM Switch • VGA • USB • PS/2 • Serial • OSD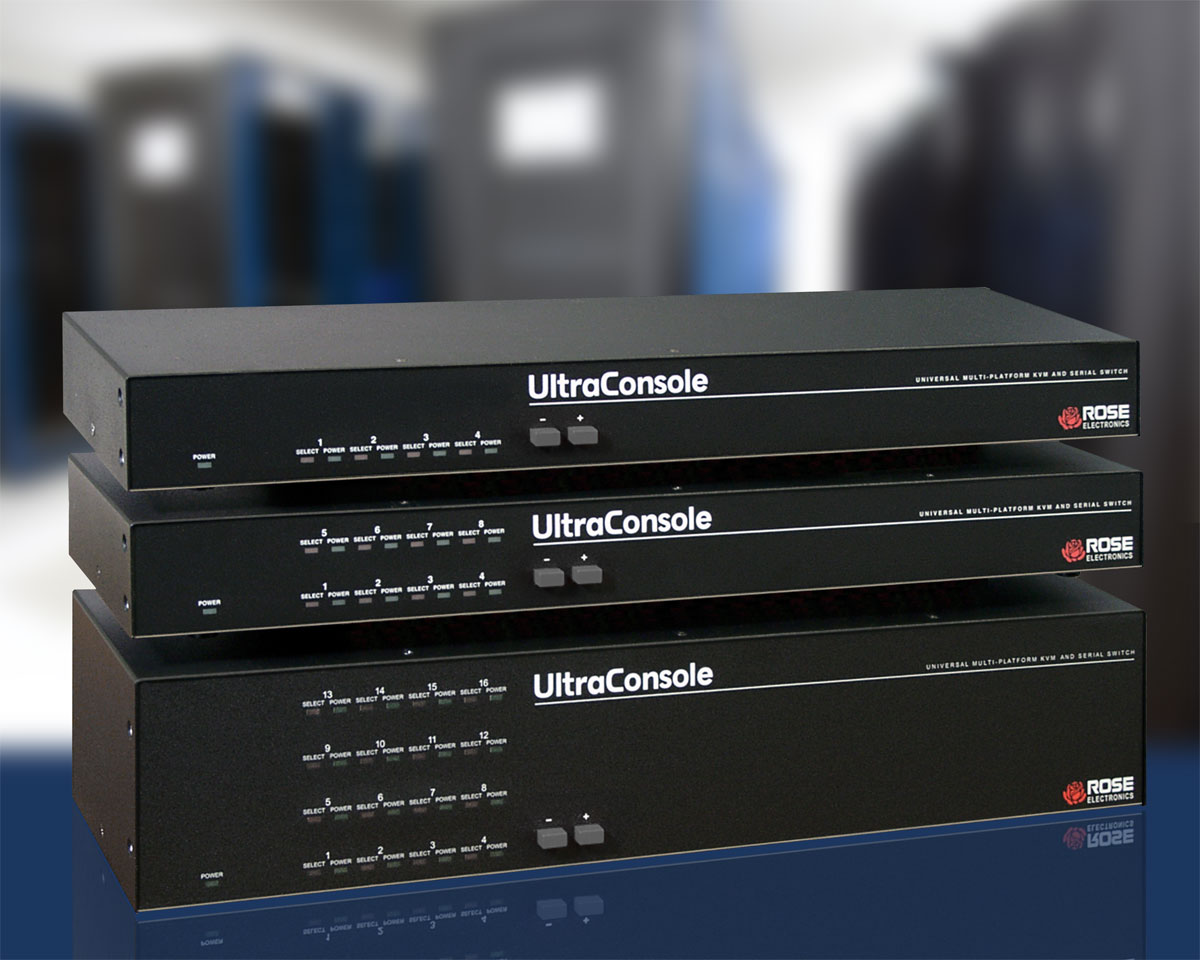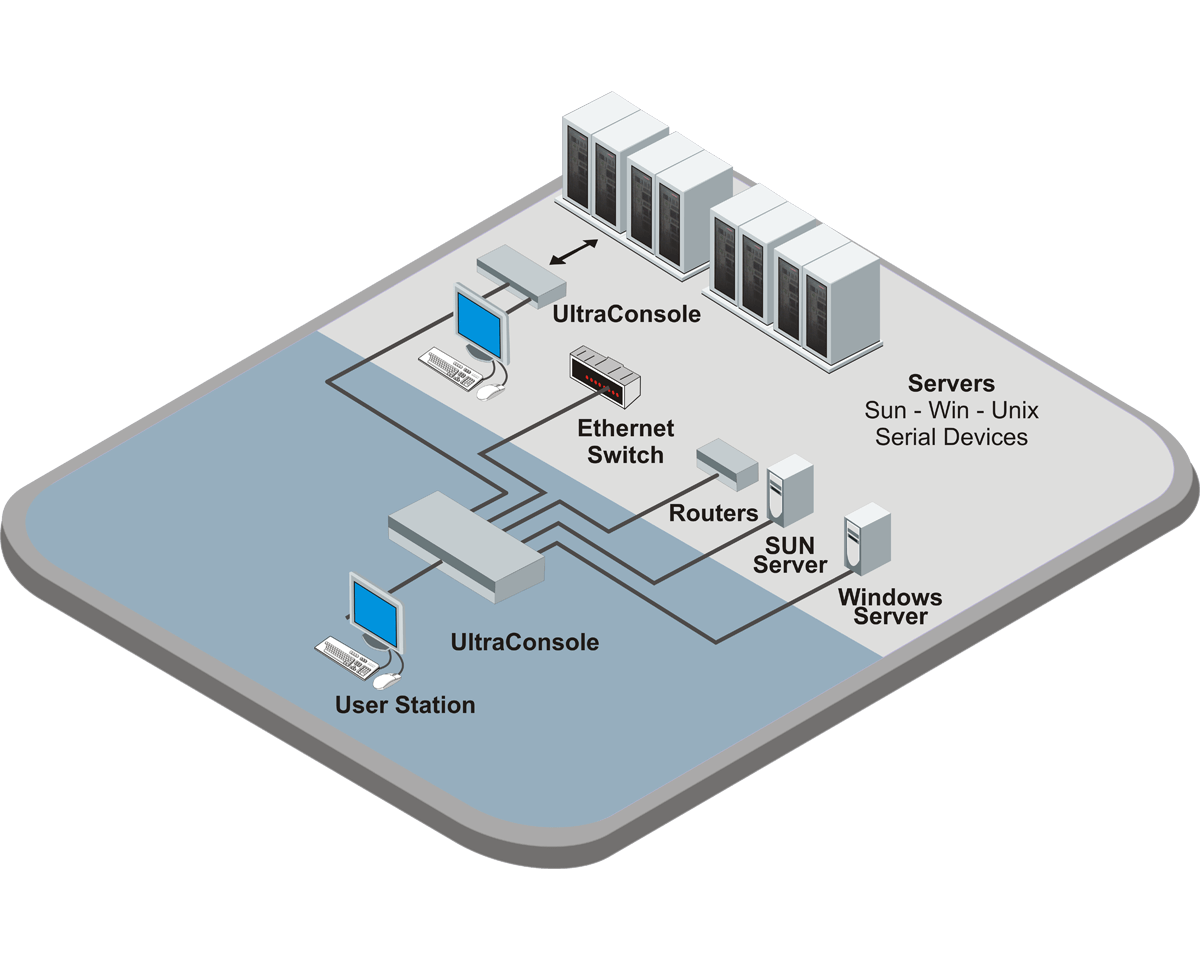 Control PCs, Sun, UNIX, Linux, USB, and serial devices from a single station
Video resolution up to 1920x1200
Connect up to 256 computers
VT220 emulation for connecting to serial device
Switching can be done from front panel, serial port, hot-key, or OSD
Plug-in expansion cards to link units together to add more computers
Units can be linked together to form multi-head video
On-screen menu for configuration, operation, and control
Multi-lingual menu (English, French, German, Spanish, Italian, Portuguese)
Security system with user ID, password and profile prevents unauthorized configuration and controls computer access
Status screen displays inter-unit connections, communication, computer power, and other system information
Flash memory technology for free firmware upgrades for product enhancements and new software features
Rack mount kits available in 19", 23", and 24' sizes
Made in USA
OVERVIEW
UltraConsole is a single user KVM switch that allows a central user station to connect to four, eight, or sixteen computers per chassis, and is expandable up to as many as 1,000 computers or serial devices by cascading additional units.
UltraConsole series is produced in 1 x 4, 1 x 8, and 1 x 16 models. Units easily connect together with bus cables to make a seamless and truly scalable KVM solution. The modular architecture uses plug-in expansion cards available with different form factors, making for simple expansion and giving it the flexibility needed to conform to almost any system.
The advanced design of UltraConsole uses networking communication technology to reduce cost, eliminate single points of failure, and increase reliability. The on-screen menus and instructions make configuring, monitoring, and installation easy. Use the on-screen menus to name computers and select computers, view connections, assign users, configure system security, and perform other operations.
UltraConsole provides serial support to access computers, routers, Ethernet hubs, UNIX devices and more. It can perform as a "VT100/VT220" terminal emulator with an eight-page scroll buffer. Local monitor connection, security, flash memory, system status, and many other features ensure that UltraConsole will streamline your data center or server room and provide a centralized access point for your system.
SPECIFICATIONS
Dimensions
(W x D x H)

4/8 port: 16.7" x 4.85" x 1.75" (424 x 123 x 44.5 mm)

16 port: 16.7" x 4.85" x 3.5" (424 x 123 x 89 mm)

Weight

4/8 port: 4 lb (1.8 kg)

16 port: 8 lb (3.6 kg)

Power

90-240 VAC 50-60Hz

4/8 port: 20W

16 port: 30W

Resolution

4/8 port: VGA: 1920 x 1200

16 port: VGA: 1280 x 1024

Distance

CPU/KVM: 25 feet (7.6m)

Expansion: Up to 50-250 feet (15-76 m)

Connectors

Power: 8-16 port: IEC320, 4-port: DIN5

CPU/KVM: DB25F

Expansion: DB15M/F

RS232: RJ 6-conductor

Controls

Computer selection: OSD, front panel, hot-key, serial port

Unit Power: Green LED

CPU power: Green LED per port

CPU select: Red LED per port

Prev computer: Push-button -

Next computer: Push-button +

Environment

Operating temperature: 32°F–113°F (0°C–45°C)

Storage temperature: -13°F–140°F (-25°C–60°C)

Relative humidity: 5%–80%, non-condensing
PART NUMBERS
| Product Part Number | Description |
| --- | --- |
| UC1-1X4U | 1 User, 4 CPU's, Multi-platform, Primary User |
| UC1-1X8U | 1 User, 8 CPU's, Multi-platform, Primary User |
| UC1-1X16U | 1 User, 16 CPU's, Multi-platform, Primary User |
| UC2-1X4U | 2 Users, 4 CPU's, Multi-platform, Secondary User |
| UC2-1X8U | 2 Users, 8 CPU's, Multi-platform, Secondary User |
| UC2-1X16U | 2 Users, 16 CPU's, Multi-platform, Secondary User |
| /E | Expansion Card |
| UMC-EXP2 | Expansion Card |