UltraLink 2
Single computer VGA KVM-IP remote access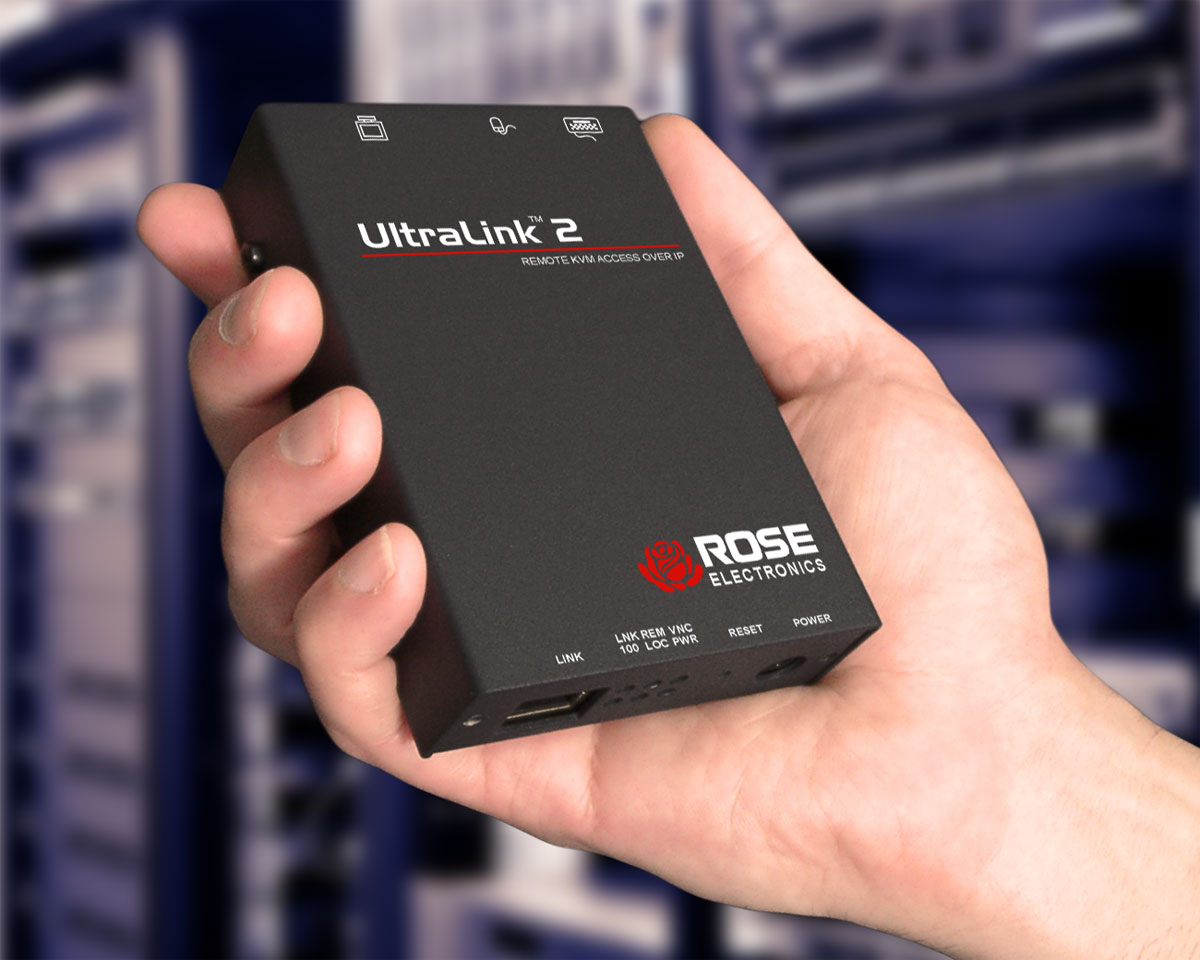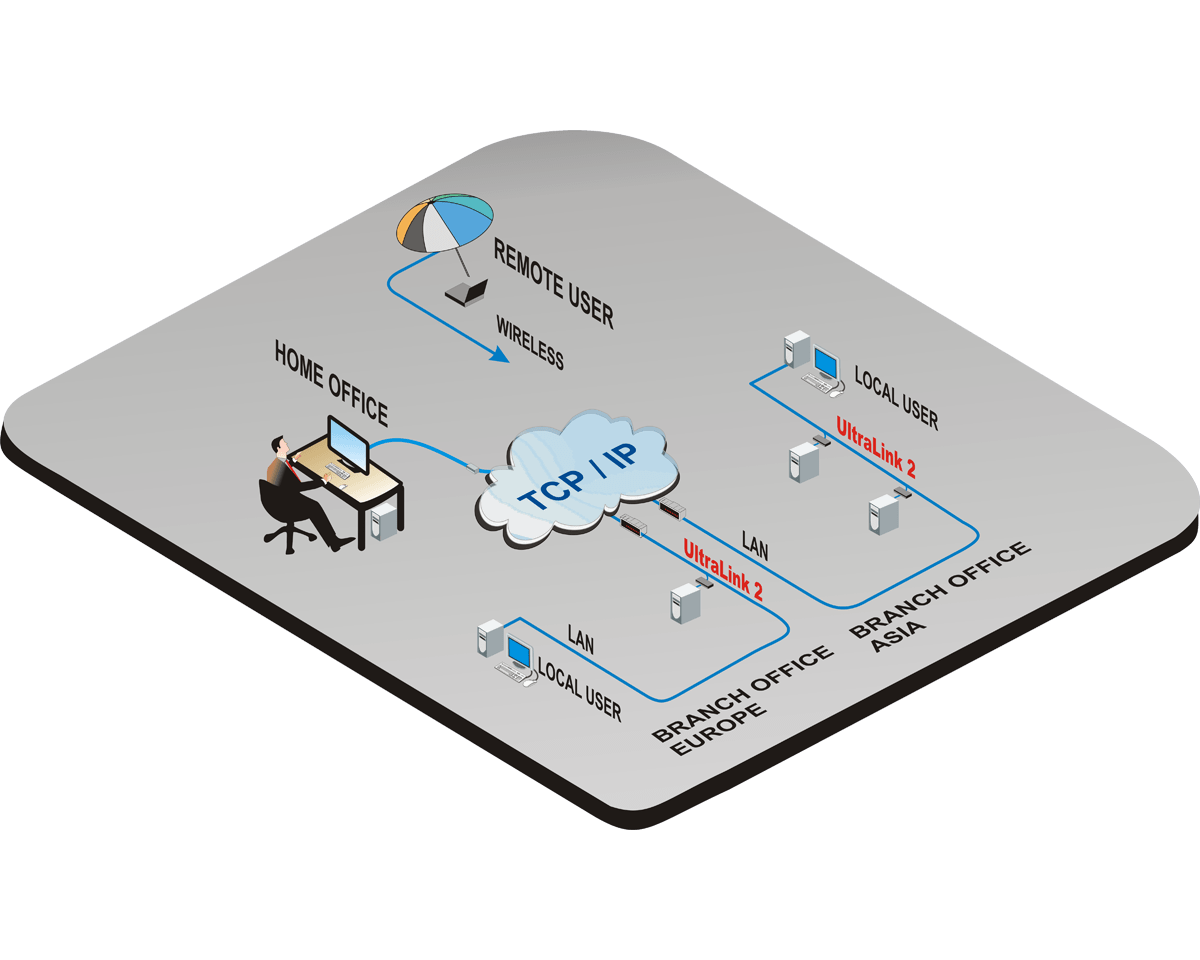 Connect to a remote computer, server, or KVM switch directly or remotely over IP using any supported internet browser or the built-in Real VNC viewer
Hardware based unit allows full access to computer even to BIOS
Supports VGA video to 1600×1200@60Hz and USB or PS/2 keyboard and mouse
Power supplied from the computer's keyboard, mouse, or USB ports
Virtual Media (via USB) support feature allows authorized remote users to transfer files and folders (2Gig max) to a host computer
Dual model features local access for unit configuration and direct access to the connected computer
Flash upgradeable so your unit is always up to date with new features and enhancements
Shared access allows up to four simultaneous users to access at one time
Up to 16 user profiles can be set-up with event logging
Compatible with Rose Electronics KVM switches, extenders, and most other KVM devices
Front panel indicators show Link, Local or Remote connection, VNC access, Network speed, and Power
Security using AES 128 bit encryption and RSA 2048 bit public key authentication
IP lockout feature for incorrect login
Configurable to use your LDAP server for authorization and validation
OVERVIEW
UltraLink 2 is a compact and low cost solution for remote IP access and KVM switching with a wide range of applications. It provides access to computers and servers locally, across a network, or over IP using a web browser.
The unit can be connected to a Rose Electronics KVM switch to provide access to as many as 1,000 computers or servers from anywhere in the world.
UltraLink 2 is easy to install and configure. Connect the unit, assign an IP address and network information, remotely connect to the unit and it's ready to use.
Rather than pay for the expense of traveling to a remote site to perform an upgrade or patch, the Virtual Media feature allows IT professionals to remotely access USB equipped systems and perform patches and upgrades. On the dual access model, a local KVM station can be connected for direct access to the connected computer.
Front panel indicators show:
The network link activity
Local or remote data received from the computer
Indicates a remote viewer is connected
Indicates the Ethernet network speed (10 / 100 Mbps)
Power indicator
SPECIFICATIONS
Dimensions
(W x D x H)

UL2-SA: 2.95" x 4.72" x 1.06" (75 x 120 x 27 mm)

UL2-DA: 2.95" x 4.72" x 1.65" (75 x 120 x 42 mm)

Weight

UL2-SA: 0.75 lb (0.3 kg)

UL2-DA: 1 lb (0.5 kg)

Power

From Host Computer via USB

Optional +5V power adapter

UL2-SA: 5W

UL2-DA: 6W

Resolution

VGA: 1600 x 1200

Distance

CPU/KVM: 25 feet (7.6m)

Connectors

Computer:

VGA video: HD15F

PS/2 keyboard: Mini-din6F

PS/2 mouse: Mini-din6F

Local port (UL2-DA):

VGA video: HD15F

PS/2 keyboard: Mini-din6F

PS/2 mouse: Mini-din6F

Network: RJ45 jack

Controls

Reset: Push-button

Power: Green LED

Link: Green LED

Local: Green LED

Remote: Green LED

VNC: Green LED

Speed: Green LED

Environment

Operating temperature: 32°F–113°F (0°C–45°C)

Storage temperature: -13°F–140°F (-25°C–60°C)

Relative humidity: 5%–80%, non-condensing
PART NUMBERS
| Product Part Number | Description |
| --- | --- |
| UL2-SA | UltraLink 2, Web browser based KVM Access Over IP, Single access unit |
| UL2-DA | UltraLink 2, Web browser based KVM Access Over IP, Dual access unit |
| UL2-SA/SW | UltraLink 2, Web browser based KVM Access Over IP, Single access unit w/ power supply |
| UL2-DA/SW | UltraLink 2, Web browser based KVM Access Over IP, Dual access unit w/ power supply |