UltraMatrix E-series
2-4 User KVM Switch • VGA • USB • PS/2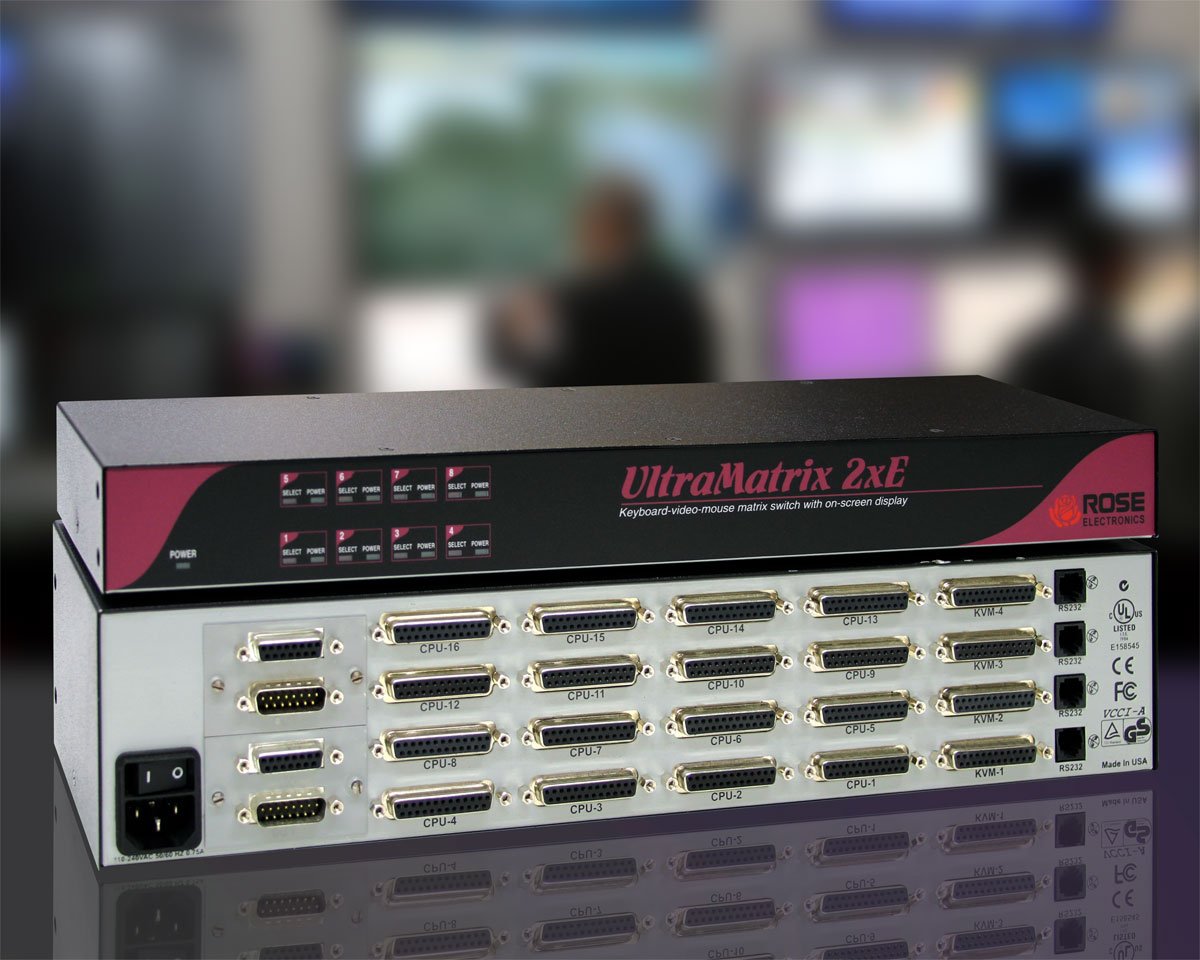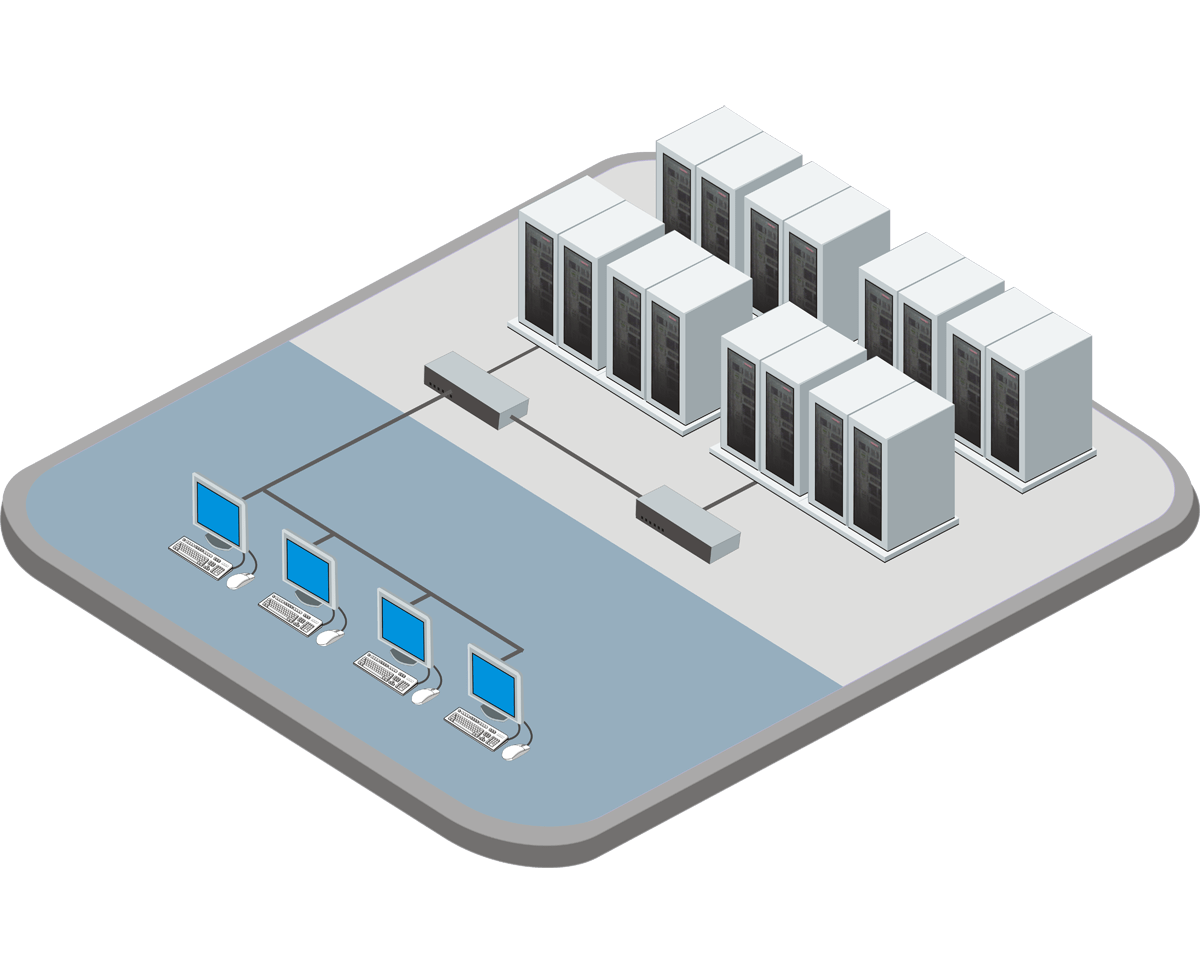 Up to 4 users can access and control up to 1,000 computers and network devices
VGA up to 1920 x 1200 and PS/2 or USB keyboard and mouse
Fixed port configurations and plug-in expansion ensures low system cost and makes the system easy to expand and maintain
Switching can be done from hot-key, OSD, or serial port
Multi-platform units have serial VT220 terminal emulation for access to UNIX hosts, routers, and other serial devices
Security system with login and computer group lists prevents unauthorized configuration and access
Advanced on-screen display (OSD) makes configuration easy and informs you of status with user friendly messages
Status screen shows inter-box communication, current connections, computer power, and other information
Flash memory for free firmware upgrades for product enhancements and new software features available at www.rose.com
Rackmount kits available in 19", 23", and 24" sizes
Made in USA
OVERVIEW
UltraMatrix 'E' series is an advanced KVM matrix switch available at a competitive and affordable price. While the switch is available in a model compatible with any operating system, a more economical version supporting only PCs can be purchased. This powerful switch allows up to four users to connect to 1000 servers or computers by using cascading switches. Units easily connect together with bus cables to make a seamless and truly scalable KVM matrix solution. The advanced distributed design of the UltraMatrix uses networking communication technology to reduce cost, eliminate single points of failure, and increase reliability.
UltraMatrix E-Series is produced in several sizes:
1 user and 8 CPUs
1 user and 16 CPUs
2 users and 4 CPUs
2 users and 8 CPUs
2 users and 16 CPUs
4 users and 8 CPUs
4 users and 16 CPUs
Any computer can be connected to a PS/2, USB, or serial interface. The unit will support a maximum video resolution of 1920 x 1200. KVM stations and computer access can be easily configured using an OSD, with control for peripheral serial devices supported. When accessing a serial device the on-screen display becomes a color VT220 terminal. Additional features include support for multiple languages and a security system with login and computer groups preventing unauthorized access and configuration. Serial touchscreen support is available on the multi-platform models.
SPECIFICATIONS
Dimensions
(W x D x H)

4/8-port: 16.7" x 4.85" x 1.75" (424 x 123 x 44.5 mm) (1U)

16-port: 16.7" x 4.85" x 3.5" (424 x 123 x 89 mm) (2U)

Weight

4/8-port: 4 lb (1.8 kg)

16-port: 8 lb (3.6 kg)

Power

90-240 VAC 50-60Hz

4/8-port: 15W

16-port: 30W

Resolution

VGA: 1920 x 1200

Distance

25 feet (7.6m)

Connectors

Power: IEC 320 standard receptacle

CPU/KVM : DB25 female

Expansion: DB15 male/female

RS232 serial: RJ 6 conductor

Controls

Select computer by OSD, hot-key, serial port

Unit Power: Green LED

CPU power: Green LED per port

CPU select: Red LED per port

Environment

Operating temperature: 32°F–113°F (0°C–45°C)

Storage temperature: -13°F–140°F (-25°C–60°C)

Relative humidity: 0%–80%, non-condensing
PART NUMBERS
UltraMatrix 4xE Series - PC-Platform, Multi-User KVM Switches: Chainable to 1000 CPUs, 2U, C-Chassis
EP4-4X4U
4 KVMs to 4 CPUs, No Bus Exp Cards
EP4-4X8U
4 KVMs to 8 CPUs, No Bus Exp Cards
EP4-4X16U
4 KVMs to 16 CPUs, No Bus Exp Cards
EP4-1X16U/E2
1 KVM to 16 CPUs, w/2 Bus Exp Cards
UMC-EXP2
E-Series: Bus Exp. Card, use 2 in 4xE
/E2
2 Expansion Cards Installed
UltraMatrix 4xE Series - Multi-Platform, Multi-User KVM Switch: Chainable to 1000 CPUs, 2U, C-Chassis
EE4-4X4U
4 KVMs to 4 CPUs, No Bus Exp Cards
EE4-4X8U
4 KVMs to 8 CPUs, No Bus Exp Cards
EE4-4X16U
4 KVMs to 16 CPUs, No Bus Exp Cards
EE4-1X16U/E2
1 KVM to 16 CPUs, w/2 Bus Exp Cards
/E2
2 Expansion Cards Installed
UltraMatrix 2xE Series - PC-Platform, Multi-User KVM Switches: Chainable to 1000 CPUs
EP2-2X4U
2 KVMs to 4 CPUs, 1U, B-Chassis
EP2-2X8U
2 KVMs to 8 CPUs, 1U, B-Chassis
EP2-2X16U
2 KVMs to 16 CPUs, 2U, C-Chassis
EP2-1X8U/E
1 KVM to 8 CPUs, w/Bus Exp Card, 1U, B-Chassis
EP2-1X16U/E
1 KVM to 16 CPUs, w/Bus Exp Card, 2U, C-Chassis
UMC-EXP2
E-Series: Bus Exp. Card, use 2 in 4xE
/E
Expansion Card Installed
UltraMatrix 2xE Series - Multi-Platform, Multi-User KVM Switches: Chainable to 1000 CPUs
EE2-2X4U
2 KVMs to 4 CPUs, 1U, B-Chassis
EE2-2X8U
2 KVMs to 8 CPUs, 1U, B-Chassis
EE2-2X16U
2 KVMs to 16 CPUs, 2U, C-Chassis
EE2-1X8U/E
1 KVM to 8 CPUs, w/Bus Exp Card, 1U, B-Chassis
EE2-1X16U/E
1 KVM to 16 CPUs, w/Bus Exp Card, 2U, C-Chassis
/E
Expansion Card Installed