VideoSplitter VGA
VGA Splitter • 1-2 In to 2-16 Out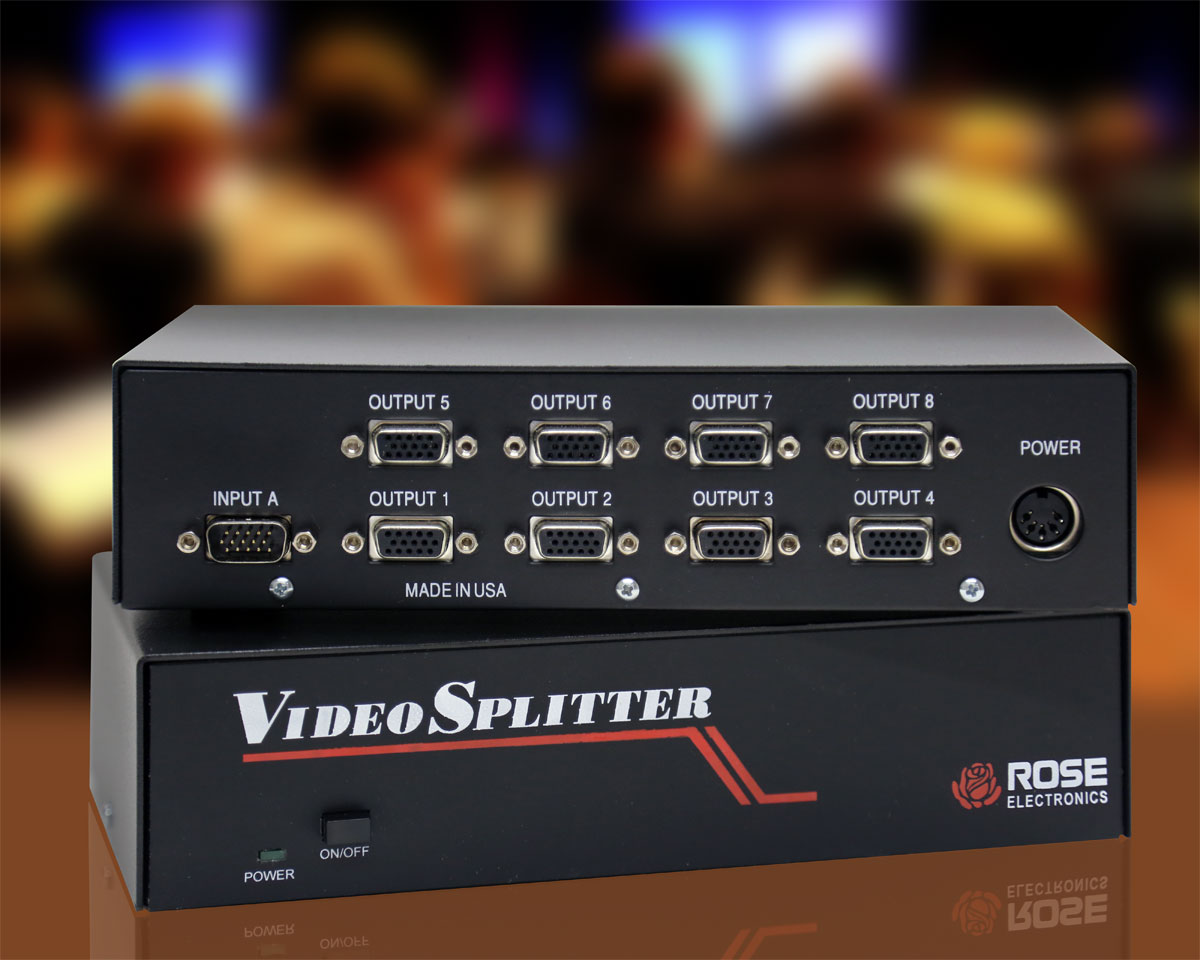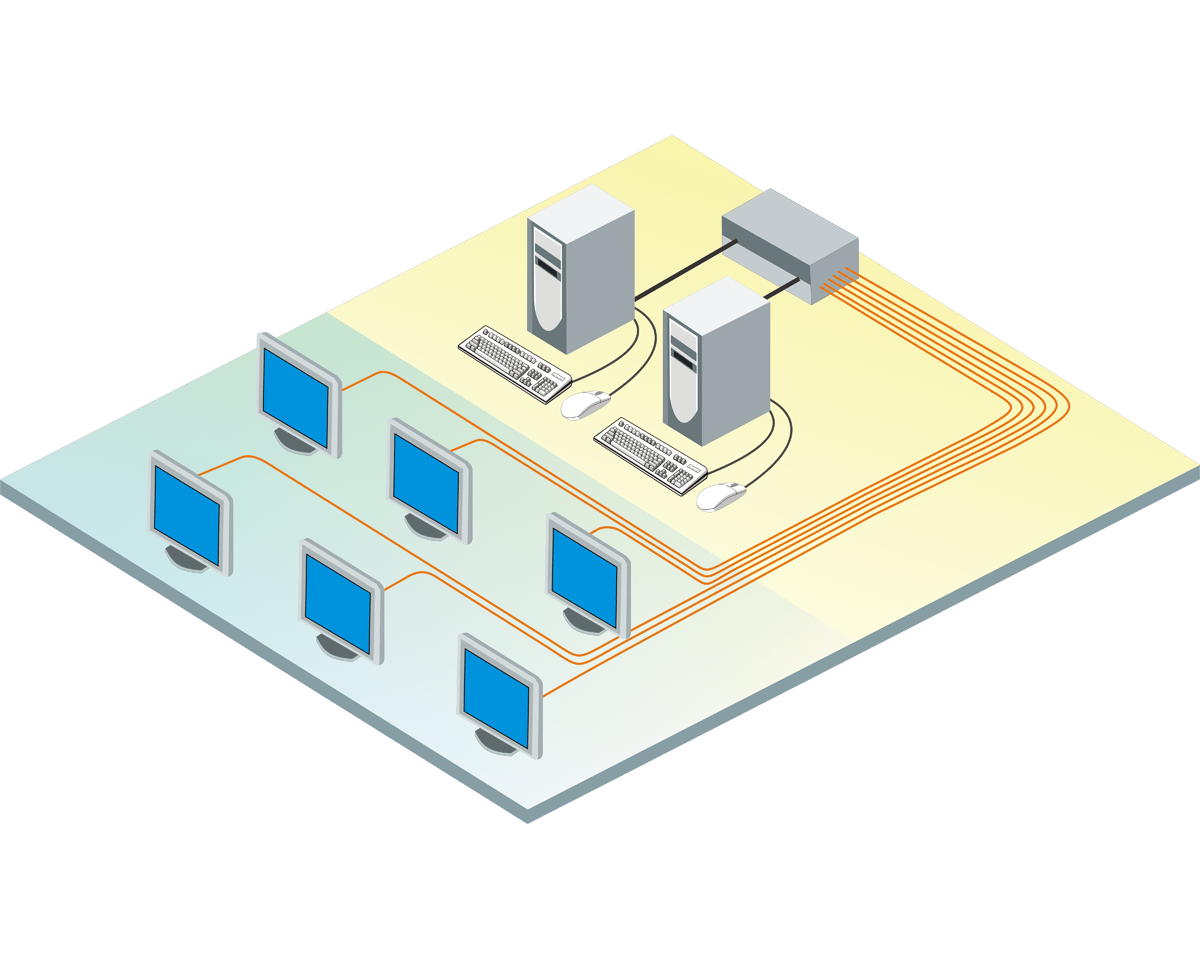 Drives multiple monitors from either 1 or 2 CPUs
Video resolution up to 1920 x 1200
Models available to drive 2, 4, 8, or 16 monitors
Units can be cascaded to gain more outputs
OVERVIEW
VideoSplitter is designed to take one or two VGA video sources and distribute the video to multiple monitors. The monitors can be located as far away as 250 feet using optional extended distance cables. VideoSplitter is perfect for any application requiring multiple monitor capabilities. For controlling or setting up a presentation, a blanking feature is available that will inhibit the video from displaying on all monitors except port one. This allows the presenter to organize and edit the video before it is distributed to all monitors.
VideoSplitter is available in several models:
1 Video source to 2 monitors
1 video source to 4 monitors
1 video source to 8 monitors
1 video source to 16 monitors
2 video sources to 2 monitors
2 video sources to 4 monitors
2 video sources to 8 monitors
You can daisy-chain units together to drive additional monitors if needed. On the dual input models, a built-in A/B switch is an added feature. This allows switching between two different video sources to multiple video monitors. The VideoSplitter is rack mountable with optional 19", 23", and 24" rack mount kits.
SPECIFICATIONS
Dimensions
(W x D x H)

2/4/8-port: 8.85" x 4.9" x 2.1" (225 x 124 x 53 mm)

16-port: 13.25" x 4.9" x 5.25" (337 x 124 x 133 mm)

Weight

2/4/8-port: 3 lb (1.4 kg)

16-port: 6.5 lb (3.0 kg)

Power

90-240 VAC 50-60Hz

External adapter, 17 VAC CT, 700 ma

2/4/8-port: 5W

16-port: 10W

Resolution

VGA: 1920 x 1200

Distance

Video: 25 feet (7.6m)

Connectors

Video in: HD15 Male

Video out: HD15 Female

Power: DIN5

Controls

Unit power: Green LED

Output blanking: Push-button

Input select: Push-button (option)

Cable equalization: Dip Switch (inside unit)

Environment

Operating temperature: 32°F–131°F (0°C–55°C)

Storage temperature: -13°F–140°F (-25°C–60°C)

Relative humidity: 5%–80%, non-condensing
PART NUMBERS
Video Splitter - VGA: 1 In to Multiple Out, SV-Chassis
VSP-1X2VB
1 In to 2 Out, HD15M In - HD15F Out
VSP-1X4VB
1 In to 4 Out, HD15M In - HD15F Out
VSP-1X8VB
1 In to 8 Out, HD15M In - HD15F Out
VSP-1X16V
1 In to 8 Out, HD15M In - HD15F Out
Video Splitter - VGA: 2 In to Multiple Out, SV-Chassis
VSP-2X2VB
2 In to 2 Out, HD15M In - HD15F Out
VSP-2X4VB
2 In to 4 Out, HD15M In - HD15F Out
VSP-2X8VB
2 In to 8 Out, HD15M In - HD15F Out
VSP-D1X2VB
Dual Set in single chassis - 1x2 units in 1 SV chassis
VSP-D1X4VB
Dual Set in single chassis - 1x4 units in 1 SV chassis
VSP-Q1X2VB
Quad Set in single chassis - 1x2 units in 1 SVX chassis
VSP-Q1X4VB
Quad Set in single chassis - 1x4 units in 1 SVX chassis
VSP-2V2A/SW
1 to 2 Videos (VGA-HD15) and 1 to 2 Audio, Audio up to 20 ft
VSP-2V4A/SW
1 to 4 Videos (VGA-HD15) and 1 to 2 Audio, Audio up to 20 ft
/SW denotes a power adapter for different voltages