Vista DP
1×4 KVM Switch • DisplayPort 4K@30 • USB2.0 • Audio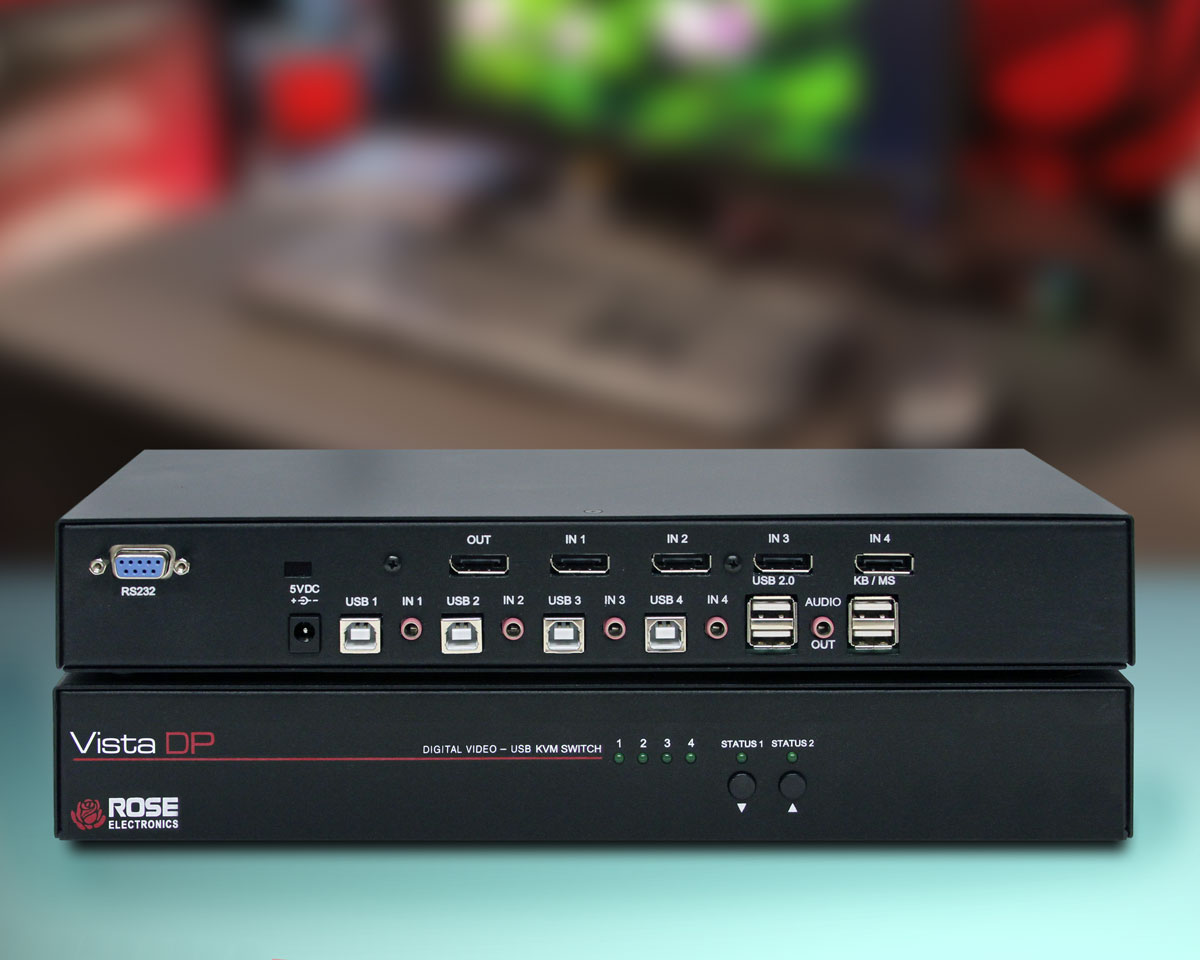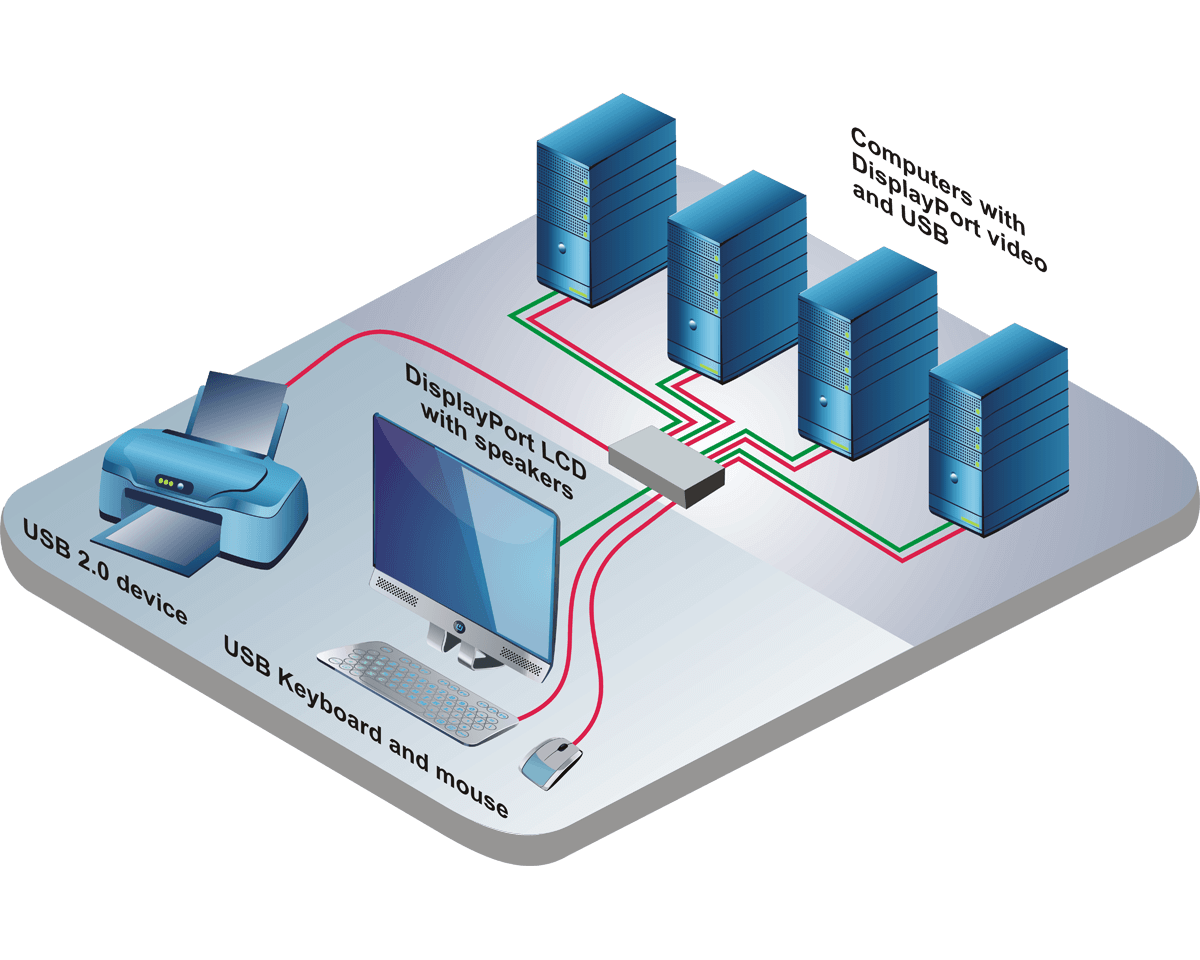 Supports DisplayPort video resolutions up to 3840×2160@30Hz
Two models: DisplayPort in with DisplayPort or HDMI out
Fully supports Windows, Mac, and Linux
Supports USB2.0 devices and USB-HID keyboard/mouse
Switchable stereo audio
Access and control the switch via front panel push buttons, keyboard hot-keys or the serial RS-232 port
Serial control interface via the DB9 serial port using the Rose RCS-4RS/D9 4-port remote control switch
EDID learning and pass-through for all ports, enabling smooth and efficient video switching
Independent switching and use of the KVM station and USB2.0 ports
Complete keyboard/mouse emulation for error free booting of connected PC's/servers
DVI and HDMI video can be supported by using suitable cable adapters
Made in USA
OVERVIEW
The Vista DP switch is ideal for switching up to four DisplayPort/USB computer digital video/USB sources to one monitor and USB keyboard/mouse. Crystal clear video at resolutions up to 3840 x 2160 @30Hz make this unit a perfect addition to any video environment.
Switching and selection are made easy using the front panel display, hotkey sequences, or serial switching commands on a remote computer via a serial cable. The KVM, USB peripherals, and audio can all be switched in conjunction to a selected CPU port, or can be switched independently to separate ports.
Vista DP is available in 2 models:
1x4 DisplayPort Video In/DisplayPort Video Out, plus USB/Audio
1x4 DisplayPort Video In/HDMI Video Out, plus USB/Audio
All Vista DP models support USB 1.1/2.0 keyboards, mice, and peripherals, and include stereo audio(speaker) support.
SPECIFICATIONS
Dimensions (W x D x H)

12.7" x 6" x 2" (324 x 152 x 50 mm) (1U)

Weight

3.75 lb (1.7 kg)

Power

100-240 VAC 50-60Hz

External adapter, +5V, 4A

20W

Resolution

DisplayPort: 3840 x 2160@30Hz

HDMI: 3840 x 2160@60Hz

Distance

CPU/KVM: 20 feet (6m)

User/KVM: 20ft (6.0m)

Connectors

Video: DisplayPort female

USB 2.0 host: USB Type B

Keyboard: USB Type A

Mouse: USB Type A

USB 2.0 device: Two USB Type A

Audio: 3.5mm stereo speaker

Serial: DB9F serial port

Power: Barrel jack

Controls

Computer selection: Front panel, hot-key or serial port

Environment

Operating temperature: 23°F–95°F (-5°C–35°C)

Storage temperature: -4°F–185°F (-20°C–85°C)

Relative humidity: 5%–90%, non-condensing
PART NUMBERS
| Product Part Number | Description |
| --- | --- |
| KVM-4TDP-A1 | 1X4 KVM Switch, DisplayPort In/Out, USB 2.0, Audio |
| KVM-4TDPHM-A1 | 1X4 KVM Switch, DisplayPort In/HDMI Out, USB 2.0, Audio |
| Cable Part Number | Description |
| CAB-DPDPMM006 | DisplayPort, 6ft (2.0m) Video Cable. |
| CAB-USBAB006 | USB-AB 6ft (2.0m) USB Cable |
| CAB-SPMM006 | Audio with 3.5mm, 6ft (2.0m) |