Vista DVI
1×8 KVM Switch • DVI • VGA • USB2.0 • Audio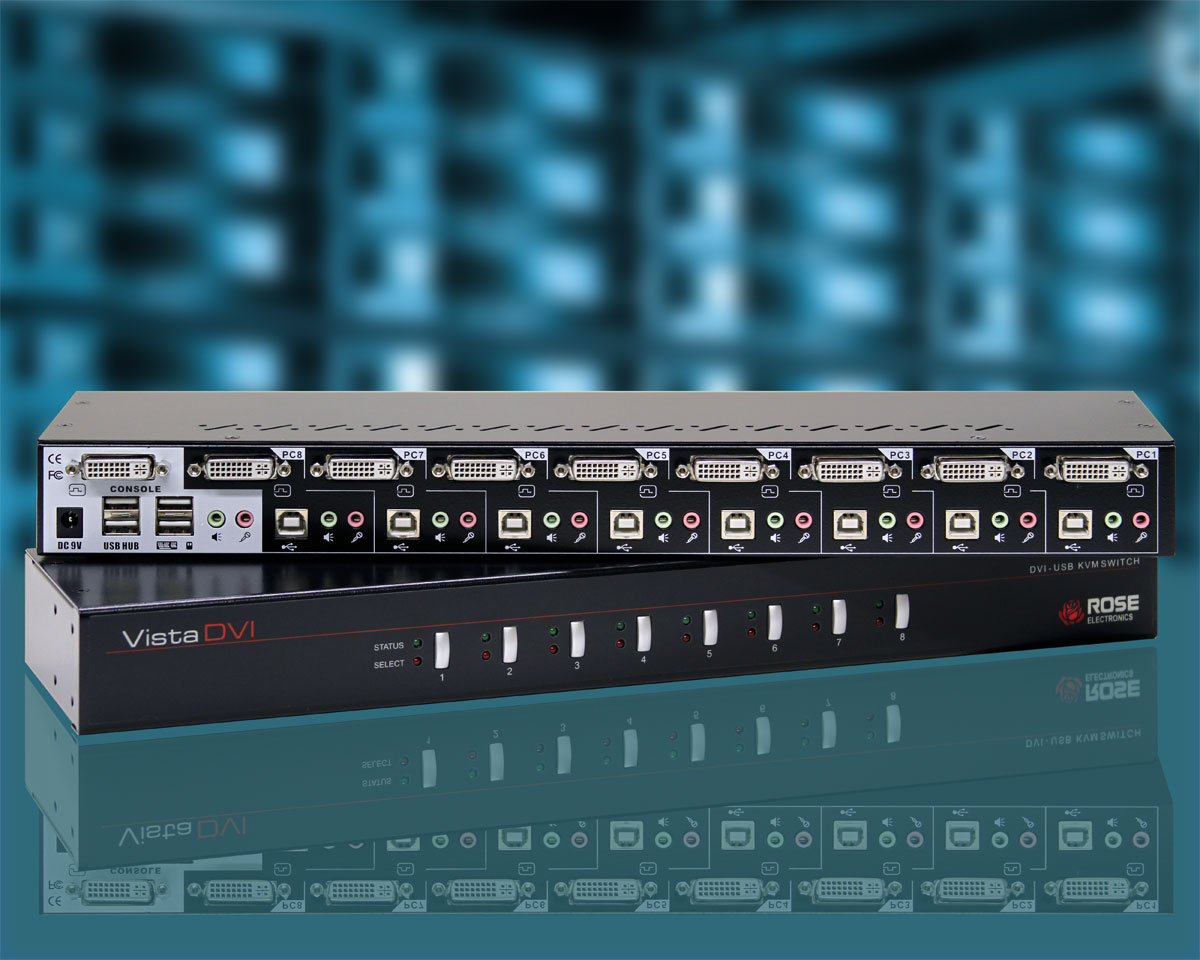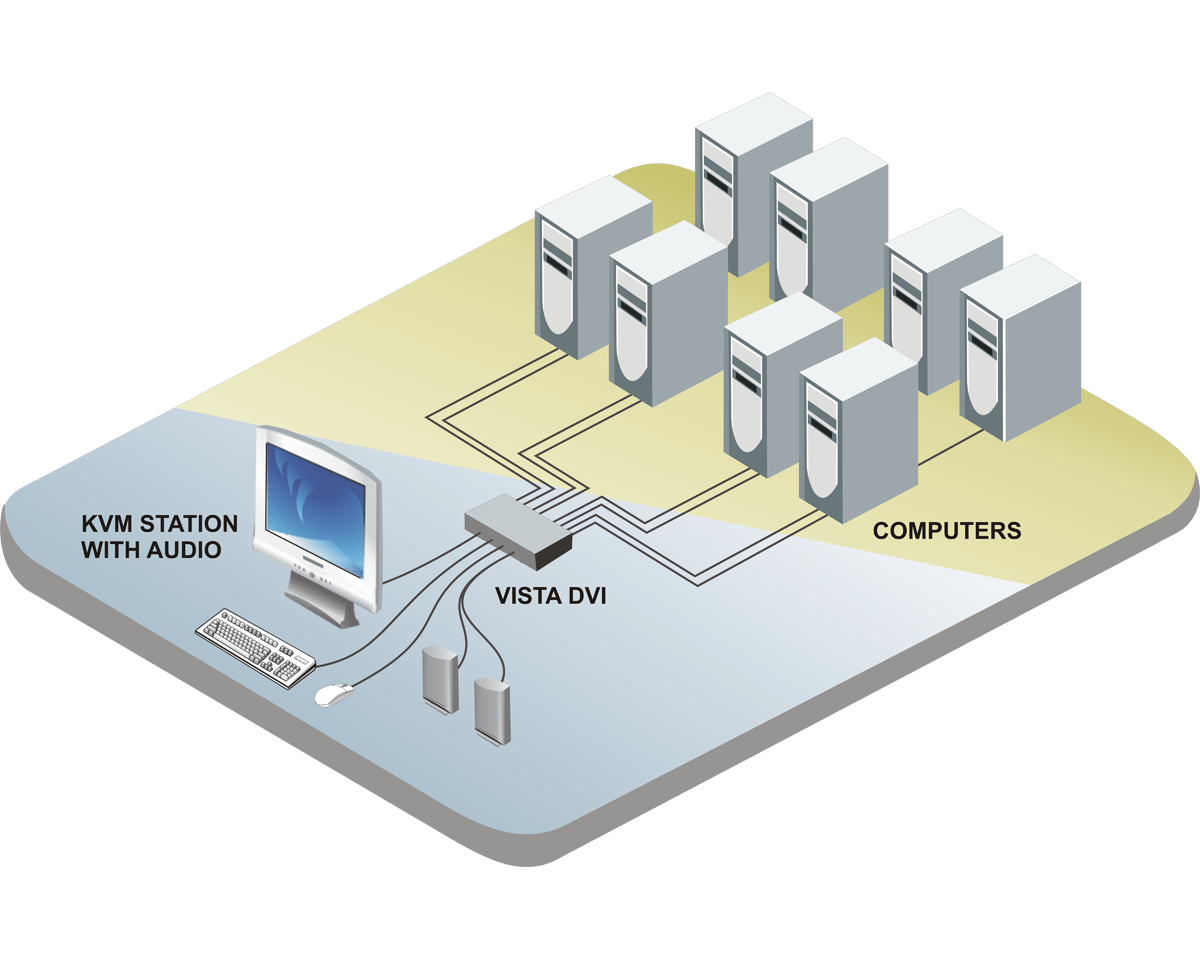 Supports digital and analog video
DVI resolution up to 1920×1200
Analog VGA resolution up to 204×1536
USB 2.0 high speed device support and USB keyboard and mouse emulation
Switch from front panel or simple hot-keys
Multi-platform support for PC's, Apple, and Linux
USB keyboard and mouse emulation
Transparent USB 2-port hub for connecting shared USB devices at 480Mb/sec
Analog stereo speakers and mono microphone support
Independent or joint switching of PCs, USB hub, audio, and microphone
Scanning feature to incrementally switch each CPU connection at a fixed or programmable rate
OVERVIEW
Vista DVI USB KVM switch from Rose Electronics is the ideal product for switching your DVI video and audio from up to 8 computers to one centralized workstation. Digital video is supported at resolutions up to 1920 x 1200, and analog video at resolutions up to 2048 x 1536. The video and audio from each computer can be switched to the local KVM station jointly or independently with the push of a button on the front panel, or by using simple keyboard hotkey commands.
Two USB 2.0 ports are provided for connecting shared high speed USB peripherals. This allows you to share the USB devices between the eight connected computers.
Each connected computer's speaker and microphone outputs are connected to the DVI KVM Switch, eliminating the need for a set for each computer. Vista DVI is multi-platform and supports both PCs and Apple computers.
SPECIFICATIONS
Dimensions (W x D x H)

15.98" x 3.94" x 1.75" (406 x 100 x 44.5 mm) (1U)

Weight

2.65 lb (1.2 kg)

Power

100-240 VAC 50-60Hz

External adapter, +9V, 2.2A

20W

Resolution

Single-link DVI: 1920 x 1200

VGA: 2048 x 1536

Distance

CPU/KVM: 25 feet (7.6m)

Connectors

Video: DVI female

USB 2.0 host: USB Type B

Keyboard: USB Type A

Mouse: USB Type A

USB 2.0 device: Two USB Type A

Speaker: 3.5mm Female audio jack

Microphone: 3.5mm Female audio jack

Power: Barrel jack

Controls

Computer selection: Front panel or hot-key

CPU select: Push-button per port

CPU select: Red LED per port

CPU status: Green LED per port

Environment

Operating temperature: 32°F–122°F (0°C–50°C)

Storage temperature: -13°F–140°F (-25°C–60°C)

Relative humidity: 5%–80%, non-condensing
PART NUMBERS
| Product Part Number | Description |
| --- | --- |
| KVM-8TDVI/A1 | 1x8 KVM Switch, DVI-I, Single-link, USB 2.0, Stereo |
| Cable Part Number | Description |
| CAB-DVIIMMxxx | DVI Video Cable |