Xcion HDMI CATx
CATx Extender/Switch • HDMI • USB2.0 • Audio • Serial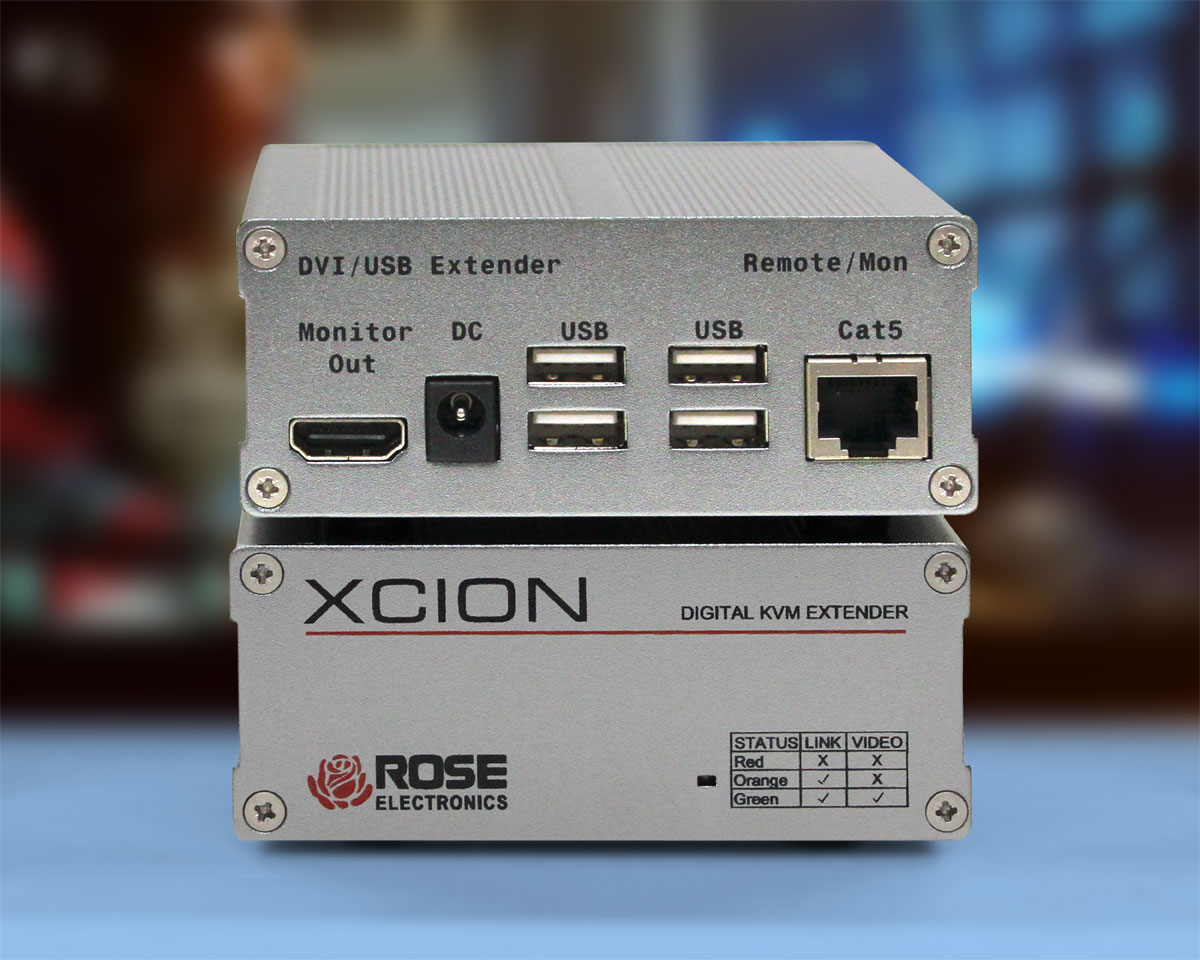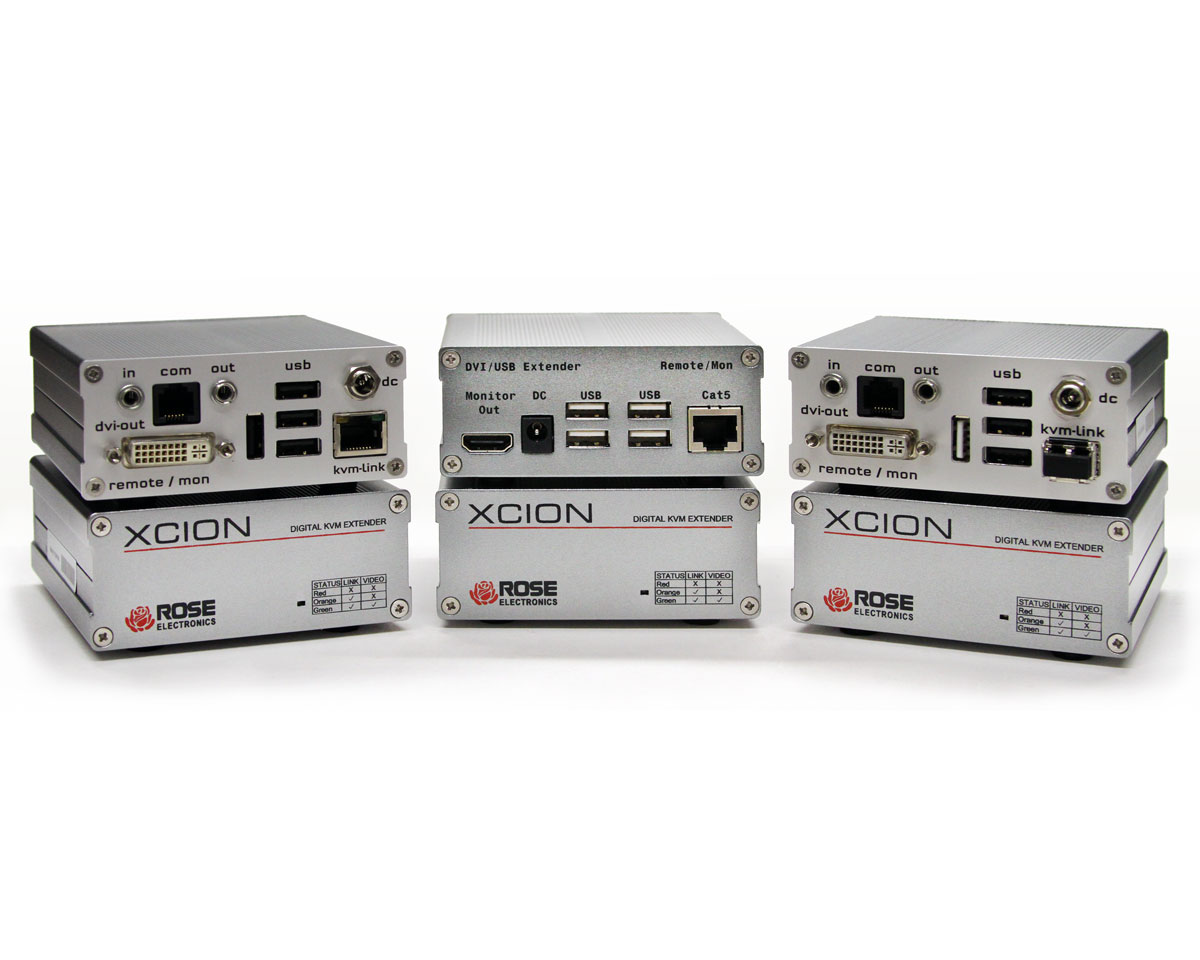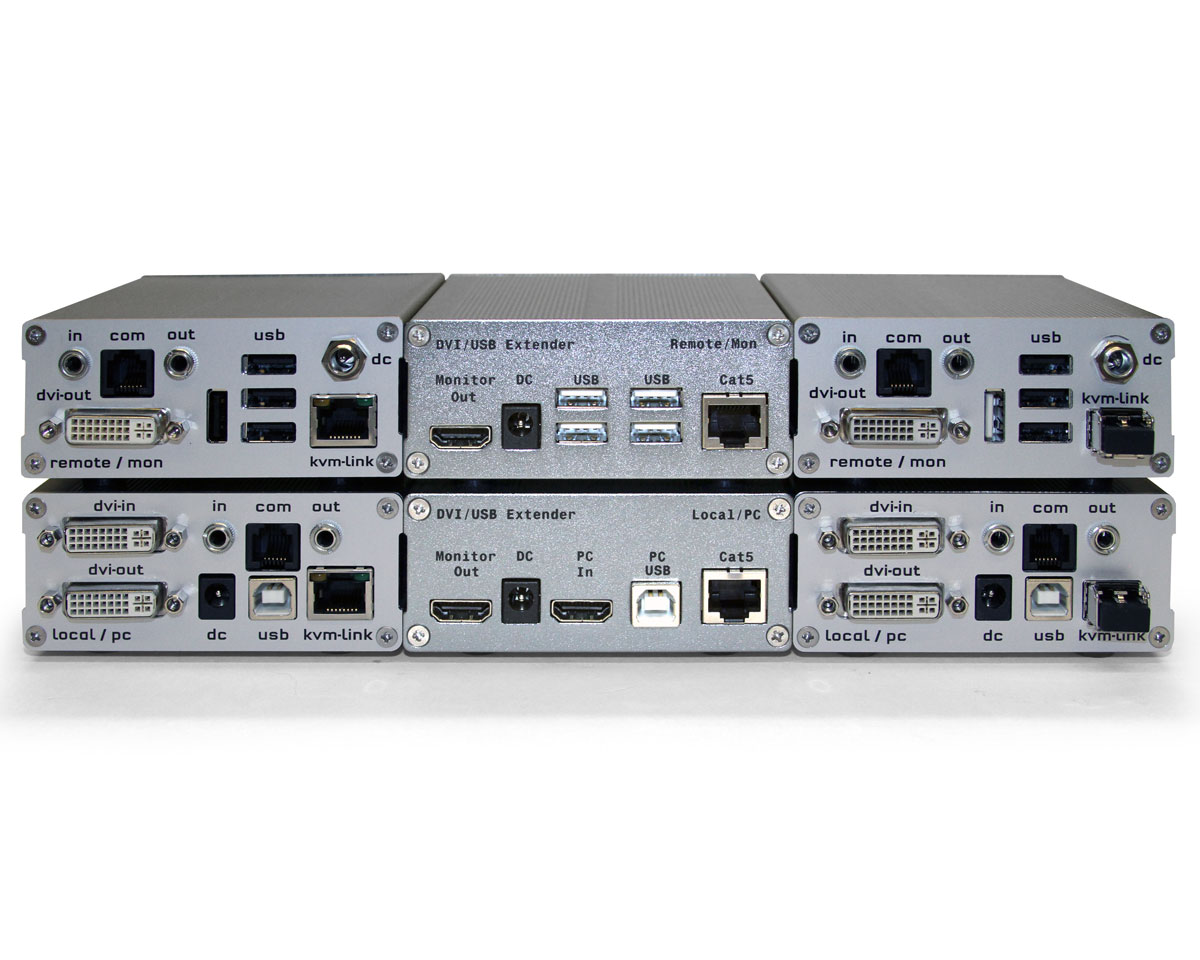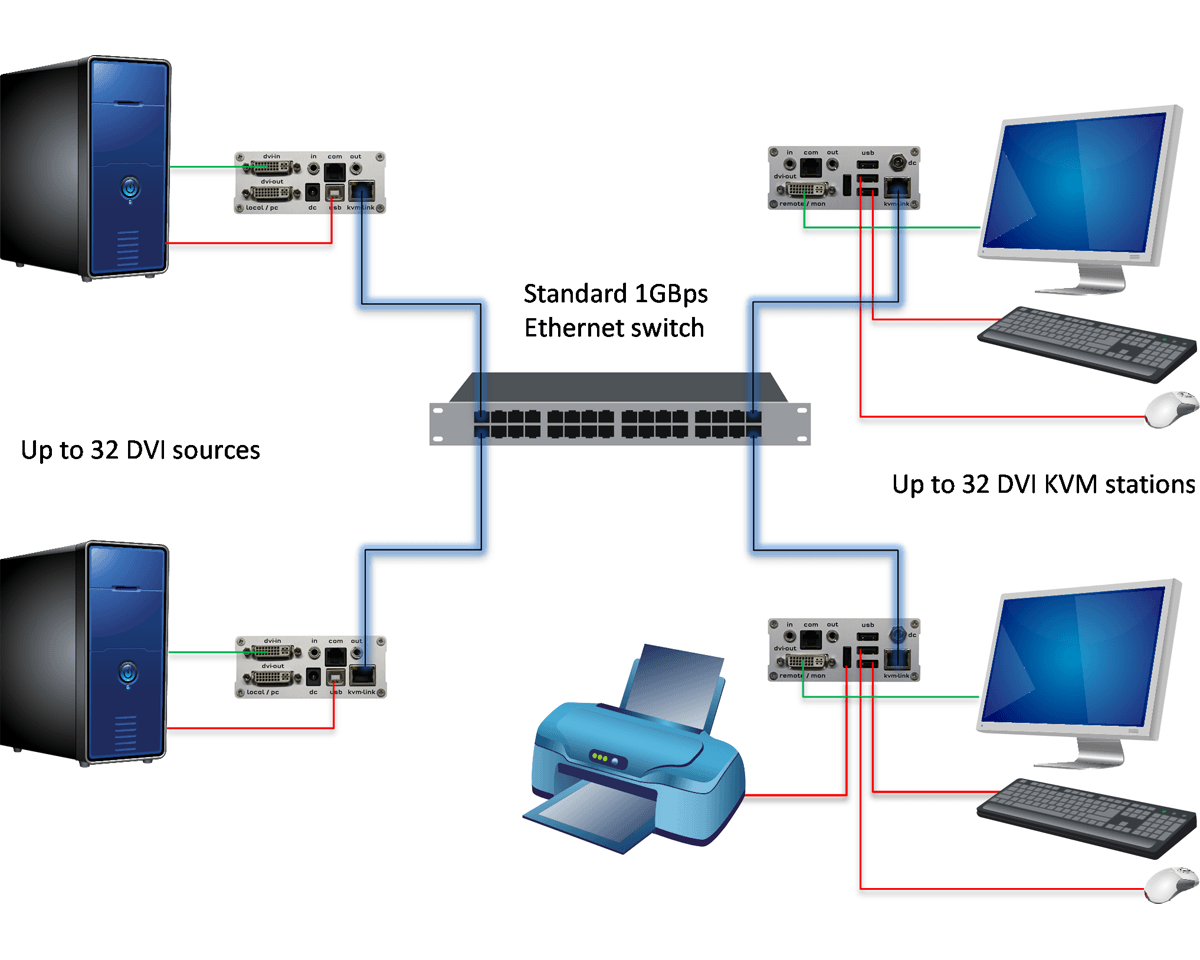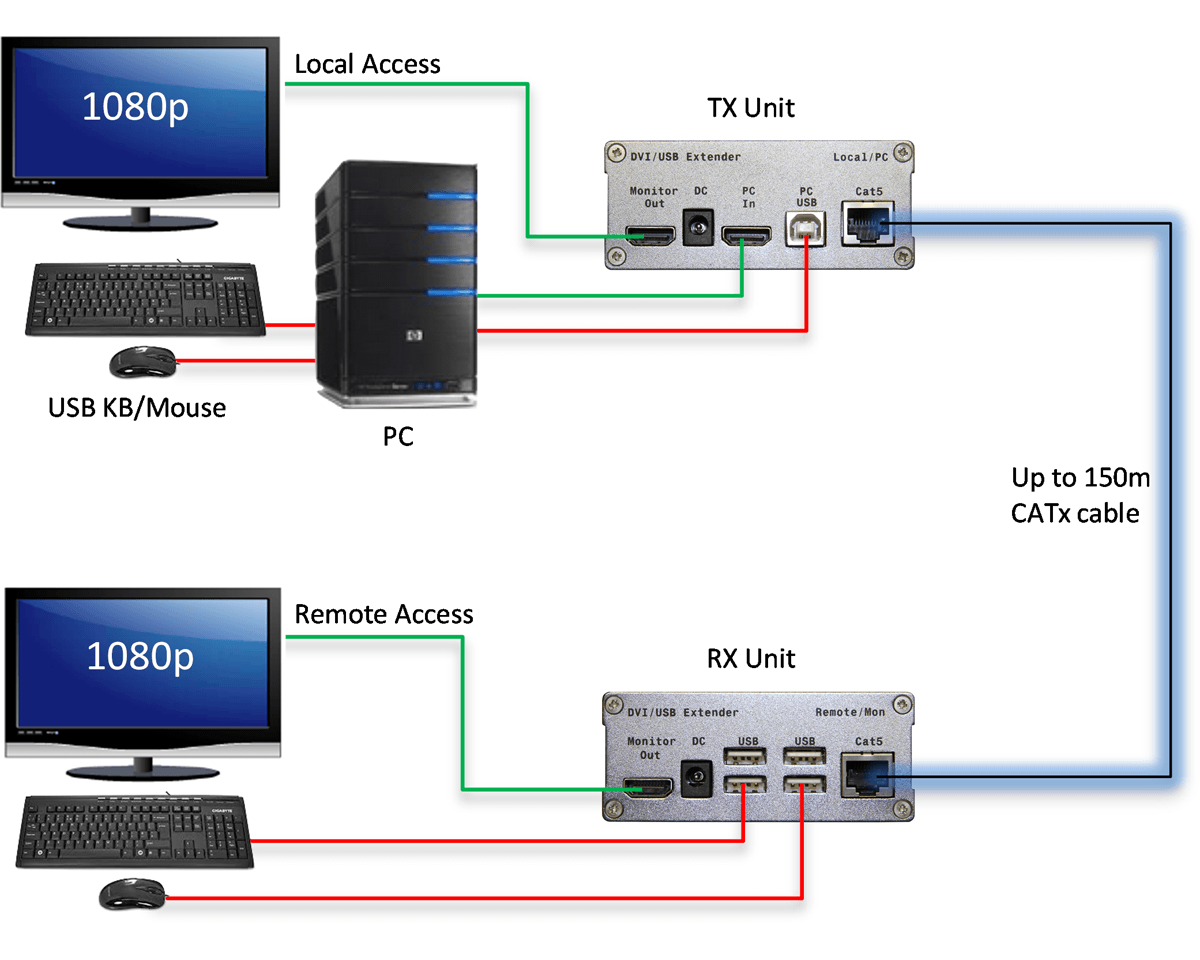 Extends Full HD digital or analog video with visually lossless quality
Transparent USB 2.0 device support
Units can be run point to point as extender or through gigabit Ethernet switch to form distributed matrix switch
Transmitter and Receiver connect to each other or gigabit Ethernet switch with a single CATx extension up to 492 feet (150 m)
Input and output video resolutions up to 1920×1080 @60 Hz
Base model supports digital video and USB 1.1 devices (keyboard, mouse and other HID devices) at rates up to 12Mbps
Optional USB 2.0 high-speed device support for higher speed devices, such as flash sticks, cameras, scanners, and printers
Optional bi-directional analog audio and RS232 serial port
Firmware upgrade requires no special cable
DDC menu to choose remote display EDID or any of 5 fixed settings
OSD menu functions allow option activation, firmware updates, monitor synchronization, and OSD locking
4 units can be mounted in a 1U 19" rack
OVERVIEW
The Xcion Digital Extender supports HDMI at 1920x1200 with high quality compressed video over CATx or fiber cable. The standard unit comes with HDMI video input/output, and an HDMI local port on the transmitter unit. USB1.1/USB2.0 is supported up to 12Mbps. The optional USB2.0 device support and switch mode functions are configured on the standard chassis using software keys to activate the selected options. With the USB2.0 device support activated, the unit will support transparent USB2.0 up to 64Mbps.
The Switch Mode option enables up to 48 Xcion devices (transmitter and receiver) to be connected to each other using a gigabit network switch, creating a distributed KVM switching system where any user can access any connected host computer resource. Multiple users can also access a single PC/Server using a limited command structure.
Management of the Xcion HDMI extender is through an extensive OSD menu structure that is displayed on the connected monitor and operated via keyboard commands.
Serial and audio transmission over USB can be supported using external USB adapters.
SPECIFICATIONS
Dimensions (W x D x H)

3.88" x 4.17" x 1.6" (98 x 106 x 41 mm) (1U)

Weight

1.19 lb (0.54 kg)

Power

100-250 VAC 50-60Hz

External adapter, +12V, 1A

Transmitter or Receiver: 5W

Resolution

HDMI video: 1080p

Distance

CATx: 500ft (150m)

Connectors

Transmitter:

HDMI video: female, Input and Local

USB 1.1/2.0: USB Type B

CATx link: RJ45 jack

Power using external adapter: Barrel jack

Receiver:

HDMI video: female

USB 1.1/2.0: Four USB Type A

CATx link: RJ45 jack

Power using external adapter: Barrel jack

Controls

Unit power: Red/Green LED

Link Status: Red/Green LED

OSD: via keyboard

Environment

Operating temperature: 32°F–113°F (0°C–45°C)

Storage temperature: -4°F–158°F (-20°C–70°C)

Relative humidity: 0%–80%, non-condensing
PART NUMBERS
| | |
| --- | --- |
| XCK-2DTXUH1H | Xcion CATx Extender Kit with HDMI/USB |
| /T | Xcion USB2.0 High Speed Option (64Mbps) |
| /SM | Xcion Switch Mode Option for distributed KVM switching |