Orion XTender
Modular CATx/Fiber Extender • 2/4/6-Card Chassis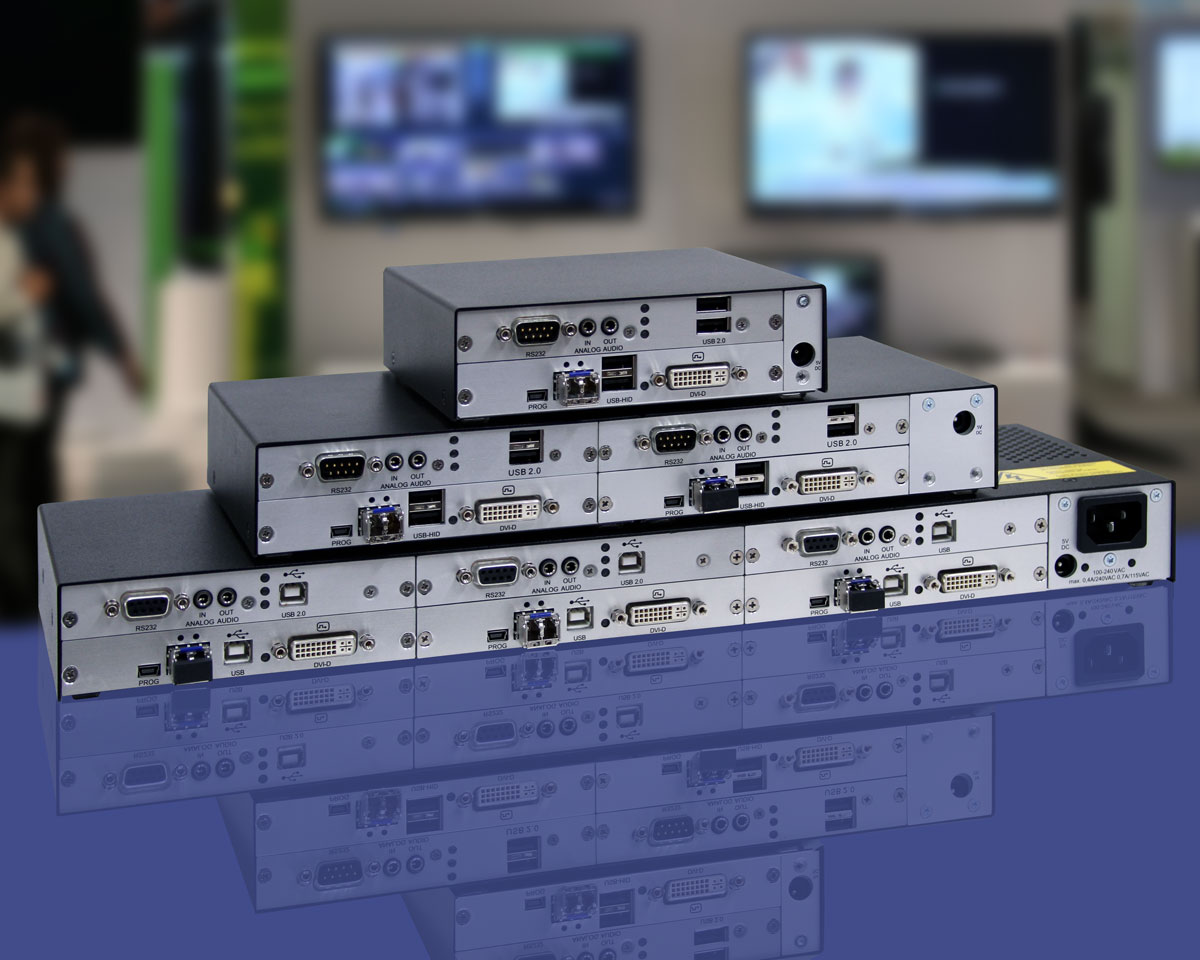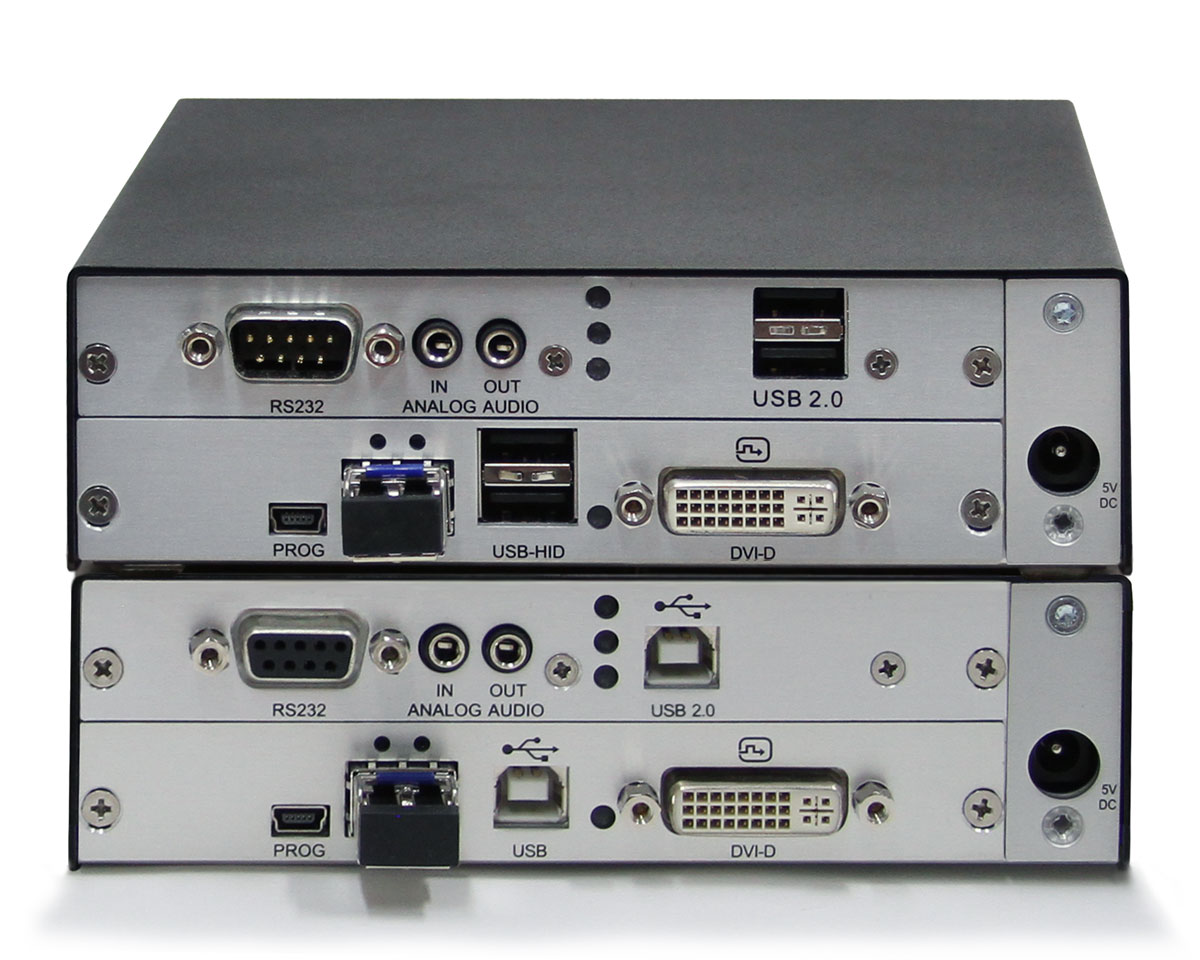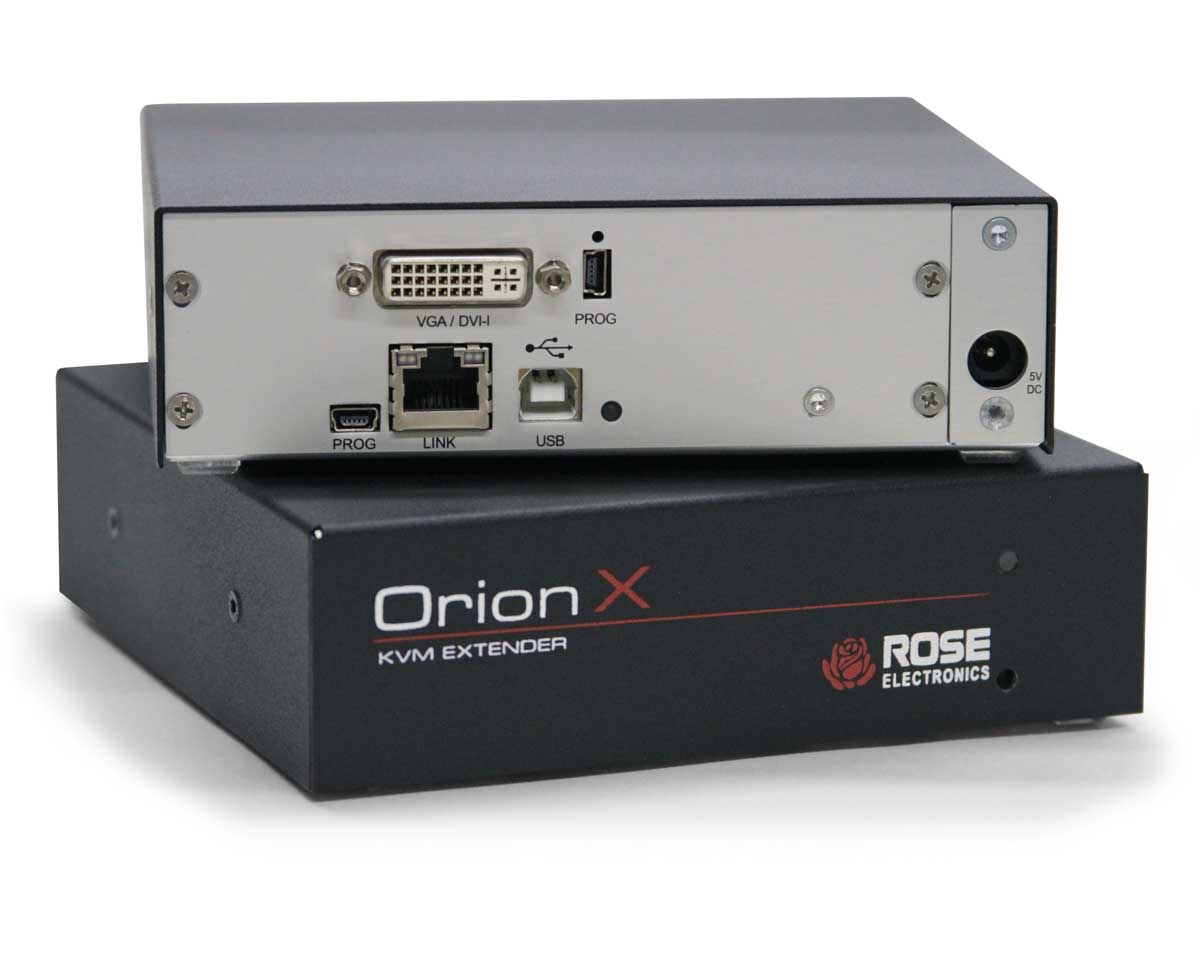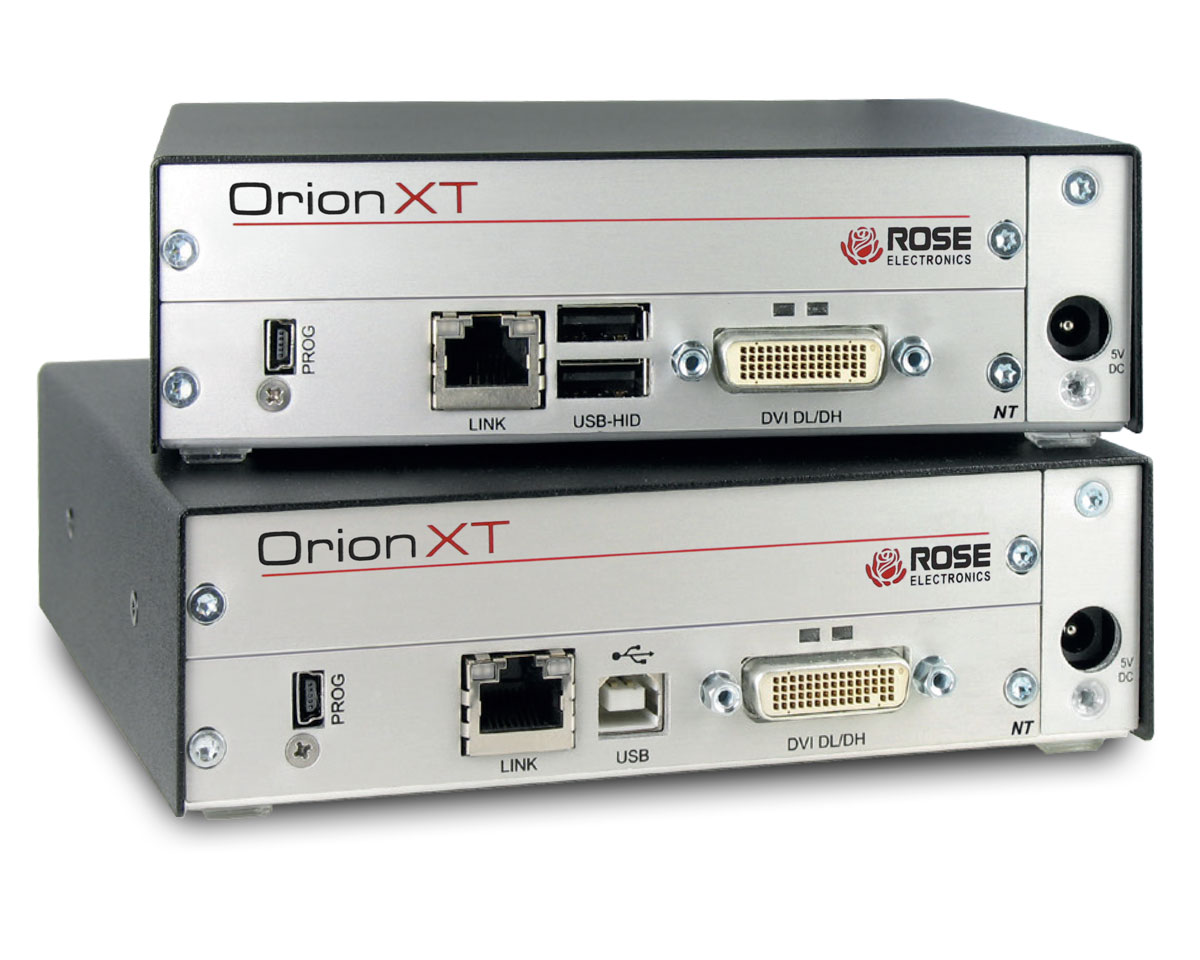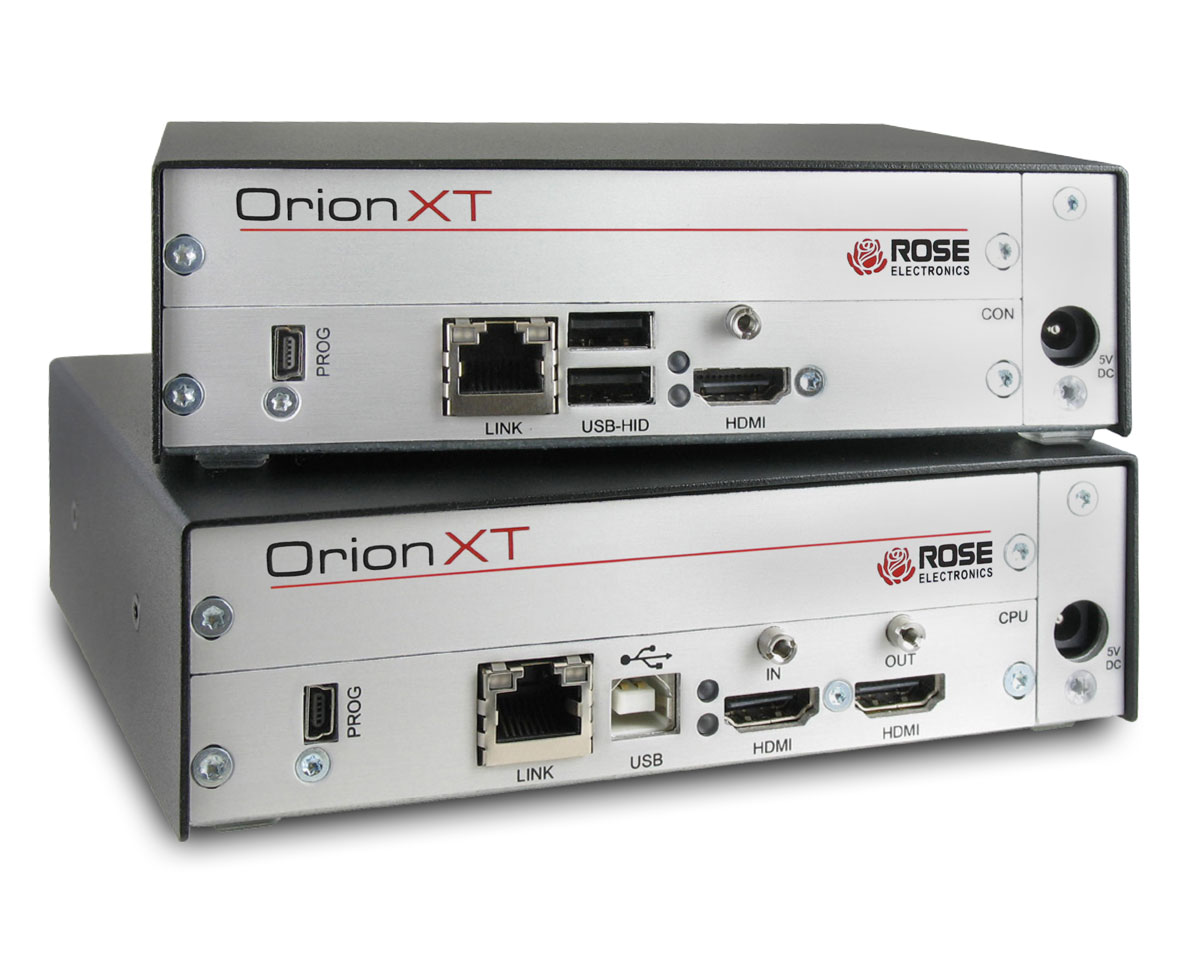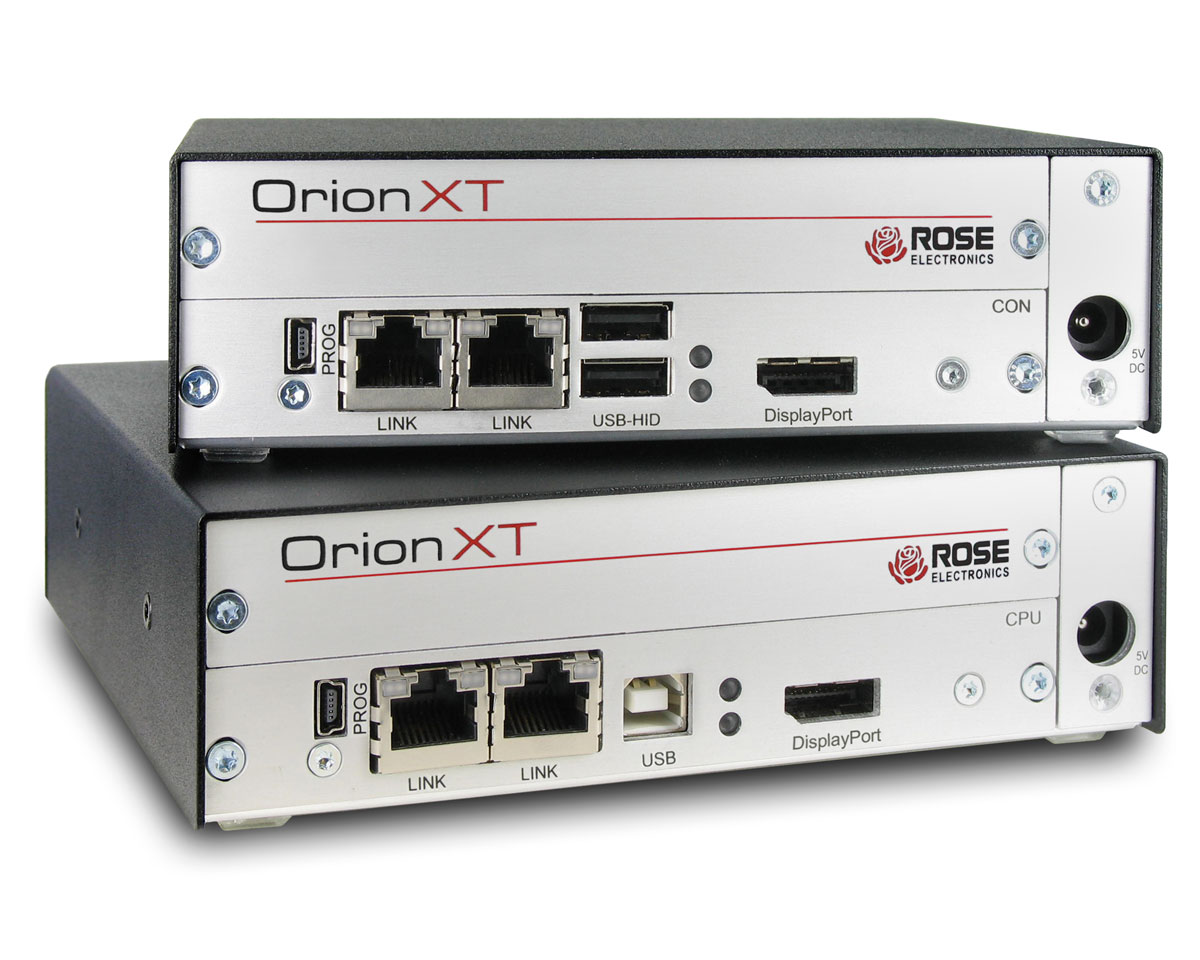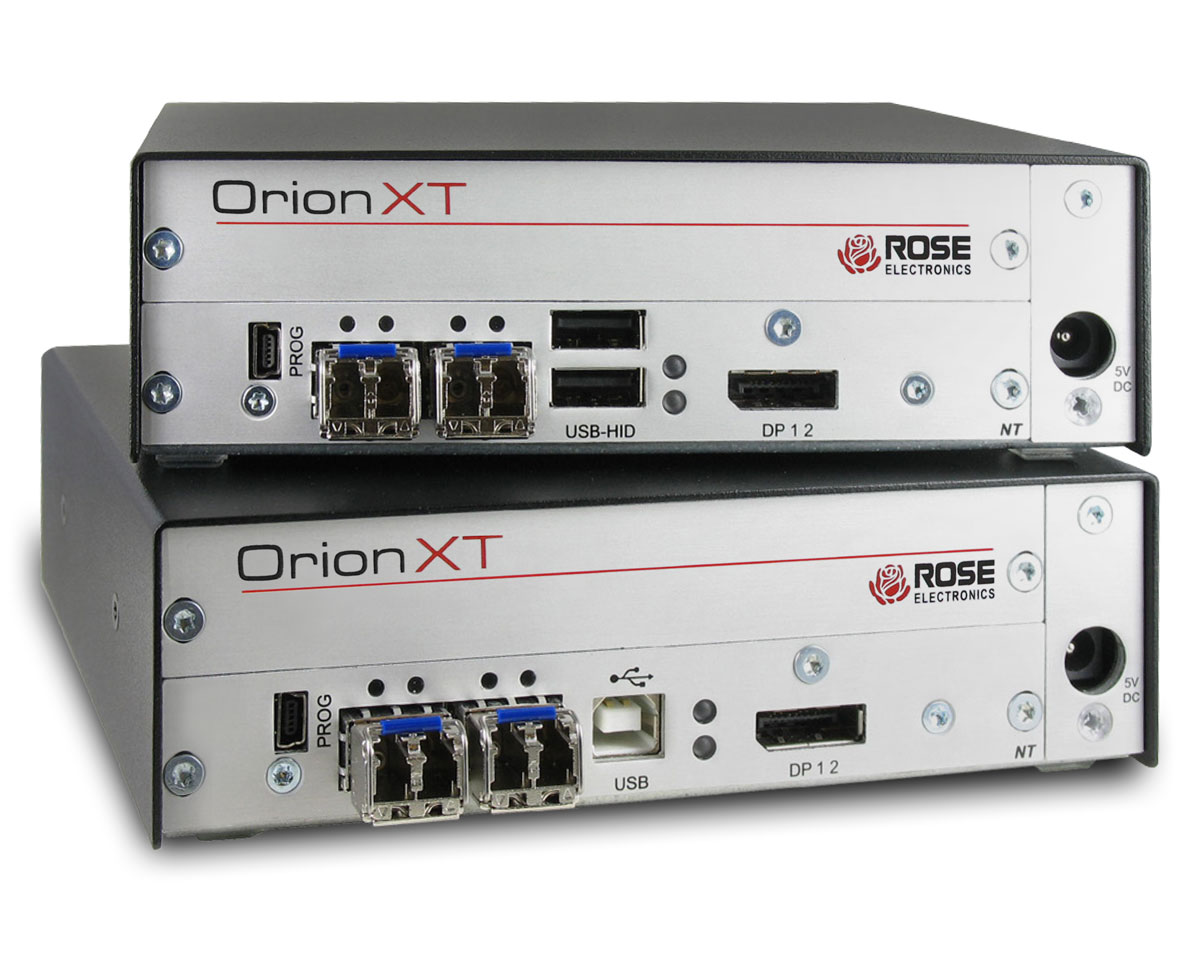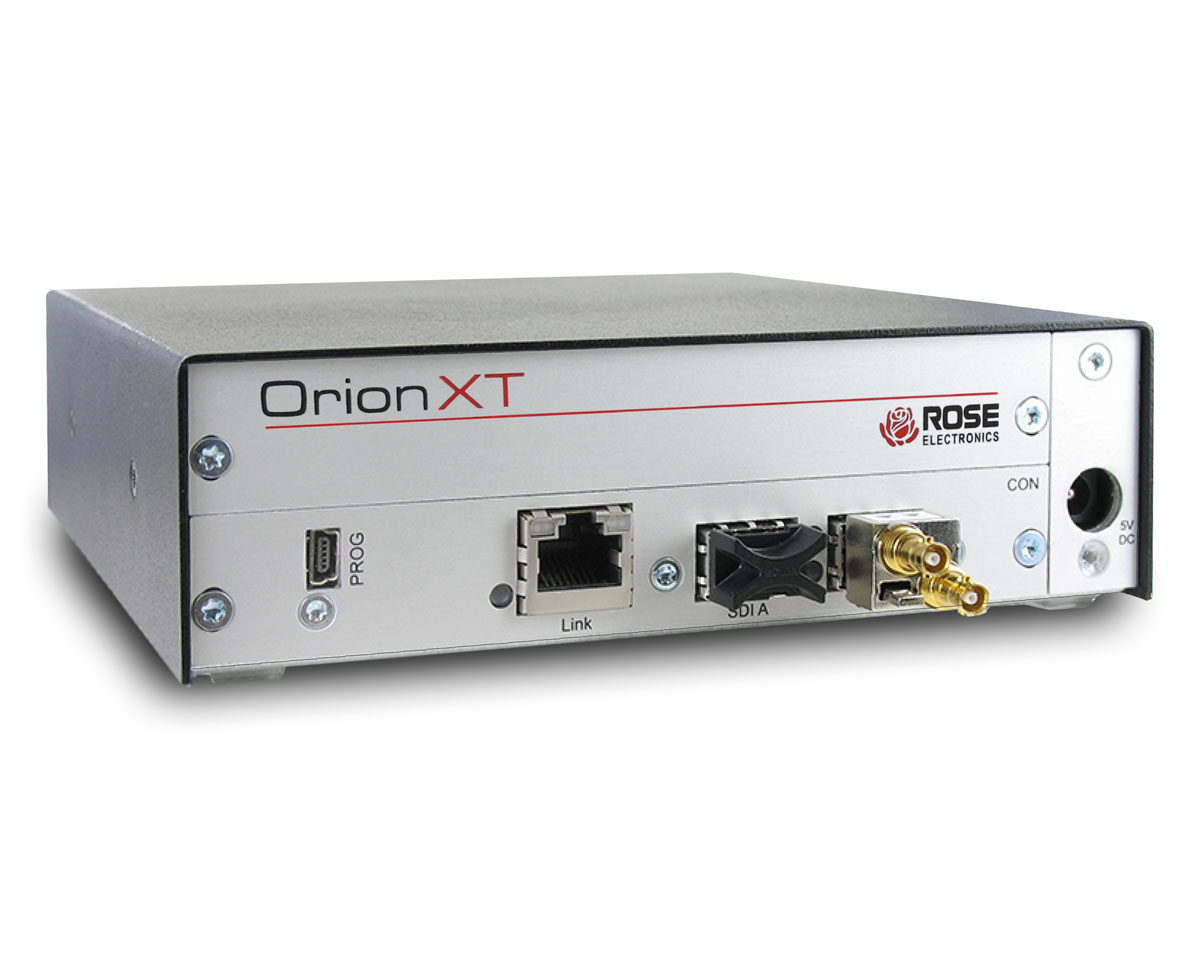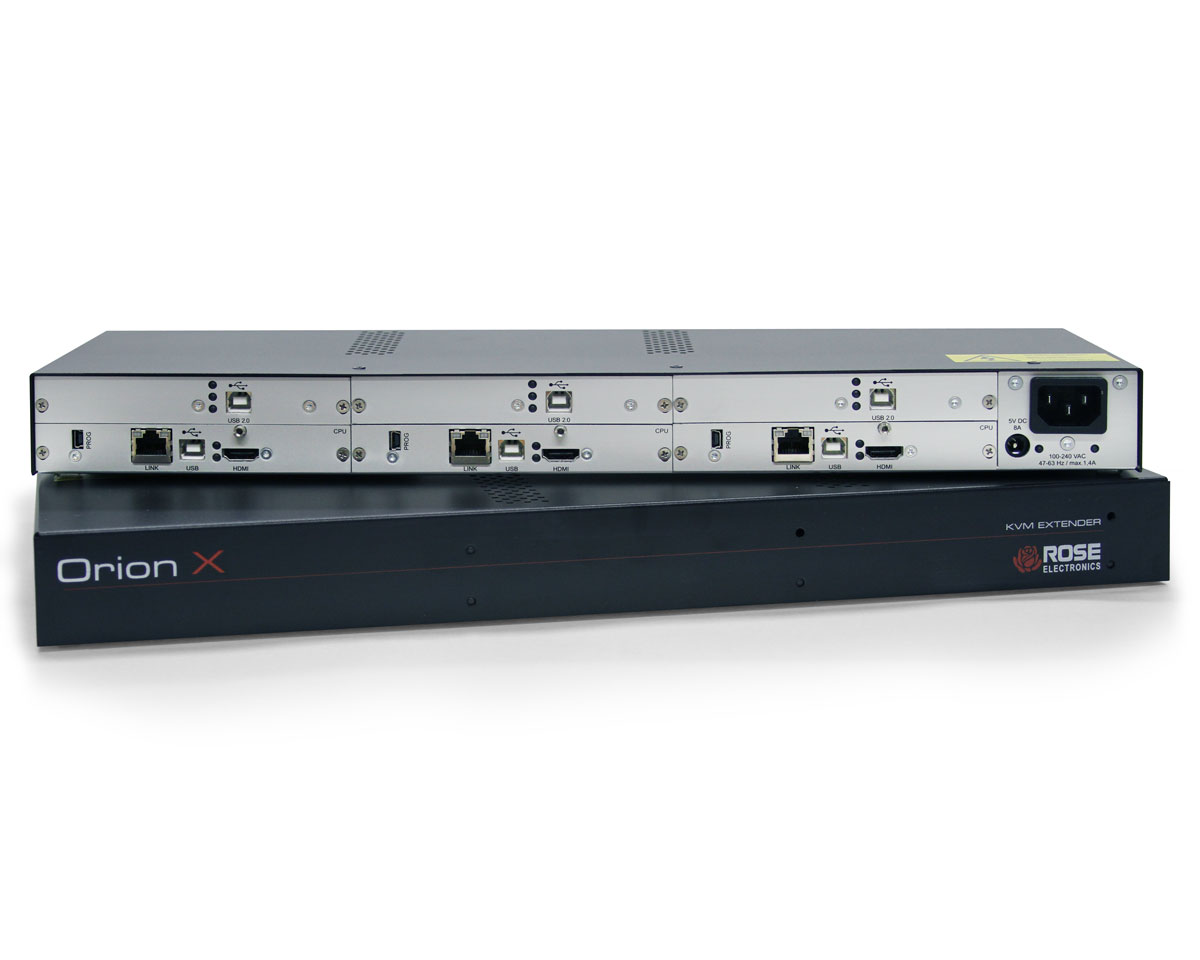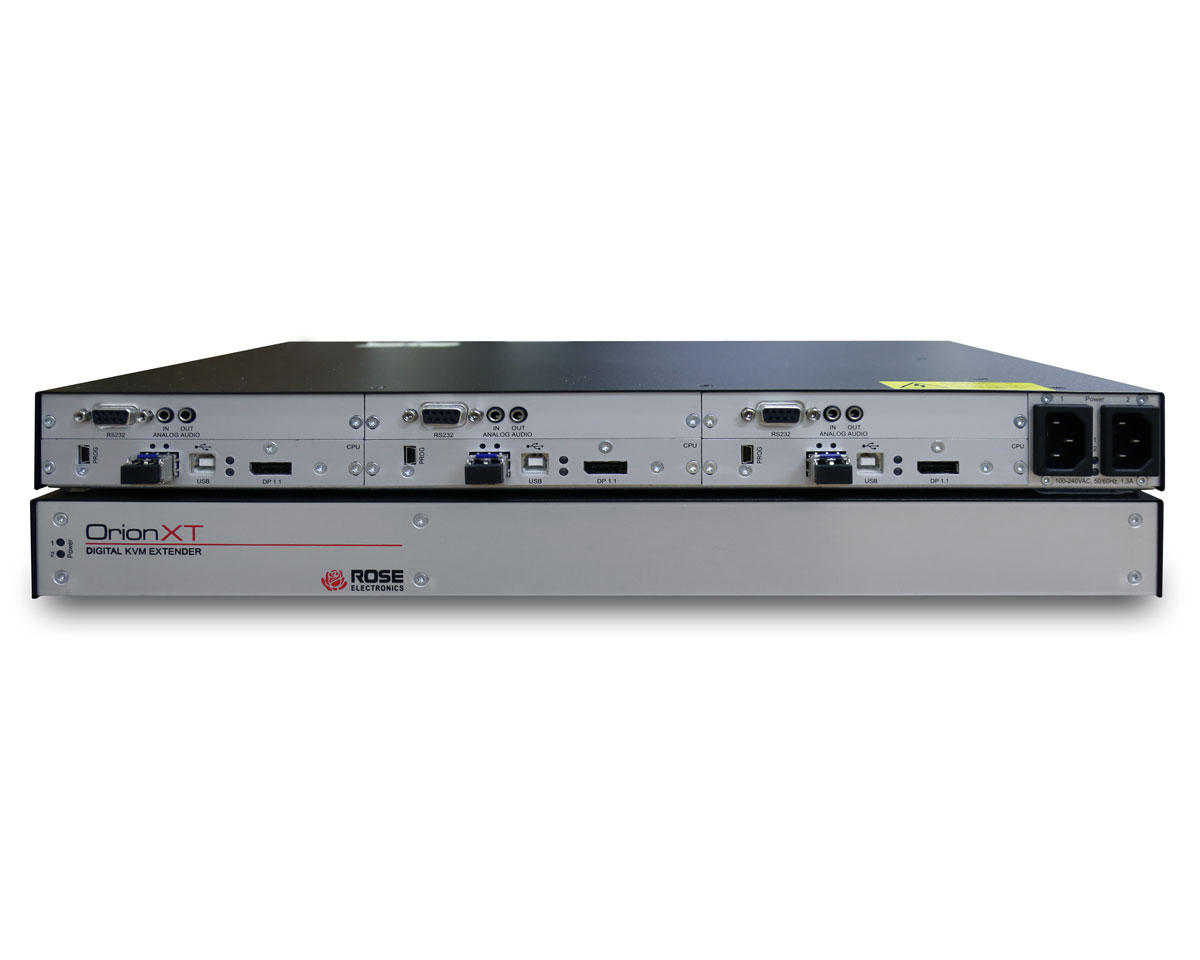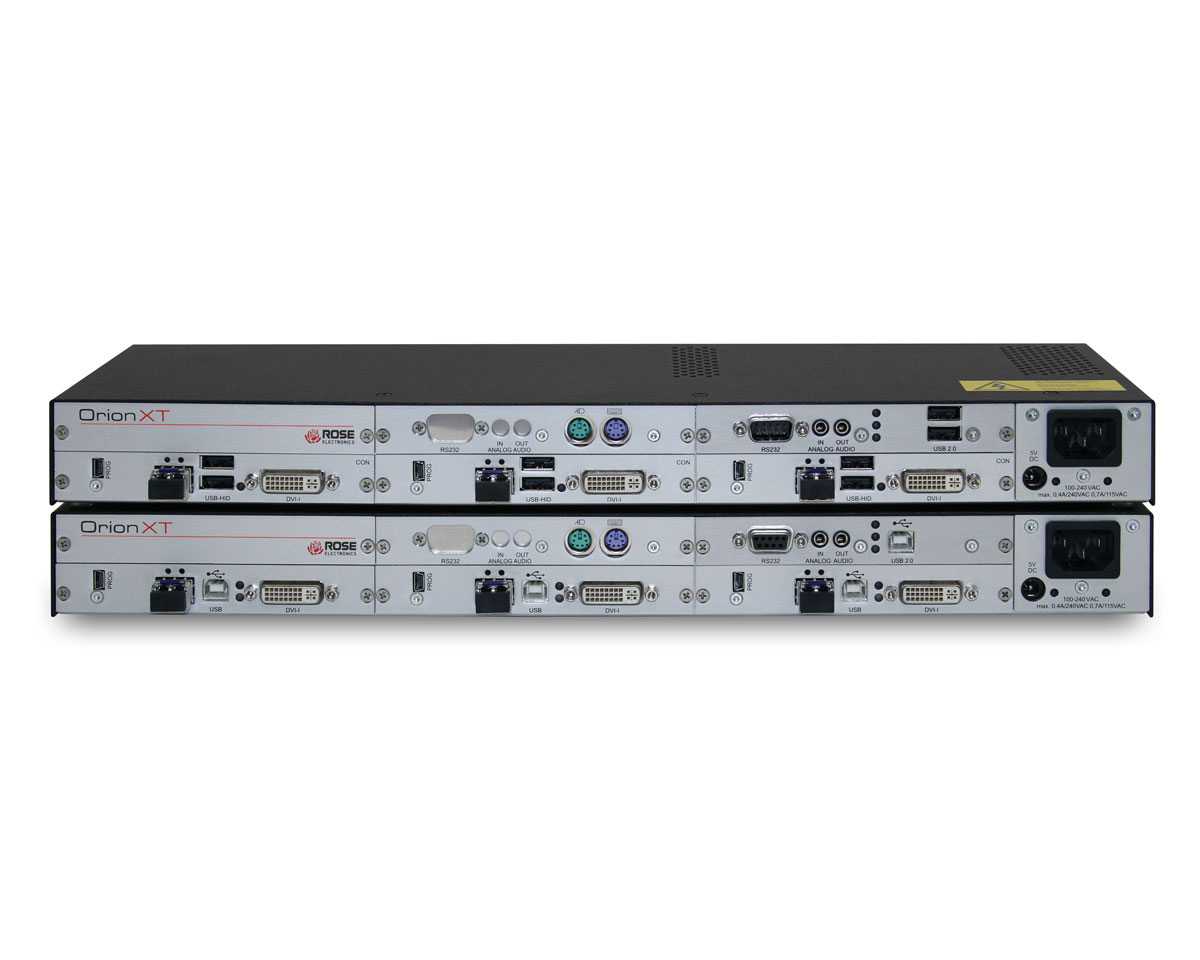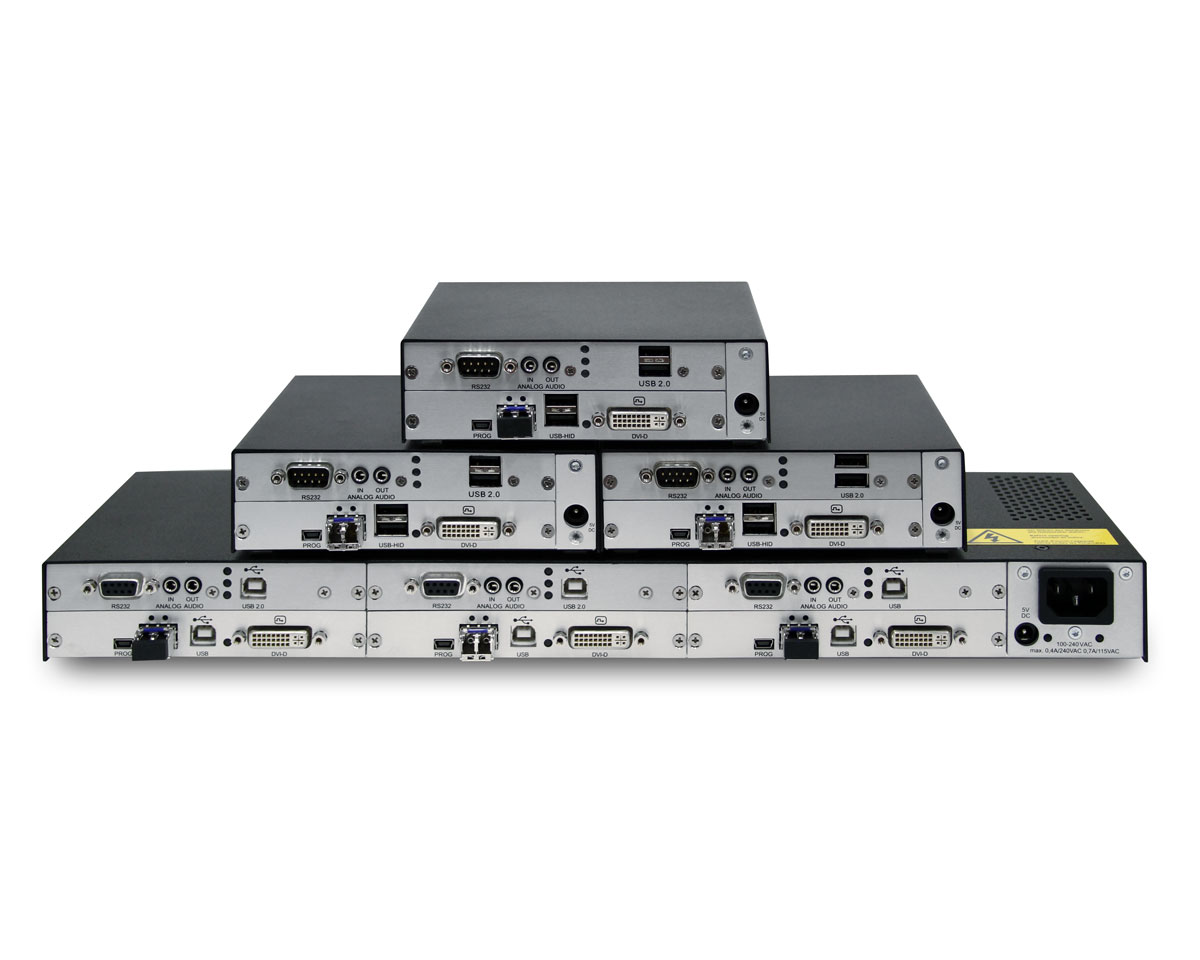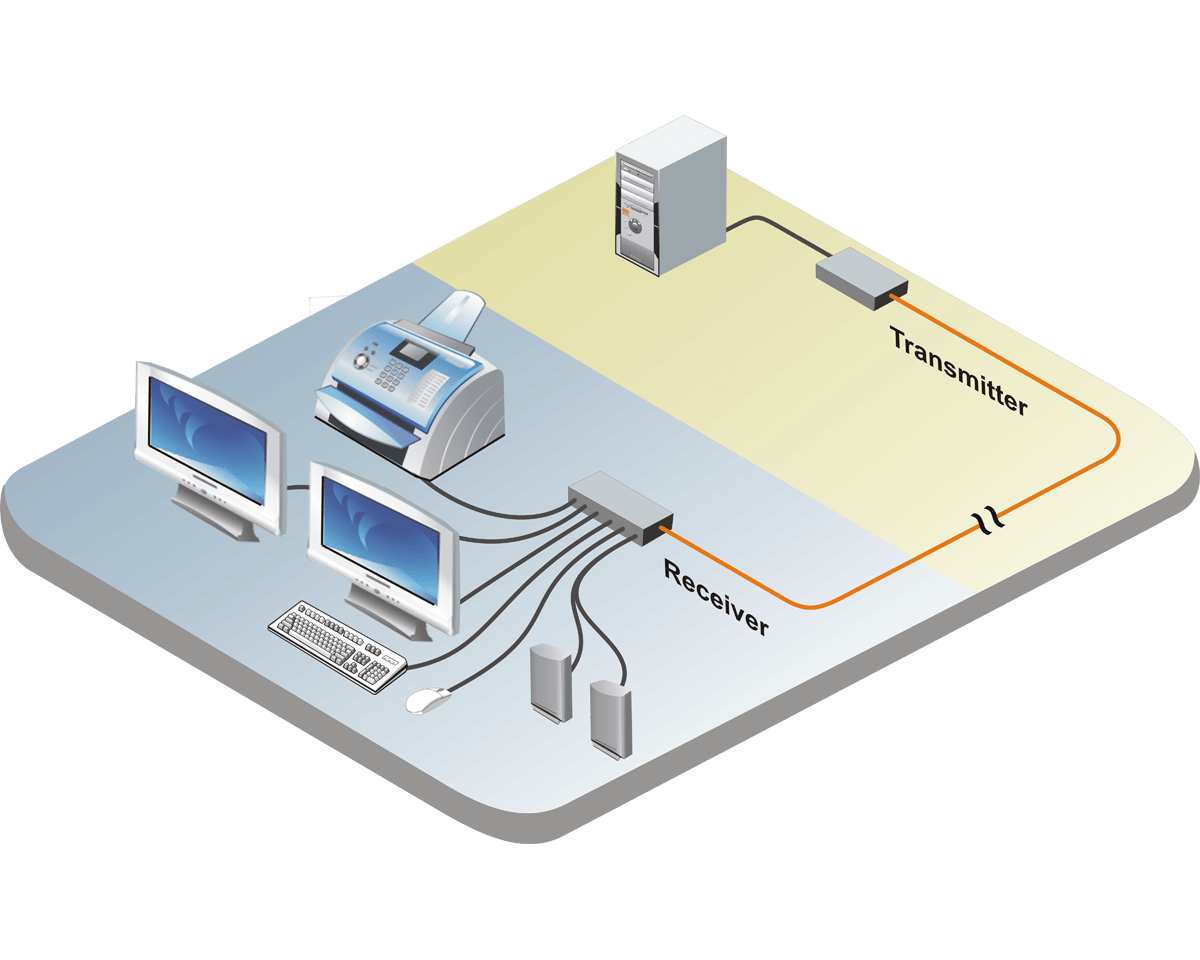 Extend your KVM stations and computers

Up to 460ft (140m) using CATx cable
Up to 3,300ft (1Km) using multi-mode fiber
Up to 33,000ft (10Km) using single-mode fiber

Multiple chassis sizes satisfies both large and small requirements
Use HID devices like keyboard, mouse, and touchscreen or option to add printers, scanners, hard drives, memory sticks, audio devices, etc.
Video interfaces available:

Single-link DVI video up to 1920×1200@60Hz
Dual-link DVI video up to 4K@30Hz
Dual-head DVI video using one cable up to 1920×1200@60Hz
DVI-I (VGA) video up to 1920×1200@60Hz with optional scaling
HDMI and DisplayPort video up to 4K@60Hz
SDI video up to 1920×1080p

Other interfaces available:

USB-HID, USB 2.0, and USB3.0 devices
PS2 keyboard and mouse
Serial RS-232 and RS-422, up to 115.2Kbaud
Analog stereo microphone and speaker
Digital audio (Mini-XLR, Coaxial, Optical)

Other options available:

Redundant power
Redundant link
OVERVIEW
The modular design of the Orion XTender allows users to extend desktop control of remote computers or to relocate them in a secure and managed space away from desktop, control room, or hazardous environments.
Whether you need single, dual, or quad-head video displays with control from a USB or PS2 keyboard, mouse, or touchscreen, this modular and feature packed family can be configured to fit your needs.
Common applications include control rooms, broadcast studios, outside broadcast vans, concert and theatre venues, AV distribution, medical imaging, and other industrial/military applications.
Run them point to point or connect them to an Orion-X or Orion-XC switch. Now you can route your video, audio, and USB control to whatever destination desired. Your source and destination video format need not be the same.
A wide range of chassis sizes with provision for redundant power make the Orion XT a versatile product. You can use the larger sizes where multiple sources are in the same location and use the smaller units to spread around your facility near the users.
Connection status LED's are located on the front panel to indicate the operating status of the unit. The chassis are all rack mountable and all connectors are on the same side of the chassis for convenience and ease of access.
SPECIFICATIONS
Dimensions
(W x D x H)

2x: 5.7" x 5.7" x 1.6" (146 x 146 x 41 mm) (1U)

4x: 11.6" x 5.7" x 1.6" (295 x 146 x 41 mm) (1U)

6x: 18.4" x 5.7" x 1.6" (466 x 146 x 41 mm) (1U)

Weight

2x: 0.9 lb (0.4 kg)

4x: 2.0 lb (0.9 kg)

6x: 3.1 lb (1.4 kg)

Power

100-240 VAC 50-60Hz

Power at chassis:

2x: External adapter, +5V, 3A

2x: Internal power supply, AC line power

4x: External adapter, +5V, 5A

6x: Internal power supply, AC line power

Optional redundant power supply

Maximum power required by cards:

Base card DVI + HID: 4W

Base card DVI/VGA+ HID 4.5W

Base card HDMI + HID: 4W

Analog Audio / Serial: 1.5W

Serial(RS422): .75W

Digital Audio: 1.5W

USB-HID: 1.5W

PS/2: 3.25W

USB 2.0 embedded: 5.5W

USB 2.0: 12.5W

Maximum power of chassis:

2x: 15W

4x: 25W

6x: 60W

Resolution

DVI single-link video: 1920 x 1200/2048 x 1152

DVI dual-link video: 2560 x 2048

VGA video: 1920 x 1200

HDMI video: 1920 x 1200

Distance

CATx: 460' (140m)

Multi-mode fiber: (62.5µ): 650' (200m)

Multi-mode fiber: (50µ): 1,300' (400m)

Multi-mode fiber: (50µ) OM3: 3,300' (1Km)

Single-mode fiber: (9µ): 33,000' (10Km)

Connectors

Transmitter:

DVI video: DVI female

VGA video: DVI-I female

HDMI: HDMI female

USB HID keyboard/mouse: USB Type B

PS/2 keyboard/mouse: Two PS/2 mini-din6F

PS/2 dual access keyboard/mouse: Two PS/2 mini-din6F

USB 2.0 host: USB Type B

CATx link: RJ45 jack, one per video port

Fiber link: Duplex LC, one per video port

Analog audio: Two 3.5mm stereo jacks

Digital audio: S/PDIF RCA, AES mini-XLR, S/PDIF optical TOSLINK

Serial: DB9F

Power using external adapter: Barrel jack

Power using internal power supply: IEC-320 recepacle

Receiver:

DVI video: DVI female, one per port

USB HID keyboard/mouse: Two USB type A jack

PS/2 keyboard/mouse: Two PS/2 mini-din6F

USB 2.0 device: Four USB Type A

CATx link: RJ45 jack, one per video port

Fiber link: Duplex LC, one per video port

Analog audio: Two 3.5mm stereo jacks

Digital audio: S/PDIF RCA, AES mini-XLR, S/PDIF optical TOSLINK

Serial: DB9M

Power using external adapter: Barrel jack

Power using internal power supply: IEC-320 recepacle

Controls

Error status: Green LED per port

Link status: Green LED per port

USB/video status: RGB LED per port

VGA status: RGB LED per port

Digital audio status: RGB LED per port

USB-HID status:Two orange LEDs per port

USB embedded 2.0 status: Three green LEDs per port

USB 2.0 status: RGB LED per port

Environment

Operating temperature: 41°F–113°F (5°C–45°C)

Storage temperature: -13°F–140°F (-25°C–60°C)

Relative humidity: 0%–80%, non-condensing
PART NUMBERS
It is not practical to list all part numbers here
because the product has so many variations.

Pleae refer to the datasheet for a complete description.
Transmitters
OT2-SLDTXUD1D
Transmitter, DVI-D, USB HID, CATx
OT2-SLDFMUD1D
Transmitter, DVI-D, USB HID, Fiber Multi-mode
OT2-SLDFSUD1D
Transmitter, DVI-D, USB HID, Fiber Single-mode
OT2-SLDTXUD1V
Transmitter, DVI-I (VGA), USB HID, CATx
OT2-SLDFMUD1V
Transmitter, DVI-I (VGA), USB HID, Fiber Multi-mode
OT2-SLDFSUD1V
Transmitter, DVI-I (VGA), USB HID, Fiber Single-mode
OT2-SLDTXTD1D
Transmitter, DVI-D, USB 2.0, CATx
OT2-SLDFMTD1D
Transmitter, DVI-D, USB 2.0, Fiber Multi-mode
OT2-SLDFSTD1D
Transmitter, DVI-D, USB 2.0, Fiber Single-mode
OT4-SLDTXTD1V
Transmitter, DVI-I (VGA), USB HID, USB 2.0, CATx
OT4-SLDFMTD1V
Transmitter, DVI-I (VGA), USB HID, USB 2.0, Fiber Multi-mode
OT4-SLDFSTD1V
Transmitter, DVI-I (VGA), USB HID, USB 2.0, Fiber Single-mode
OT2-SLDTXUD1D/AUD
Transmitter, DVI-D, USB HID, Audio/Serial, CATx
OT2-SLDFMUD1D/AUD
Transmitter, DVI-D, USB HID, Audio/Serial, Fiber Multi-mode
OT2-SLDFSUD1D/AUD
Transmitter, DVI-D, USB HID, Audio/Serial, Fiber Single-mode
OT4-SLDTXUD1V/AUD
Transmitter, DVI-I (VGA), USB HID, Audio/Serial, CATx
OT4-SLDFMUD1V/AUD
Transmitter, DVI-I (VGA), USB HID, Audio/Serial, Fiber Multi-mode
OT4-SLDFSUD1V/AUD
Transmitter, DVI-I (VGA), USB HID, Audio/Serial, Fiber Single-mode
OT4-SLDTXTD1D/AUD
Transmitter, DVI-D, USB 2.0, Audio/Serial, CATx
OT4-SLDFMTD1D/AUD
Transmitter, DVI-D, USB 2.0, Audio/Serial, Fiber Multi-mode
OT4-SLDFSTD1D/AUD
Transmitter, DVI-D, USB 2.0, Audio/Serial, Fiber Single-mode
OT4-SLDTXTD1V/AUD
Transmitter, DVI-I (VGA), USB HID, USB 2.0, Audio/Serial, CATx
OT4-SLDFMTD1V/AUD
Transmitter, DVI-I (VGA), USB HID, USB 2.0, Audio/Serial, Fiber Multi-mode
OT4-SLDFSTD1V/AUD
Transmitter, DVI-I (VGA), USB HID, USB 2.0, Audio/Serial, Fiber Single-mode
Receivers
OR2-SRDTXUD1D
Receiver, DVI-D, USB HID, CATx
OR2-SRDFMUD1D
Receiver, DVI-D, USB HID, Fiber Multi-mode
OR2-SRDFSUD1D
Receiver, DVI-D, USB HID, Fiber Single-mode
OR2-SRDTXTD1D
Receiver, DVI-D, USB HID, USB 2.0, CATx
OR2-SRDFMTD1D
Receiver, DVI-D, USB HID, USB 2.0, Fiber Multi-mode
OR2-SRDFSTD1D
Receiver, DVI-D, USB HID, USB 2.0, Fiber Single-mode
OR2-SRDTXUD1D/AUD
Receiver, DVI-D, USB HID, Audio/Serial, CATx
OR2-SRDFMUD1D/AUD
Receiver, DVI-D, USB HID, Audio/Serial, Fiber Multi-mode
OR2-SRDFSUD1D/AUD
Receiver, DVI-D, USB HID, Audio/Serial, Fiber Single-mode
OR4-SRDTXTD1D/AUD
Receiver, DVI-D, USB HID, USB 2.0, Audio/Serial, CATx
OR4-SRDFMTD1D/AUD
Receiver, DVI-D, USB HID, USB 2.0, Audio/Serial, Fiber Multi-mode
OR4-SRDFSTD1D/AUD
Receiver, DVI-D, USB HID, USB 2.0, Audio/Serial, Fiber Single-mode