CrystalLink USB3.1 Fiber Dual Port
USB3.1 Fiber Extender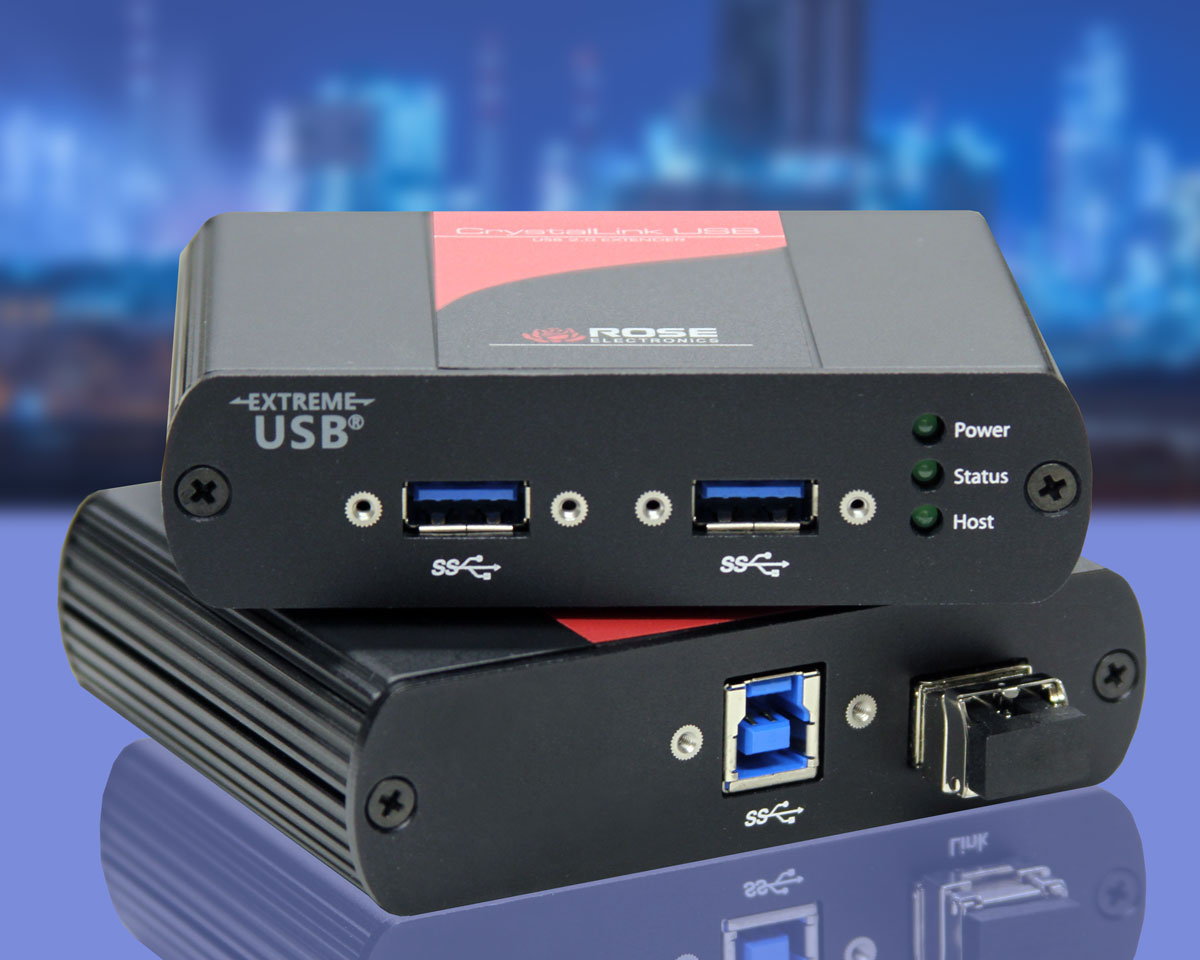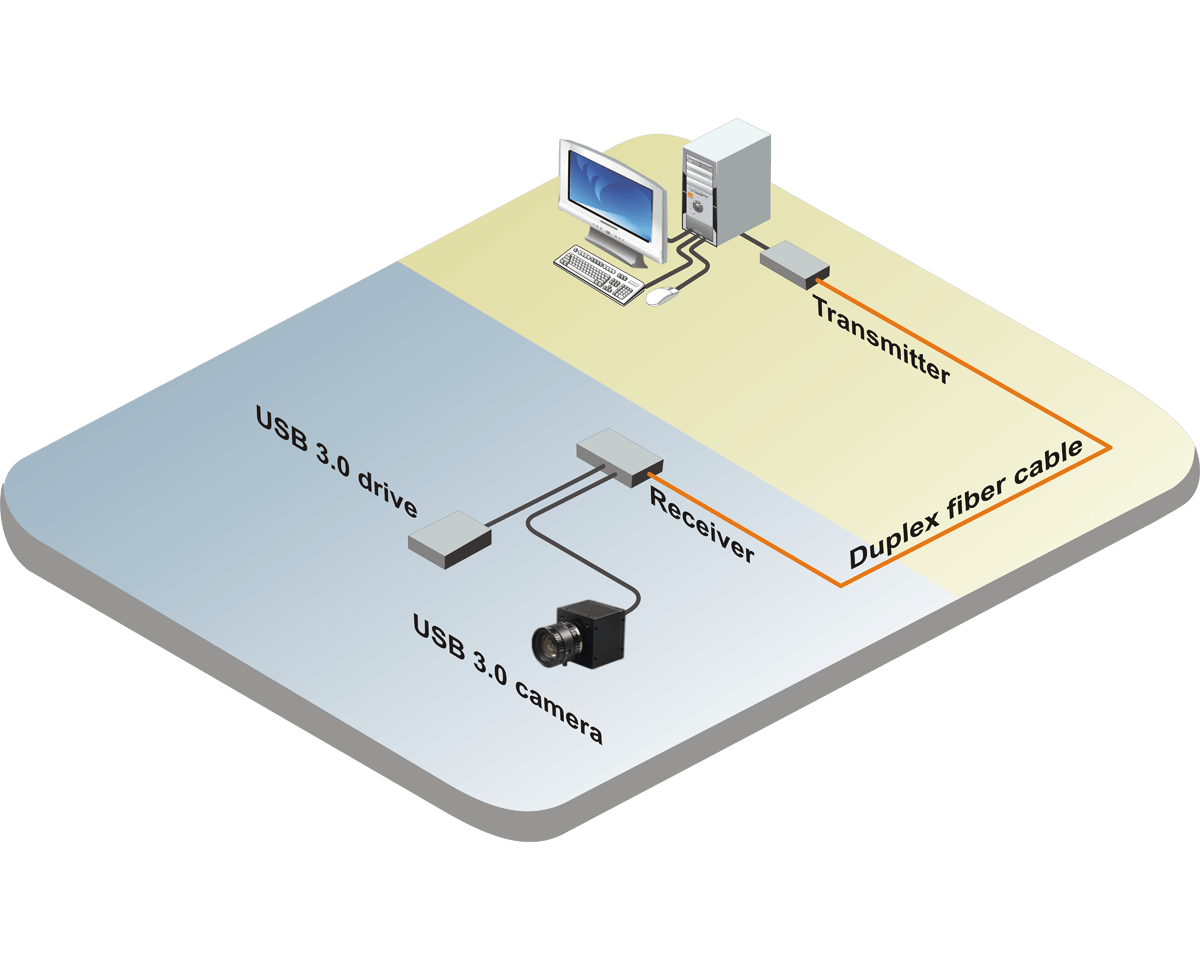 Extends USB3.1 devices beyond the standard 3m cable limit for USB3.1 peripherals, up to 330ft(100m)
Uncompromised throughput of USB3.1 gen1 rate of 5Gbps
Integrated 2-port hub provides support for two different USB3.1 peripherals in industrial environments
Uses standard 50/125µm multi-mode fiber cable terminated with one duplex LC type connector
Fiber cable ensures high-speed transmission, electrical isolation, high reliability, and transmission security
Secure USB device connection using USB and power locking connectors
Works with AIA USB3 Vision compliant devices
Plug-and-Play installation: no configuration, driver installation, or set-up required
Supports all major operating systems: Windows, Mac OS X, and Linux
The receiver unit requires a 24VDC power adapter (included), the transmitter unit is USB interface powered
OVERVIEW
The CrystalLink USB 3.0 extender is a professional and industrial grade extender, ideally suited for the remote and secure operation of advanced digital USB 3.0 Vision cameras up to 330ft (100m). Other USB 3.0 devices can be remotely located using the CrystalLink USB 3.0 extender, at a distance of up to 50 meters.
The extender must be connected to a USB 3.0 host port and the camera or other remote devices must be USB 3.0 compliant.
The Receiver unit features an integrated 2-port USB 3.0 hub for simultaneous operation of 2 remotely located USB devices. These devices can be connected to the Receiver unit using USB 3.0 locking connectors. The power connectors on the product are also secure locking type.
The unique design of the CrystalLink USB 3.0 compliments the latest USB3.0 Machine Vision digital camera technology and has the flexibility to support other USB 3.0 peripherals. This makes it ideally suited for a number of applications, including industrial control areas, connecting cameras for security and monitoring systems, post production editing, broadcast applications, storage retrieval, medical monitoring, and more.
SPECIFICATIONS
Dimensions (W x D x H)

3.94" x 2.99" x 1.02" (100 x 76 x 26 mm)

Weight

0.9 lb (0.4 kg)

Power

100-240 VAC 50-60Hz

24V Model: 24V DC, 1A, Locking, 2.5 mm, center-positive

Distance

Multi-mode fiber: (50µ) OM3

USB Camera: 330' (100m)

Other USB devices: 165' (50m)

Connectors

Transmitter:

USB host: USB 3.0 Type B Locking Receptacle

Link: Duplex LC fiber jack

Power: Locking barrel jack (used if USB 3.0 host hasn't enough power)

Receiver:

USB device: 2 x USB 3.0 Type A Locking Receptacles, 900ma each port

Link: Duplex LC fiber jack

Power: Locking barrel jack

Controls

Unit power: Blue LED

Link status: Green LED

Host status: Green LED

Environment

Operating temperature: 32°F–104°F (0°C–40°C)

Storage temperature: -4°F–158°F (-20°C–70°C)

Relative humidity: 20%–80%, non-condensing
PART NUMBERS
Product Part Number
Description
CLK-2U3FMB-100M
USB 3.0 Fiber Extender, complete kit. transmitter, receiver, and 24VDC power adapter (RX unit)
Rackmount bracket
RM-UD/CLKUSB
Shelf, wall or under desk bracket