CrystalView DVI CATx
CATx Extender • DVI/USB/PS2 • 460'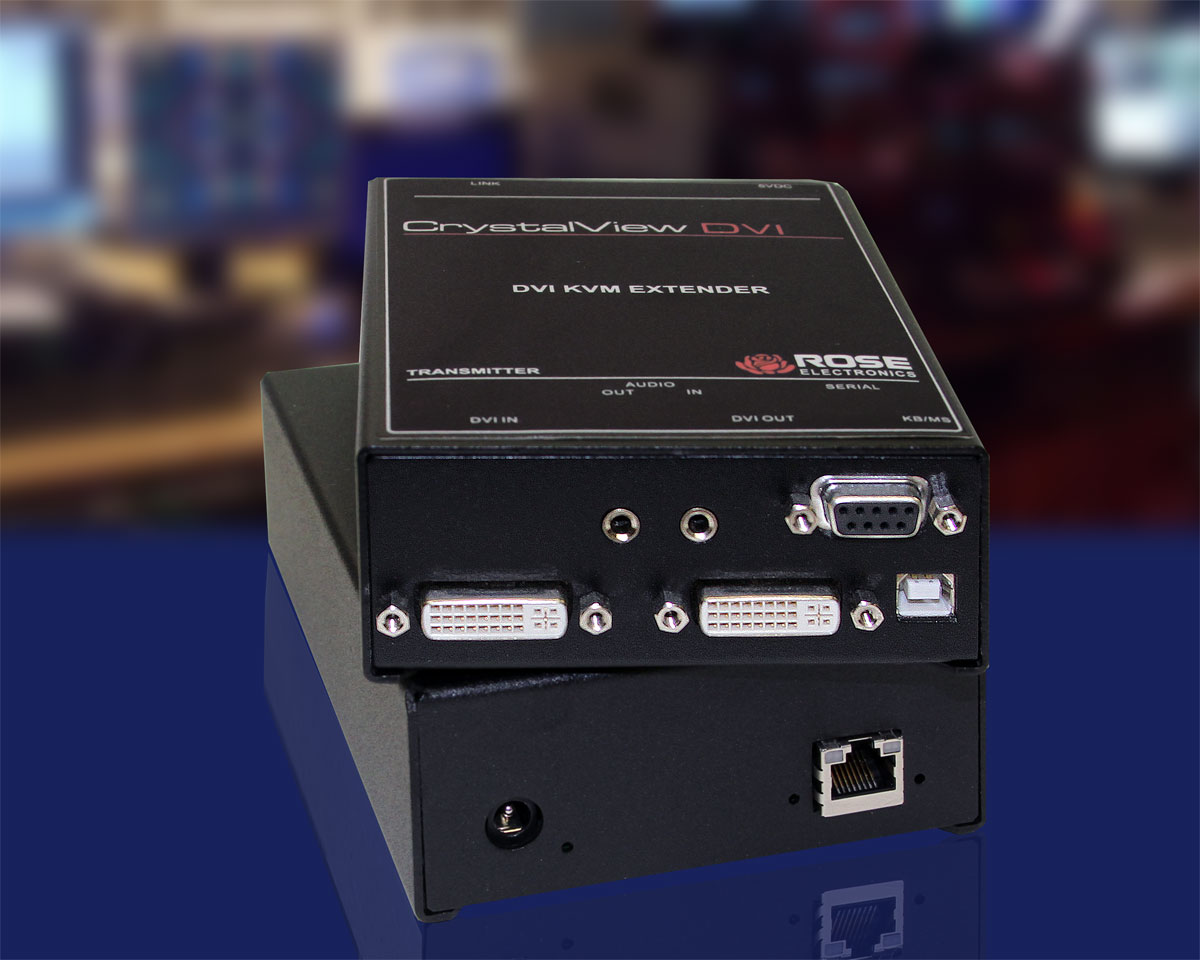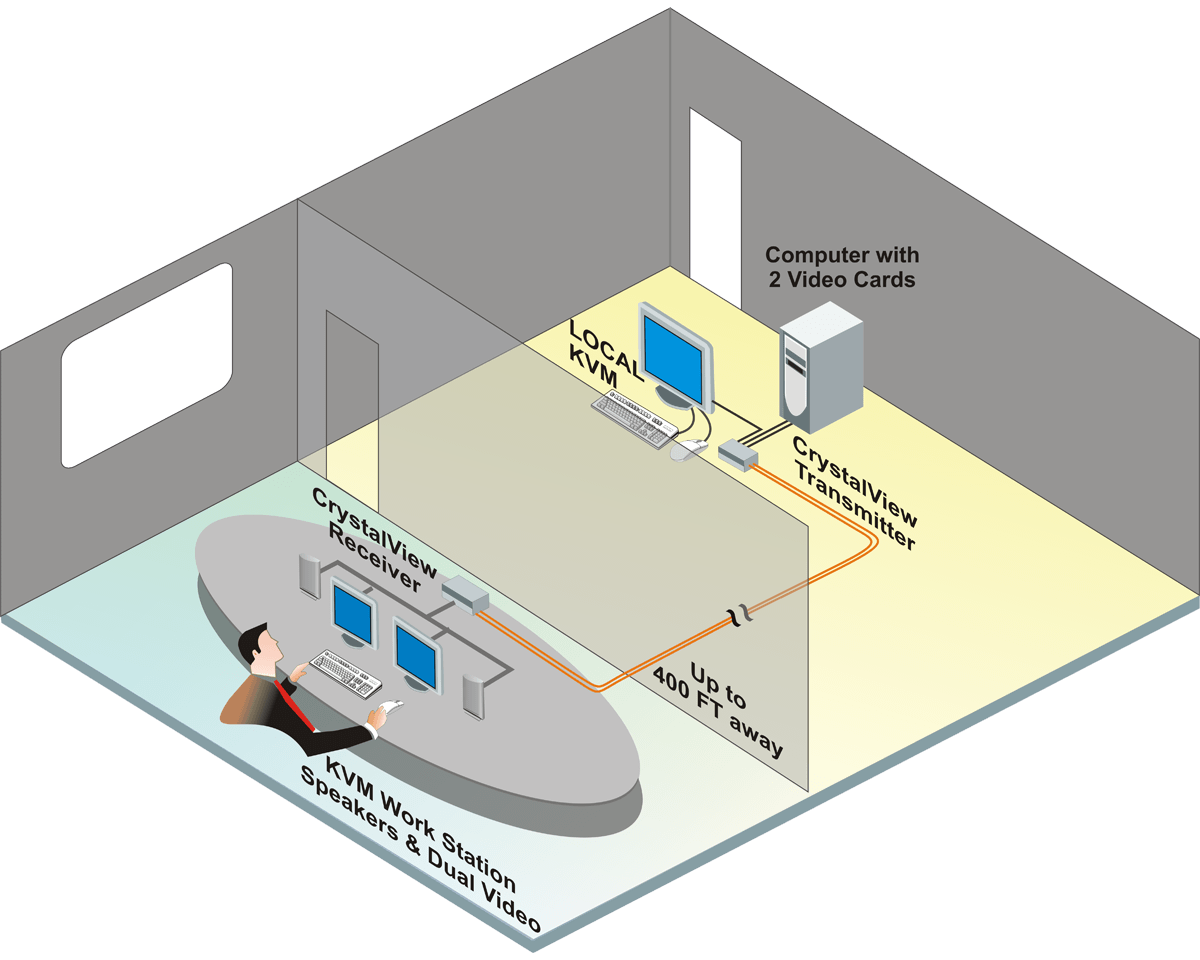 Compressed DVI video at 1920 x 1200 up to 460' (140m)
Either USB or PS/2 keyboard/mouse
Local port for remote or local access
Optional serial, stereo speakers, and microphone
Optional dual-head video
Video only models available
Optional USB2.0 available
OVERVIEW
CrystalView DVI CATx extends keyboard, mouse, and crystal clear high definition DVI video signals for up to 460 feet (140m) from a computer using CATx cable. Supporting resolutions of up to 1920 x 1200 and 18-bit color, this unit is designed for a multitude of media applications.
CrystalView DVI CATx is comprised of two separate units, a transmitter, which connects to the CPU, and a receiver, which connects to the keyboard, mouse, and monitor. The product is capable of supporting single or dual-head video, PS/2 or USB connectors, and is compatible with all operating systems, giving it the flexibility required to meet business demands.
CrystalView DVI CATx is available in 6 models:
PS/2 Single-head video
PS/2 Dual-head video
USB Single-head video
USB Dual-head video
Video-only Single-head video
Video-only Dual-head video
All models include dual user access. Serial and analog audio are optional additions for any model.
For high speed USB transfer, an optional USB2.0 link is available on certain models (check with Rose Electronics)
Several rackmountable options are available in different chassis sizes (see specification)
SPECIFICATIONS
Dimensions
(W x D x H)

Regular Chassis: 4" x 5.6" x 1.65" (103 x 143 x 42 mm)

H Chassis: 8.27" x 5.68" x 1.73" (210 x 144 x 44 mm) 1

Weight

Regular Chassis: 0.7 lb (0.3 kg)

H Chassis: 2.5 lb (1.1 kg)

Power

90-240 VAC 50-60Hz

External adapter, +5V DC, 2A at each end

Regular Chassis: 10W

Distance

DVI 1920 x 1200: 460' (140m)

Connectors

Regular Chassis:

Transmitters :

DVI video + PS/2 keyboard/mouse: DVI female

Includes cable, DVI male to DVI male + two mini-din6 male

Local and multi-head DVI video: DVI female

Dual access PS/2 keyboard/mouse: Mini-din6F

Includes cable, mini-din6M to two mini-din6F

USB Keyboard/mouse: USB Type B

USB2.0 (option for single-head only) one USB Type B

Audio: Two 3.5mm stereo jacks or mini-din8F

Serial: DB9F or mini-din8F

Multi-head units use mini-din8 and include cable, mini-din8M to two 3.5mm audio plugs + DB9F

Link: RJ45 jack, one per video input

Power: Barrel jack

Receiver:

DVI video: DVI female

Dual-head DVI video: DVI female

PS/2 keyboard/mouse: Two PS/2 mini-din6F

USB keyboard/mouse: Two USB type A jack

USB2.0 (option for single-head only) four USB Type A

Audio: Two 3.5mm stereo jacks

Serial: DB9M

Link: RJ45 jack, one per video port

Power: Barrel jack

H Model Chassis:

Transmitters :

Single-head + USB or dual-head +USB

Local , single-head and multi-head DVI video: DVI female

USB Keyboard/mouse: USB Type B

USB2.0 (option) one USB Type B

Audio: Two 3.5mm stereo jacks

Serial: DB9F

Link: RJ45 jack, one per video input

Power: Barrel jack

Receivers:

Single-head + USB or dual-head +USB

Local DVI video: DVI female

Single-head and Dual-head DVI video: DVI female

USB keyboard/mouse: Two USB type A jack

USB2.0 (option) four USB Type A

Audio: Two 3.5mm stereo jacks

Serial: DB9M

Link: RJ45 jack, one per video port

Power: Barrel jack

Controls

Unit power: Red LED

Data error: Green LED

Link status: Green LED

Video OK: Green LED

Environment

Operating temperature: 41°F–113°F (5°C–45°C)

Storage temperature: -13°F–140°F (-25°C–60°C)

Relative humidity: 5%–80%, non-condensing
PART NUMBERS
Single-head kits (transmitter, receiver, and power supply)
CRK-2DTXPD1D
CrystalView DVI CATx, Dual Access Digital CATx KVM Extender, Single-head Video, DVI, PS/2
CRK-2DTXUD1D
CrystalView DVI CATx, Dual Access Digital CATx KVM Extender, Single-head Video, DVI, USB-HID
CRK-2DTXTD1D
CrystalView DVI CATx, Dual Access Digital CATx KVM Extender, Single-head Video, DVI, USB-HID, USB2.0
CRK-2DTX0D1D
CrystalView DVI CATx, Dual Access Digital CATx KVM Extender, Single-head Video, DVI-only
Dual-head kits (transmitter, receiver, and power supply)
CRK-2DTXPD2D
CrystalView DVI CATx, Dual Access Digital CATx KVM Extender, Dual-head Video, DVI, PS/2
CRK-2DTXUD2D
CrystalView DVI CATx, Dual Access Digital CATx KVM Extender, Dual-head Video, DVI, USB-HID
CRK-2DTX0D2D
CrystalView DVI CATx, Dual Access Digital CATx KVM Extender, Dual-head Video, DVI-only
Options
/AUD
Audio & Serial Option
/R
Rackmountable chassis size 8.9x5.68x1.73" (226x144x44mm)
/H
Rackmountable chassis size 8.27x5.68x1.73" (210x144x44mm)
Cables
CAB-DDPMDD66M006
DVI-D male to DVI-D male + 2 mini-din6 male, 6'
CAB-MD6M2MD6F
Keyboard/Mouse PS/2 "Y" cable
CAB-DVIAUD005
DVI-D male to DVI-D male + 2 3.5mm plug + 1 DB9F, 5'
CAB-DVIDMMnnn
DVI-D mm cable
CAB-USBABnnn
USB type A/B cable
CAB-SPMMnnn
Audio 3.5mm cable
CAB-D9MFnnn
RS232 DB9MF serial cable
CAB-08UTPnnn
Cable, UTP CAT5, RJ45MM
nnn = length in feet