CrystalView HDT
Modular CATx Extender • HDMI • VGA • USB-HID • IR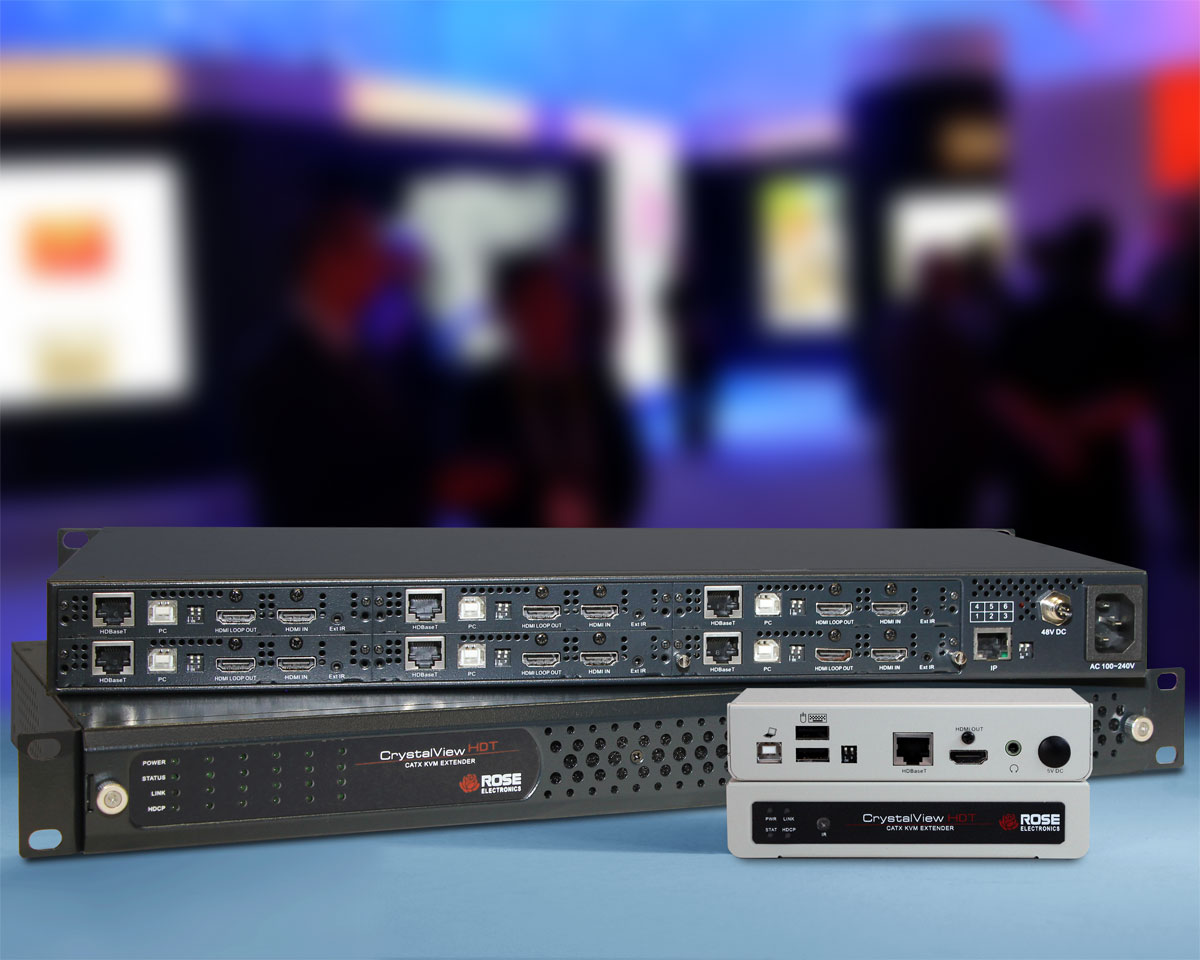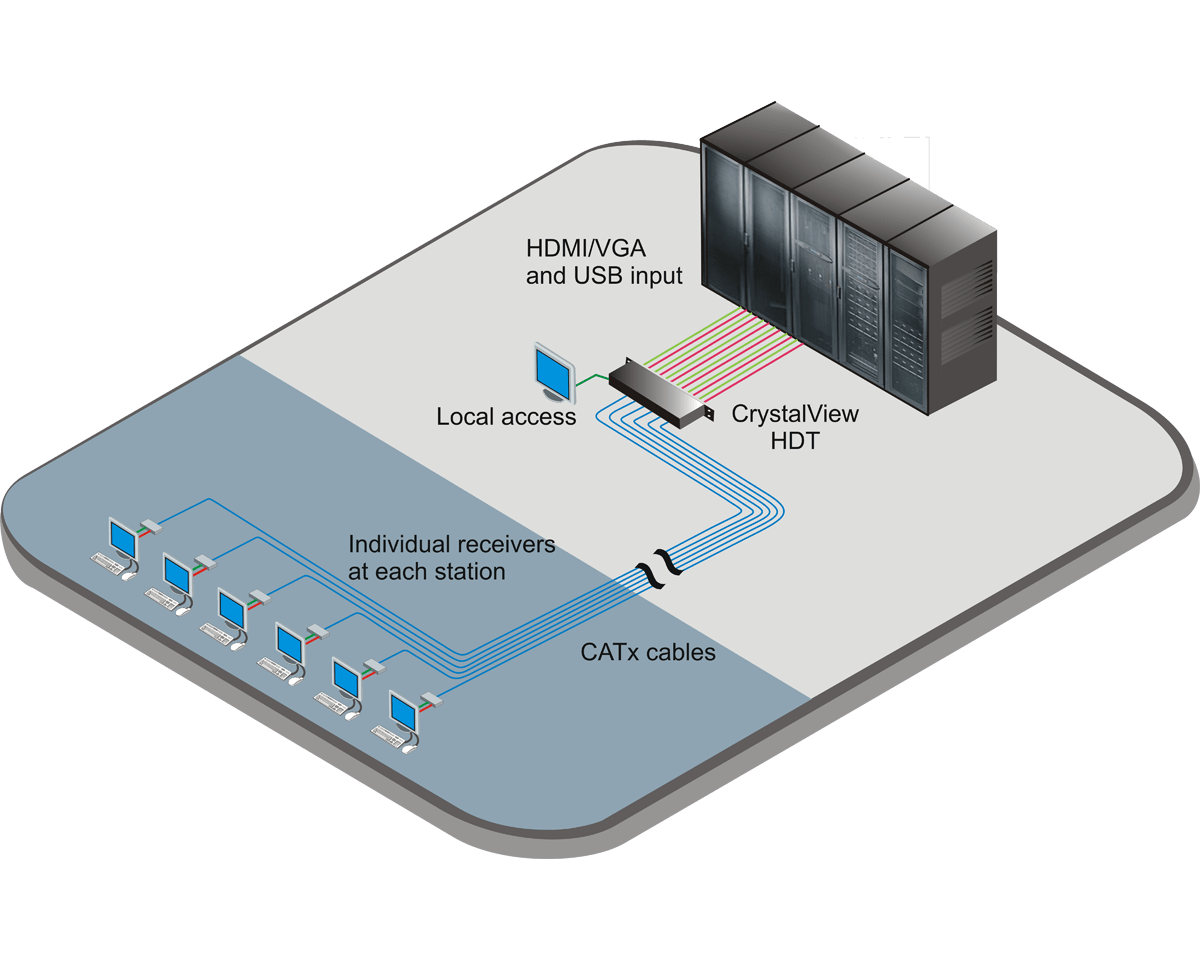 Transmits 1080p HDMI video up to 330 feet (100m)
Accepts VGA input up to 1920 x 1200
Converts VGA and analog audio to HDMI
Extension over standard CATx cable
Receivers powered via CATx cable (PoC)
USB keyboard/mouse and HID touchscreen support
Dolby TrueHD and DTS-HD audio pass-through
1U chassis can house up to 6 HDMI or VGA transmitter cards
Any combination of HDMI and VGA cards possible, each with local HDMI output
Monitor hot plug detection and DDC support
Infrared remote controller support (30 to 56kHz)
AC and DC redundant power supplies
Headphone output at receivers for monitoring
HDMI input is HDCP 1.3 compliant
Laptop computers can be connected at remote receivers for keyboard and mouse control
Connected computers can be started via Wake-on-LAN network messages
Rack mountable options
OVERVIEW
The CrystalView HDT extends digital video and audio, analog video and audio, USB keyboard and mouse, and infrared remote controllers.
The system utilizes HDBaseT for the transmission of uncompressed high-definition audio and video, USB keyboard and mouse, and infrared remote controller signals over a single standard CATx cable at distances of 330 feet (100 meters).
CrystalView HDBase T employs Power-over-Cable, (POC) technology to supply power to the remote receivers through the CATx link. This eliminates the need for power cables and supplies at receiver locations.
The transmitter chassis can house up to six HDMI or VGA transmitter cards, each supplying power and high definition signals to a remote receiver.
VGA cards convert incoming analog video and audio signals to HDMI. DVI inputs are plugged in to the HDMI cards using a DVI to HDMI adapter. All transmitter cards have local HDMI outputs. A single port TX/RX extender pair is also available (non-POC)
Video sources can be controlled with a USB keyboard and mouse, with HID-USB touchscreens, a connected laptop's keyboard and mouse, or by Infrared Remote Controllers. HDMI Dolby TrueHD and DTS-HD audio pass-through.
SPECIFICATIONS
Dimensions
(W x D x H)

Transmitter (6-port): 17.28" x 9.63" x 1.75" (439 x 244 x 44 mm) 1

Transmitter (single port): 5.71" x 4.06" x 1.22" (145 x 103 x 31 mm)

Receiver (single port): 5.71" x 4.06" x 1.22" (145 x 103 x 31 mm)

Weight

Transmitter (6-port): 6.46 lb (2.93 kg)

Transmitter (single port): 0.6 lb (0.27 kg)

Receiver (single port): 0.6 lb (0.27 kg)

Power

100-240 VAC 50-60Hz or 48VDC/3.3A

Transmitter Chassis: external adapter or POC

Single Transmitter: external adapter

Receiver: external adapter or POC option when used with POC Transmitter

Transmitter (6-port): 160W

Transmitter (single port): 10W

Receiver (single port): 10W

Resolution

VGA input: 1920 x 1200@60Hz

HDMI input: 1080p (50/60Hz)

HDMI output: 1080p (50/60Hz)

Audio

Audio pass-through: Surround sound (7.1ch), Dolby True HD and DTS-HD

Distance

HDMI: 330' (100m)

Connectors

Transmitter Cards:

HDMI card input video: HDMI female

VGA card input video: HD15 (Video/Audio) HDMI local video out: HDMI female

USB host: USB Type B Link: RJ45

Power: barrel jack or POC

Transmitter Unit:

HDMI video: HDMI female

HDMI local video out: HDMI female

USB host: USB Type B Link: RJ45

Power: barrel jack

Receiver Unit:

HDMI video: HDMI female

USB device: USB Type A (2)

Laptop connector: USB Type B

Environment

Operating temperature: 32°F–104°F (0°C–40°C)

Storage temperature: 14°F–122°F (-10°C–50°C)

Relative humidity: 20%–90%, non-condensing
PART NUMBERS
Kits (transmitter, receiver, and power supply)
CRK-2HDTXU
CrystalView HDBaseT Extender, HDMI, USB-HID
Component Parts
Description
CRV-CH06-HDT-P
CrystalView HDT, 6-bay chassis for HDBaseT TX cards
CRV-DLHTXU-P/IRK
CrystalView HDT, HDBaseT Transmitter Card, HDMI-DVI, USB-HID, IR, CATx, 100m
CRV-DLVTXU-P/IRK
CrystalView HDT, HDBaseT Transmitter CardVGA, USB HID, Audio, IR, CATx, 100m
CRV-SRHTXU-P
CrystalView HDT, HDBaseT Receiver Unit, HDMI, USB HID, Audio, IR, CATx, POC
CRV-SRHTXU
CrystalView HDT, HDBaseT Receiver Unit, HDMI, USB HID, Audio, IR, CATx
CRV-DLHTXU
CrystalView HDT HDBase T Transmitter Unit, HDMI, USB-HID, Audio, IR, CATx, 100m