CrystalView Mini
CATx Extender • VGA • PS2 • Audio • Serial • 150'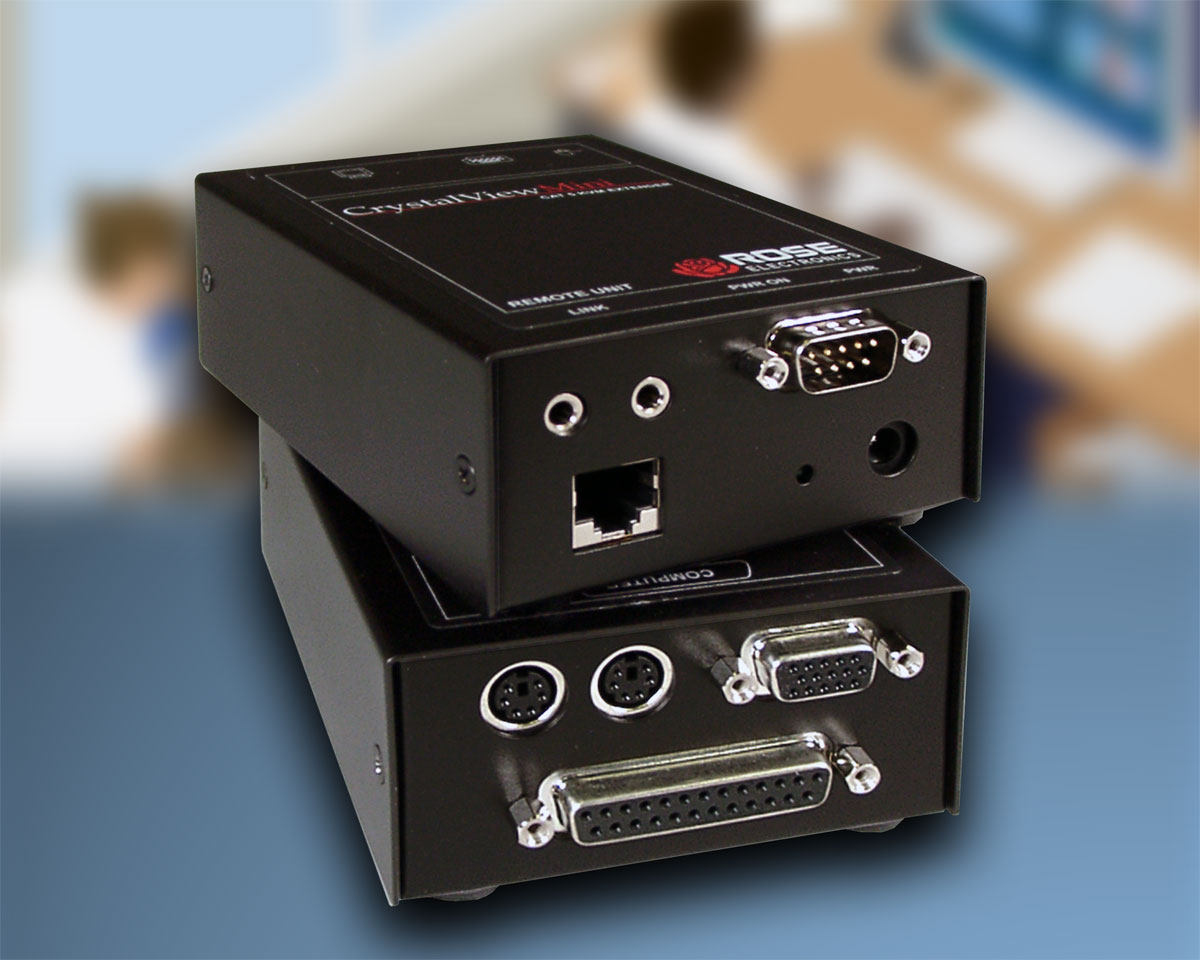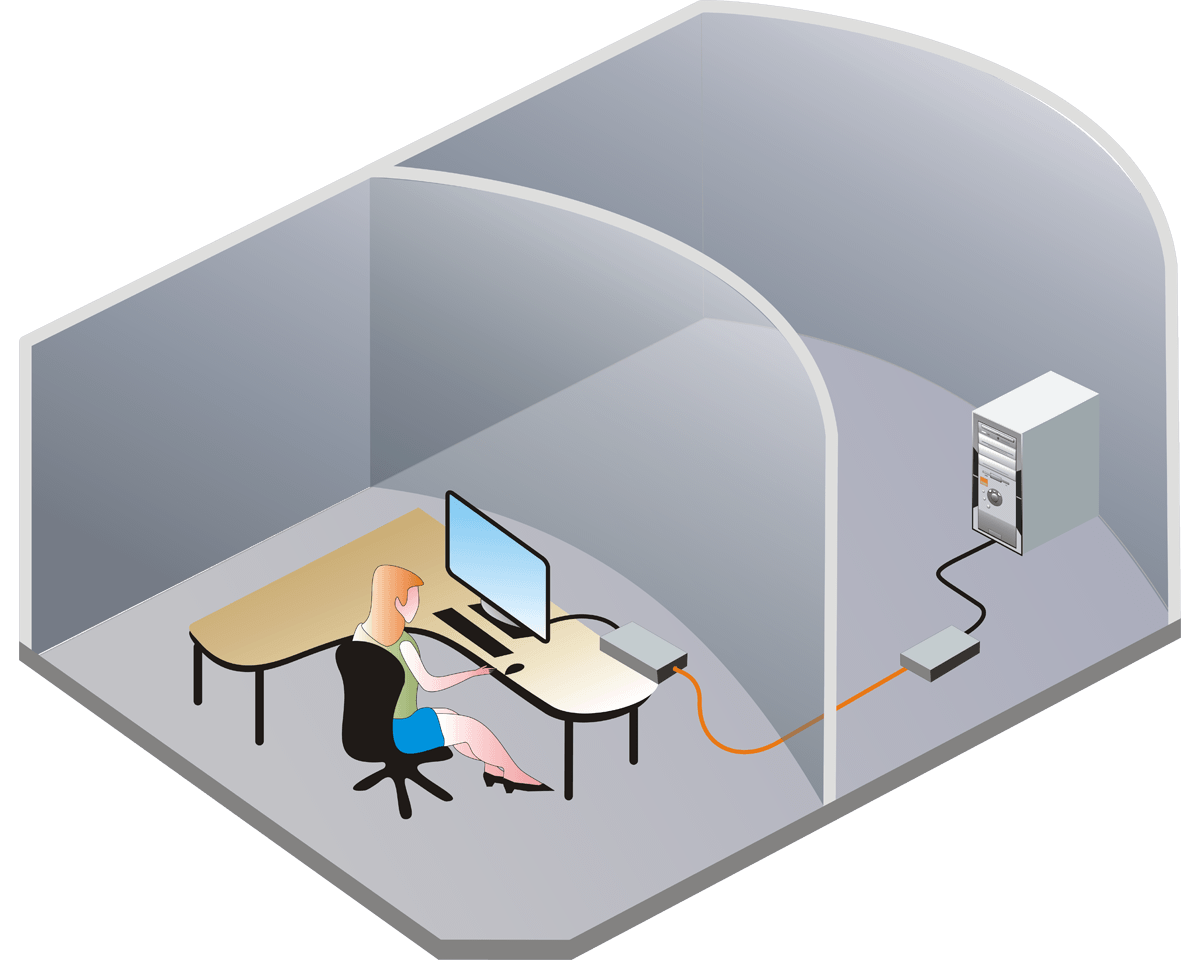 Video resolution up to 1600 x 1200 at 100' (30m), 1280 x 1024 at 150' (45m)
Two video settings for configuration based on cable length
PS/2 keyboard and mouse emulation assures smooth operation
Optional stereo speakers, microphone, and serial extension
Optional dual-access feature
OVERVIEW
CrystalView Mini KVM extender consists of a transmitter unit and a receiver unit. The transmitter unit connects to a computer using an adapter cable, and the receiver unit connects directly to a keyboard, video monitor, and mouse using standard VGA and PS/2 ports. Together, the transmitter and receiver units are capable of extending the distance between the computer and KVM station by 150 feet using a CAT5 cable. The maximum resolution supported is 1600 x 1200, which is available up to 100 feet, and steadily declines to 1280 x 1024 at 150 feet.
CrystalView Mini is offered in the following models:
The single access model supports only 1 KVM and 1 CPU
The dual access model supports 2 KVMs connected to 1 CPU, with 1 KVM being connected to the transmitter unit, and the other connected to the receiver unit.
The integrated keyboard and mouse emulation makes the device plug-and-play with no configuration needed. Like other KVM switches and extenders, the dual access model allows control of the CPU from either KVM on a shared first-come first-serve basis.
SPECIFICATIONS
Dimensions
(W x D x H)

Single: 3.25" x 4.5" x 1" (82 x 114 x 25.4 mm)

Dual: 3.25" x 4.5" x 1.75" (82 x 114 x 44.5 mm)

Weight

Single: 0.6 lb (0.25 kg)

Dual: 0.7 lb (0.32 kg)

Power

Transmitter: Powered by computer PS/2

Receiver 100-240 VAC 50-60Hz, External adapter, +9V DC, 1A

Single: 4W

Dual: 6W

Distance

VGA 1600 x 1200: 100' (30m)

VGA 1280 x 1024: 150' (45m)

Connectors

Transmitter:

VGA video + PS/2 keyboard/mouse: DB25F

Other VGA video: HD15F

Dual access keyboard/mouse: Two mini-din6F

Link: RJ45 jack, one per video port

Audio: Two 3.5mm stereo jacks

Serial: DB9F

Receiver:

VGA video: HD15F

PS/2 keyboard/mouse: Two mini-din6 female

Link: RJ45 jack, one per video port

Audio: Two 3.5mm stereo jacks

Serial: DB9M

Power: Barrel jack

Controls

Video adjustment: Two dip-switches on bottom of unit

Environment

Operating temperature: 41°F–113°F (5°C–45°C)

Storage temperature: -13°F–140°F (-25°C–60°C)

Relative humidity: 5%–90%, non-condensing
PART NUMBERS
Kits (transmitter, receiver, and power supply)
CRK-M1P-2
CrystalView Mini, VGA PS/2 KVM Extender Kit
CRK-M2P-2
CrystalView Mini, VGA PS/2 Dual Access KVM Extender Kit
CRK-M1P/AUD
CrystalView Mini, VGA PS/2 KVM Extender Kit with Audio and Serial
CRK-M2P/AUD
CrystalView Mini, VGA PS/2 Dual Access KVM Extender Kit with Audio and Serial
Cables
CAB-ZX0606Cnnn
UltraCable, PC to Switch, DB25M to VGA-PS/2 Keyboard + Mouse
CAB-CX0606Cnnn
UltraCable Hi-Res, PC to Switch, DB25M to VGA-PS/2 Keyboard + Mouse
CAB-CXVSMMnnn
UltraCable Hi-Res, Switch to Switch, DB25M to DB25M
CAB-D9MFnnn
Cable, Serial, DB9M to DB9F
CAB-SPMMnnn
Cable, Stereo Audio, Mini-Phone M-M (3.5mm)
CAB-08UTPnnn
Cable, UTP CAT5, RJ45MM