RackView Dual Rail
KVM Rack Drawer • Dual Rail Feature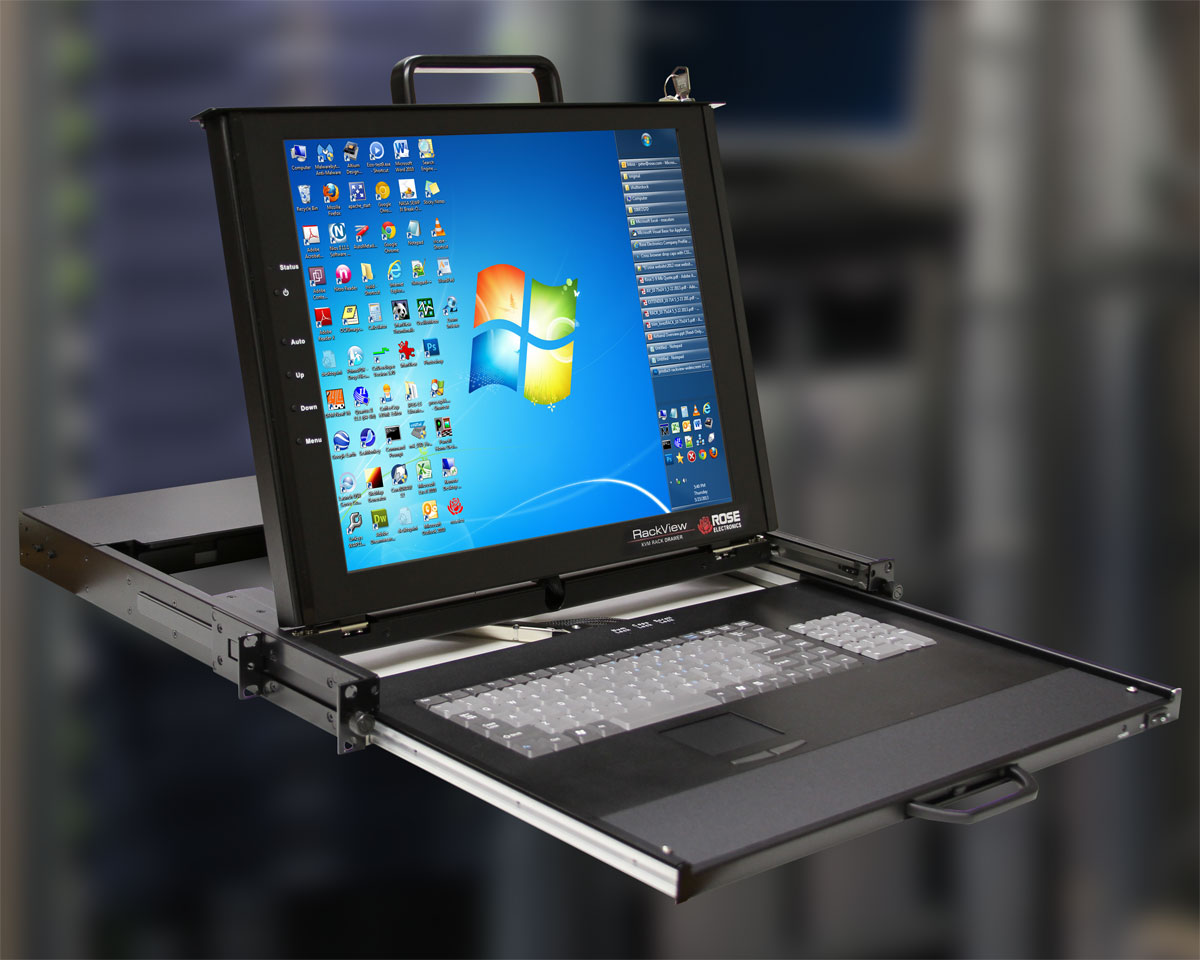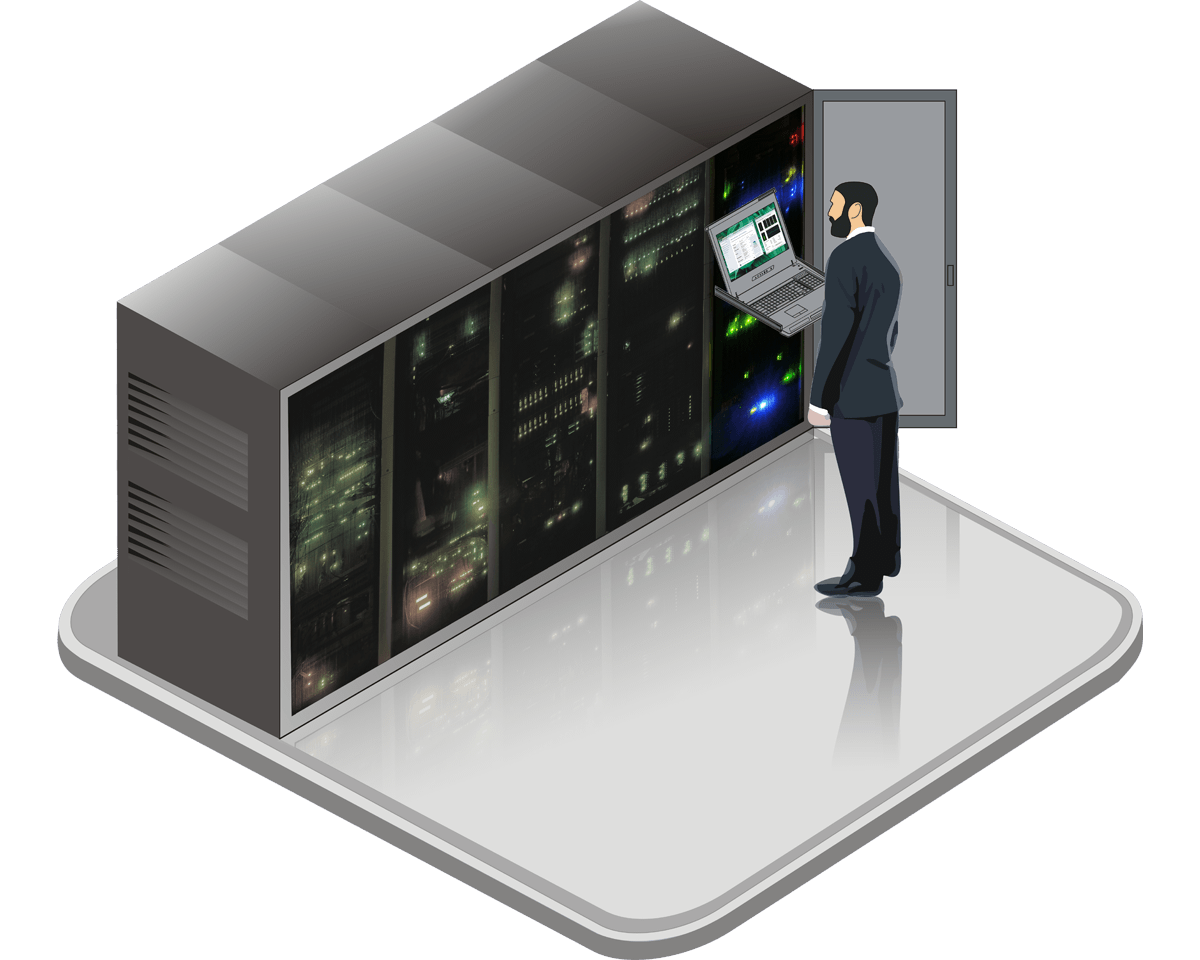 Independent slide of keyboard and LCD
15", 17", or 19" LCD
Resolution up to 1280×1024 - VGA or DVI
USB or PS/2 keyboard/touchpad interface
On-screen menu for easy adjustments
Drawer can be locked to prevent access
Closing drawer puts LCD in standby
Optional KVM switch, audio, trackball
OVERVIEW
RackView Dual Rail is an efficient and compact solution for accessing your rack-based computers. RackView Dual Rail is a rack mountable KVM station neatly fitted in a compact pullout drawer. This easy-glide KVM station contains a high resolution TFT/LCD monitor, a tactile keyboard, and a touchpad mouse. The Dual Rail is unique in that it provides access to and adjustment of the monitor and keyboard/mouse independently, as opposed to having to slide out in tandem.
RackView Dual Rail can be placed at any height within a standard 19" rack, allowing easy access and takes up a mere 1U of rack space. Contributing to both security and aesthetics, the front panel is lockable and conceals the unit when it is not in use.
The optional KVM switch offers single or multiple user access to as many as 1,000 servers or computers. Rose Electronics KVM switch options are fully expandable and when combined with the RackView, your system becomes a versatile and professional matrix controlled system with multiuser capability, controlled access to servers, and many other features. RackView Dual Rail supports all operating platforms, including PC, UNIX, Sun, and Apple computers.
RackView Dual Rail is available in three sizes:
1U-15" TFT/LCD high-resolution monitor
1U-17" TFT/LCD high-resolution monitor
1U-19" TFT/LCD high-resolution monitor
SPECIFICATIONS
Dimensions
(WxDxH)

15": 17.5" x 17.7" x 1.73" (443 x 450 x 44 mm)

17": 17.5" x 17.7" x 1.73" (443 x 450 x 44 mm)

19": 17.5" x 20.1" x 1.73" (443 x 511 x 44 mm)

Weight

15": 23.1 lb (10.5 kg)

17": 26.4 lb (12 kg)

19": 27.5 lb (12.5 kg)

Resolution

15": 1024 x 768

17": 1280 x 1024

19": 1280 x 1024

Diagonal size

15"/17"/19"

Dot pitch

15": 0.297 mm

17": 0.264 mm

19": 0.294 mm

Colors

16.2M

Contrast ratio

15": 400:1

17": 1000:1

19": 1000:1

Brightness

250 cd/m²

Backlight

Dual CCFL

Response time

15": 8 ms

17": 3 ms

19": 3 ms

Power

Auto-sensing 100 to 240VAC, 50-60Hz

Watts

15": 16W

17": 13W

19": 14W

Controls

4 buttons for OSD control

1 on/off power button

Connectors

1 x VGA HD15 15-pin

1 x DVI female

2 x PS/2 Mini Din 6-pin

1 x USB type A

Environment

Operating temperature: 32°F–122°F (0°C–50°C)

Storage temperature: -4°F–140°F (-20°C–60°C)

Relative humidity: 10%–90%, non-condensing
PART NUMBERS
KVM Rack Drawers
RV1-CDKVT15/DVI
RackView, Dual Rail, KVM Drawer, 15" LCD, VGA, DVI, USB US Keyboard, USB Touch Pad
RV1-CDKVT17/DVI
RackView, Dual Rail, KVM Drawer, 17" LCD, VGA, DVI, USB US Keyboard, USB Touch Pad
RV1-CDKVT19/DVI
RackView, Dual Rail, KVM Drawer, 19" LCD, VGA, DVI, USB US Keyboard, USB Touch Pad
Cables
CAB-ZXV66MM005
VGA + PS2 cable 5'
CAB-USBAB006
USB cable 6'
CAB-DVIDMM006
DVI-D cable 6'