RackView Sideways 21
KVM Rack Drawer • 21" Widescreen LCD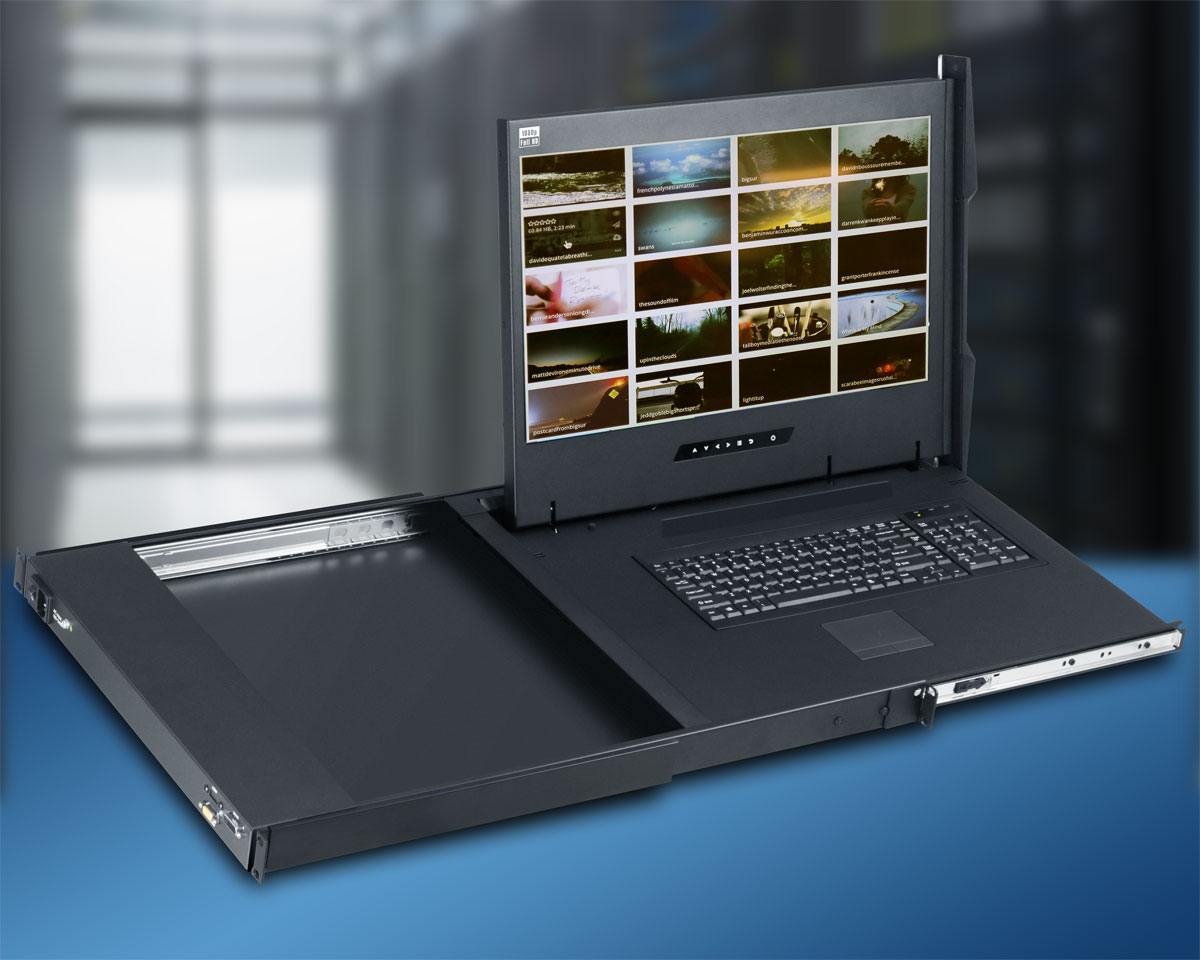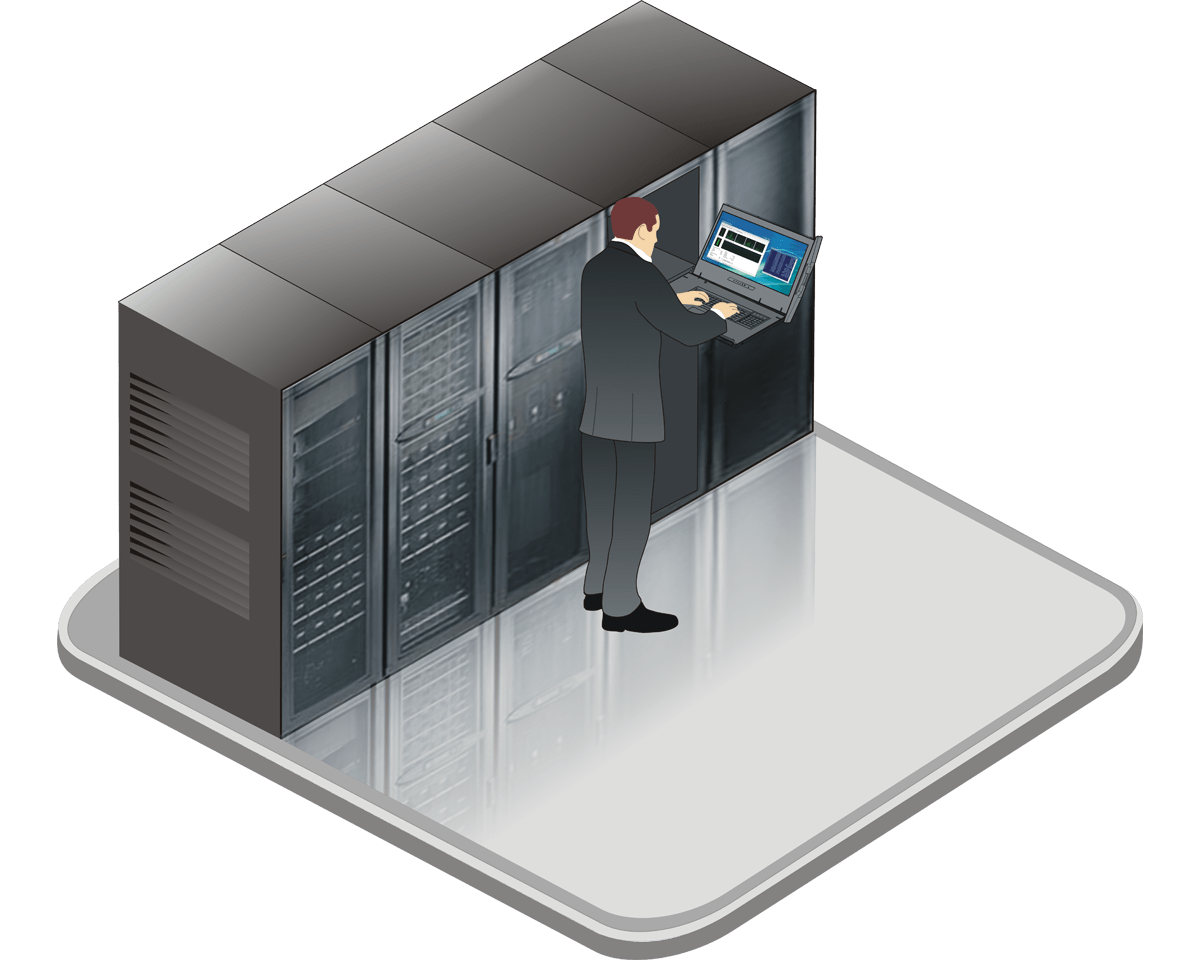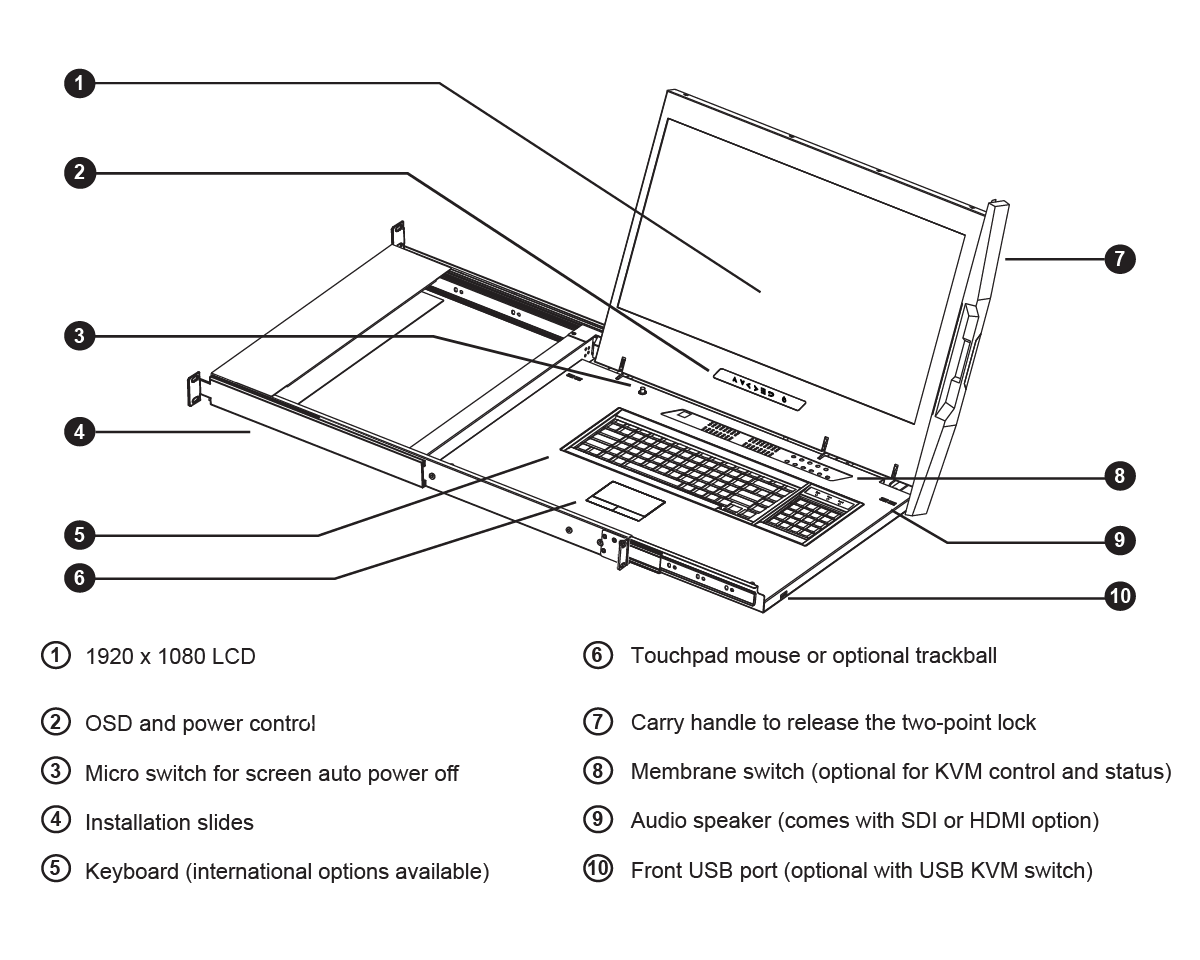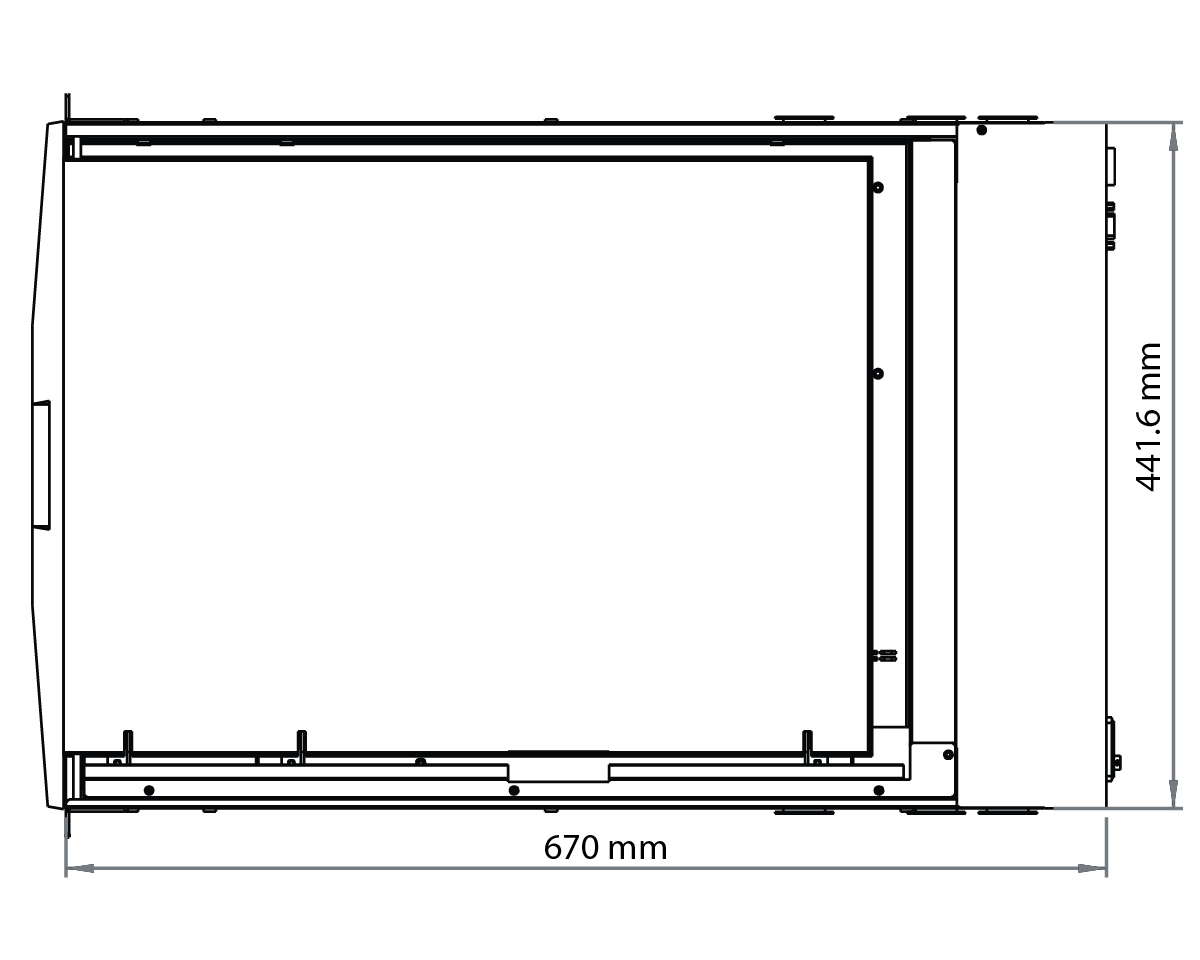 Fold-forward 21.5" LCD display, keyboard, and mouse in a 1U sliding rack-drawer package
Innovative sideways sliding drawer with left-side or right-side opening
Resolution up to 1920×1080
Bright active matrix TFT/LCD display
Connects directly to a PC or KVM switch using either the DVI/USB or HDMI/USB interface
104-key USB keyboard and touchpad mouse
Full size tactile keyboard with separate numeric keypad for typing comfort
Power button turns off monitor power when the LCD monitor is folded shut
Supports 16 different keyboard languages
Molded front handle for easy grip, slide-out, and fold-away
The OSD allows for easy adjustment of the input source, brightness, contrast, and color via front panel push-button control
OVERVIEW
Can we fit a full-HD, 21" monitor into a 19" rack?. Not a problem with the Rackview widescreen 21" rack drawer.
This sideways sliding RackView KVM station contains a high quality widescreen LCD monitor capable of resolutions up to 1920×1080, a tactile keyboard, and a touchpad mouse. When fully extended from the rack, the monitor will open to the left or right, depending on the model purchased. The widescreen LCD is suited to displaying 1080p video and many applications that become more productive by displaying them in wide format.
The LED backlighting technology and shutdown on close features help to conserve energy and reduce heating in your power-hungry data center.
Installing RackView Widescreen 21" is straightforward. Just follow the instructions in the user manual and screw the provided adjustable mounting rails to your standard 19" rack. Slide the unit into the mounted brackets and secure it.
The RackView + KVM Switch option supports a 12-port DVI/USB switch, conveniently mounted in the rear of the RackView chassis, and includes a quantity of CPU cables for easy installation.
RackView Widescreen 21" will satisfy your needs for a high quality video display. It is perfect for industries requiring high resolution details such as film processing, geophysical imaging, rendering farms, military, medical, or broadcast, but it serves equally well in any data center.
SPECIFICATIONS
Dimensions

17.4" x 26.4" x 1.73" (441.6 x 670 x 44 mm)

Weight

32.3 lb (14.7 kg)

Resolution

1920 x 1080

Diagonal size

21.5"

Viewing Area

18.78" x 10.55" (477 x 268 mm)

Dot pitch

0.248 mm

Colors

16.7 Million

Contrast ratio

1000:1

Brightness

250 cd/m²

Backlight

LED

MTBF

30,000 hours

Response time

5 ms

Power

Auto-sensing 100 to 240VAC, 50-60Hz

Watts

Max. 32 Watt, Standby 4 Watt

Controls

6 backlit buttons for OSD control

1 on/off power button

Connectors

DVI female: DVI video

HD15 female: USB keyboard and mouse

Environment

Operating temperature: 32°F–131°F (0°C–55°C)

Storage temperature: -4°F–140°F (-20°C–60°C)

Relative humidity: 20%–90%, non-condensing
PART NUMBERS
KVM Rack Drawers
RV1-CAKVT21L/Kn
21" Widescreen LCD, 1920 x 1080, Left Side Opening
RV1-CAKVT21R/Kn
21" Widescreen LCD, 1920 x 1080, Right Side Opening
x = L for Left Side Opening, or R for Right Side Opening
RV1-CAKVT21x/KVM-108CMH
RackView, KVM Drawer, 21WS" 1920 x 1080 LCD, with an 8-port VGA/USB switch with a 2-port USB hub (8* CPU cables included)
RV1-CAKVT21x/KVM-116CMH
RackView, KVM Drawer, 21WS" 1920 x 1080 LCD, with a 16-port VGA/USB switch with a 2-port USB hub (8* CPU cables included)
RV1-CAKVT21x/KVM-108CMB
RackView, KVM Drawer, 21WS" 1920 x 1080 LCD, with an 8-port VGA/USB switch and a cascade port (8* CPU cables included)
RV1-CAKVT21x/KVM-116CMB
RackView, KVM Drawer, 21WS" 1920 x 1080 LCD, with a 16-port VGA/USB switch and a cascade port (8* CPU cables included)
RV1-CAKVT21x/KVM-12TDVI
RackView, KVM Drawer, 21WS" 1920 x 1080 LCD, with a 12-port DVI/USB switch (6* CPU cables included)
Cables (CPU)
CAB-CMBDVUAC005
Combo(HD15)+DVI-D to DVI-I+USB
CAB-HDMIMM006
HDMI Video extension cable 6ft (2.0m)
Cables (User port)
/K3
DVI-D + VGA-M to DVI-I + (1) USB-A
Options
/nnnDC
12/24/48/125/250 DC power option
/HM
HDMI with dual stereo speakers, 2W x 2
/SD
3G/HD/SD-SDI Broadcast video
/KM
Trackball Mouse
International KB
(add /nn to part number)
/UK,/DE,/FR,/SP,/IT,/NE,/NO,/RU,/SW,
/PO,/CH,/JP,/KR,/AR,/TU