UltraLink 2 HDMI
Single computer HDMI KVM-IP remote access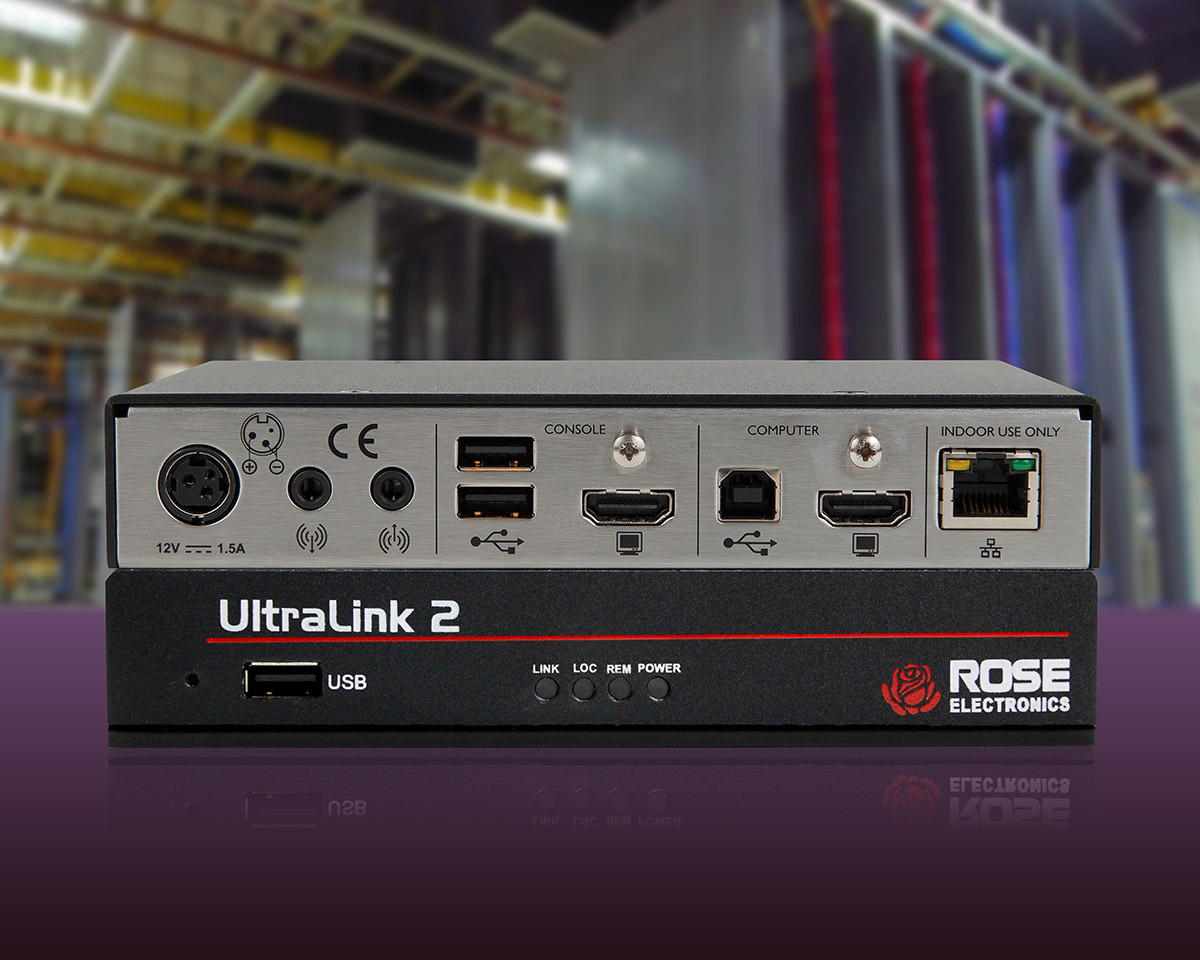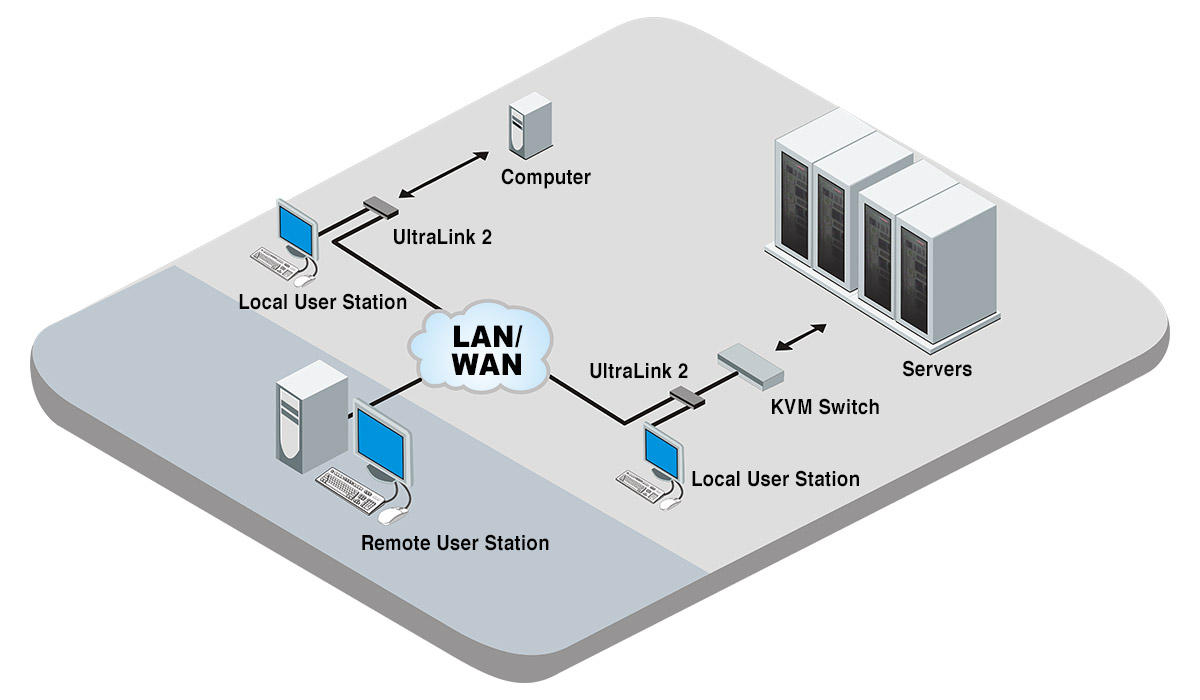 Connect to a remote computer, server, or KVM switch over IP using VNC Viewer software from RealVNC®
Start up and BIOS control
Supports resolutions up to 1920 x 1200 @60Hz, 30fps, depending on available network bandwidth
Accepts DVI and DisplayPort input with converter cables
Intelligent EDID management
KVM console connections for local access at the unit
Powered by an AC power adapter
Files can be transferred between directly connected computers and remote computers
Easy installation and configuration over IP
Flash upgradeable to keep the unit up to date with new features and enhancements
Private single-user access or shared access, with up to eight remote users accessing the computer connection simultaneously
Create up to 15 user profiles with event logging
Compatible with Rose Electronics Vista DVI+ 4-port KVM switch
State of the art security using AES 128-bit or 256-bit encryption and RSA 2048-bit public key authentication
Configurable to use your LDAP server for User authorization
Optional Rack mount kits available for mounting up to 16 units in 2U of rack space
Can control programmable power switches through a USB to serial port adapter
OVERVIEW
The UltraLink 2 HDMI, when installed and connected to your network, allows you full access and control of the connected computer using the VNC Viewer client from almost anywhere. This small, flexible, and powerful product uses RealVNC® client software that is designed for very secure, encrypted, and password protected exchange of information between the server and the remote viewer.
The UltraLink 2 HDMI sets a new standard for easy remote and secure management of server room environments, standalone applications such as digital signage, and many other remote applications. Connect the UltraLink 2 HDMI to a DVI/USB KVM switch like the Vista DVI Plus, and you now have access to and control of as many computers as your KVM switching system can support.
The UltraLink 2 HDMI is different in the way it manages remote access to your systems. All of the systems that will be accessed remotely remain completely unchanged and can run their usual operating system normally. They only need to be connected to the UltraLink 2 HDMI unit. Being totally operating system independent, the UltraLink 2 HDMI allows users to remotely connect to Windows, Linux, UNIX, and Sun systems without difficulty. The UltraLink 2 HDMI is ideal for remote computers running stand-alone applications like ATMs and digital signage devices.
Whatever your remote accessing needs, the versatility of the UltraLink 2 HDMI from Rose Electronics makes it a great choice. It can be installed at any network level, and connected to a single server, a computer running any operating system, or to a KVM switch.
SPECIFICATIONS
Dimensions (W x D x H)

6.65" x 4.41" x 1.22" (169 x 112 x 31 mm)

Weight

1.3 lb (0.6 kg)

Power

Input: 100-240 VAC, 47-63 Hz

Output: +12VDC, 18W

Resolution

1920 x 1200 @ 60Hz, up to 30fps

Distance

CPU/KVM: 6 feet (2.0m)

Connectors

Computer:

1 x HDMI Female

1 x USB Type B female

Local Console:

1 x HDMI female

3 x USB Type B female

1 x 3.5mm stereo audio output

Network :

1 x RJ45 female

Controls

Front Panel Status LEDs: Link, Local, Remote, Power

RJ45 port LEDs: Link, Data

Environment

Operating temperature: 32°F–104°F (0°C–40°C)

Storage temperature: -13°F–140°F (-25°C–60°C)

Relative humidity: 5%–80%, non-condensing
PART NUMBERS
| Product Part Number | Description |
| --- | --- |
| UL2-DHD | UltraLink 2 HDMI, Digital KVM Access over IP |
| CAB-HDMIMDVIM003 | HDMI to DVI converter cable, 3ft |
| CAB-USBAB006 | USB-AB cable, 6ft (2.0m) |