UltraMatrix Remote 2
Matrix-computer VGA KVM-IP remote access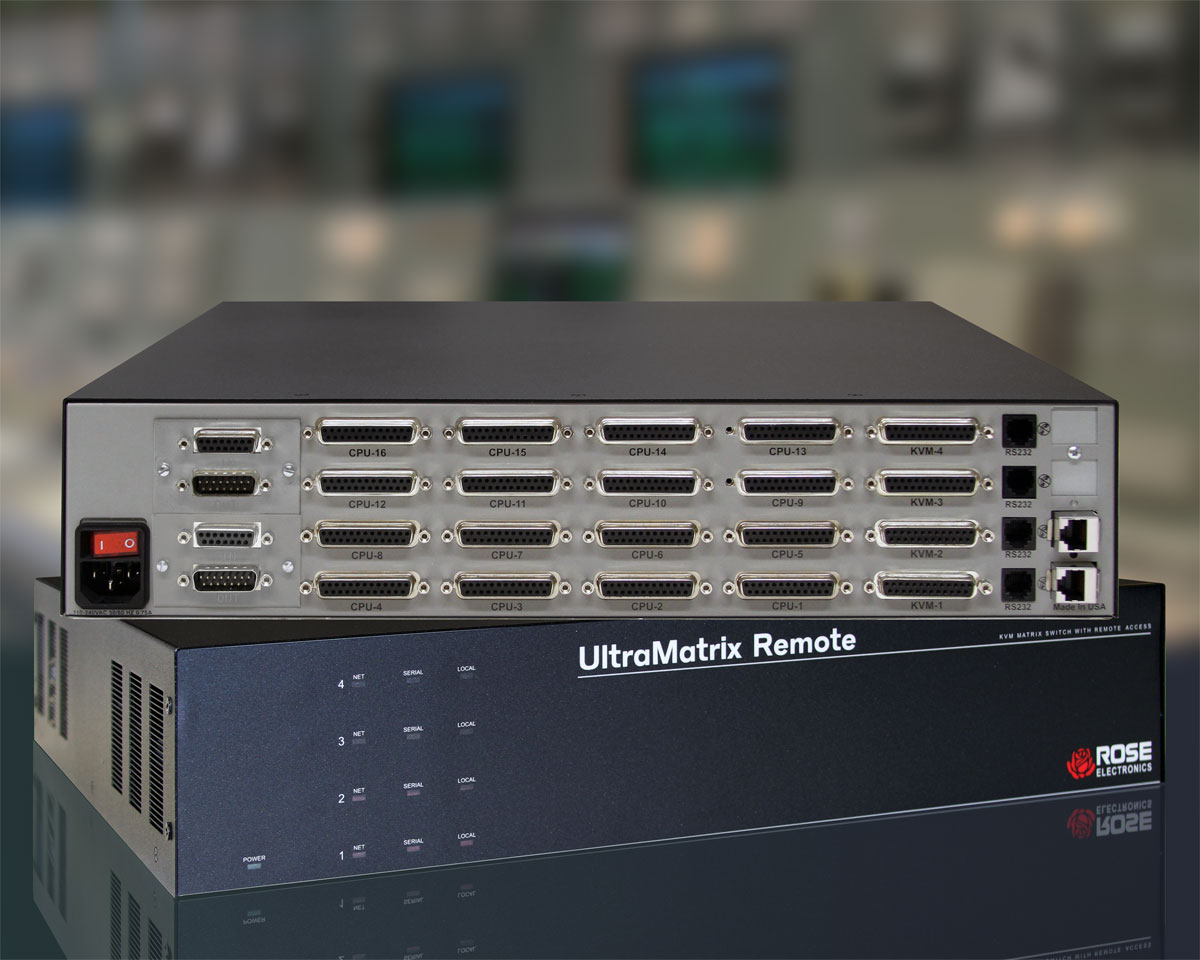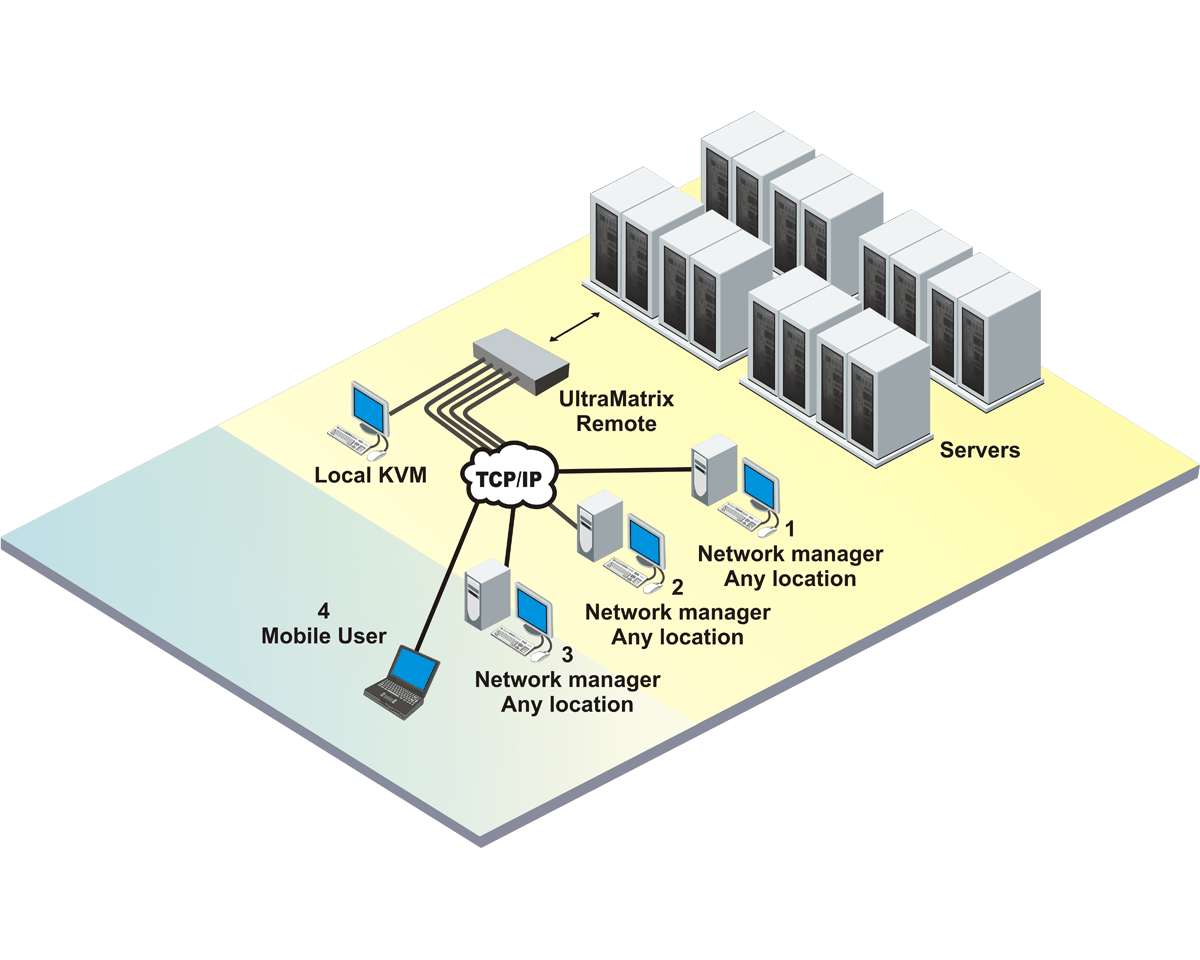 Secure connection to remote computers locally or over IP using any supported web browser and RealVNC viewer
RealVNC viewer can be downloaded directly from the unit or RealVNC web site.
Security system with login, computer access control and data encryption using AES 128 bit encryption.
Video resolution up to 1600×1200
Powerful and expandable to 1,000 computers.
Local or remote BIOS-level access control
Up to 4 local user and 4 remote user ports
Up to 4 remote users can connect to the same remote user port simultaneously. Users connected to the same remote user port share all functions.
Serial VT220 terminal emulation for access to UNIX hosts, routers, and other supported serial devices (Multi-Platform models)
Multi-lingual menu (English, French, German, Spanish, Italian, and Portuguese)
Status screen shows current connections, computer power, plus additional information
Supports PS/2, PS/2 wheel, USB, and Sun
Supports HV sync, composite sync, and sync-on-green video
Serial access for computer switching, unit configuration, flash memory upgrades and reset to factory defaults
Free firmware upgrades for product enhancements and new software features
Rack mount kits available in 19", 23", and 24" sizes
Made in USA
OVERVIEW
UltraMatrix Remote 2 provides a comprehensive solution for remote server console access with BIOS-level access control. It provides secure access to a system locally, from any workstation on the network, or worldwide over IP using any supported web browser or RealVNC Viewer.
A security system is included with login, computer access control, and data encryption. The RealVNC Viewer simplifies access to the remote computers and provides an additional layer of security to the system. When accessing a computer over a network, the viewer application receives and displays the video at a crisp maximum resolution of 1600 x 1200, and sends back keyboard and mouse data to give control over the remote computer.
The unit supports PCs, Apple, and Sun computers running Windows, OSX, Solaris, UNIX, or Linux. It is independent of operating system. The advanced on-screen menu can be used to configure the unit, name the computers, and much more. UltraMatrix Remote 2 can easily be expanded to other KVM switches to operate and switch up to 1000 computers.
SPECIFICATIONS
Dimensions
(W x D x H)

8-port: 16.7" x 15.2" x 1.75" (424 x 386 x 44.5 mm) (1U)

16-port: 16.7" x 15.2" x 3.5" (424 x 386 x 89 mm) (2U)

Weight

8-port: 9.3 lb (4.2 kg)

16-port: 14 lb (6.4 kg)

Power

90-240 VAC 50-60Hz

8-port: 25W

16-port: 50W

Resolution

VGA: 1600 x 1200

Distance

CPU/KVM: 25 feet (7.6m)

Connectors

Power: IEC 320

CPU/KVM: DB25F

Expansion: DB15M/F

RS232: RJ 6-conductor

Network: RJ45

Controls

Computer selection: OSD, hot-key, serial port

Unit Power: Green LED

Environment

Operating temperature: 32°F–113°F (0°C–45°C)

Storage temperature: -13°F–140°F (-25°C–60°C)

Relative humidity: 5%–80%, non-condensing
PART NUMBERS
| Product Part Number | Description |
| --- | --- |
| RP2-1R2X8U/2 | UltraMatrix Remote, Multi-User KVM Switch, PC, 1-remote / 2-local users, 8-CPUs |
| RP2-1R2X16U/2 | UltraMatrix Remote, Multi-User KVM Switch, PC, 1-remote / 2-local users, 16-CPUs |
| RP2-2R2X8U/2 | UltraMatrix Remote, Multi-User KVM Switch, PC, 2-remote / 2-local users, 8-CPUs |
| RP2-2R2X16U/2 | UltraMatrix Remote, Multi-User KVM Switch, PC, 2-remote / 2-local users, 16-CPUs |
| RP4-1R4X16U/2 | UltraMatrix Remote, Multi-User KVM Switch, PC, 1-remote / 4-local users, 16-CPUs |
| RP4-2R4X16U/2 | UltraMatrix Remote, Multi-User KVM Switch, PC, 2-remote / 4-local users, 16-CPUs |
| RP4-4R4X16U/2 | UltraMatrix Remote, Multi-User KVM Switch, PC, 4-remote / 4-local users, 16-CPUs |
| RE2-1R2X8U/2 | UltraMatrix Remote, Multi-User KVM Switch, Multi-platform, 1-remote / 2-local users, 8-CPUs |
| RE2-1R2X16U/2 | UltraMatrix Remote, Multi-User KVM Switch, Multi-platform, 1-remote / 2-local users, 16-CPUs |
| RE2-2R2X8U/2 | UltraMatrix Remote, Multi-User KVM Switch, Multi-platform, 2-remote / 2-local users, 8-CPUs |
| RE2-2R2X16U/2 | UltraMatrix Remote, Multi-User KVM Switch, Multi-platform, 2-remote / 2-local users, 16-CPUs |
| RE4-1R4X16U/2 | UltraMatrix Remote, Multi-User KVM Switch, Multi-platform, 1-remote / 4-local users, 16-CPUs |
| RE4-2R4X16U/2 | UltraMatrix Remote, Multi-User KVM Switch, Multi-platform, 2-remote / 4-local users, 16-CPUs |
| RE4-4R4X16U/2 | UltraMatrix Remote, Multi-User KVM Switch, Multi-platform, 4-remote / 4-local users, 16-CPUs |
| UMC-EXP2 | UltraMatrix Remote, Expansion card option, DB15 Style |
| UMC-EXP2RJ | UltraMatrix Remote, Expansion card option, RJ45 Style |
| RM-UBxx | Rack mount kit for 1U B-Chassis (xx = 19", 23", or 24") |
| RM-UCxx | Rack mount kit for 2U C-Chassis (xx = 19", 23", or 24") |
| Cable Part Number | Description |
| CAB-ZX0606Cnnn | UltraCable, PC to Switch, DB25M to VGA-PS/2 Keyboard + Mouse |
| CAB-CX0606Cnnn | UltraCable Hi-Res, PC to Switch, DB25M to VGA-PS/2 Keyboard + Mouse |
| CAB-C1Y0509Cnnn | UltraCable Hi-Res, PC to Switch, DB25M to VGA-AT Keyboard + Serial Mouse |
| CAB-CXV0800Cnnn | UltraCable, Sun to Switch, DB25M to VGA-Sun Keyboard + Mouse |
| CAB-SCX0800Cnnn | UltraCable Hi-Res, Sun to Switch, DB25M to 13W3-Sun Keyboard + Mouse |
| CAB-CXUSBCnnn | UltraCable Hi-Res, USB to Switch, DB25M to VGA-USB Keyboard + Mouse |
| CAB-R3W30606Cnnn | UltraCable Hi-Res, RS6000 to Switch, DB25M to 3W3M-PS/2 Keyboard + Mouse |
| CAB-R13W30606Cnnn | UltraCable Hi-Res, RS6000 to Switch, DB25M to 13W3M-PS/2 Keyboard + Mouse |
| CAB-S13W30606Cnnn | UltraCable Hi-Res, SGI to Switch, DB25M to 13W3M-PS/2 Keyboard + Mouse |
| CAB-RGBHV0606Cnnn | UltraCable Hi-Res, PC to Switch, DB25M to RGBHV-PS/2 Keyboard + Mouse |
| CAB-ZX0606Mnnn | UltraCable, Switch to KVM, DB25M to VGA-PS/2 Keyboard + Mouse |
| CAB-CX0606Mnnn | UltraCable Hi-Res, Switch to KVM, DB25M to VGA-PS/2 Keyboard + Mouse |
| CAB-R3W30606Mnnn | UltraCable Hi-Res, Switch to RS6000 KVM, DB25M to 3W3F-PS/2 Keyboard + Mouse |
| CAB-R13W30606Mnnn | UltraCable Hi-Res, Switch to RS6000 KVM, DB25M to 13W3F-PS/2 Keyboard + Mouse |
| CAB-S13W30606Mnnn | UltraCable Hi-Res, Switch to SGI KVM, DB25M to 13W3F-PS/2 Keyboard + Mouse |
| CAB-RGBHV0606Mnnn | UltraCable Hi-Res, Switch to RGB KVM, DB25M to RGBVH-PS/2 Keyboard + Mouse |
| CAB-USDTD9FCnnn | Cable, Serial DTE Equipment to Switch, DB25M to DB9F |
| CAB-USDCD9MCnnn | Cable, Serial DCE Equipment to Switch, DB25M to DB9M |
| CAB-USDTD25FCnnn | Cable, Serial DTE equipment to Switch, DB25M to DB25F |
| CAB-USDCD25MCnnn | Cable, Serial DCE equipment to Switch, DB25M to DB25M |
| CAB-USSNMD8MCnnn | Cable, Serial Sun to Switch, DB25M to MD8M |
| CAB-CXUMXnnn | Cable, Bus Expansion Cable (Molded version) |
| CAB-CXUMHnnn | Cable, Bus Expansion Cable |