UltraVista 4K
UHD Video Wall Controller • 4K30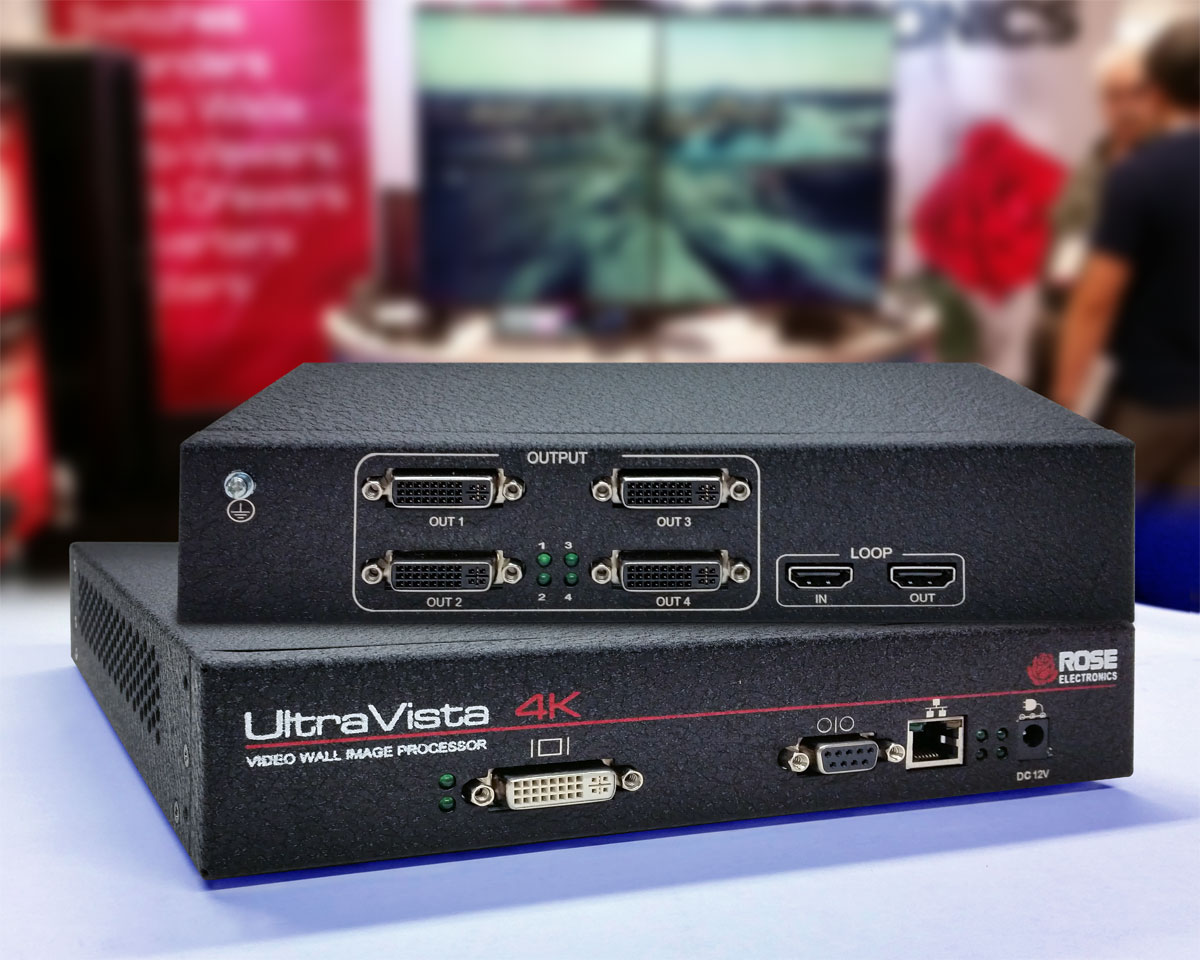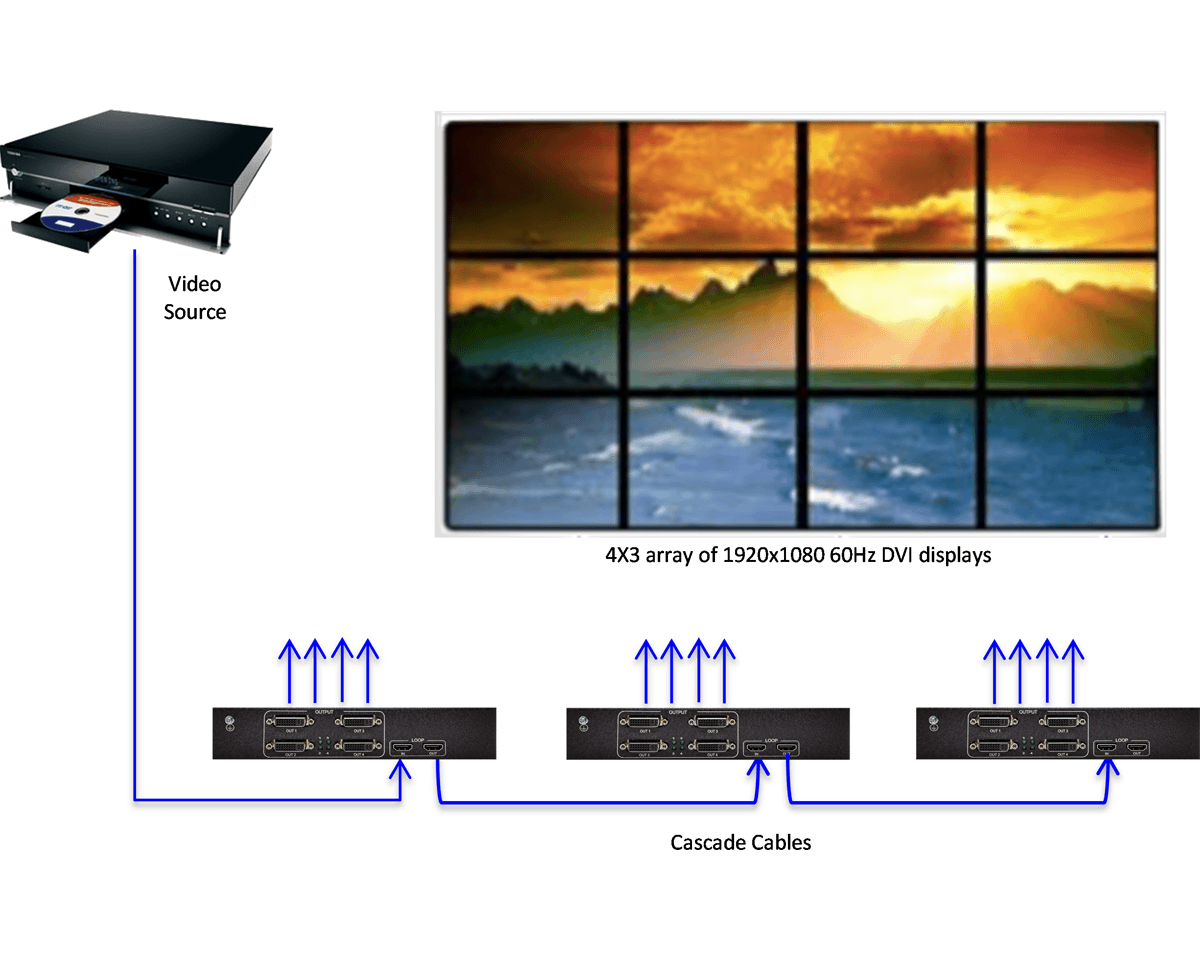 Real time 4K video image collection and processing
Three models: DVI, HDMI, or DisplayPort inputs, each supporting 4K UHD video
Each model has four DVI-I outputs with 1920x1080p (HD) and 1920x1200 (PC) resolution
EDID management allows non-standard input resolutions
Bezel compensation and overlap creation
Multiple device cascading supports larger video wall systems
Image rotation of 90°, 180° or 270°
OVERVIEW
The UltraVista 4K Video Image Processor is a state of the art tool for creating multiple screen video displays. Its three models are designed to support high-resolution video input from any of three video signal types: dual link DVI, HDMI 1.4, or DisplayPort 1.1a and output via DVI-I to either DVI or VGA monitors, at video resolutions up to 1920x1200. Use of 4K video input helps ensure crystal-clear HD output to four DVI displays.
The cascade option, available for each product, enables the configuration of additional UltraVista 4K units required for assembling a larger video wall. The cascade port (In/Out) has an HDMI interface and transmits video at full video resolution.
Each input can independently support a vertical or horizontal positioned output display monitor with image rotation of 90°, 180° or 270°.
SPECIFICATIONS
Dimensions (W x D x H)

8.85" x 7.87" x 1.76" (225 x 200 x 45 mm)

Weight

3 lb (1.4 kg)

Power

100-240 VAC 50-60Hz

External adapter, +12V DC, 3.3A

DVI: 40W

Resolution

Dual-link DVI input:

4096*2160@30Hz
3840*2400@30Hz, 3840*2160@30Hz
1920*2160@60Hz, 2560*1600@60Hz.HDMI input: 4096*2160@30Hz
3840*2400@25Hz
3840*2160@30Hz, 3840*2160@25Hz
2560*1600@60Hz, 1920*2160@60Hz
1920*2160@50HzDisplayPort input: 3840*2400@30Hz
3840*2160@30Hz, 2560*1600@60Hz

All Models: Single-link DVI-I/VGA out:

1920x1200/60Hz

Distance

Video: 25 feet (7.6m)

Connectors

DVI Model:

Video in: DVI

HDMI Model:

Video in: HDMI

DisplayPort Model:

Video in: Display Port

Video Out - All Models:

Four DVI-I

Power: Barrel jack

Config: RS232 DB9, RJ45 Ethernet

Controls

Status LED: 4 LED's

Environment

Operating temperature: 32°F–104°F (0°C–40°C)

Storage temperature: 14°F–140°F (-10°C–60°C)

Relative humidity: 10%–90%, non-condensing
PART NUMBERS
| Product Part Number | Description |
| --- | --- |
| VWL-T222-4K-DV | Dual-Link DVI Input, 4xDVI-I Output, Cascadable |
| VWL-T222-4K-DP | DisplayPort Input, 4xDVI-I Output, Cascadable |
| VWL-T222-4K-HM | HDMI 1.4 Input, 4xDVI-I Output, Cascadable |
| VWL-T122-4K-DV | Dual-Link DVI Input, 4xDVI-I Output |
| VWL-T122-4K-DP | DisplayPort Input, 4xDVI-I Output |
| VWL-T122-4K-HM | HDMI 1.4 Input, 4xDVI-I Output |