UltraVista Pro
Video Wall Image Processor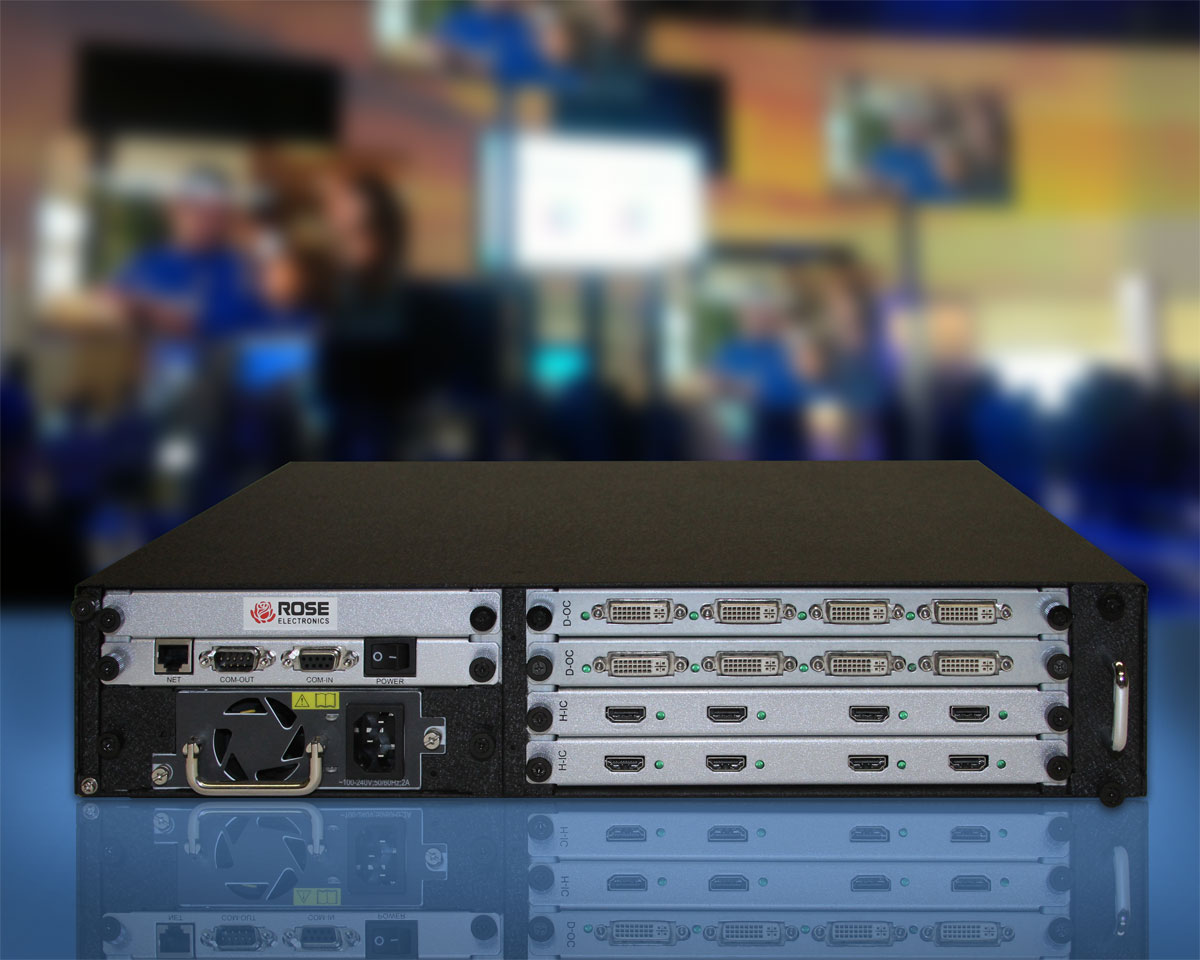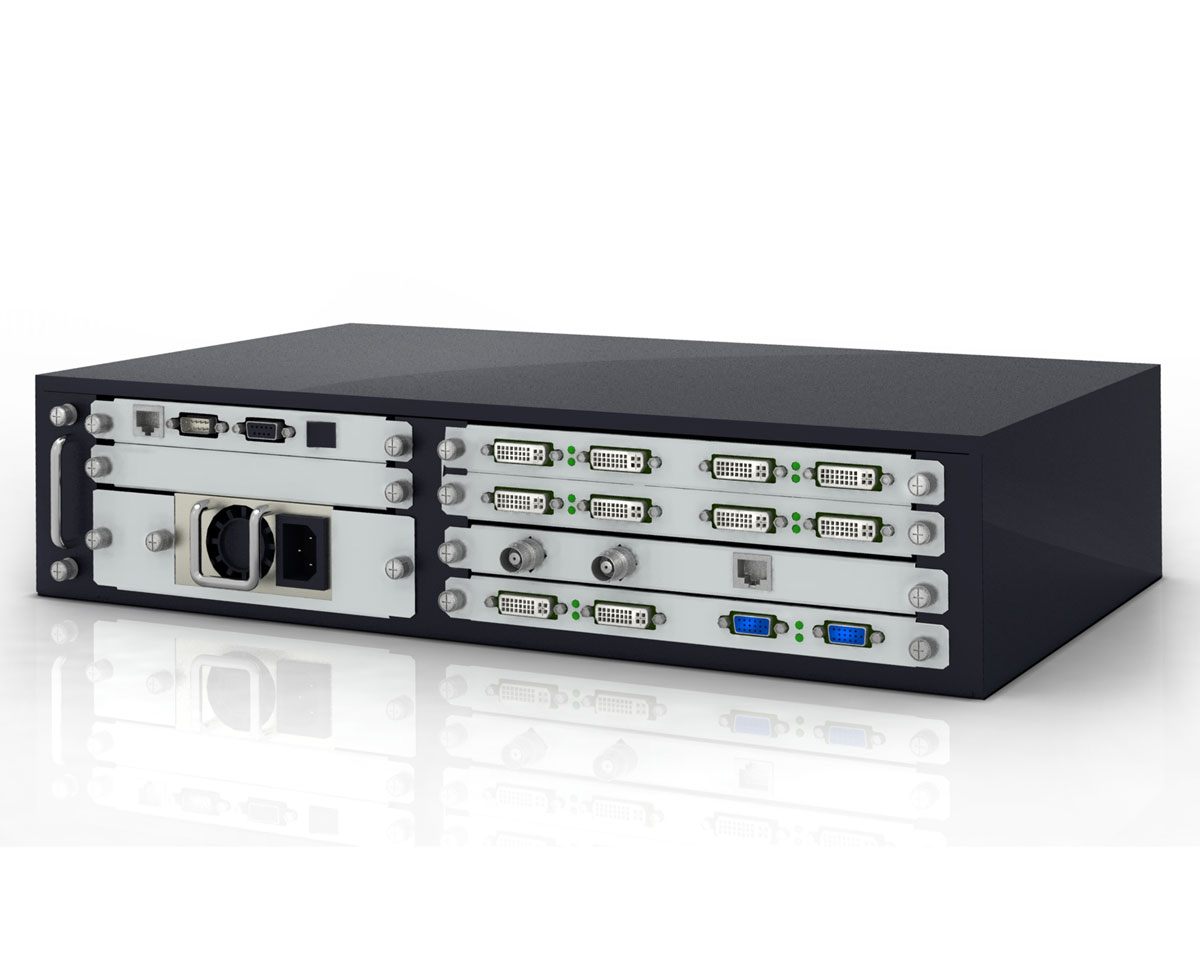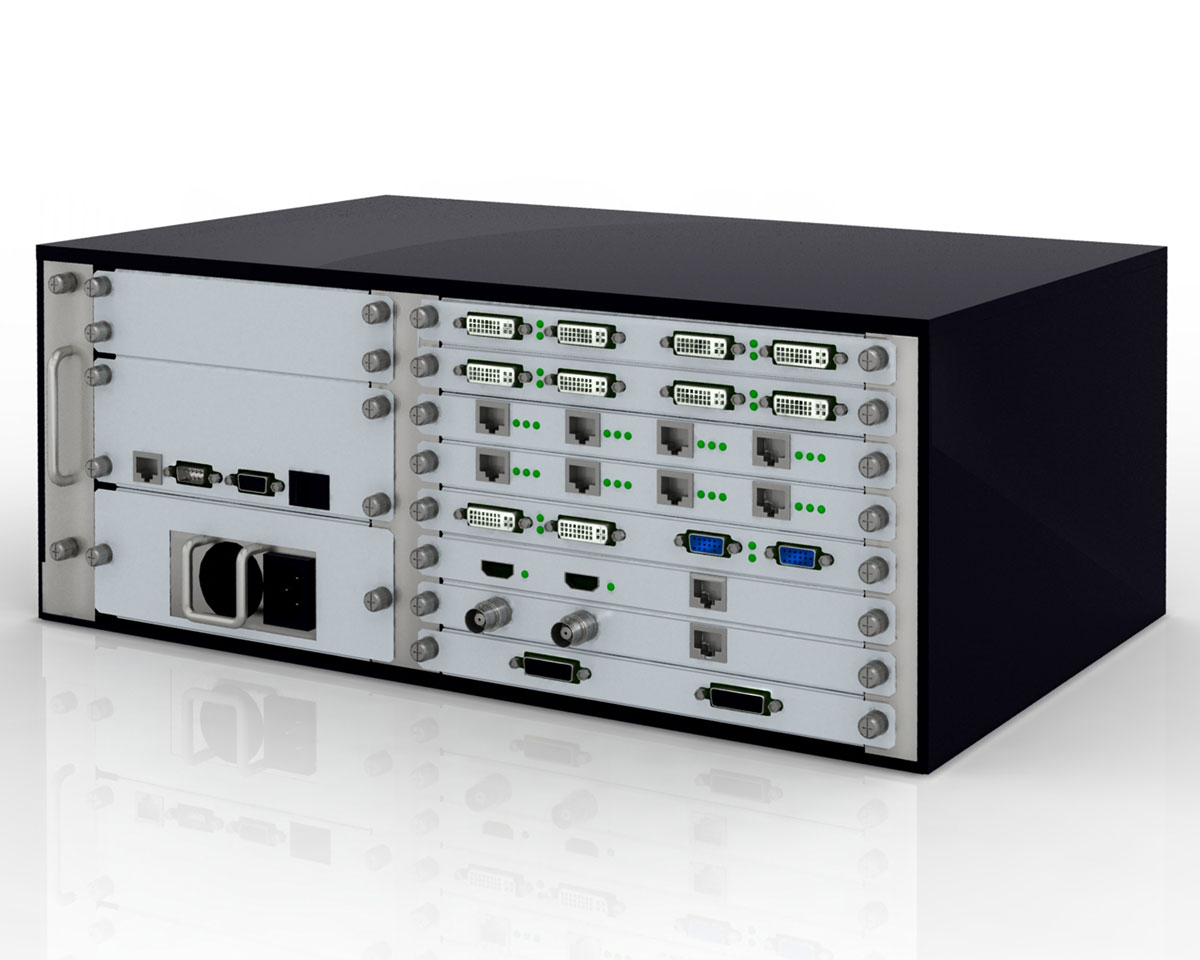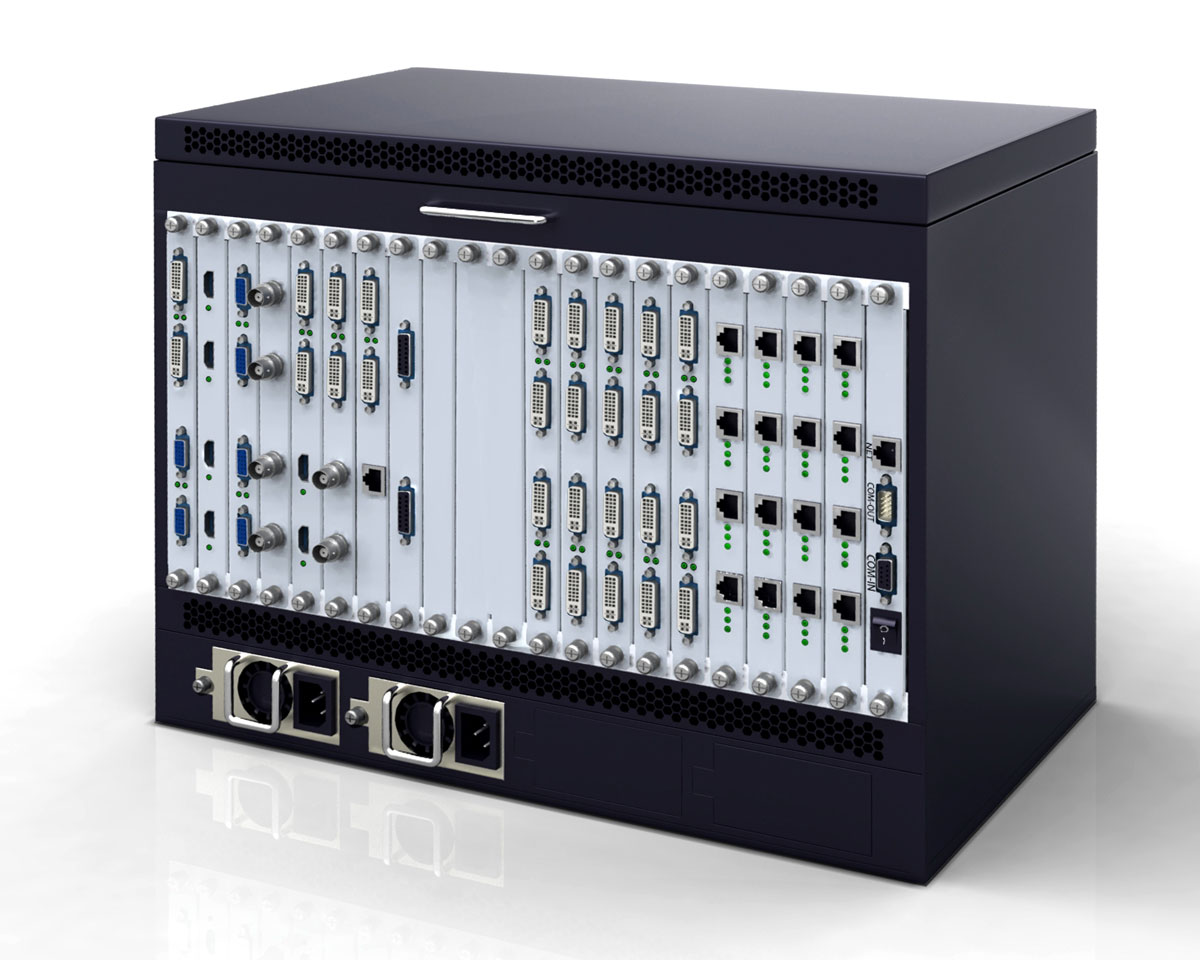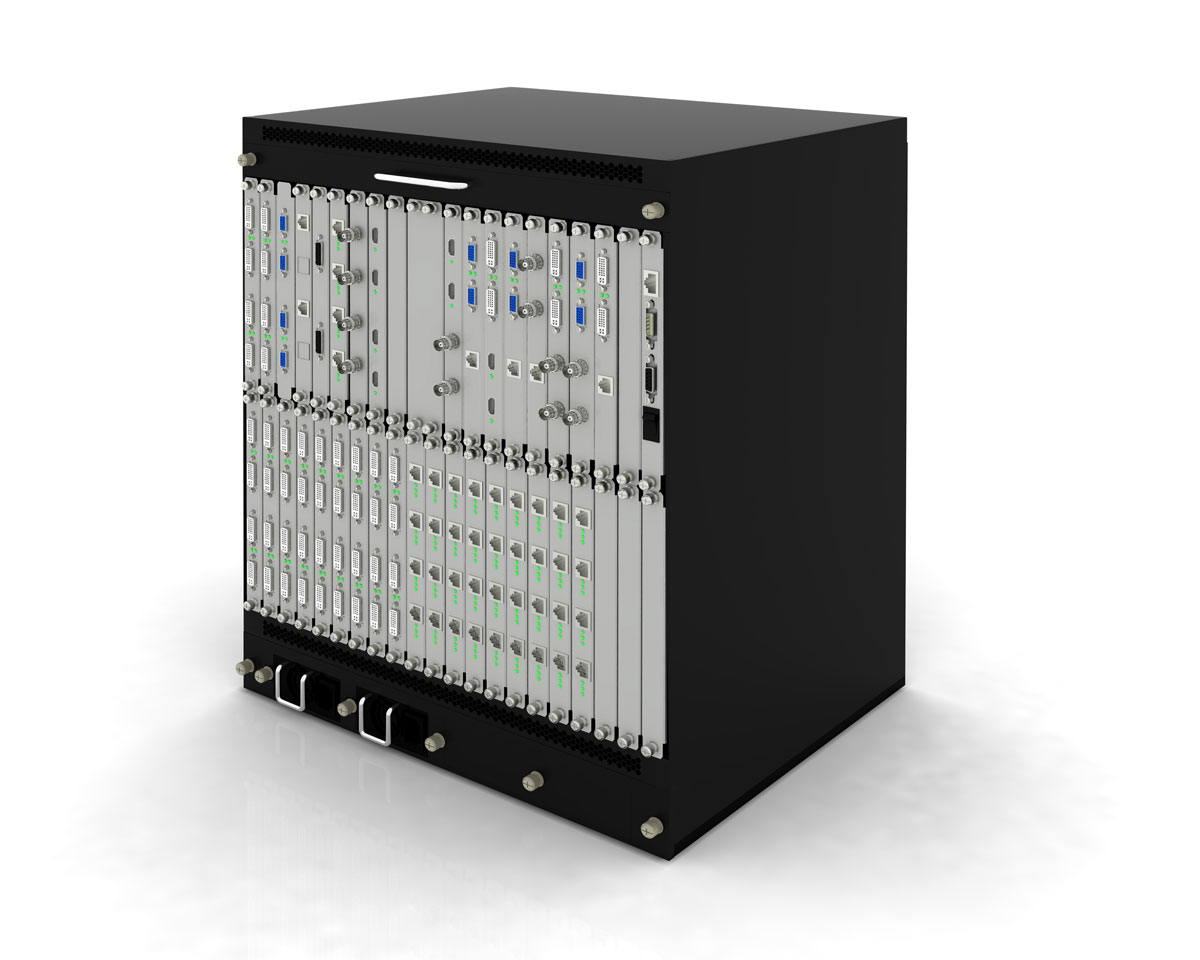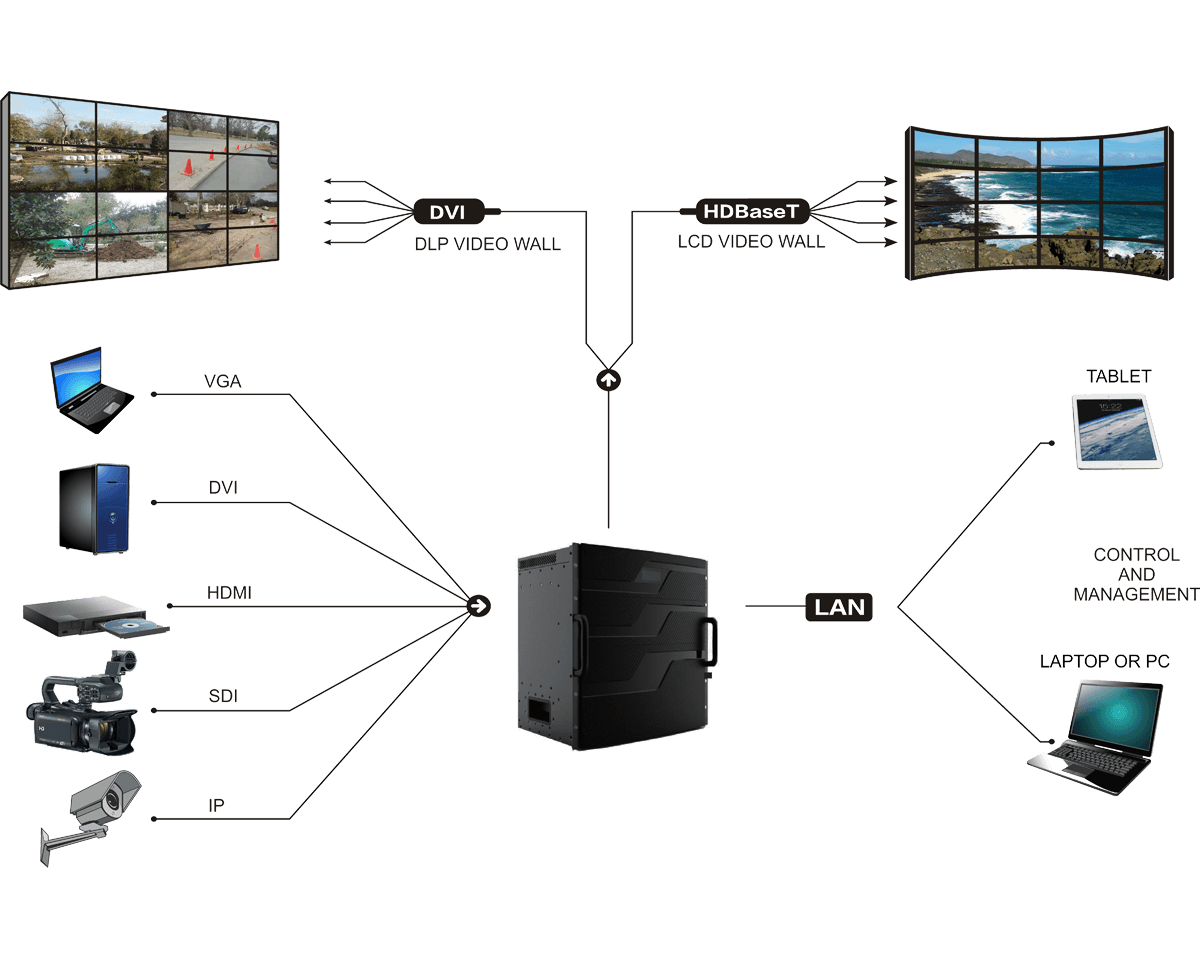 Hardware based, OS-free architecture for real time image quality and reliability
Input video input formats include VGA, YpbPr, CVBS, DVI Single and Dual Link, HDMI, SDI, and DisplayPort
Output video formats include VGA, DVI Single and Dual Link, HDMI, and SDI
Input resolutions up to 1920x1200@60Hz or 3840x2400@30Hz for 4K input cards
Output resolutions to 1920x1200@60Hz or 3840x2400@30Hz for 4K output cards
HDMI inputs are HDCP compliant
Multi-screen management to support multiple displays with different resolutions
Control software supports user presets and user preview of all input signals in real time
Background underlay on to which video tiles can be laid
Fonts, color, and size of OSD can be edited
Seamless switching with millisecond response time
Image cropping allows any size and position of inputs on output displays
Bezel compensation feature to compensate for displays edge characteristics
Available with redundant power supplies
OVERVIEW
The UltraVista Pro Image Processing Video Wall is a state of the art tool for creating multiple screen video displays. Support for a wide range of input signal types, as well as its ability to create multiple groups of output screens with different characteristics makes it a significant advancement over traditional video wall equipment.
Windows based configuration software allows the formation of multi-display screens with up to four different video sources displayed concurrently, either side by side or as a picture in picture overlay.
Input images can be cropped for display, or zoomed for emphasis. Up to 32 such configurations can be named and saved for recall as needed. Saved configurations can also be displayed sequentially in a loop.
Hardware input and output cards are modular and hot swappable, for both flexibility and convenience. Optional load sharing power supplies are available for critical applications.
UltraVista Pro is available in different chassis models that support either two windows or four windows per output screen.
SPECIFICATIONS
Dimensions
(W x D x H)

Chassis 2U: 17.2" x 15" x 3.5" (438 x 380 x 89 mm) 2U

Chassis 4U: 17.2" x 15" x 7" (438 x 380 x 178 mm) 4U

Chassis 8U: 17.2" x 15" x 14" (438 x 380 x 356 mm) 8U

Chassis 14U: 17.2" x 15" x 24.5" (438 x 380 x 623 mm) 14U

Weight

Chassis 2U: 12 lb (5.5 kg)

Chassis 4U: 24 lb (10.9 kg)

Chassis 8U: 48 lb (21.8 kg)

Chassis 14U: 80 lb (36.4 kg)

Power

100-240 VAC 50-60Hz

Chassis 2U: 150 max W

Chassis 4U: 300 max W

Chassis 8U: 600 max W

Chassis 14U: 1000 max W

Resolution

Video In:

DVI-D: Single-Link 1920x1200@60Hz

DVI-D: Dual-Link(4K), 3840x2400@30Hz

VGA: 1920x1200

YPbPr, CVBS

HDMI: 1920x1200

SDI: 720p / 1080p

HDBase T: 1920x1200

DisplayPort 1.1, (4K) :3840x2400

Video Out:

DVI-D: Single-Link 1920x1200@60Hz

DVI-D: Dual-Link(4K), 3840x2400@30Hz

VGA

YPbPr, CVBS

HDMI 1.4 (4K), SDI, HDBase T

Distance

Video: 25 feet (7.6m)

Connectors

Video in:

DVI-D single link

DVI-D Dual link (4K)

HD15 (VGA)

HDMI

BNC (SDI)

DisplayPort (4K)

RJ45 (HDBaseT)

LC Fiber (Single mode)

Video out:

DVI-I (DVI and VGA)

DVI-D Dual link (4K)

HDMI, HDMI (4K)

BNC (SDI)

RJ45 (HDBase T)

LC Fiber (Single mode)

Power: Barrel jack

Config: RS232 DB9, RJ45 Ethernet

Controls

Windows PC via RS232 or TCP/IP

PIP mode

Environment

Operating temperature: 32°F–104°F (0°C–40°C)

Storage temperature: 14°F–122°F (-10°C–50°C)

Relative humidity: 5%–80%, non-condensing
PART NUMBERS
Product Part Number
Description
Chassis
VWL-CH-DP02
Chassis 2U, 2 windows/output
VWL-CH-DP04
Chassis 4U, 2 windows/output
VWL-CH-QP04
Chassis 4U, 4 windows/output
VWL-CH-DP08
Chassis 8U, 2 windows/output
VWL-CH-QP08
Chassis 8U, 4 windows/output
VWL-CH-DP14
Chassis 14U, 2 windows/output
Input Cards:
VWC-IC-DPQP-04DVI
4 ports, DVI, single link
VWC-IC-DPQP-04VGA
4 ports, VGA
VWC-IC-DPQP-04HDM
4 ports, HDMI
VWC-IC-DPQP-04SDI
4 ports, SDI
VWC-IC-DPQP-04HDB
4 ports, HDBaseT
VWC-IC-DPQP-04FSM
4 ports, Single mode fiber
VWC-IC-DPQP-02DDL-4K
4 ports, DVI, dual link (4K)
VWC-IC-DPQP-02DP11-4K
4 ports, DisplayPort (4K)
Output Cards
VWC-OC-DPQP-04DVI
4 ports, DVI-I/VGA
VWC-OC-DPQP-04HDM
4 ports, HDMI
VWC-OC-DPQP-04SDI
4 ports, SDI
VWC-OC-DPQP-04HDB
4 ports, HDBaseT
VWC-OC-DPQP-04FSM
4 ports, Single mode fiber
VWC-OC-QP-02DDL-4K
4 ports, DVI, dual link (4K)
VWC-OC-QP-02HD-4K
4 ports, HDMI 1.4 (4K)