Translator VGA to DVI
Converts VGA Video In to DVI Video Out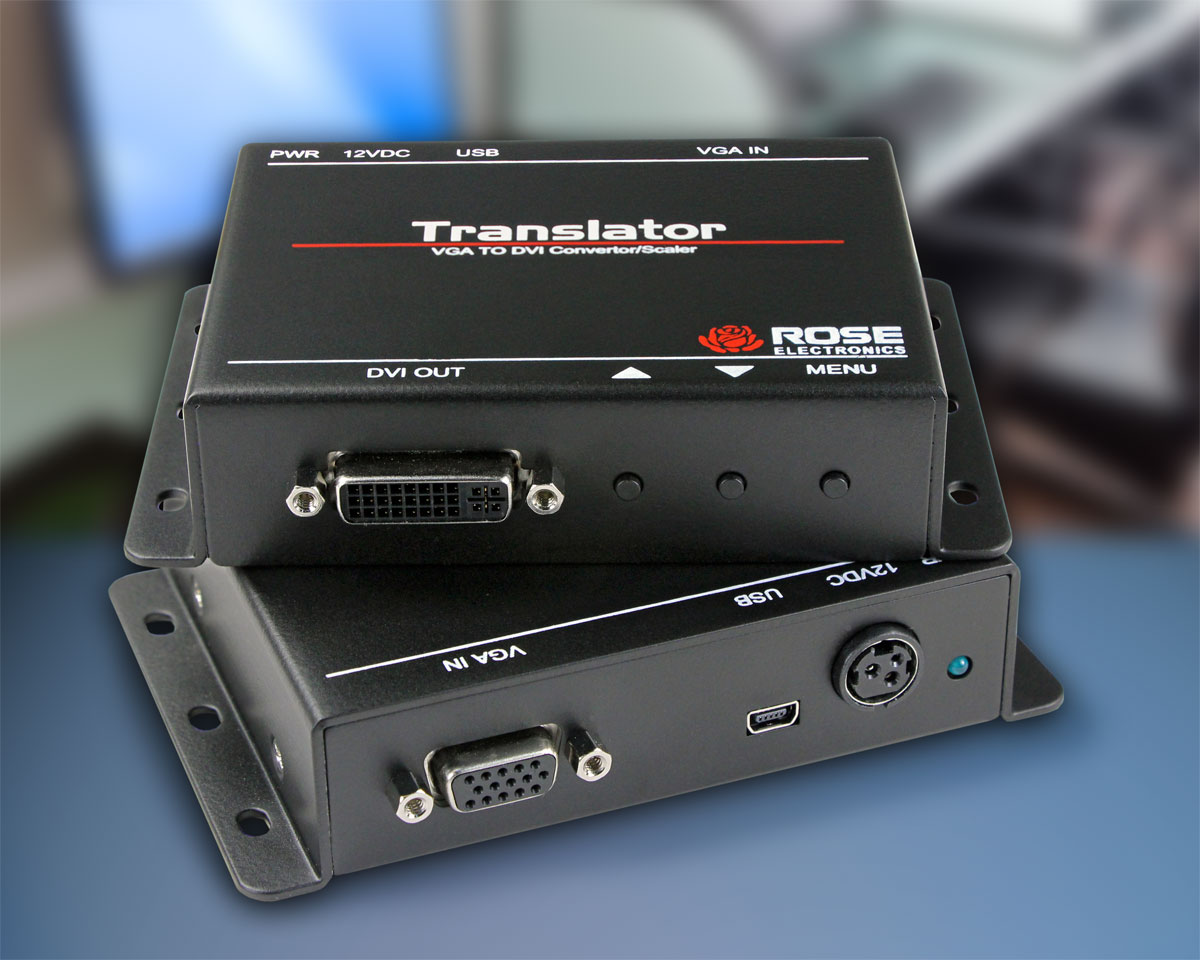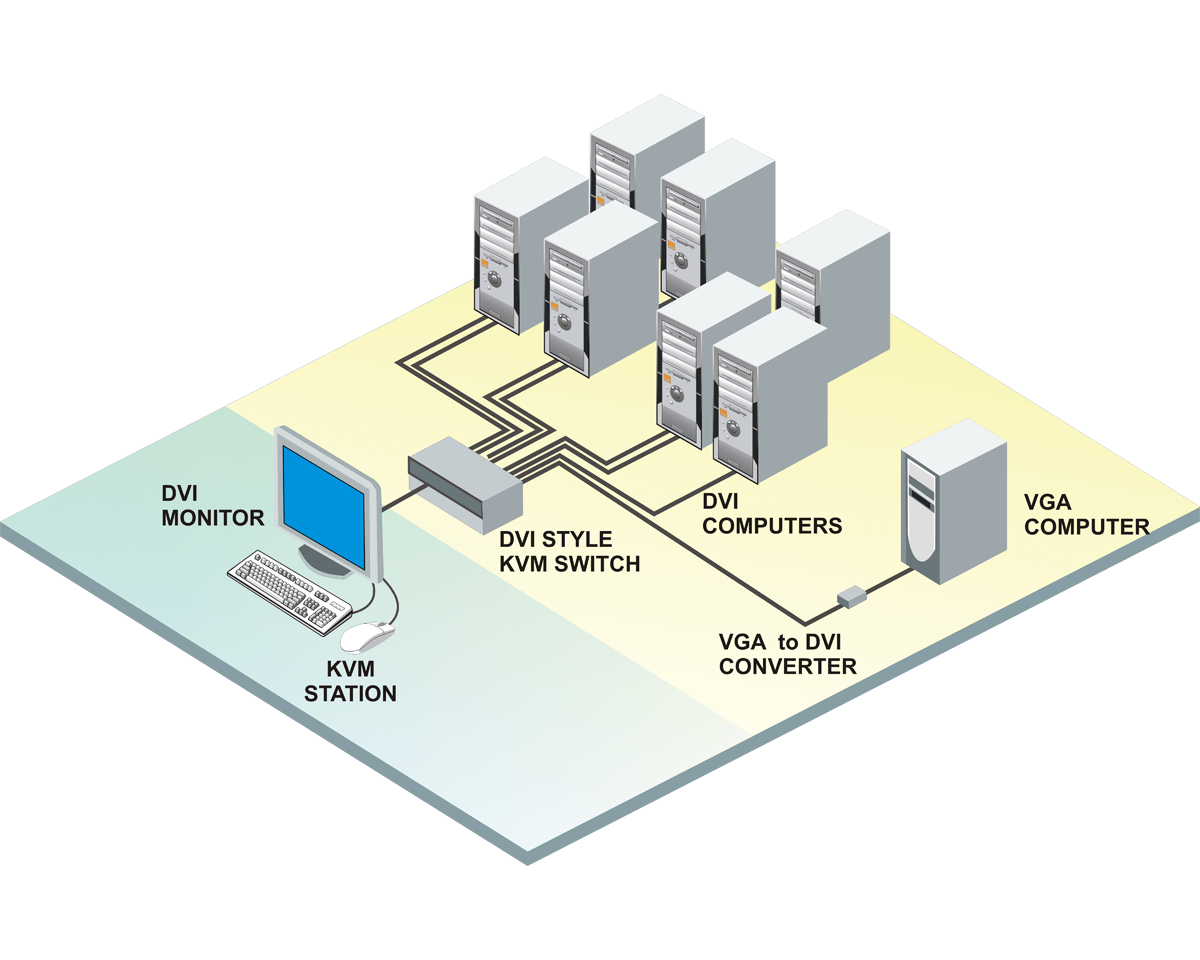 VGA or RGB component video input resolution up to 1920 x 1200
Output is DVI or VGA at maximum resolution of 2048 x 1080
Scaling feature supports different input and output resolutions
Automatically detects the input resolution
Has 48MB buffer for scaling and frame rate conversion
Built-in OSD function simplifies setup
OVERVIEW
The VGA to DVI converter is a highly functional product which accepts an analog video input signal and converts it to a digital DVI output that can be connected an LCD monitor, television, projector or other digital display. The product auto-detects the input resolution and native resolution of the output display and scales the input to fill the screen.
The converter will accept input with a maximum resolution of 1920 x 1200 from the following sources:
VGA analog signals from computer or laptop graphics cards
RGB component video sources from devices such as DVD players and set top boxes
With the easy-to-use on-screen menu, you can make custom adjustments if the default settings are not suitable. With the PC Menu, you can change the contrast, brightness, h-position, v-position, clock, phase, and scale. The scale setting options are Full, Overscan, Underscan, Letterbox-Underscan, PanScan-Underscan, Letterbox-Full, and PanScan-Full. Using the Color Menu, you can change the color temperature of the input to give a warmer or cooler look.
Through the Output Menu you can select the output to be either analog (VGA) or digital (DVI) and a variety of output resolutions. The output resolution is normally auto-detected using the native resolution of the DVI display, but you can force it to a wide range of settings with maximum resolutions of 1920 x 1200 and 2048 x 1024. There is also a provision for changing the OSD appearance.
SPECIFICATIONS
Dimensions (W x D x H)

4" x 5.75" x 1" (101 x 147 x 25.4 mm)

Weight

0.65 lb (0.3 kg)

Power

90-240 VAC 50-60Hz

External adapter, 5V, 2A

10W

Resolution

1920 x 1200

Distance

Video: 25 feet (7.6m)

Connectors

Video in: HD15 male

Video out: DVI female

Power: Barrel jack

Controls

Unit power: Red LED

OSD control: 3 push-buttons

Environment

Operating temperature: 32°F–122°F (0°C–50°C)

Storage temperature: -13°F–140°F (-25°C–60°C)

Relative humidity: 5%–80%, non-condensing
PART NUMBERS
| Product Part Number | Description |
| --- | --- |
| CNV-VGADVISC-I | VGA to DVI converter |
| CNV-VGADVISC-K | VGA to DVI converter with 1 x 6ft VGA cable |
| CNV-VGADVISC-K1 | VGA to DVI converter with 1 x 6ft DVI cable |
| CNV-VGADVISC-K2 | VGA to DVI converter with 1 x 6ft VGA cable amd 1 x 6ft DVI cable |
DOCUMENTS
DOCUMENT
LINK
Manual • Translator VGA to DVI • Installation and Operation
PDF