VideoSplitter HDMI PT
HDMI 2-port Video Splitter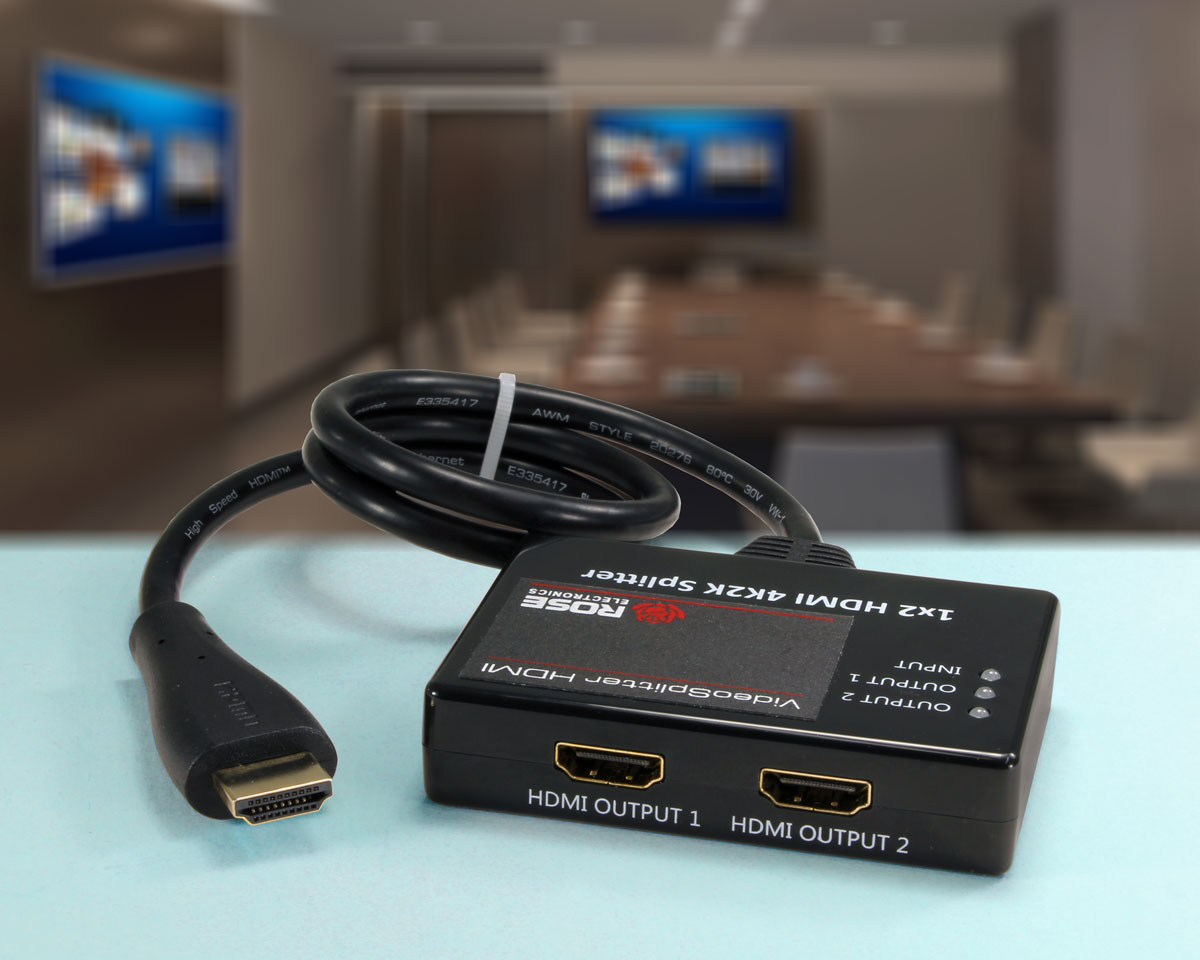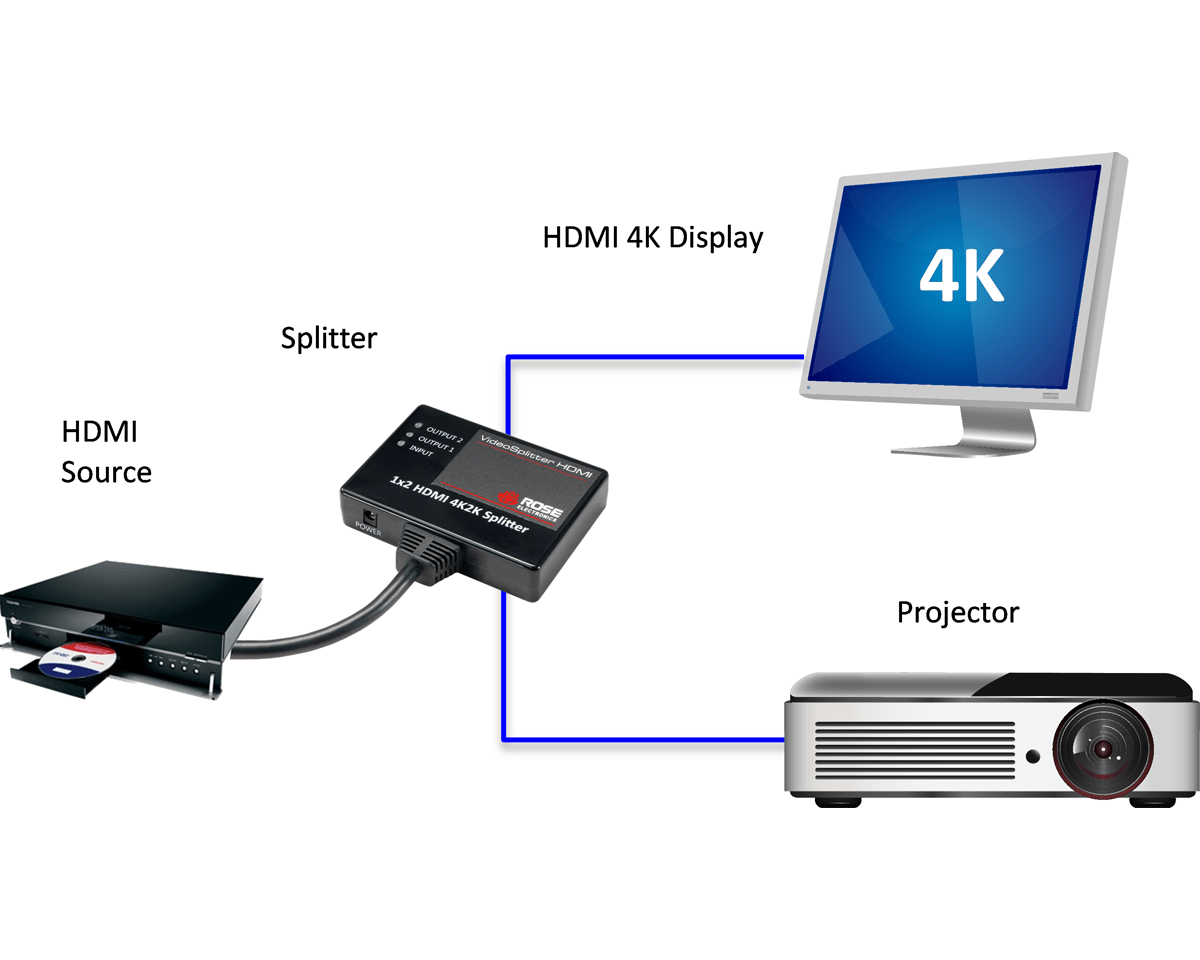 Connect two HDMI monitors, projectors or LCD displays to a single HDMI video source
Powered from the HDMI signal
Ideal for classrooms, boardrooms, trade shows, exhibition displays, and retail advertising or display
Supports 16:10 computer resolutions to 1920×1200@60Hz, and 16:9 video resolutions to 3840×2160@30Hz
Video bandwidth to 340MHz per channel for a combined data rate of 10.2Gbps
Supports 36-bit Deep Color and 3D video
Supports HD multichannel uncompressed audio
HDCP 1.4/2.2 compliant
Built- in input cable eliminates need for extra cable
Link LED's for input and output video
Gold plated HDMI connectors
OVERVIEW
The Rose Electronics VideoSplitter HDMI 4K PT is a versatile device that can be used in a variety of applications. It is ideal for classrooms, boardrooms, trade shows, exhibition displays, and digital signage. It enables simultaneous viewing of a single HDMI high definition video source between two HDMI displays or projectors.
The VideoSplitter HDMI 4K PT is easy to use. Simply connect the unit between the desired video source and destination displays and the unit is ready to use. No software installation is required.
The VideoSplitter HDMI 4K PT is powered by the HDMI video source and can function without an external power supply. When an (optional) external power supply is used, the splitter can send signals as far as 45ft away (15m).
Video resolutions up to 3840×2160@30 are transmitted to high-definition displays. Lower resolutions such as 1920×1200 are also supported. The unit is fully capable of handling HDR 36-bit per channel deep color and 3D video.
Audio is also well supported. The unit does not alter the HD multi-channel uncompressed audio that is embedded in the HDMI signal.
SPECIFICATIONS
Dimensions (W x D x H)

2.48" x 2.12" x 0.7" (83 x 54 x 18 mm)

Weight

1.1 lb (0.5 kg)

Power

90-240 VAC 50-60Hz

External adapter, +5VDC, 2A

HDMI 2-port Video Splitter: 8W

Resolution

Progressive HDMI: 480p, 576p, 720p, 1080p

Interlaced HDMI: 480i, 576i, 1080i

Computer resolution: to 1920 x 1200

Video Output: High Speed HDMI 1.3b

Video Bandwidth: 2.25Gbps/225MHz

HDCP: 1.0/1.1

Distance

Video: Attached HDMI cable 1.6 feet (0.5m)

HDMI transmission: 45feet (15 m)

Connectors

Video: Output HDMI Type A(F)

Video: Input HDMI Type A(M)

Power: Barrel jack

Controls

Unit power: Green LED

Video active: Green LED per port

Environment

Operating temperature: 32°F–158°F (0°C–70°C)

Storage temperature: 14°F–176°F (-10°C–80°C)

Relative humidity: 5%–90%, non-condensing
PART NUMBERS
| Product Part Number | Description |
| --- | --- |
| VS-1x2HDMI-4K/PT | 2-port VideoSplitter HDMI PT @4K60 |