Vista KM III
1×4, 1×8 KM Switch • No video • USB2.0 • Audio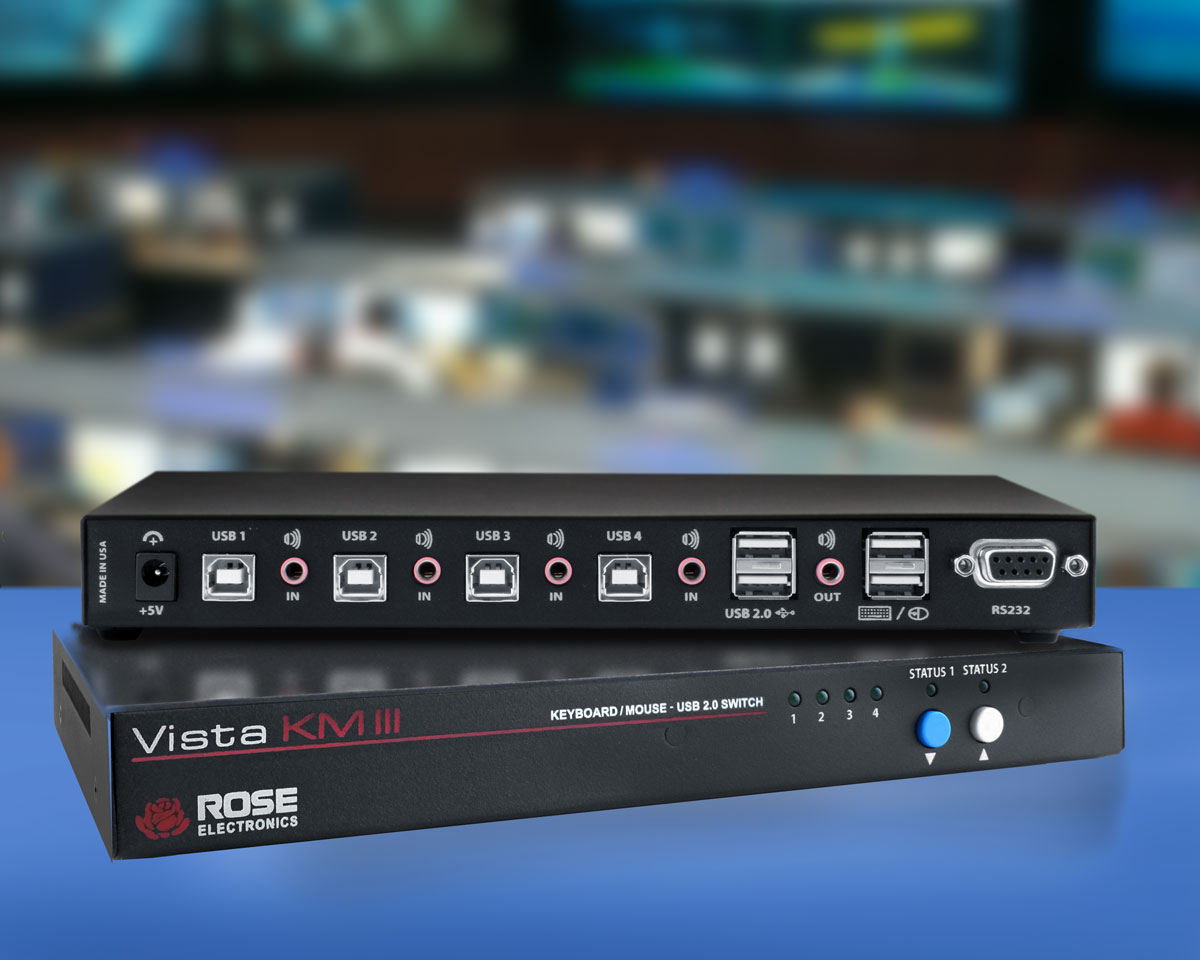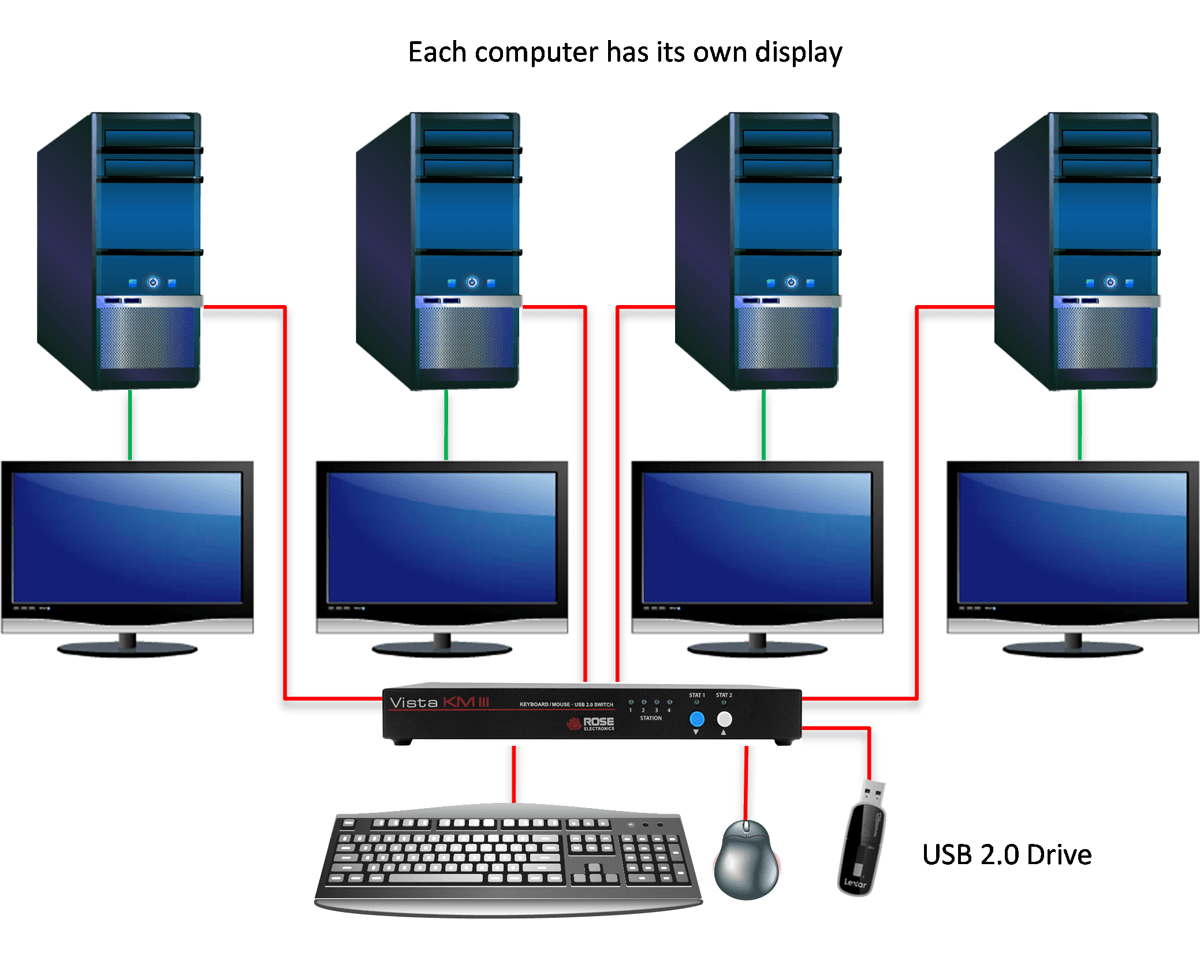 Switch of USB keyboard and mouse, USB 2.0 devices, and audio (4-port model only) between four or eight computers
Switch using mouse, keyboard hotkey commands, front panel buttons, or RS-232 serial commands
Seamless switching feature using mouse does automatic switching when the mouse cursor reaches a display edge
Can be configured for single-head or multi-head computers
USB 2.0 devices can be switched independently of keyboard and mouse
With multiple-head configurations, double clicking the mouse wheel followed by moving the mouse in the direction of an adjacent computer causes switching
Plug-and-Play installation requires no special drivers and minimal configuration
OVERVIEW
The Rose Vista KM III Keyboard/Mouse Switch enables users to operate up to 8 PC's/Servers using one common keyboard and mouse. This is particularly useful for command-and-control or control desk environments where work space is at a premium, and the presence of multiple sets of keyboard and mouse can lead to desktop clutter and confusion.
The USB keyboard and mouse are connected to the Vista KM III that interfaces directly to the range of PC's/Servers. The monitors are mounted on the desktop within a comfortable and ergonomic viewing range for the user.
The video interface from the PC to the monitor can be DVI, HDMI, Display Port, VGA, or a mixture of any of these video/monitor types as the video connection is transparent to the Vista KM III switch.
The Vista KM III can support multiple multi-head computers with no additional software or drivers required. Connect up to 8 single-head, dual-head or quad-head computers using the same simple cabling configuration or even mix dual-head and quad-head computers on the same Vista KM III switch.
SPECIFICATIONS
Dimensions (W x D x H)

12.6" x 6.6" x 1.75" (320 x 168 x 44.45 mm) (1U)

Weight

10 lb (4.5 kg)

Power

100-240 VAC 50-60Hz

External adapter, +5V, 2.0A

10W

Distance

CPU/KVM: 10 feet (3.0m)

Connectors

USB 2.0 host: USB Type B

Keyboard: USB Type A

Mouse: USB Type A

USB 2.0 device: Two USB Type A

RS232: DB9 serial port

Audio: 3.5mm Female audio jack (4-port only)

Power: Barrel jack

Controls

Computer selection: Front panel, hot-key, RS232 or Hot-Mouse

Power On: Green LED

CPU select: LCD front panel display

Environment

Operating temperature: 32°F–131°F (0°C–55°C)

Storage temperature: -4°F–185°F (-20°C–85°C)

Relative humidity: 5%–95%, non-condensing
PART NUMBERS
| Product Part Number | Description |
| --- | --- |
| KM-4USB-III-A1 | Vista KM III, 4 Port USB 2.0 KB/MS + Audio Switch |
| KM-8USB-III | Vista KM III, 4 Port USB 2.0 KB/MS Switch |
| Cable Part Number | Description |
| CAB-USBABxxx | USB-AB Cable |
| CAB-SPMMxxx | Stereo Audio (3.5mm) Cable |