UltraView Pro
1×4, 1×8, 1×16 KVM Switch • VGA • USB • PS/2 • OSD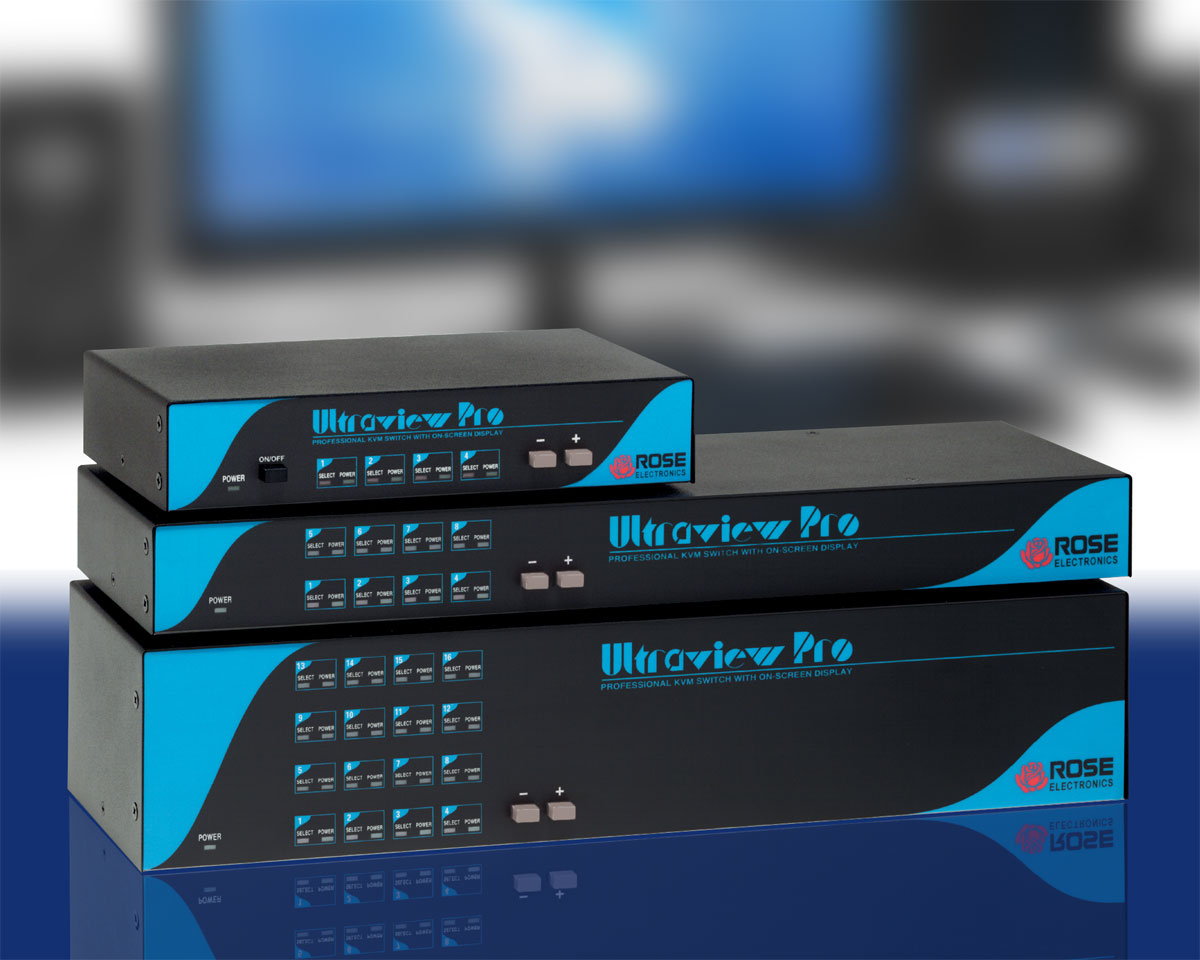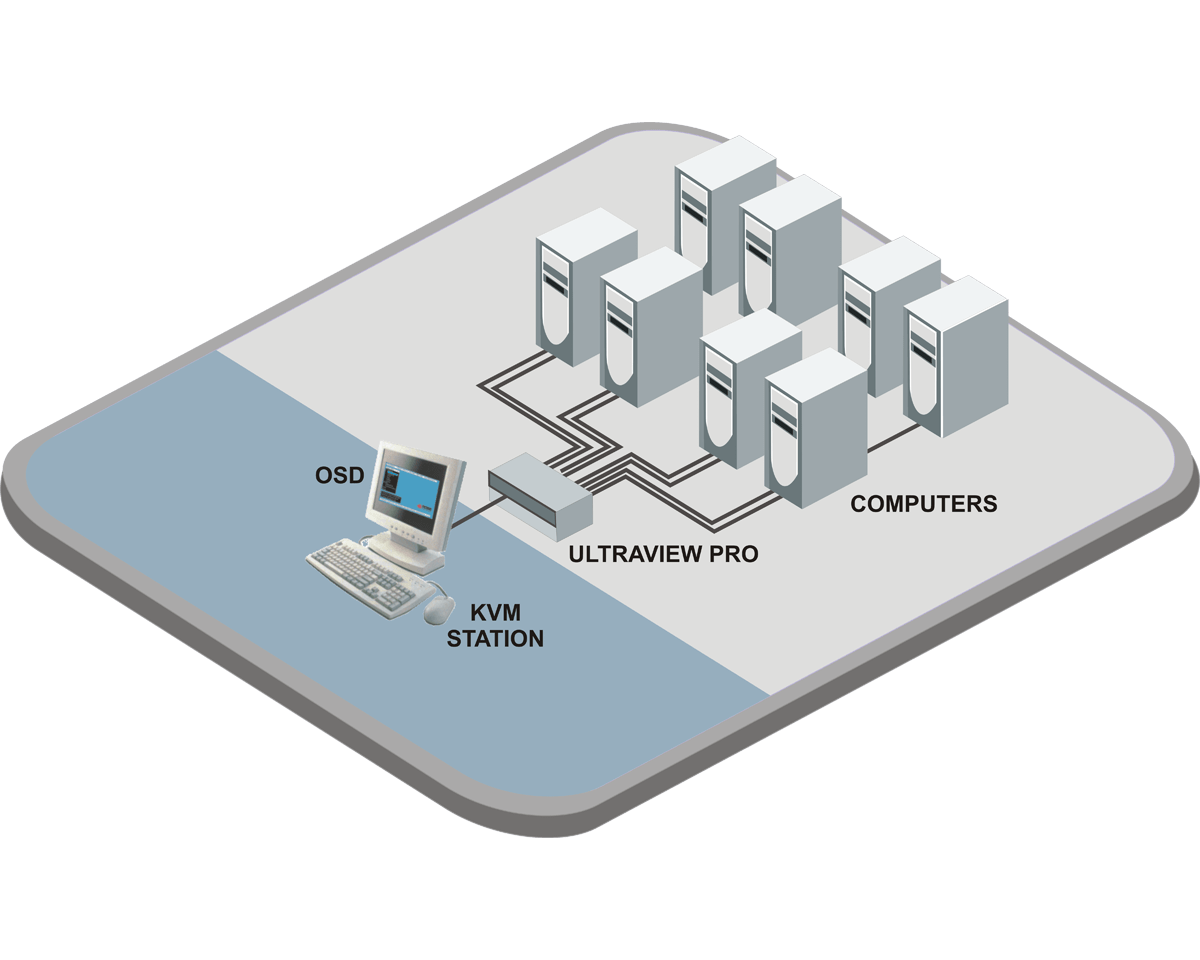 Available in three chassis sizes:

2 or 4-port (M chassis)
4 or 8-port (B chassis)
4, 8, 12, or 16-port (C chassis)

Uses UltraCable™ for superior cable management with lengths of up to 100 feet
Video resolution up to 1920x1200
On-screen menu for configuration and computer selection
Security system with configuration and user passwords prevents unauthorized configuration and user access
Switch computers from your keyboard, front panel, on-screen menu, or RS232 port
Multi-platform models convert PC, UNIX, Apple, or Sun keyboard and mouse data to any platform
Multi-Platform models also support audio or serial pass through (touchscreen)
Built-in daisy-chaining to support up to 256 computers
Free firmware upgrades for product enhancements
Rack mount kits available in 19", 23", and 24" sizes
Made in USA
OVERVIEW
UltraView Pro is a single user KVM switch designed specifically for server management and industrial applications, and can expand a system to incorporate a maximum of 256 computers. The switch supports video resolutions of up to 1920 x 1200 and can convert PC, UNIX, Sun, or Apple keyboard and mouse signals to any platform. Multi-platform models will also support audio and serial touchscreen. Custom cables can be purchased to support the various interfaces required. The unit is easy to install with a powerful OSD for configuration and computer selection. You can set-up the unit in advance so that you can install the unit without powering down servers and/or computers.
The UltraView Pro is supplied in a rugged metal chassis which makes it ideal for industrial and hazardous applications where cables need to be screw-locked to the switch and where electro-magnetic interference can be minimized.
The UltraView Pro can be connected to PC/Servers that have VGA/PS2 or VGA/USB interface, or a mix of both types. The user station can be either VGA/USB or VGA/PS2 with the interface being provided by different cable types.
UltraView Pro comes in three chassis sizes:
2 or 4 port M Chassis
4 or 8 port B Chassis
4, 8, 12, or 16 port C Chassis
All models have the capacity to be chained to expand the number of ports.
SPECIFICATIONS
Dimensions
(W x D x H)

M Chassis: 8.8" x 4.85" x 1.75" (223 x 123 x 44.5 mm) (1U)

B chassis: 16.7" x 4.85" x 1.75" (424 x 123 x 44.5 mm) (1U)

C chassis: 16.7" x 4.85" x 3.5" (424 x 123 x 89 mm) (2U)

Weight

M Chassis: 4 lb (1.8 kg)

B chassis: 6 lb (2.7 kg)

C chassis: 8 lb (3.6 kg)

Power

90-240 VAC 50-60Hz

M chassis: External adapter, +5V, 2A

B/C-chassis: Internal

M Chassis: 15W

B chassis: 25W

C chassis: 30W

Resolution

VGA: 1920 x 1200

Distance

CPU/KVM: 25 feet (7.6m)

Connectors

Power: 8-16 port: IEC320, 4-port: DIN5

CPU/KVM: DB25F

RS232: RJ 6-conductor

Controls

Computer selection: OSD, front panel, hot-key, serial port

Unit Power: Green LED

CPU power: Green LED per port

CPU select: Red LED per port

Prev computer: Push-button -

Next computer: Push-button +

Environment

Operating temperature: 32°F–113°F (0°C–45°C)

Storage temperature: -13°F–140°F (-25°C–60°C)

Relative humidity: 5%–80%, non-condensing
PART NUMBERS
| Product Part Number | Description |
| --- | --- |
| UPM-2UB | UltraView Pro, 1x2 KVM Switch, PC-UNIX, OSD, M Chassis 1U |
| UPM-4UB | UltraView Pro, 1x4 KVM Switch, PC-UNIX, OSD, M Chassis 1U |
| UPB-4UB | UltraView Pro, 1x4 KVM Switch, PC-UNIX, OSD, B Chassis 1U |
| UPB-8UB | UltraView Pro, 1x8 KVM Switch, PC-UNIX, OSD, B Chassis 1U |
| UPC-16UB | UltraView Pro, 1x16 KVM Switch, PC-UNIX, OSD, C Chassis 2U |
| UEM-2UB | UltraView Pro, 1x2 KVM Switch, Multi-Platform, OSD, M Chassis 1U |
| UEM-4UB | UltraView Pro, 1x4 KVM Switch, Multi-Platform, OSD, M Chassis 1U |
| UEB-4UB | UltraView Pro, 1x4 KVM Switch, Multi-Platform, OSD, B Chassis 1U |
| UEB-8UB | UltraView Pro, 1x8 KVM Switch, Multi-Platform, OSD, B Chassis 1U |
| UEC-16UB | UltraView Pro, 1x16 KVM Switch, Multi-Platform, OSD, C Chassis 2U |
| RM-UMxx | Rack Mount kit, 1U, M Chassis (xx = 19", 23", or 24") |
| RM-UBxx | Rack Mount kit, 1U, B Chassis (xx = 19", 23", or 24") |
| RM-UCxx | Rack mount kit, 2U, C Chassis (xx = 19", 23", or 24") |
| Cable Part Number | Description |
| CAB-ZX0606Mnnn | UltraCable, Switch to KVM, DB25M to VGA-PS/2 Keyboard + Mouse |
| CAB-ZX0606Cnnn | UltraCable, PC to Switch, DB25M to VGA-PS/2 Keyboard + Mouse |
| CAB-CX0606Mnnn | UltraCable Hi-Res, Switch to KVM, DB25M to VGA-PS/2 Keyboard + Mouse |
| CAB-CX0606Cnnn | UltraCable Hi-Res, PC to Switch, DB25M to VGA-PS/2 Keyboard + Mouse |
| CAB-CXVUSBMnnn | UltraCable Hi-Res, Switch to KVM, DB25M to VGA-USB Keyboard + Mouse |
| CAB-CXUSBCnnn | UltraCable Hi-Res, USB to Switch, DB25M to VGA-USB Keyboard + Mouse |
| CAB-CXAV0400Mnnn | UltraCable Hi-Res, Switch to Apple KVM, DB25M to DB15F-ADB Keyboard + Mouse |
| CAB-C1V0400Mnnn | UltraCable Hi-Res, Switch to Apple KVM, DB25M to VGA-ADB Keyboard + Mouse |
| CAB-3W30606Mnnn | UltraCable Hi-Res, Switch to RS6000 KVM, DB25M to 3W3F-PS/2 Keyboard + Mouse |
| CAB-R13W30606Mnnn | UltraCable Hi-Res, Switch to RS6000 KVM, DB25M to 13W3F-PS/2 Keyboard + Mouse |
| CAB-S13W30606Mnnn | UltraCable Hi-Res, Switch to SGI KVM, DB25M to 13W3F-PS/2 Keyboard + Mouse |
| CAB-RGBHV0606Mnnn | UltraCable Hi-Res, Switch to RGB KVM, DB25M to RGBHV-PS/2 Keyboard + Mouse |
| CAB-CXVSMMnnn | UltraCable Hi-Res, Switch to Switch, DB25M to DB25M |
| CAB-CXAV0400Cnnn | UltraCable Hi-Res, Apple to Switch, DB25M to DB15M-ADB Keyboard + Mouse |
| CAB-C1V0400Cnnn | UltraCable Hi-Res, Apple to Switch, DB25M to VGA-ADB Keyboard + Mouse |
| CAB-3W30606Cnnn | UltraCable Hi-Res, RS6000 to Switch, DB25M to 3W3M -PS/2 Keyboard + Mouse |
| CAB-R13W30606Cnnn | UltraCable Hi-Res, RS6000 to Switch, DB25M to 13W3M -PS/2 Keyboard + Mouse |
| CAB-S13W30606Cnnn | UltraCable Hi-Res, SGI to Switch, DB25M to 13W3M -PS/2 Keyboard + Mouse |
| Cables - Audio Application | Description |
| CAB-ZX0606MAnnn | UltraCable, Switch to KVM, DB25M to VGA-PS/2 Keyboard + Mouse-Stereo Audio |
| CAB-ZX0606CAnnn | UltraCable, PC to Switch, DB25M to VGA-PS/2 Keyboard + Mouse-Stereo Audio |
| CAB-CX0606MAnnn | UltraCable Hi-Res, Switch to KVM, DB25M to VGA-PS/2 Keyboard + Mouse-Stereo Audio |
| CAB-CX0606CAnnn | UltraCable Hi-Res, PC to Switch, DB25M to VGA-PS/2 Keyboard + Mouse-Stereo Audio |
| CAB-CXVUSBMAnnn | UltraCable Hi-Res, Switch to KVM, DB25M to VGA-USB Keyboard + Mouse-Stereo Audio |
| CAB-CXUSBCAnnn | UltraCable Hi-Res, USB to Switch, DB25M to VGA-USB Keyboard + Mouse-Stereo Audio |
| Cables - Serial Application | Description |
| CAB-C1V060609Cnnn/S3 | Hi-Res, PC to Switch, DB25M to VGA-PS/2 Keyboard + Mouse-Serial Touch Screen |
| CAB-C1V060609Mnnn/S3 | Hi-Res, Switch to KVM, DB25M to VGA-PS/2 Keyboard + Mouse-Serial Touch Screen |
| ACC-D9MF-PCSW | Enables (DB9 serial) touchscreen signals to pass through the switch to the touchscreen (Install between the Switch and the Touchscreen) |
| ACC-D9MF-CVTS | Enables (DB9 serial) touchscreen signals to pass through the switch and the CrystalView to the touchscreen (Install between the remote CrystalView Extender and Monitor) |
| Cables - SUN Application | Description |
| CAB-CXV0800Cnnn | UltraCable Hi-Res, Sun to Switch, DB25M to VGA-Sun Keyboard + Mouse |
| CAB-SCX0800Cnnn | UltraCable Hi-Res, Sun to Switch, DB25M to 13W3-Sun Keyboard + Mouse |
| CAB-CXV0800Mnnn | UltraCable Hi-Res, Switch to Sun KVM, DB25M to VGA-Sun Keyboard + Mouse |
| CAB-SBX0800Mnnn | UltraCable Hi-Res, Switch to Sun KVM, DB25M to 13W3F-Sun Keyboard + Mouse |